Considered the "Monaco of Greece," Kavala is ideal for a beachside getaway. Scenic mountains surround the strikingly beautiful historic seaside town. A variety of restaurants offer excellent seafood, meat, vegetarian and traditional Greek dishes, a hallmark of visiting a foodie nation. Trendy cafes and bars offer happening reprieves to pass the time over refreshing drinks, in an inspiring setting.
Climb to the top of the Acropolis of Kavala for sweeping views of the Bay of Kavala and the nearby island of Thasos. The Archeological Site of Philipi is a UNESCO World Heritage Site. Dating to the 16th century, the Aqueduct of Kavala (Kamares) is one of the best preserved aqueducts in Greece. The beautiful mural depicting St. Paul's travels to Kavala at St. Nicholas Greek Orthodox Church is another impressive highlight.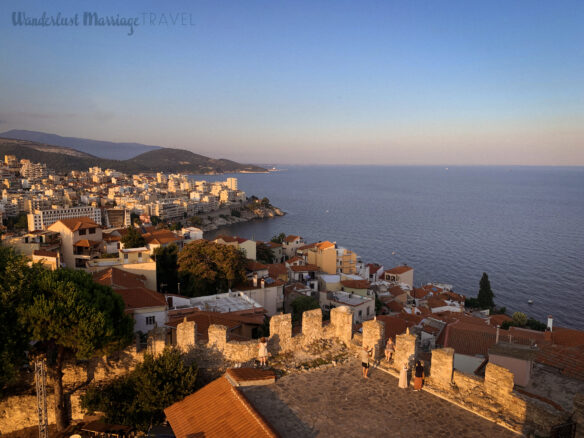 Krinides Mud Baths offers a unique opportunity for mud bath treatment, with a friendly staff. Greece is famous for warm hospitality and visitors will experience that during their encounters in Kavala. Here is why this charming town offers a wonderful experience in Greece!
Kavala Fort (Acropolis Castle)
The Acropolis of Kavala offers sweeping vistas at the top of Panagia Peninsula, where the old town is located. Since the 5th century BCE, Kavala has been surrounded by a defensive wall. Modifications have taken place over the past 2,500 years, including during the Roman period in 361-363. Significant renovations took place in 1307, during the reign of Andronicos II Palaeologos. That's when construction of the long walls from the sea to the top of the hill took place.
When the Turks captured Kavala in 1391, the Byzantine castle was destroyed. The Ottomans rebuilt it in 1425. The present day structure is mostly the result of that reconstruction. Today the Kavala Fort is a popular location for theatre performances and concerts, in a historically well preserved setting.
Aqueduct of Kavala (Kamares)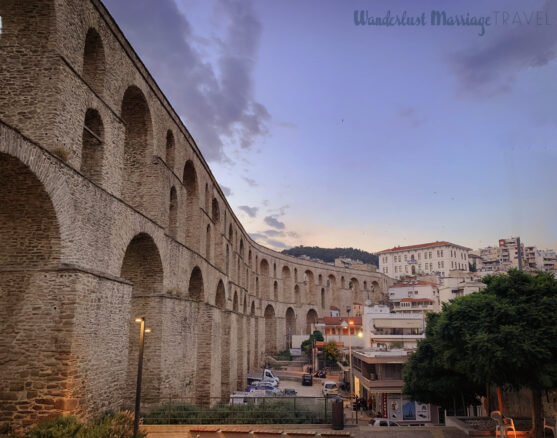 The Aqueduct of Kavala, otherwise known as Kamares, is a well-preserved aqueduct that dissects the city. The aqueduct was built during the Ottoman occupation of Greece in the 16th century. It was previously used to transport water into the city. Today, it's an impressive landmark and one of the best-preserved aqueducts in Greece.
Mural Depicting St. Paul's Travels to Kavala
St. Nicholas Greek Orthodox church was converted to a church in 1926. In 1945, it was consecrated and named after the patron of the seas, St Nicholas (Agios Nikolaos in Greek). Along the side of the church is an impressive mosaic depicting Saint Paul's voyage by sea from Troy. St. Paul set foot on European soil for the first time in Kavala.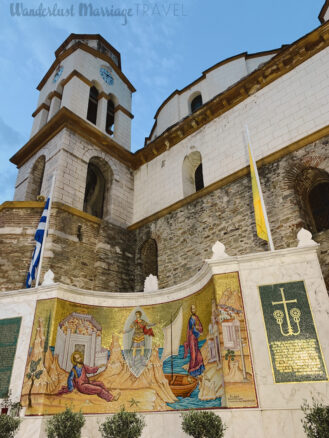 The outdoor colorful mosaic mural with gold background is an impressive monument to Apostle Paul. Be sure to see it during your visit to Kavala, especially since it's free to view!
Archeological Site of Philipi
The Archeological Site of Philipi is a UNESCO World Heritage Site. The ancient city was founded by the Macedonian King Philip II (father of Alexander the Great) in 356 BC. Following Roman occupation, the city developed as a "small Rome." Apostle Paul was imprisoned at Philipi. Following his visit, it became home to some of Europe's earliest Christians.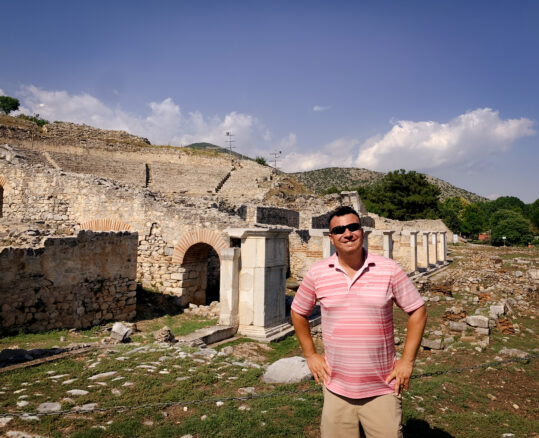 Philipi is a vast archaeological site indicative of an important ancient city. Live performances still take place at the impressive amphitheater today. Imagine catching a great performance in a venue over 2,000 years old? It's a special aspect of visiting or living in Greece.
Visitors can also see remnants of thermal baths, which existed in ancient Greece around 2,500 years ago! Destinations like Kavala are among Europe's historic thermal towns, a designated Cultural Route of the Council of Europe. Influenced by the Greeks, Romans and Ottomans also assisted in thermal bath's popularity to flourish, which can be experienced in great spa towns around Europe today.
Book a tour of the Archeological Site of Philipi with a licensed guide to gain in-depth knowledge of the ancient city. I had a great private tour of Philipi with Kokkonaki Sotivia, a friendly licensed Greek tour guide. You can email Kokkonaki at [email protected] to enquire about her Philipi and Kavala area tours.
Krinides Mud Baths
The Krinides Mud Baths in Kavala is a lovely property adjacent to a beautiful sunflower field. The sunflowers are strikingly in bloom during a late June or early July visit, like mine.
Krinides offers a unique experience so prepare to get muddy! Mud therapy can provide relief for skin conditions like eczema. It can also assist in alleviating certain injuries, while providing therapeutic wellness.
The mud pool constitutes a mix of natural thermal water. Soak and roll around in the natural clay for around 10 minutes. Then dry off in the grass, repeat, and wash off under their high-pressure shower. The open pool mud bath and thermal water shower costs €6 per person.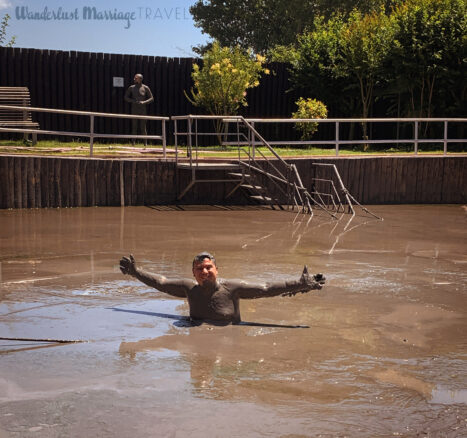 Book an on-site massage in conjunction with mud therapy for maximum benefits. A 30 minute athletic, relaxing or reflexology massage costs €20 per person. It's a great idea to add a massage for optimum relaxation, rejuvenation and wellness.
I really enjoyed lunch on the property of Krinides Mud Baths as their on-site restaurant offers deliciously fresh local meat and vegetarian dishes. Krinides staff are extremely friendly, welcoming and helpful. You can tell that they really want their guests to enjoy themselves. Kavala offers a unique Greek spa town experience, in a country packed with historic and modern thermal facilities.
Kavala Hotels
Lucy Hotel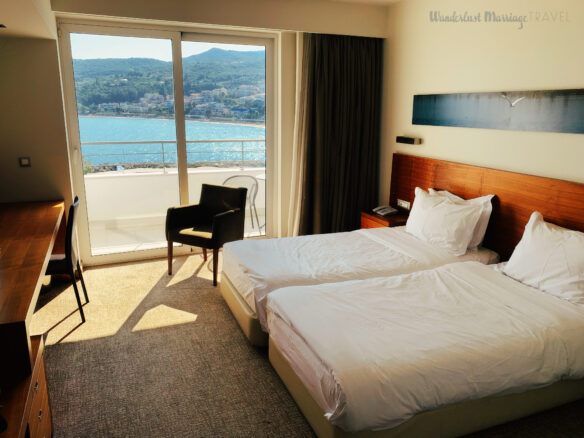 The 5-star Lucy Hotel Kavala offers a luxurious beachside stay. Comfortable rooms feature spacious balconies with fantastic views of the Aegean Sea, beach and city. Guests can utilize complimentary beach umbrellas to relax and go for a swim. It's the perfect reprieve from the summer heat.
Buffet breakfasts at Lucy Hotel are scrumptious. They feature a variety of delicious breakfast favorites like scrambled eggs, sausages, crepes, homemade jams, excellent fresh baked breads, croissants and pastries. Wonderful Greek favorites like Spanakopita (spinach pie) and Tiropita (cheese pie) are also on offer.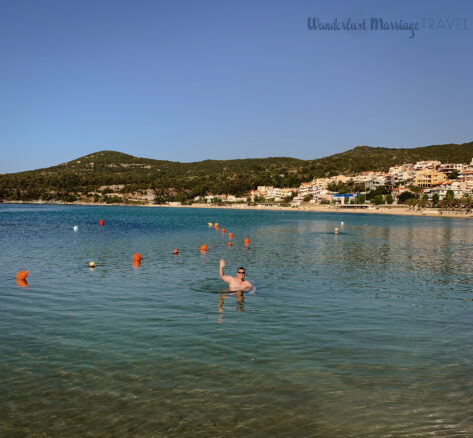 Ferry to Thasos (Thassos)
Thasos is a Greek island in the North Aegean Sea. It is the most northern of the major Greek islands, and the 12th largest by area. The island has a population of around 13,000 living on 380 square kilometers. Thasos offers a variety of accommodation to suit all travelers, making it a great option to include in a travel itinerary of Eastern Greek Macedonia.
Check ferry schedules to Thasos and other Greek islands on Ferry Scanner. Greece is one the world's most popular tourist destinations, with English widely spoken throughout the country. The Greek islands offer an abudance of great choices as they're all beautiful!
Kavala Recap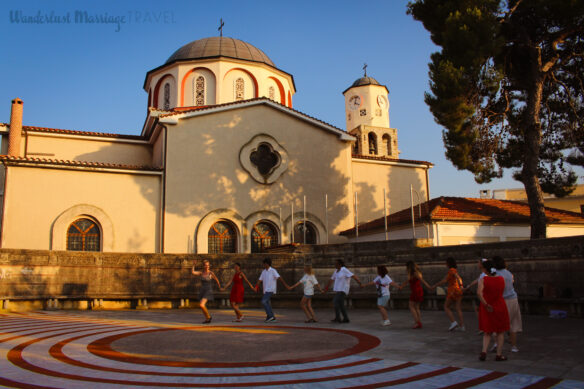 Kavala offers visitors a unique beachside getaway. Its picturesque seaside location is great for couples or family vacations. Foodies have an abundance of options between fresh seafood, meat, vegetarian and traditional Greek dishes. Greece's wonderful culinary scene focuses on fresh and flavorful ingredients, making it one of the best in the world.
Kavala is a wonderful cultural destination, centered around the Acropolis Fortress. There's a great chance you'll see random Greek dancing in a square or in a local taverna, like I did during my short visit. History enthusiasts have a lot to explore and ponder over incredibly scenic vistas. Kavala is a wonderful destination for a variety of interests!
Disclosure: This article is a collaboration with Visit Europe, European Historic Thermal Towns (EHTTA) and Visit Kavala. All photos and opinions expressed in this article are my own.