It's always a welcome reprieve to escape the city for the peaceful countryside. Especially when you can enjoy tasty wines along the trek. While we own a car, it is more relaxing to visit wineries when someone else drives. We recently visited three beautiful Shenandoah Valley wineries on a comfortable bus tour. Here's what you can expect on a Virginia winery tour from DC with Sourced Adventures.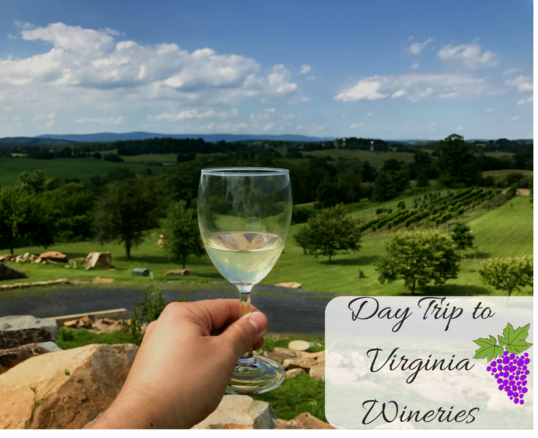 Pickup with Sourced Adventures Wine Tour from DC
We boarded the coach bus at 9am from Union Station. They do a second pickup from the North Face shop in Georgetown before leaving town for the Shenandoah Valley wineries. Air conditioning on the bus worked great and there was a bathroom on board. Both things are greatly appreciated when you're touring Virginia wineries in summer.
Rappahannock Cellars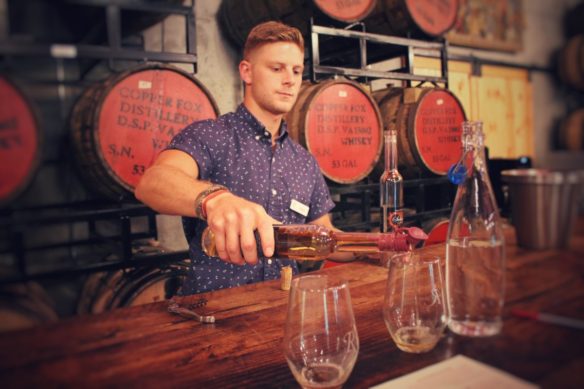 Rappahannock Cellars was founded in 1999 and is located in the beautiful rolling hills of Huntly, Virginia. When we exited the highway and began driving along small winding roads, we were struck with how green the landscape was. Flashbacks of our days living in Ireland immediately came to mind.
Rappahannock Cellars is a beautiful place, with delicious wine and a friendly staff. We were given a wine making tour of the facilities while staff simultaneously continued the tasting. We learned a lot, including the cost of oak barrels and how many times they can be used for wines like chardonnays. The barrels run upwards of $800 a piece and can only be used once or twice for oaky chardonnays, which is why those wines cost more.
Of the 8 wines we tasted at Rappahannock Cellars, two of are favourites are their 2016 Fizzy Rose and 2015 Meritage. The Fizzy Rose is a blend of Viognier, Vidal and Merlot grapes infused with CO2. It's a really smooth and refreshing wine, especially on a hot summer's day. The Meritage is a flavorful blend of Cabernet Franc, Cabernet Sauvignon, Petit Verdot and Melot aged for 11 months in French and American Oak.
Blue Valley Vineyard and Winery
Blue Valley Vineyard and Winery was the most picturesque Virginia winery we visited with Sourced Adventures. The property sits atop a hill with wonderful views of the vineyard and Shenandoah Valley all around. This winery offers the most picturesque views of the three wineries, so don't arrive too tipsy if you want to snap some beautiful photos to share on social media!
Unlike the first two wineries, we opted not to do a full tasting at Blue Valley Vineyard and Winery. Instead, we just tasted a couple wines and purchased by the glass. We didn't want to continue mixing wines after having already done 16 tastings at the first two wineries. It's wonderful to just enjoy a glass outside with fantastic views all around. A lot of people on our tour did another full tasting making making their way to the outdoor and indoor terraces.
During our visit there was a live band playing on one of their two sizeable outdoor terraces. This was a fantastic place to end a really fun day. With such a stunning property, it's no surprise that Blue Valley Winery also hosts weddings. We did not want to return to DC!
During the tasting we met a friendly Latvian woman who was traveling with her mother. While her mother didn't speak English, her daughter told us that she is 85 years old and still teaching in the Riga area! We also enjoyed great conversations with fellow tour participants from Kentucky, Utah and some others living in the Washington, DC area.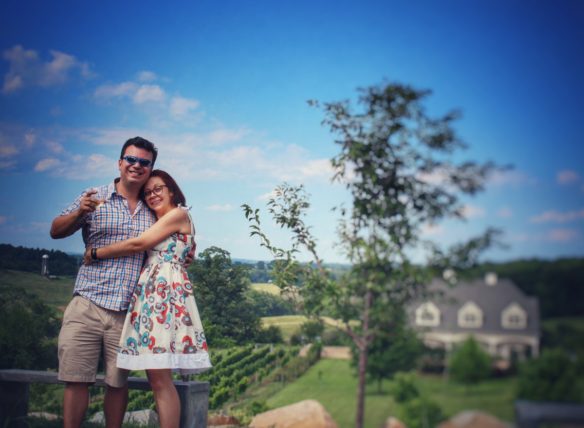 Desert Rose Winery (Update August, 2021: Permanently Closed)
Desert Rose Winery was the second winery we visited, and is just a few miles from Rappahannock Cellars. This is the most rustic of the three wineries and another beautiful property. Desert Rose Winery is ran by Bob and Linda, a husband and wife team who traveled around the world for work. They eventually settled down and opened a horse ranch, then vineyard to sell grapes to nearby wineries, including Rappahannock Cellars, and finally a winery of their own.
Linda poured the tastings as Bob described the wines and regaled us with interesting stories. After trying 8 wines, we were given a choice of three different gourmet sandwich lunch boxes. Bell and I took our food outside, found a table overlooking the lovely venue and enjoyed lunch over a tasty glass of wine.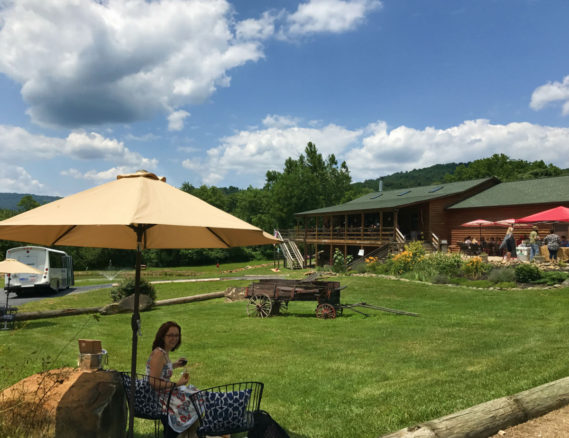 Pros of the Virginia Wine Tour from DC with Sourced Adventures
– Delicious wines
-Beautiful scenery
– Met fun & interesting people from around the world
– No stress about drinking and driving
– Comfortable bus with good a/c, bathroom and TV playing movies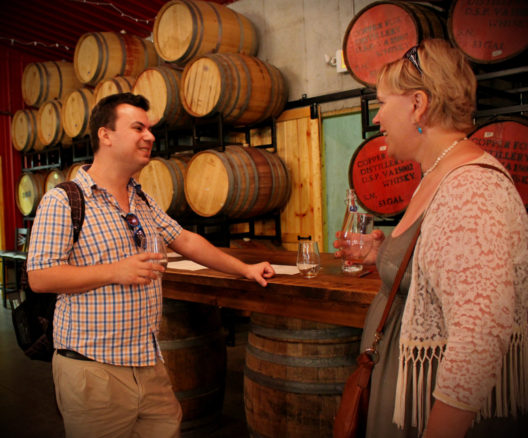 Con: Does not Cater to Dietary Restrictions
Our only issue with this Virginia Winery Tour from DC was that they did not offer any allergy friendly lunch option (Bell has a gluten allergy). The lunch option includes a meat or vegetarian boxed lunch, neither of which is gluten or dairy allergy friendly. Our suggestion to the tour operators is that this choice covers all the bases. Make it a vegan sandwich on gluten free bread, with accompaniments that everyone can eat. If you have a gluten allergy you may want to pack a lunch like Bell did.
Cost and Additional Details for the Virginia Wine Tour from DC with Sourced Adventures
The Virginia Wine Tour from DC costs $100 and includes a boxed lunch (gourmet sandwich, cookie and potato chips) and a full tasting at Desert Rose Winery. You also receive two complimentary wine glasses. Tastings at Rappahannock Cellars and Blue Valley Vineyard are extra. The tour starts at 9am and we were dropped back off in DC just after 6pm.
Sourced Adventures offers similar day trips out of Boston, New York and San Francisco. They also offer a few cool and affordable international tours, including the Northern Lights in Iceland this winter!
Book a Sourced Adventures Tour using promo code WANDER10 for 10% off any of their tours via that link! Check out all the fun and exciting tours they have to offer! 
More on Travel in Virginia
Virginia is for Lovers has been the slogan of the state's tourism board for over 50 years. Read about more great Virginia weekend getaway ideas. Charlottesville and especially Williamsburg are charming destinations to visit. Staunton, Virginia is a lesser known gem – home to the world's only recreation of Shakespeare's Blackfriars Theatre. If you're planning to visit Charlottesville, we highly recommend staying at Prospect Hill, a historic bed and breakfast with a manor house that dates to 1732. That's before the United States was founded!
Washington, DC Hotels
If you're planning to stay in Washington, DC, these are a few of our favorite hotels in the capital. Book your accommodation in advance, and choose an option with free cancellation. That way if we plans change, you can cancel without penalty.
Sofitel Lafayette Square is a great luxury stay near the White House, often with much cheaper weekend rates. Located 1,300 feet from the White House in Washington, D.C., this historic hotel features an on-site restaurant and lounge. Offering French comfort food, Opaline Bar and Brasserie is located on site.
One of our favorite DC stays has been at the Hilton Washington, D.C. Capitol Hill. Located in the center of Washington, D.C, the hotel is within 2,800 feet of the United States Capitol Building and Union Station. Some rooms have views of the US Capitol, so it's worth requesting them!
The Washington Hilton, Features an outdoor courtyard and has views of the capital skyline. This Washington, D.C. hotel is just 1.6 mi from the White House. The District Line Restaurant at the Hilton serves handmade cocktails and local American specialties. A large buffet breakfast is served daily. The Washington Hilton hosts the annual Washington Correspondent's Dinner is another favorite stay of ours.
How Do Virginia Wineries Compare with World Famous Wine Regions?
We don't have the most discerning wine palate. But we've been to several other great wine regions including Sonoma Valley California and Saint Emilion in the Bordeaux region of France. We've also visited all three of  Australia's main wine producing regions – Hunter Valley, Barossa Valley and Yarra Valley. If you enjoy wineries, you'll have a great time on this tour. You'll drink some excellent wine and the scenery is beautiful and relaxing.
Disclaimer: This post contains some affiliate links. If you book via the links we receive a small commission which helps maintain our site, but costs nothing extra for you.