The gorgeous Wachau Valley of Austria is nestled along the Danube River between the towns of Melk and Krems. It welcomes visitors with hilltop vineyards, scenic Austrian villages and storied castles. Quaint towns offer an idyllic setting for a relaxing and romantic getaway. Highlights include Melk Abbey, a striking example of Baroque architecture, run by the Benedictine Monks. Another is sweeping vistas from atop Dürnstein Castle.
We recently visited the region as part of an 8 day Danube River Cruise with Emerald Cruises. Its unique agricultural and architectural landscape have made the Wachau Valley a designated UNESCO World Heritage Site. Here's tips for visiting – including for active travelers looking to bike along the Donauradweg (Danube Cycling Path).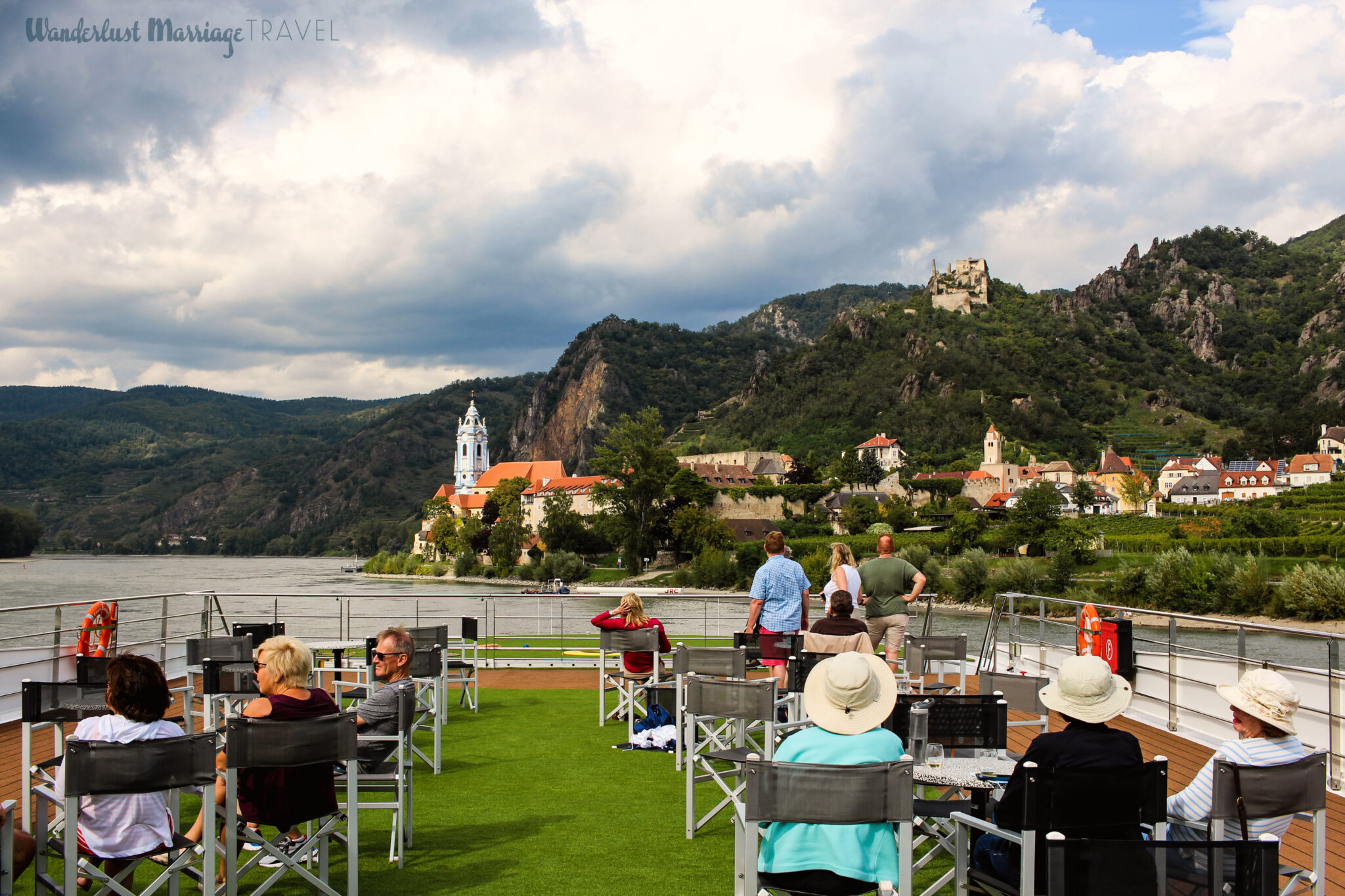 Melk
Melk is a charming destination in the Wachau Valley of Austria. The quaint village offers a slice of small town Austrian life perfect for enjoying cafe culture and strolling its cobblestone streets. High above the village is Melk Abbey, which offers sweeping views across the Danube River and Wachau Valley.
Apricots are widely grown around Melk. So artisan shops sell a variety of apricot products ranging from jams to chocolate liqueurs. Part of the fun is sampling the different products doled out by friendly shopkeepers. We picked up several items to enjoy at home later and to give as gifts.
Melk is a popular Danube River Cruise for great reason. Whether you visit on a cruise ship or during a road trip through the Wachau Valley, Melk Abbey is a must. The ornate baroque abbey wows visitors with impressive art and its beautiful gardens.
Melk Abbey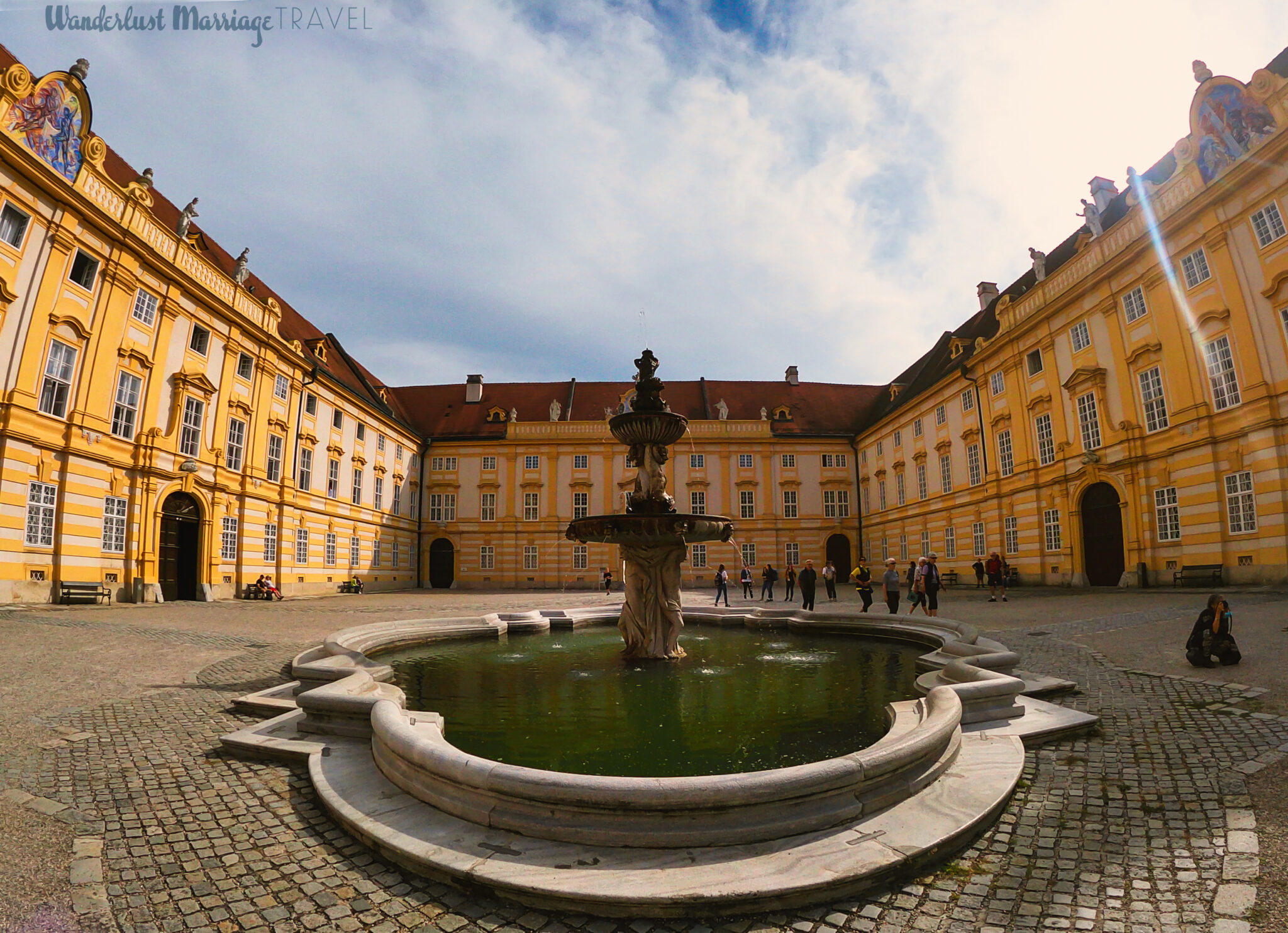 In the 15th century, Melk Abbey gained notoriety for the Melk Reform movement, which rejuvenated monastic life in Austria and Southern Germany. The current baroque abbey was designed by Jakob Prandtauer and completed in 1736. Melk Abbey is still a functioning Benedictine abbey with around 40 monks residing there.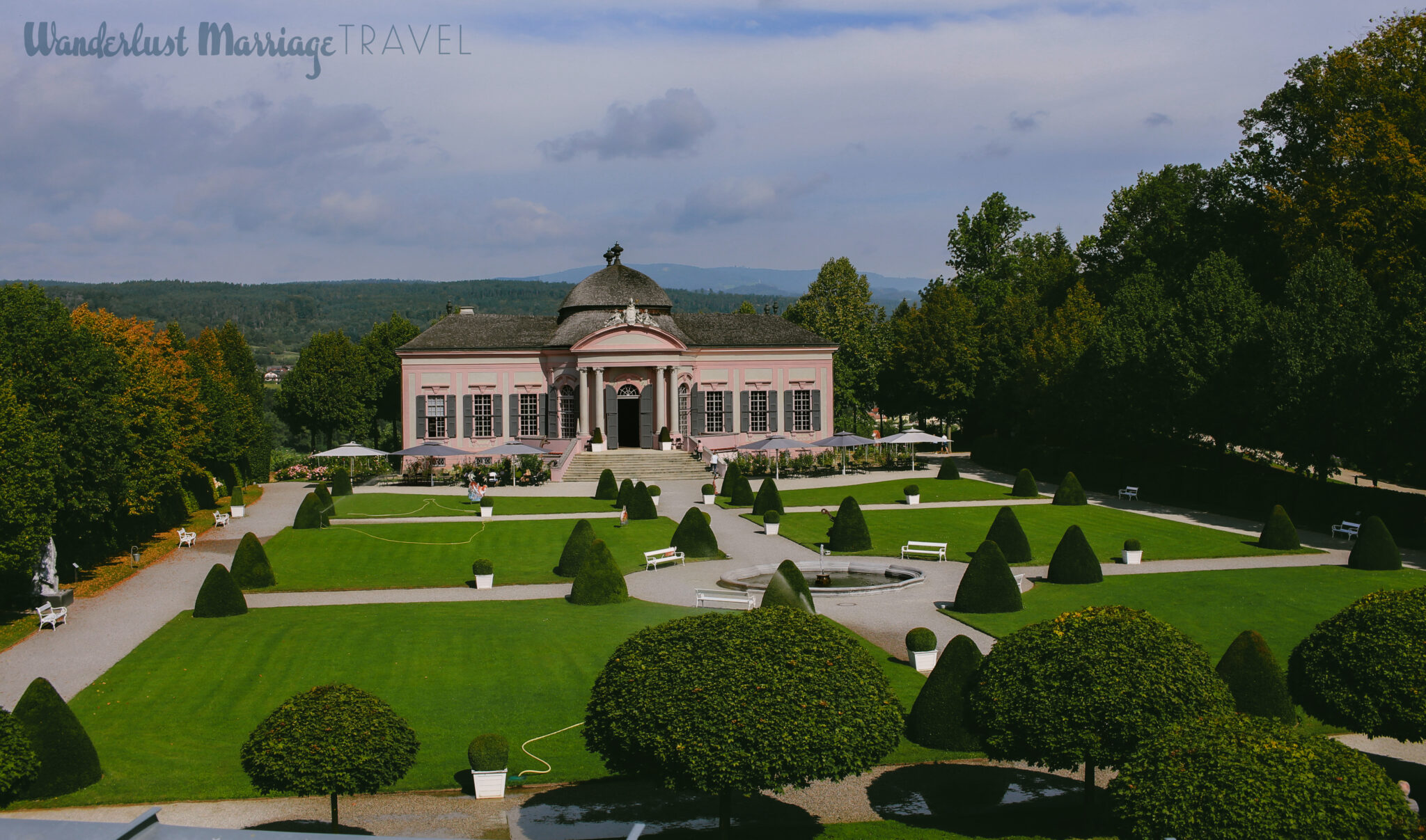 Visitors to the Wachau Valley should plan to take a guided tour of Melk Abbey. Its domed Abbey Church is adorned with an abundance of ornate gold leaf. A huge library houses medieval manuscripts and resembles Hog Warts from Harry Potter. The Marmorsaal is a baroque hall with a ceiling fresco and red marble walls. Its pristine gardens are immaculately groomed and perfect for lovely couples photos.
Melk Abbey Hours:
Visit Melk Abbey with or without a guided tour from April to October:
9:00am – 5:30pm (last admission at 5pm).
Daily 60 min. guided tours in English are at 10:55am & 2:55pm. Tours are also held in Italian, Spanish, French and German tours are held on the hour.
From November to March visits are only possible with a guided tour at 11am or 2pm, in English and German.
Melk Hotels
Hotel Restaurant zur Post offers a great stay for couples in the heart of Melk. Highlights include direct views of Melk Abbey, a sauna, free Wi-Fi, and free bike rental. Their restaurant serves seasonal Austrian dishes made from local ingredients. Hotel zur Post also houses a wine cellar and ice cream parlor.
Rathauskeller Melk is a charming boutique hotel in Old Town Melk's pedestrian zone. The historic hotel features a restaurant serving traditional Austrian cuisine. Resting at the foot of Melk Abbey, visitors can walk to the abbey in 15 minutes. Melk Train Station is only 1,000 feet from Rathauskeller Melk. And the Danube River is just under 1 km away.
Schloss Schönbühel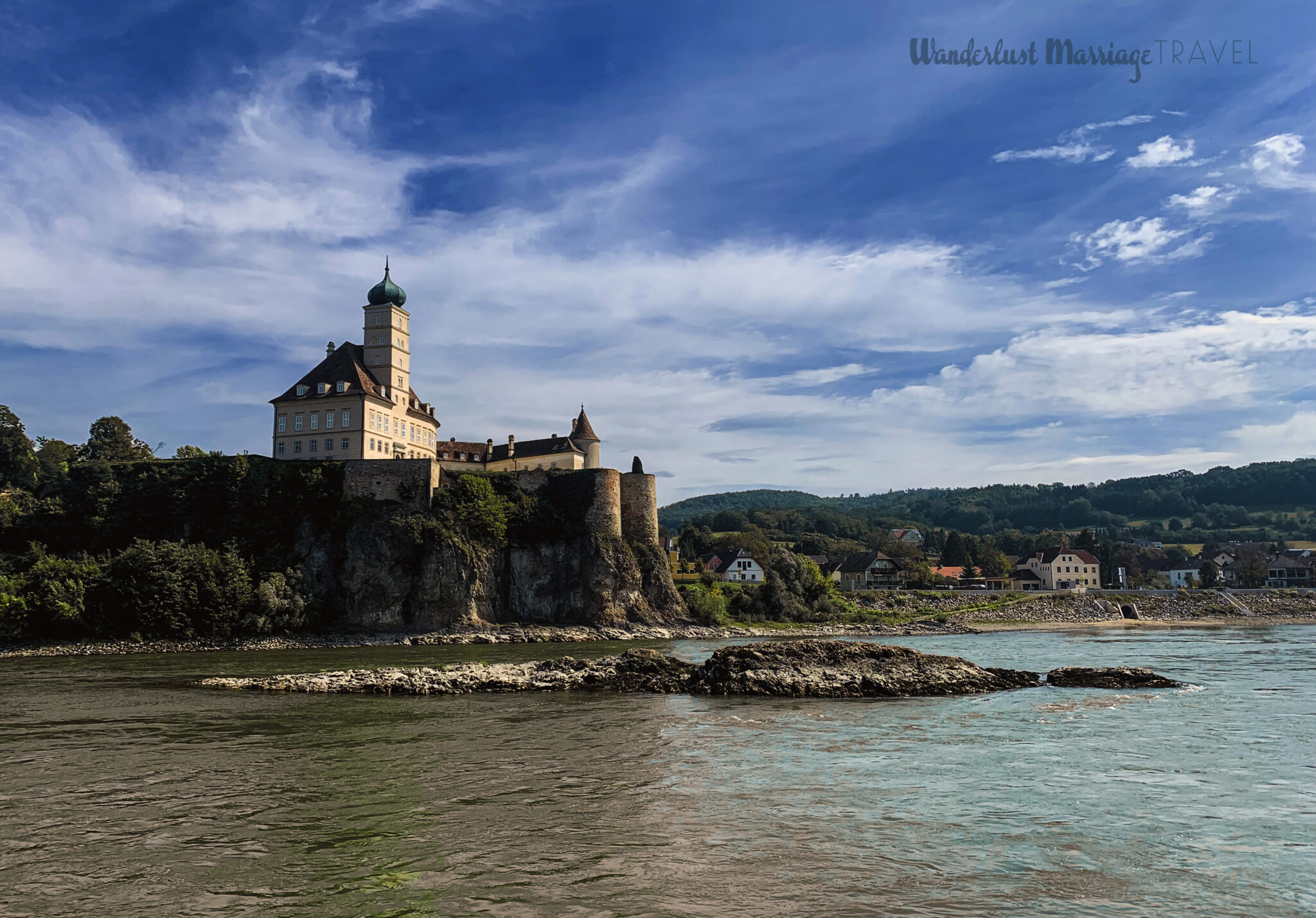 Views of Schloss Schönbühel, resting grandly along the Danube River, are typically enjoyed from the river cruise ships. The former Servite monastery was founded by a pious noble family who converted to Catholicism in the 1600s. Historians believe this spot previously housed a Roman fort.
Dürnstein
Dürnstein is another charming destination in the Wachau Valley, a well-known wine-growing area. The small town rests along the Danube River in the Krems-Land district, in the Austrian state of Lower Austria. A mix of historic sites, colorful architecture, and breathtaking natural scenery made Dürnstein one of the most popular tourist destinations in the Wachau region. This is one of the most charming and serene destinations we visited on our 8 day Danube River cruise with Emerald Cruises.
Dürnstein is a charming town to stroll and soak up small town Austrian village life. Medieval walls surround many of the vineyards that dot the landscape along the Danube River. Grab a seat on a restaurant terrace and enjoy tasty Austria cuisine and local wine. Boutique shops sell a wide range of regional products including delicious artisan chocolates.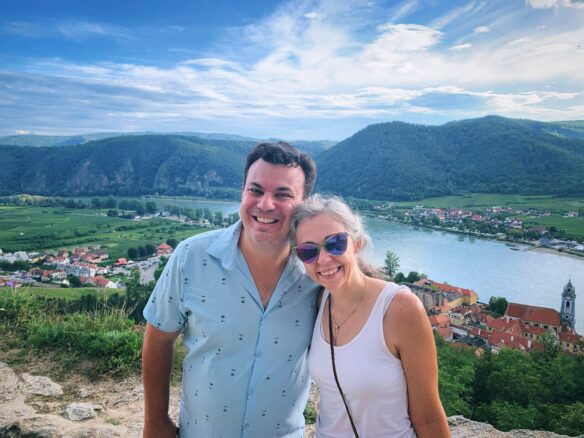 Dürnstein Castle
The ruins of Dürnstein Castle offers sweeping views overlooking Dürnstein, the Danube River and across the Wachau Valley. The castle was built between 1140-1145 by the family Kuenring (Hadmar I), and in 1645 it was demolished by a blast carried out by the Swedes under General Torstenson.
The moderate hike up to Dürnstein Castle showcases stunning scenery that gets progressively more dramatic. It's most famous for holding Richard the Lionheart, King of England, as prisoner for punishment in not sharing his bounty from the Crusades with the Duke of Austria.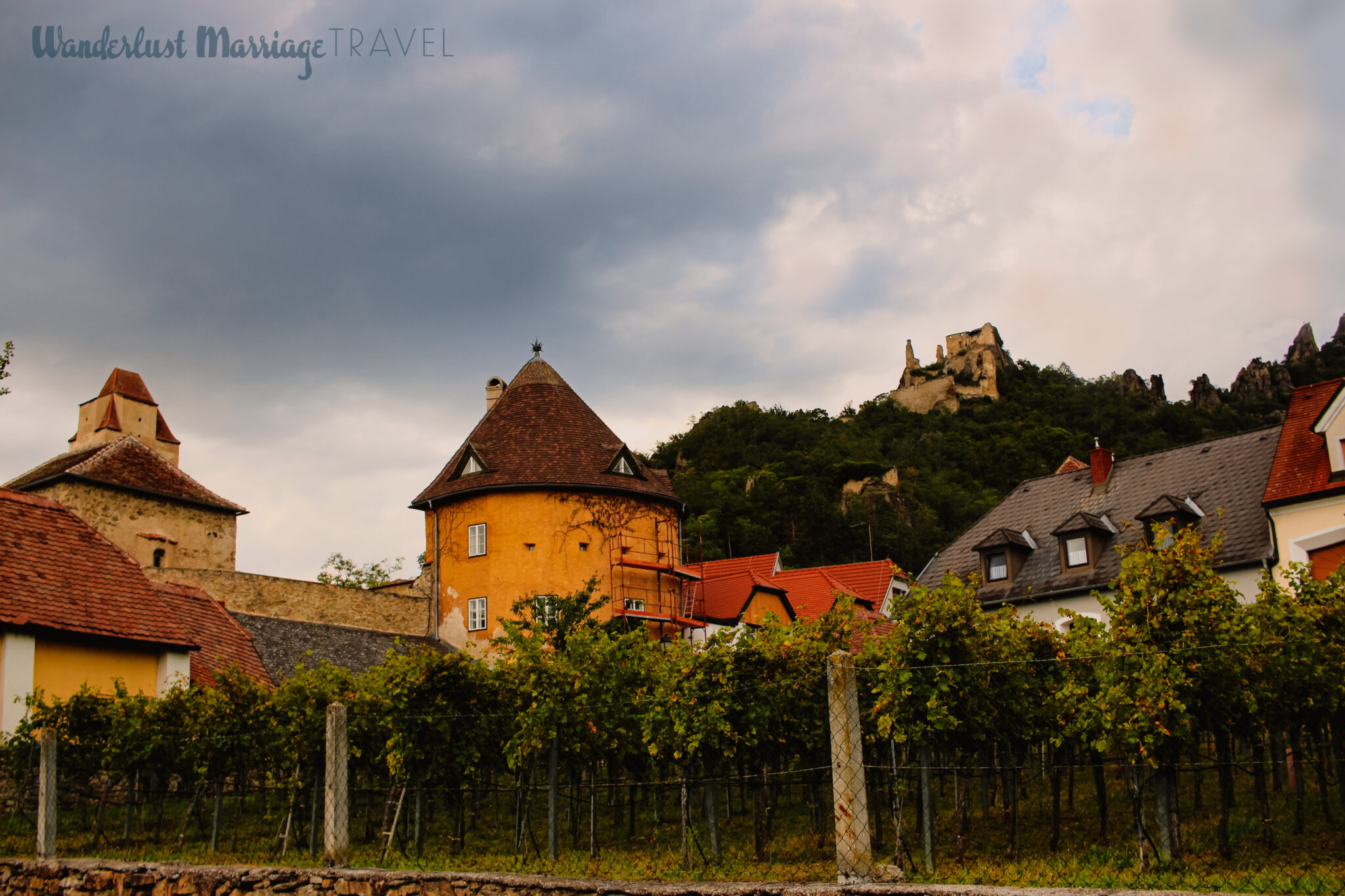 Dürnstein Hotels
Historic Hotel Schloss Dürnstein was built in 1630 and is a great for a romantic couples stay in the heart of town. Modern comforts blend with the atmosphere of a historic castle. Guests can enjoy indoor and outdoor swimming pools, a sauna, steam bath and sun bed. Hotel Schloss Dürnstein has a unique location on a rock high above the Danube River, at the heart of the Wachau World Heritage Site. Its restaurant terrace overlooks the Danube and offers sweeping panoramic views of the Wachau Valley.
Kamptal Wine Region
The Kamptal is one of eight wine regions in Lower Austria. Covering around 27,000 hectares of vineyards, Kamp Valley grows more wine grapes than any other Austrian province.
The town of Langenlois produces the most wine in Kamptal. It offers an assortment of heuriger wine taverns and wine specialty shops as well as internationally known producers.
Kamptal Hotels
LOISIUM Wine & Spa Resort Langenlois makes for a great wine and wellness couples getaway. All rooms offer views of the vineyards through floor-to-ceiling windows. A heated outdoor swimming pool is open all year. The property offers fine cuisine and spa treatments. LOISIUM is located 10 km from Krems and a 50-minute drive from Vienna.
Donauradweg (Danube Cycling Path)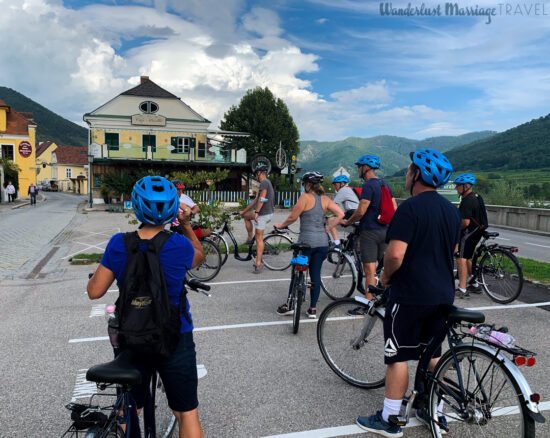 The Wachau stretch of the Donauradweg, or Danube Cycling Path, is one of the most beautiful cycling routes in Europe. The route offers a unique vantage point for viewing the UNESCO site. Sweeping vistas of the Danube River, rolling vineyards, proud castles and tranquil market towns will captivate cyclists. Bell cycled the 30km Melk to Dürnstein portion of the path, while I stayed aboard the Emerald Destiny taking in views directly from the Danube River.
Bikes aboard Emerald Cruises ships allow visitors to explore Wachau Valley destinations either by a guided tour or on your own. The 30km bicycle ride from Melk to Dürnstein is moderate, with little elevation, so it simply requires relatively active travelers. An 85 year old British traveler was able to enjoy the path, which included a brief stop for a scenic beer.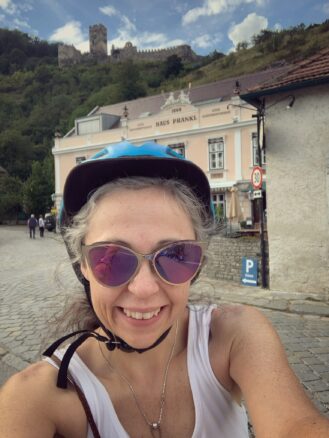 Schloss Grafenegg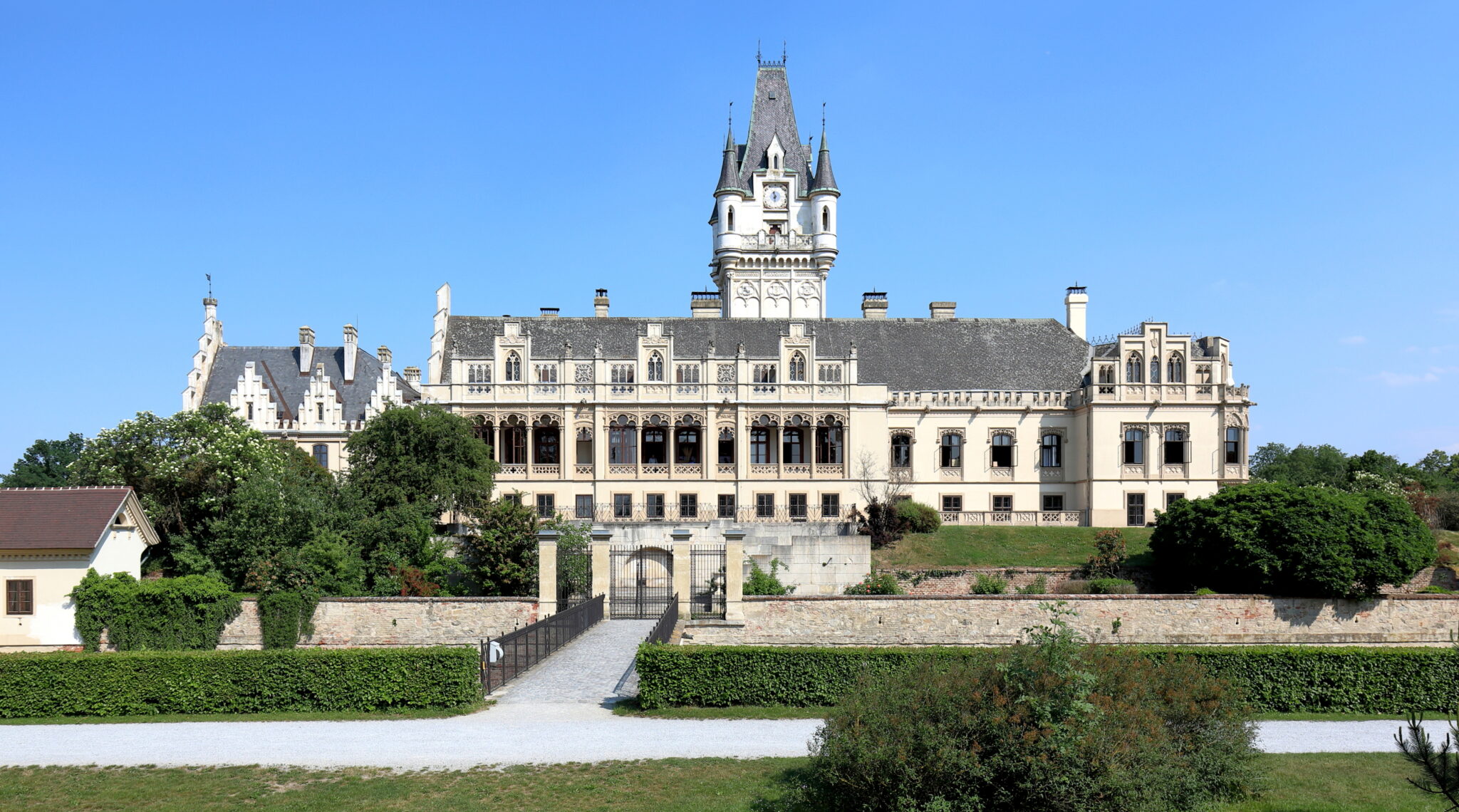 Schloss Grafenegg is an eclectic castle with sculpture-dotted grounds and a striking open-air stage. Seven centuries of history can be discovered in the architecture of Grafenegg Castle, blending elements of Gothic, Baroque, Biedermeier and elegant Neo-gothic.
Its soaring tower, grandiose façades, stylish staircases, atmospheric arcades and attractive chapel makes Schloss Grafenegg a highlight of Lower Austria. It hosts live music performances throughout the year. It's also popular for its Christmas market. The castle is a fine example of historicism, which can be explored on a guided tour.
Schloss Grafenegg Opening hours during tourist season:
Mon to Fri 9am – 5.30pm
closed on public holidays
In colder months with fewer visitors, guided tours are by appointment only.
Schloss Grafenegg Contact Details:
Email: [email protected]
Telephone: +43 (0) 2735 2205-22
Schallaburg Castle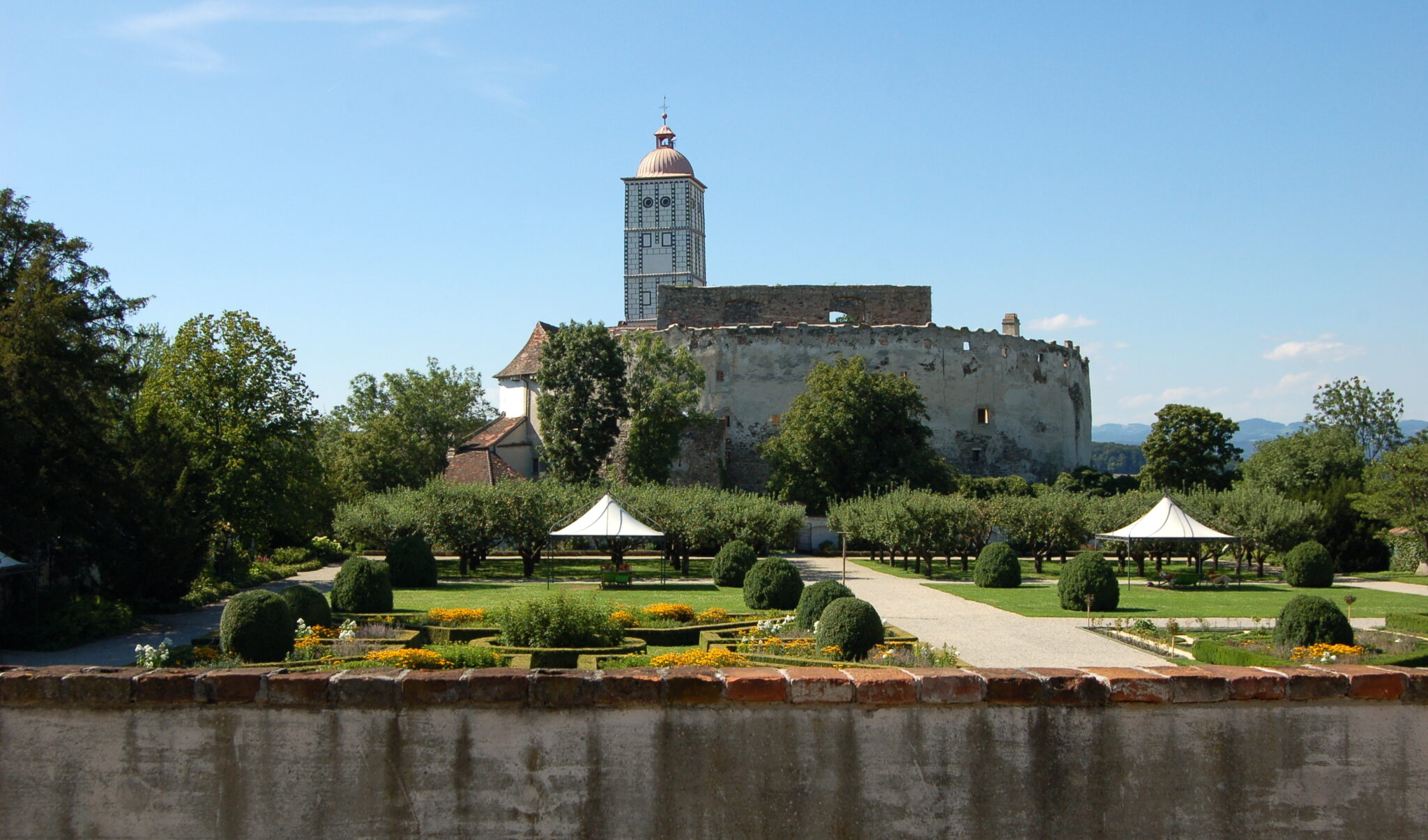 Schallaburg Castle is located 5 km from Melk, in the Mostviertel region. Schallaburg Castle is a 1,000-year-old architectural gem that offers an abundance of stories to tell. Visitors can plan to have lunch or a drink at the castle restaurant. There's also a 35-meter dragon playground for kids to enjoy. The municipality of Schollach, near the Wachau Valley, rests just north of the Alps.
Opening Hours and Dates of Schallaburg Castle:
March 20th to November 7th
Mon.-Fri.: 9:00 am to 5:00 pm
Sat., Sun., holidays: 9:00 am to 6:00 pm
Last admission one hour before closing time
Contact:
3382 Schallaburg 1
Tel.: +43 2754 6317-0
office[at]schallaburg.at
Krems
Krems is a picturesque medieval town along the Danube River. Historic buildings, charming cafes and delicious restaurants offering specialty Austrian food make it one of the many Wachau highlights. Highlights include the landmark Steiner Gate. It's the starting point of a lovely pedestrian zone through the historic quarter, the Art Mile, Danube University Krems and Danube Promenade. The Boat Station offers fantastic trips around the Wachau Region.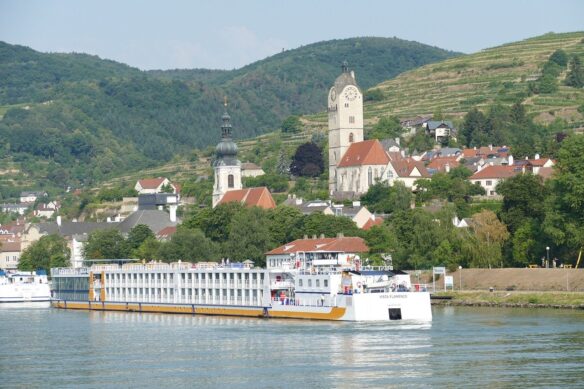 Krems Hotels
Hotel Unter den Linden offers a lovely stay in the heart of Krems. 39 guest rooms, along with 3 suites are individually decorated. A scrumptious breakfast buffet includes fresh local products and includes homemade pastries. It's difficult to find eggs as good as the ones in this region, in the United States. The hotel is located between Steiner Tor, the landmark of Krems, as well as the entrance gate to the beautiful old quarter, and the State Gallery of Lower Austria. 
Wachau Valley Recap
The Wachau Valley offers an abundance of charming Austrian villages, scenic vineyards and proud castles along the Danube River. The serenity of the landscape combined with laidback village vibes make it a unique destination to explore. Exploring the region by river cruise offers a unique perspective sailing along the Danube River. But the region can also be enjoyed by car, bike or train. It's a destination that leaves visitors with indelible memories and a longing to return someday.
More on Austria and Wellness Travel
We love the pace of life in Austria. It's a destination that generally values quality of life over sheer quantity. If you're traveling to Vienna, visit Baden bei Wien. It's a Great Spa Town of Europe that translates to "Bathing Near Vienna." Baden is the perfect destination for wellness, art, thermal spas and music. There are several charming boutique hotels perfect for a romantic stay. Visitors can add Wachau or Baden to a bleisure trip following a conference too. Read our tips for visiting Vienna, Austria.
Also, Budapest is just 2 and 1/2 hours by train from Vienna. Budapest is known as Spa City, because it's home to more spa towns than any other capital in the world. Read our article on Budapest spas, packed with tips for a great experience. Austria and Budapest are ideal for a wellness getaway packed with delicious cuisine and beautiful architecture!
About the Writer and this Website
Alex Kallimanis is a UCF graduate who grew up in the Orlando, Florida area before living in destinations like Australia, the Netherlands, Ireland and east coast destinations like Boston and Washington, DC. As a travel journalist and travel consultant, I enjoy assisting readers with getting amazing experiences and value from their trips. I've visited 58 countries and counting.
I'm also a Greek citizen that has made 10+ trips to Greece. My wife of nearly 17 years, Bell, is an Australian scientist working in cancer research. We first met in a hostel in Brugge, Belgium while backpacking Europe solo after college. You can read more on that story in our about page if you're interested.
I encourage you to browse some of the other destinations we've covered for helpful tips. I also share advice in our resources page that could save you thousands on travel costs!
Disclosure: This article contains some affiliate links. We earn a small commission, at no extra cost to you, when you book through our links.