George Washington was not only America's first president, he was also the general who led the American revolutionaries into battle, ultimately defeating England for independence. This has been forever immortalized with the United States capital named in his honor, along with his face adorning the front of the US dollar bill (with the back having obscure latin phrases and eery masonic imagery). George and his wife Martha were also wealthy plantation owners, and his former estate at Mount Vernon is both a beautiful day out and an interesting history lesson to even casual observers.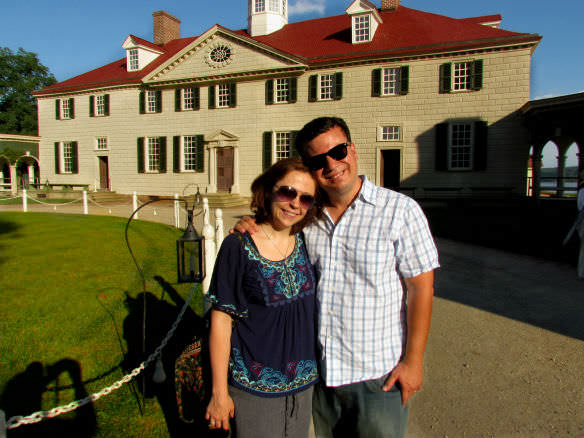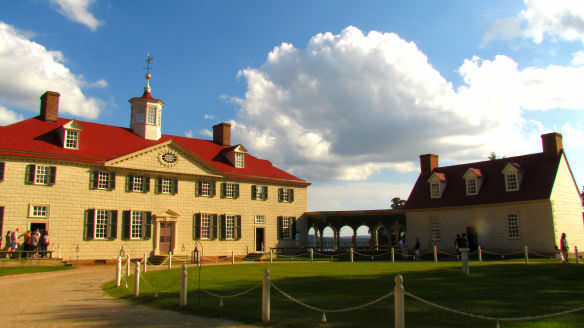 Mount Vernon is located 18 miles (30km) across the Potomac River from Washington, DC. We conveniently caught the Washington metro to Alexandria Virginia's Eisenhower metro stop. In the adjacent parking lot, international car share company 
zipcar
conveniently owns several spaces where you can handily reserve a car by the hour or by the day. We booked a car just a few hours ahead of time, to zip over to Mount Vernon and take a scenic little drive down the Potomac River afterwards. Zipcar has cars for rent all over the DC area but we chose to rent it in Alexandria to avoid some traffic.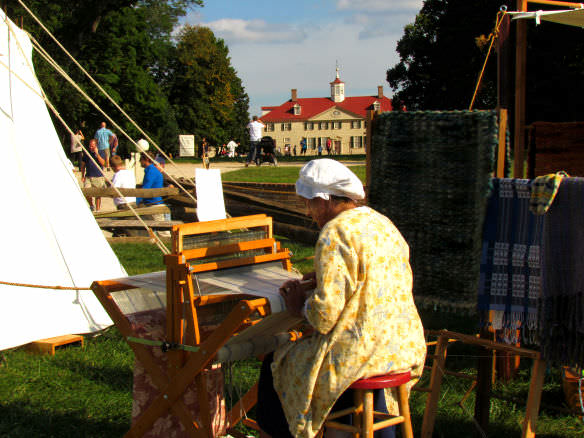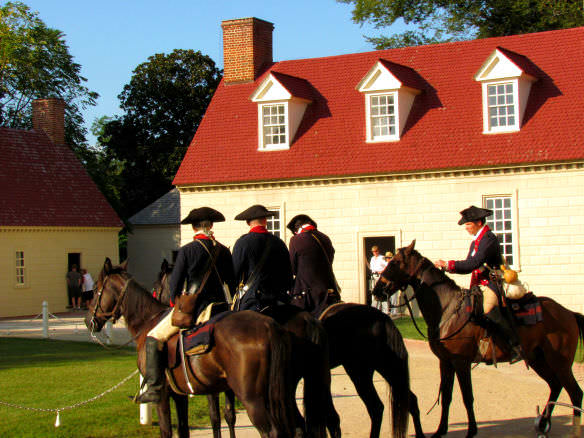 On the short drive along Highway 1 we drove past clusters of modern businesses like Country Buffet and we imagined Washington riding back to Mount Vernon and stopping with his friends to chow down on unlimited fried chicken and biscuits. Washington produced wheat on his plantation and we imagined him bartering with the local Dominos pizza by saying something like "Hey, I'll send you guys flour for your dough. In return you cater all my gatherings with important foreign dignitaries like the Marquis de Lafayette with pepperoni pizzas." In reality, Martha Washington supervised the servants (slaves) daily baking of bread and ham as the Washington's frequently did have guests, that they also quartered in their guest rooms at Mount Vernon. Given there were no hotels back then, there was a social obligation to put your guests up. The Marquis de Lafayette once crashed at Mount Vernon for 6 weeks!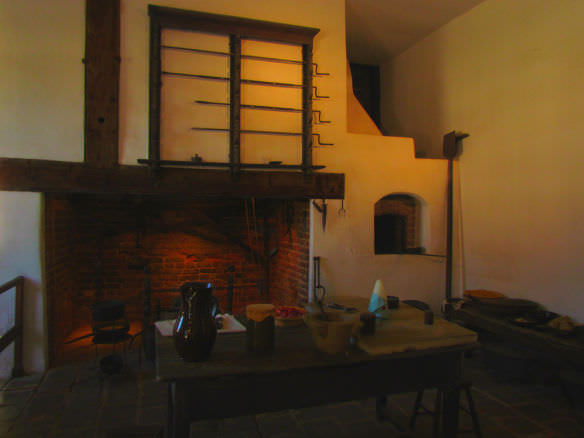 On the day we attended we were fortunate to see a recreation of an old colonial market with lots of stalls and people in old style dress. There was a really fun buzz surrounding this and we felt the only thing missing was a revolutionary war reanactment. Washington's former mansion has a beautiful elevated view of the Potomac River and surrounding area. The back of the house is lined with chairs for people to sit and admire the peaceful view. There's horses, cattle, sheep and a nearby distillery and gristmill. Washington's estate has been managed by the Mount Vernon Ladies Association since they purchased the estate in 1858, rescuing it from a state of disrepair from Washington's heirs (interestingly, the US government turned down the opportunity to buy the estate). Mount Vernon has been open to the public since 1860 and is open 365 days a year. The Ladies Association claims that 80 million visitors have come to Mount Vernon over the past 154 years.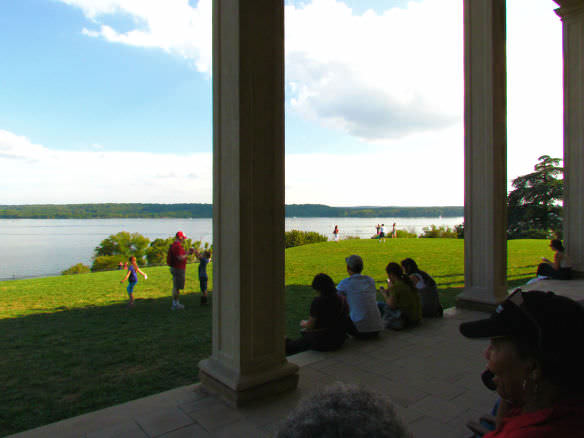 It was a busy Saturday afternoon when we visited and after paying admission ($18 regular price for adults) we cued up to walk through Washington's beautifully restored mansion. In each room a guide explains some features and the history of the rooms. One of the highlights was the dining room painted in historically accurate lime green, which was fashionable back then because it was an expensive paint color. Washington's original presidential chair is also on display in the house. Photos are not permitted inside the mansion, but you can snap away everywhere else.
Other highlights of a visit to Mount Vernon are George and Martha's side by side tomb, just a short walk from the mansion. The tomb is guarded by two men in colonial dress who stand firmly at attention. The museum was really interesting in detailing Washington's life and how he became so powerful. Even the gift shop is unique, because you can even purchase whisky produced at the recreated distillery which became functional again in 2007. Yards Brewing Company produces some special beers based off original recipes by other founding fathers like Thomas Jefferson and Benjamin Franklin, which are sold at Mount Vernon. These guys must have really liked home made booze!
Mount Vernon recommends at least 3 hours to tour the grounds and indeed there's a lot to see. Afterwards, we jumped back into our zipcar for a lovely drive back to historic Alexandria along the George Washington Memorial Parkway, and enjoyed a lovely sunset before dinner.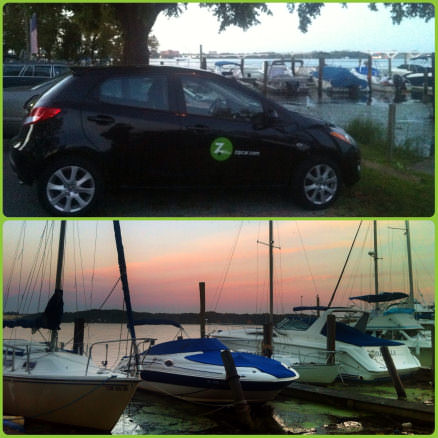 We'll be writing more about DC, but in the mean time, if you're looking for some happening tips while zipping around Washington, check out 
ziptopia's local guide to DC neighbourhoods
, written and photographed by two DC residents. We enjoyed their recommendation of 
Ted's Bulletin
, which is a family owned 1920's themed restaurant that whips up alcohol spiked milk shakes and delicious home made pop tarts, to go along with a hearty all day breakfast menu. It's a buzzing and unique place that we'd recommend during your visit to Washington.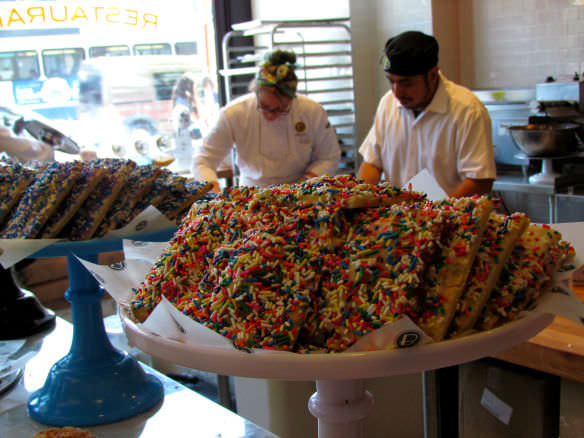 Washington has pretty good public transportation for an American city but the metro runs less frequently on weekends, which is also the time that most construction takes place, often eliminating portions of metro lines or making trips more time consuming by replacing the trains with shuttle buses. In two recent trips to the DC area, we've found that combining the use of the metro with zipcar rentals is an excellent and convenient way to explore everything you want to see in DC, Virginia and Maryland. And while in Washington, not only is gas included with a zipcar rental, but so is parking in metered spaces! Have your own recommendations? Please let us know in the comments!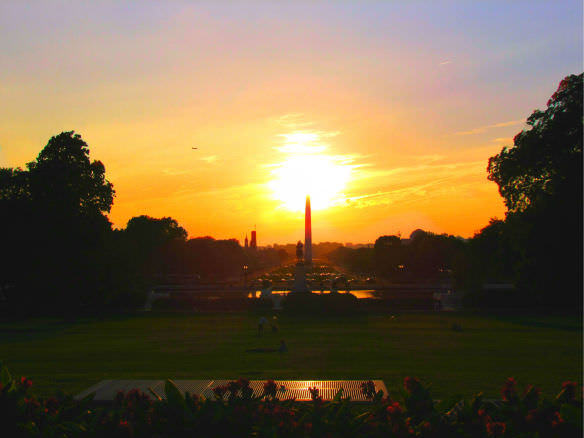 Where to Stay in Washington, DC?
Before living in Washington, DC, we visited a few times for work. A couple of our favorite stays were at the Washington Court Hotel, near the US Capitol Building. Some rooms have views of the US Capitol, so it's worth requesting them. The Washington Hilton, which hosts the Washington Correspondant's Dinner is also a favorite. If you're looking for good value in DC, you can sometimes find it on weekends when the business travelers are gone. Weekend rates are sometimes 300% less than high weekday rates!
Budget travelers should check out Airbnb. If you've never used the service, sign up here to receive a discount off your first stay! Look for rooms or whole apartments and houses with consistently good reviews for the best experience.
Disclaimer: This post contains some affiliate links. If you book via the links we receive a small commission which helps maintain our site, but costs nothing extra for you.