5 months after relocating back to the USA, there are some things we really miss from our 6 years living in Europe. Our recent trip back to our old home of the Netherlands and neighbouring Belgium served as a reminder of what we left behind, and after 12 days we boarded the plane back to United States not wanting to return to our new home of Boston. So here's 5 things we really miss, in no particular order, but it's a list we both contributed to.
1. Cheaper Natural Food
America has some great food, unfortunately too much of it is some of the junkiest and most processed food in the galaxy. More and more food produced in the United States is processed to allow maximum shelf life for the betterment of nothing but corporate profits. European companies like money too, so processed food is unfortunately expanding on European soil, but not to the rampant extent it has in the United States. Even Whole Foods, which is often outlandishly expensive, puts too much sugar in their bread and sells a fair amount of processed food. On a recent episode of HBO's Real Time with Bill Mahr, Mahr joked that if Whole Foods food is so good for you, why do they sell so many products to help you get rid of it so quickly?
We miss Europe's general emphasis on higher quality, natural foods, with less sodium. This is a chicken and egg thing, it's what the European population generally expects, so local grocers and restaurateurs that aren't tourist traps must meet these demands if they want to stay in business. Here in Boston we were shocked by a local pizza chain that's been in business for nearly 100 years, who claims they're using the original recipe of their Italian immigrant founders. If their Italian immigrant relations over salted and over sweetened their processed tasting pizzas, then maybe.
Again, there is quality food in the USA, it's just generally more expensive and harder to come by.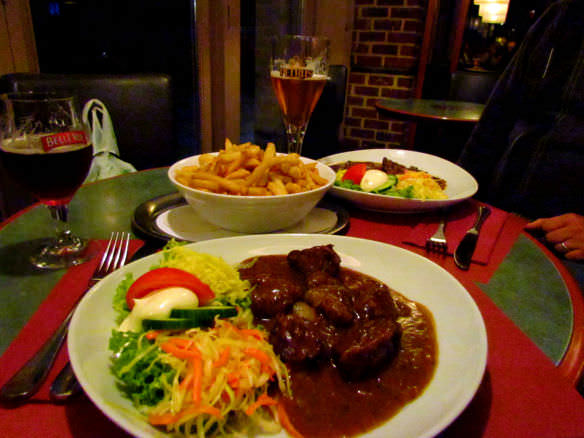 2. Feeling Relaxed in Restaurants
When we first moved to Amsterdam, money was really tight because Bell was working on her PhD and the 2008 economic crisis had just hit, leaving Alex out of a job and work prospects hard to come by. One night we went out for 5 euro pizza, and all we ordered was 2 pizzas and tap water. When we were done, we just sat talking, but after awhile started wondering what had happened to our server and where the bill was. In Europe you will very rarely be rushed out the door, no matter what you ordered. Sometimes in the US we've even had our server drop the bill off while we're still eating! Servers usually say there is no rush to pay, but it certainly doesn't feel like that, especially when you're continually badgered about your entree order while still eating a huge appetizer. We have, however, found a few gems that aren't in a rush to get you out the door while also taking as much money as possible…they are all generally ethnic restaurants, French, Afghan, you get the picture.
3. Train travel
Working out how to get to a small town in America to break away from the hustle and bustle of the city without owning a car is a pain, as there is only one simple way to do it… by car. In Europe, even many small towns are serviced by a train. The US does have government owned Amtrak, which is utilized most heavily in the northeast, with the best services primarily extending from Washington, D.C. to Philadelphia, New York and Boston. We used to live in Florida and Amtrak runs between Orlando and Tampa, with a shocking one train per day. Contrast this with the Netherlands, which runs an equivalent distance and population route between Amsterdam and Rotterdam directly every 30 minutes. And sometimes trains are running every 10-15 minutes between Dutch towns!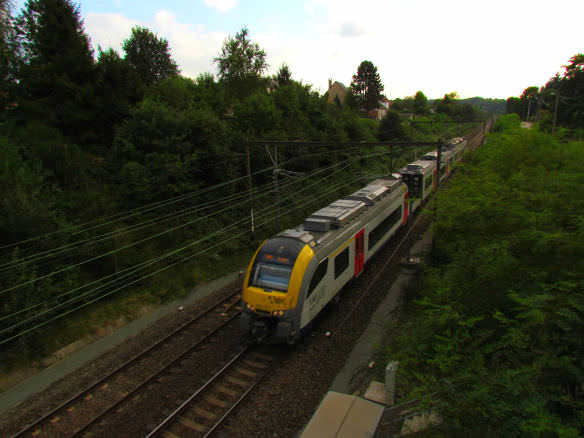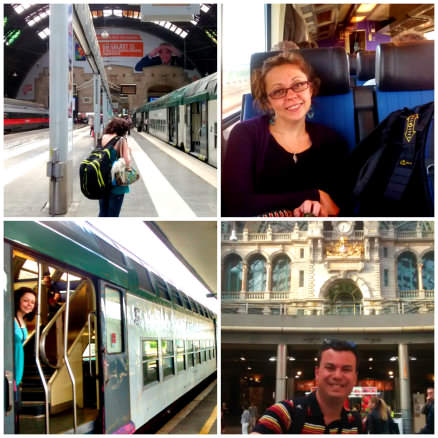 4. Vacation Mentality
We've been directly asked and also commonly overhear things like "Do you have time for a summer vacation this year?" In Europe we were never asked this question, it was always, "what are you doing for summer vacation?" This may seem like a subtle difference, but it's not. Virtually everyone, no matter what they do, needs a break from work, even if that means a trip locally or even a week off to enjoy your home in your pajamas. The American mentality that time off over the summer is a luxury that not all can afford, financially or time wise, is extremely unfortunate. Labor laws in the United States in terms of vacation, sick leave and maternity leave are in the 3rd world realm.
5. Cheap Plane Tickets
Love them or hate them, Ryanair has some fantastic deals, Dublin to Manchester, roundtrip, ohhh that will be 30 euros ($39 USD!). While JetBlue has some decent deals, they don't touch European discount carriers. The difference in the average American and European wages are not so dissimilar. What's different is that there's less competition in the US airline market and an even greater emphasis on corporate profits. The US government should not have allowed some of the recent American airline mergers between companies liked United and Continental and Delta and Northwest, but they did, and now consumers are paying a heavy price. But what's also different is the airline business models. Many Europeans are more willing to fly very cheap if it means bare bones service and paying extra for a can of soda. And we sure as hell would rather pay $7 for a soda and snack if we want it, then $100 to have it *included* in the price. Companies like Ryanair also make money by advertising on the overhead baggage compartments and even selling scratch off lottery tickets. The model isn't for everyone, but we miss dirt cheap air travel, and we miss living in Europe.