Many people, including World War II aficionados, associate Nuremberg with the Nazi party. It was here that the large Nazi rally grounds were built and from 1933-1938 Hitler addressed hundreds of thousands of supporters in an annual gathering. Hence Nuremberg was also where the allied forces decided to prosecute high ranking Nazi officials in a war crimes tribunal resulting in several death sentences. The courtroom where this took place is still active but also has an exhibition that can be viewed certain days.
The Nazi years of Nuremberg are merely a blip of time given a wealth of history and attractions that includes Germany's most visited Christmas market, the Nuremberg Christkindlesmarkt, a fantastic medieval castle, a wonderful Renaissance past and centuries of strict laws regarding beer and sausage that have kept quality at a premium for hundreds of years. All of this combines to give Nuremberg a long to do list.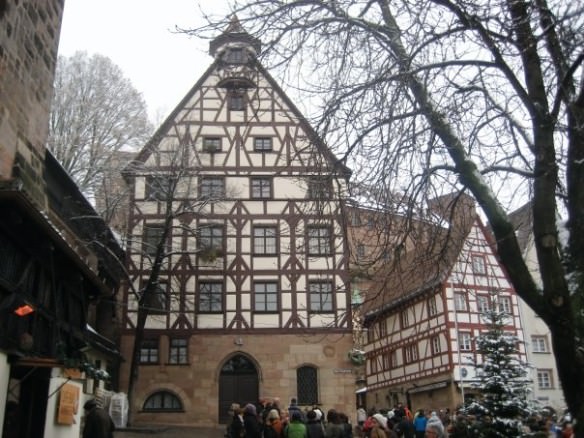 Nuremberg (
Nürnberg 
in German) is
definitely
worth a couple days if you're trekking through Germany. The express train from Munich will get you there in just over an hour. But if you want to save a lot of money the intercity train is pretty cheap and takes around 2 hours. You can get a group discount pass when traveling in a party up to 5 people called a 
Bayern Ticket
.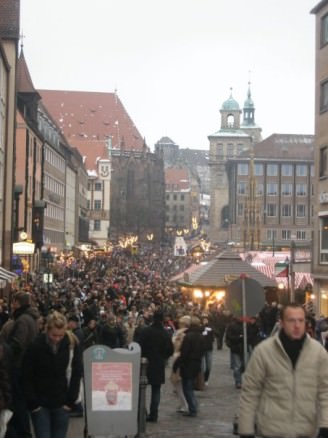 Bell and I love Nuremberg and have visited on a couple occasions because close friends of ours reside there. We've visited for the Christmas markets in December and their wedding in summer. Both seasons are wonderful to visit.
European Christmas markets are fantastic
and Nürnberg's Christkindlesmarkt is Germany's most famous and draws the biggest crowds of any in the nation. We thoroughly enjoyed walking around the ornament stalls while drinking
Glühwein
 (mulled wine) in very frigid temperatures. The fantastic Kaiserburg Castle sits on a hill offering a dramatic view of Nuremberg, is quintessentially Europe and absolutely majestic covered in snow or draped in sunshine.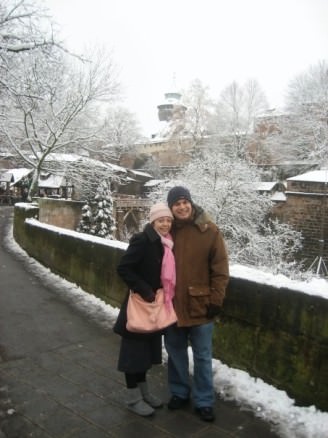 Summer in Nuremberg is equally awesome because you can sit in fantastic beer gardens and drink wonderful brews and eat 
real
bratwurst. A lot of sausages call themselves "bratwurst" or "brats" but the real deal's origins date back to Nuremberg in 1313. Germany has strict laws regarding food quality and the amount of fat that can be included in "bratwurst" is regulated, suffice to say the stuff you get in Nuremberg today is
excellent
. We highly recommend swinging into
Bratwursthausle
. If you're keen you can even order Züngerl, grilled cow's tongue, which I tried for the first time there, as part of my 'What would Anthony Bourdain Eat?' travel mantra.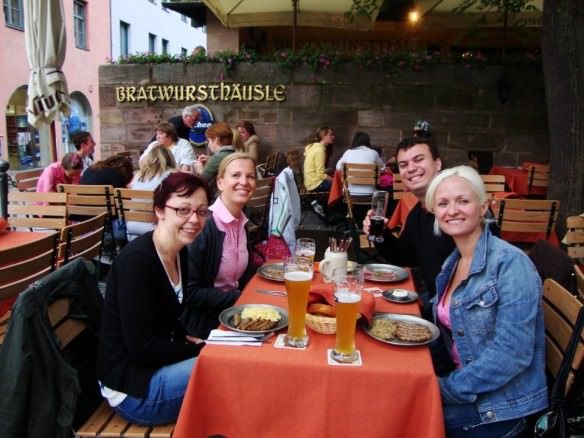 Aside from fantastic cathedrals and cobbled streets, among the splendour of Nuremberg's fairy tale like Old Town is its link to the Renaissance. Considered by many scholars to be one of the most important contributors was writer, painter and artist Albrecht Dürer. And a visit to the
Albrecht Durer House
, now a museum, is one of the best historical and cultural things to do in town.
If you don't have time for the Dürer museum, the museum shop, Museumsladen and Albrecht-Dürer-Haus offers a wonderful insight into Nuremberg's rich past. This former butcher shop is adorned with original tiles that date back to the 18th century, making it very worthwhile to swing in for a look. And this family-run business is not just a great place for those looking for Durer or Renaissance souvenirs, it's also worthwhile for picking other mementos of your lovely visit to the capital of Franconia.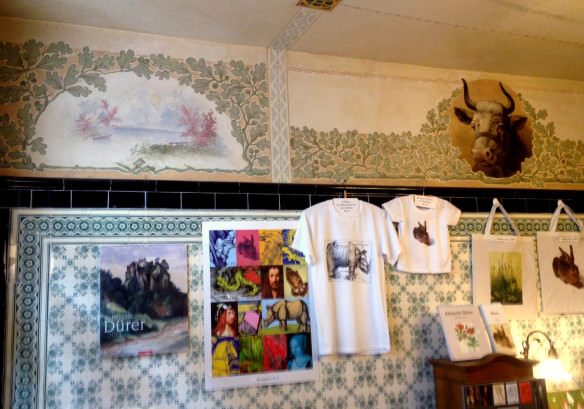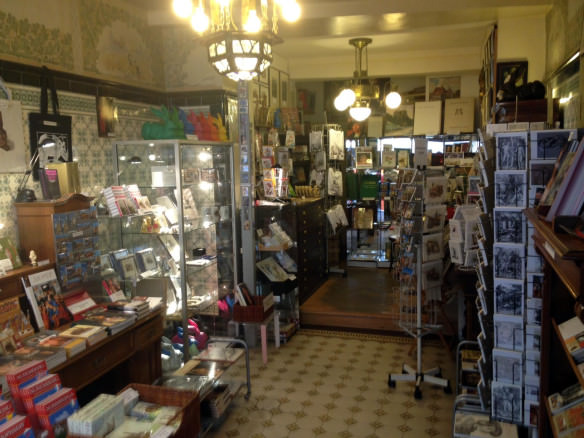 Nearby is "Tiergärtnertorplatz" which is a fantastic place to drink in summer. There are 2 bars where you can sit outside for drinks, in addition to a restaurant with a beer garden. When there are no available seats people just take their drinks and sit on the square. Feel free to join them in soaking up Nuremberg's wonderful ambiance!