One of the hardest parts about living abroad is being away from family. So I was fortunate to recently share my father's visit to Ireland for the 2nd summer in a row. He's 85 and thankfully in good enough health to still make trips across the Atlantic from Florida. I'm very grateful for the wonderful 3 weeks we just shared exploring new things in Dublin, the nearby coast and a few other places. But equally great was just sharing the little moments like catching up over dinner every night. My Dad's visit also coincided with the Obama's visit to the island, so we were both interested to see all the hoopla surrounding that as well.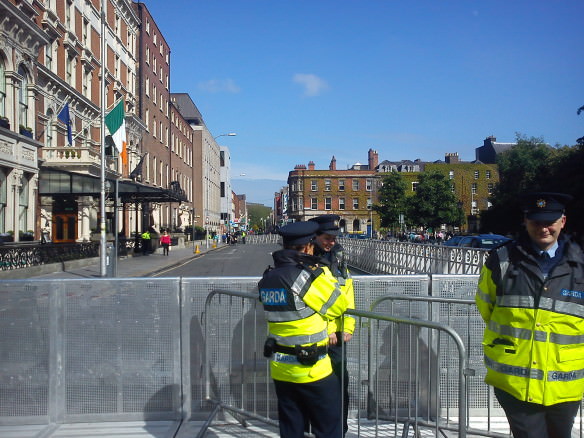 Should We Rent a Car to Explore Ireland?
Bell and I still haven't driven in Ireland. We've been fortunate to have a few friends visit who have been happy to rent a car themselves and we've shared in the cost. But being my father's second visit, I felt ready to finally take the plunge and drive myself. Unfortunately, my Dad didn't feel like going that route.
He had the same reservations I had for driving on the west coast. Asides from driving on the left side, the coastal roads are extremely narrow. Rainy conditions can add to the challenge. So we opted to explore by other means once again.
Ireland's East Coast, Including Belfast
Last we visited Belfast and saw the political murals during my father's visit to Ireland. We also hiked in Bray, on a Day trip from Dublin. For Father's Day weekend this year, we took a 2 hour and 15 minute train ride south, on the east coast, to Ireland's oldest town, Waterford.
We spent a night at the Travelodge, a good cheap option for three people sharing a room in several locations in Ireland as the couch pulls out into a little bed in all their rooms. We couldn't do better for 45 euros. The intention was that we would wake up early on Father's Day and take a bus tour to see the famed Copper Coast Geological Park.
Waterford and the Copper Coast
Immediately after exiting the train station in Waterford we headed to a massive and seemingly new tourist information center. When I inquired about bus tours to the Copper Coast I was given a look like I was crazy. "You could rent a car" she said. "There are no tours there." Looking around the massive information center I probably gave the employee an equally bewildered look in return. Sure, why would there be given there is a UNESCO World Heritage site just 20 km away?
So with the Copper Coast out we had to make other arrangements. Waterford is famous for crystal but after the recession hit, 2,000 employees were laid off and many crystal making  jobs were shipped to Poland. So we decided to skip the Waterford Crystal tour and showcase room. A few of the employees who were laid off, along with a few other local artists, formed a co-op called Kite Design Studios. It's well worth a visit as you can see lovely crystal glassware being hand made and shop for great gifts.
We arrived late and did not see any glassware being made but we had a wonderful chat with a fantastic porcelain sculptor named Sharon Fleming who told us of her adventures hiking the famous 800 km Camino de Santiago trail in northern Spain. She also told us the best places to eat and drink in town. After a good pub dinner we headed to the oldest pub in Waterford, T & H Doolan's, to listen to Irish music. Sinead O' Connor started her career in this pub and it's a must stop for a drink in town. Try a locally brewed Metalman pale ale if you like this style of beer as it's a good one.
Tramore and the Copper Coast
The next day we caught a local bus to the coastal town of Tramore to catch a wee glimpse of the Copper Coast. Unfortunately, the weather was horrendous and we were forced to flee into a little diner and warm ourselves with coffee and hot chocolate…Summer in Ireland! So we returned to Waterford and had dinner at the oldest hotel in town, the Granville Hotel. It's a charming establishment for a meal and a memorable highlight of my father's visit to Ireland.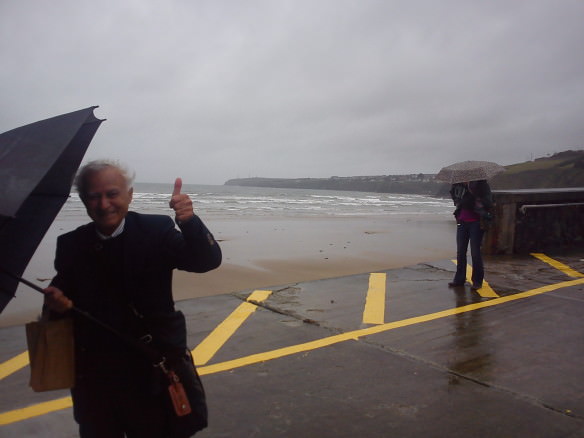 Father's Visit to Ireland Recap
Another great excursion we embarked on was a visit to Glendalough. It's a lovely and historic place. You can even catch a tour bus to from Dublin. But that's a story for another time. In the meantime, thank you so much for visiting again Dad. We love you.
Thanks to 2 and 1/2 years living in Dublin, we were able to learn a lot about the country. Read this article on how to spend one week in Ireland!
Have questions about planning your trip to Ireland? Email me at [email protected] or leave a comment below and we can assist you!
Disclaimer: This article contains affiliate links. We receive a small commission when you book or sign up through these links and it costs you nothing extra. When it suits you, please use them, as it helps us help you!