The Shenandoah Valley of Virginia is a great place for a couples getaway. The area features charming towns packed with great restaurants, historic hotels and cozy romantic cabins, craft breweries and wineries and attractions like the Luray Caverns and American Shakespeare Center. Located just 75 miles from Washington, DC, Shenandoah National Park has been one of the most popular national parks in the country since it was founded in 1935. Here are some highlights to help you plan a visit to Shenandoah Valley!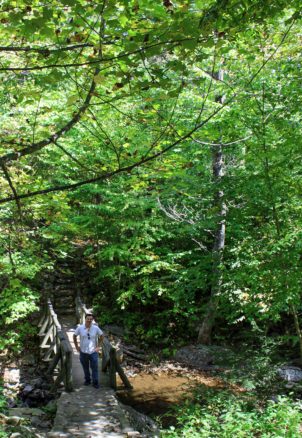 Shenandoah National Park
The Skyline Drive runs the length of Shenandoah National Park, which extends along the Blue Ridge Mountains. A vast network of trails offers many hiking opportunities, including a section of the famous Appalachian Trail. The park includes rocky peaks, waterfalls and wetlands among its mostly forested terrain. Shenandoah National Park is home to black bears, deer, squirrels and many birds species among its wildlife. Hawksbill Summit is the highest peak in Shenandoah National Park.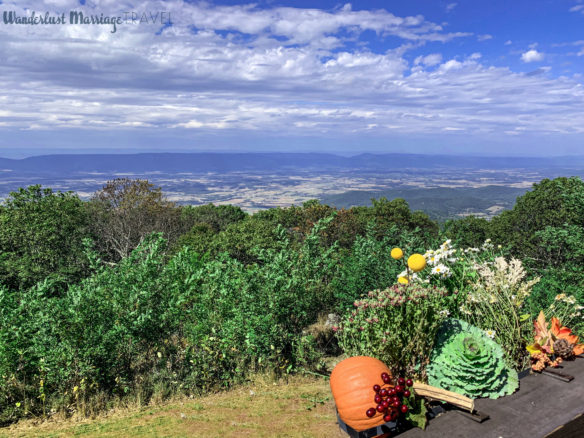 Rapadin Camp
Rapidan Camp was the presidential summer retreat established by President Herbert Hoover and his wife Lou Henry during his administration in 1929. The camp has recently been restored to its 1929 appearance and is available to visit on a 2.5 hour guided tour led by a National Park Service Ranger. Rapadin Camp features three original buildings including the President's Cabin, aka "Brown House", the Prime Ministers Cabin and The Creel. The Prime Minister's Cabin includes an exhibit on the Hoovers' lives, their time at Rapidan Camp, and President Hoover's presidency during the Great Depression.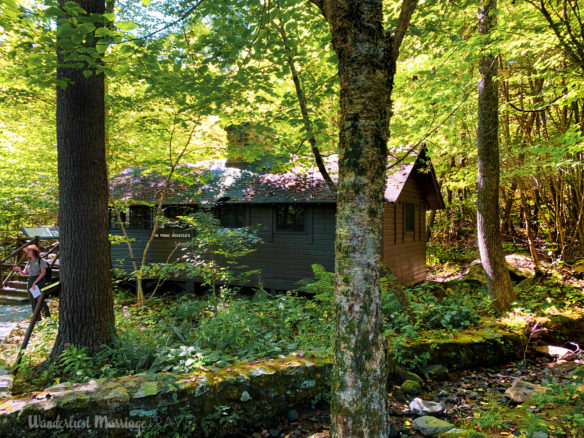 Access to Rapidan Camp involves traveling in an NPS operated van along a seven-mile unpaved administrative road. NPS Ranger-guided tours of Rapidan Camp are offered between late-May and late-October on Thursdays, Fridays, Saturdays, and Sundays each week and can be booked here.
Shenandoah National Park Hotels
Big Meadows Lodge
Shenandoah National Park features several great options for couples and families to stay in the park comfortably. Big Meadows Lodge is a rustic lodge offering gorgeous views of the Shenandoah Valley. Enjoy a delicious meal in their spacious restaurant. Weather permitting, grab a seat on their terrace, with a sweeping overlook from their deck. Big Meadows Lodge also has an on-site craft beer tap room. It's a great spot to share drinks amongst your friends or loved ones.
The interior of Big Meadows is made entirely of native oak and chestnut. Accommodation ranges from basic rooms to spacious cabins with full kitchens. WiFi is available in the main building of Big Meadows as well. So you can choose to disconnect with a digital detox, or stay connected.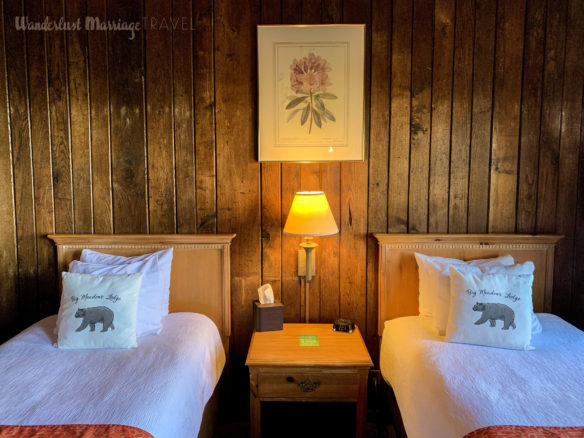 Skyland
Skyland is another great lodge right along the Skyline Drive of Shenandoah National Park. The history of Skyland as a vacation retreat goes back to 1888, before the area even became Shenandoah National Park. At 3,680 feet, Skyland offers fantastic views of Shenandoah Valley. There is on-site dining as well as a cafe. The area has lots of hiking trails, along with activities like horseback riding and rock climbing.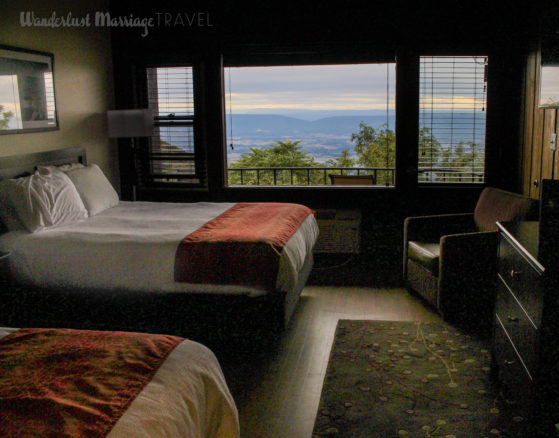 Check out the NPS guidelines for visiting Shenandoah National Park, which includes general information, accessibility and a calendar of events. You can also read about bear safety and tips for preventing ticks. Personally, I have a fear of bears, but attacks in Shenandoah National Park are rare.
Staunton, Virginia: Historic Places and Shakespeare
Staunton is an excellent base to explore Virginia's Shenandoah Valley and the Blue Ridge Mountains. Downtown Staunton houses a vibrant arts and music scene in a charming setting. Main Street has a great assortment of independent shops and galleries.
American Shakespeare Center
The American Shakespeare Center is the world's only recreation of Shakespeares's Blackfriars Theatre in London. The original Blackfriars Theatre burned in the Great Fire of London in 1666. The Blackfriars Playhouse was built in Staunton in 2001 after meticulous research. The theatre houses multiple Shakespeare plays year-round and is a world-class venue to catch a performance. Check out the American Shakespeare Center calendar for all the details on shows and tickets.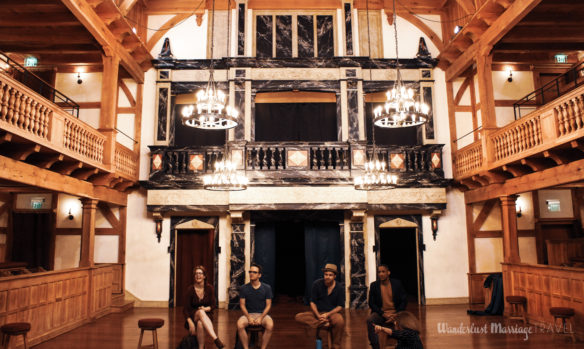 Woodrow Wilson Presidential Library and Museum
Another highlight of Staunton is the Woodrow Wilson Presidential Library and Museum. Woodrow Wilson was born in Staunton and went on to become the 28th US President, leading the country from 1913-1921, during the World War I. Wilson was the son of a pastor, and guided tours take you through the old family home, where Wilson was born. Adjacent to the home is a museum. Highlights of the museum include the car that transported President Wilson, which still apparently runs!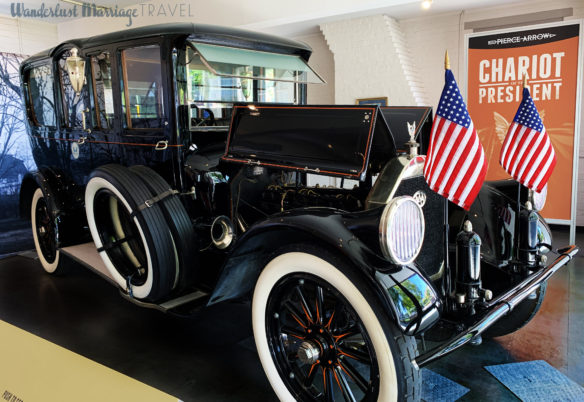 Where to Eat and Drink in Staunton, Virginia
Staunton has some great restaurants and breweries. For a delicious romantic dinner, head to Zynodoa, a modern farm-to-table Southern restaurant & bar in a historic building. Try Rappahannock River fried oysters with apple and fennel slaw and citrus aoli as an appetizer. Their artisan cheese board is also excellent. Their NY Strip with am fog maitake mushrooms, roasted fingerling potatoes and black garlic butter as a main is a solid choice.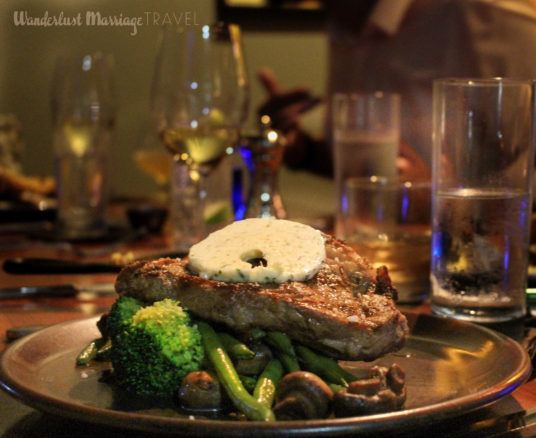 For delicious coffee and fantastic pastries, go to Reunion Bakery and Espresso. The quality of croissants and other pastries at Reunion rivals what you'll find in a fine patisserie in Paris. They cater the breakfast pastries for Blackburn Inn, a member of Historic Hotels of America.
Downtown Staunton features several craft breweries including Bedlam Brewing, Queen City Brewery, Shenandoah Valley Brewing and Redbeard Brewing so beer aficionados are spoiled for choice. We stopped in Shenandoah Valley Brewing and enjoyed sampling a flight of beers in a laid back atmosphere with friendly service.
Where to Stay in Staunton, Virginia
Staunton features two hotels that are part of the Historic Hotels of America. The Stonewall Jackson Hotel is located right in downtown Staunton, next to the American Shakespeare Center and walking distance from lots of restaurants, shops, bars and cafes. The Stonewall Jackson Hotel was originally built in 1924 and was recently restored in 2018. It's perfect for a romantic getaway in the Shenandoah Valley, with amenities that include an indoor heated pool.
Another great stay in Staunton, perfect for couples is the Blackburn Inn. Another member of the Historic Hotels of America, the building dates to 1828. The original builder was a carpenter for Thomas Jefferson. The building's history is storied, previously housing a mental asylum, it was later converted to a boutique hotel. The tranquil property, just outside downtown Staunton, rests on 80 acres of well-manicured grounds. Old-time charm meets modern finishes at Blackburn Inn, making it an excellent host for weddings too. Pastries at breakfast are baked at Reunion Bakery and Espresso, which is excellent.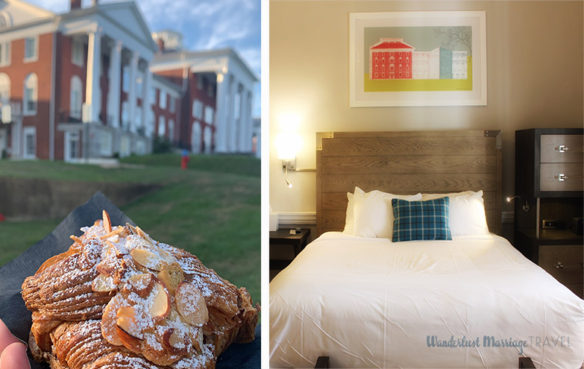 Luray, Virginia
Luray Caverns
The Luray Caverns are the largest caverns in the Eastern United States. Luray Caverns were first discovered on August 13, 1878 by five local men, including tinsmith, Andrew J. Campbell and local photographer Benton Stebbins. Today the caverns are a very popular tourist attraction in Luray, Virginia. Guided 75-minute tours leave every 20 minutes from 9am-6pm.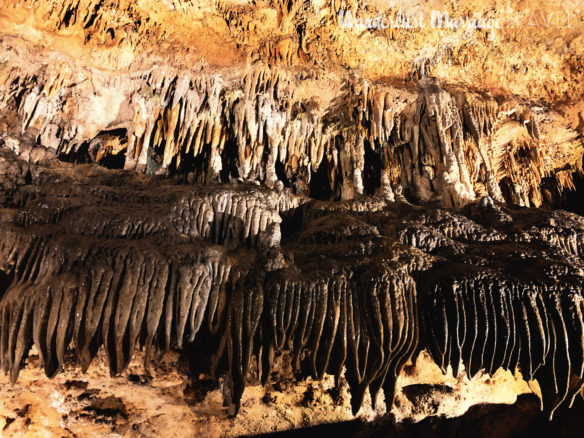 Luray Caverns are packed with stalactites, stalagmites, mirrored pools and mud flows, that create beautiful optical illusions. Another highlight is the Great Stalacpipe Organ, a lithophone made with solenoid-fired strikers that tap stalactites of different sizes to produce tones similar to xylophones, tuning forks or bells. A lighted pathway in the caverns means tours are also handicapped accessible as well as suitable for families. 
Ticket prices for Luray Caverns:
Adults: $28
Children: $15
Under 6: FREE
Seniors: $25
Where to Stay in Luray, Virginia
The Mimslyn Inn has been in business since the 1920's and is part of the Historic Hotels of America. From its hilltop location in Luray, well-appointed rooms feature great views of the Blue Ridge Mountains and Shenandoah Valley. Suites feature jacuzzi tubs, fireplaces and large flat-screen TV's. Circa' 31 is their specialty dining restaurant open for dinner shows and Murder Mystery dinners. Their Speakeasy Bar and Restaurant has art deco-inspired decor, a prohibition theme drink menu and period music.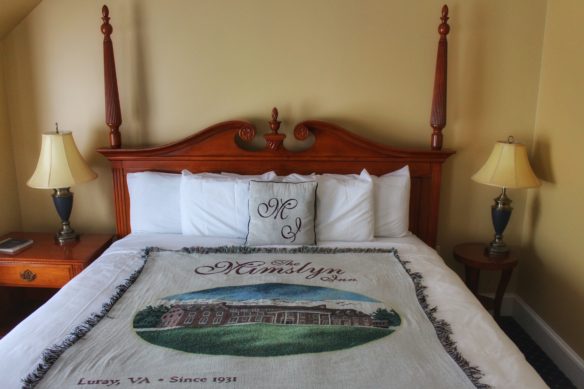 Where to Eat in Luray, Virginia
Gathering Grounds
Swing by Gathering Grounds for a tasty breakfast and a gourmet coffee, as they have a full-service espresso bar. At lunch, they offer a wide selection of gourmet sandwiches, soups and salads. They also have a wide variety of homemade pastries and pies. The atmosphere is relaxing and they invite guests to "linger over your drink and use our Wi-Fi if you need it."
Read more about Luray in this article by our friends at SometimesHome!
More Tips on Visiting Virginia
Virginia is a wonderful state packed with history and natural beauty that we love exploring. This year marked the 50 year anniversary of the tourism slogan "Virginia is for lovers."
Near Shenandoah Valley, Charlottesville is a wonderful town to visit. It's home to the University of Virginia and Jefferson's estate at Monticello. We enjoyed staying at the historic Prospect Hill Plantation Inn bed and breakfast, whose manor house dates back to 1732. The original login cabin built on the property in 1699 still remains, and you can stay in the "boys cabin" today.
If you're visiting the state's capital, read our article on how to spend a fantastic weekend in Richmond. The Virginia Museum of Fine Arts and the Virginia State Capitol Building are major highlights. The Jefferson Hotel in Richmond offers historic luxury and is the state's only AAA 5 diamond rated hotel.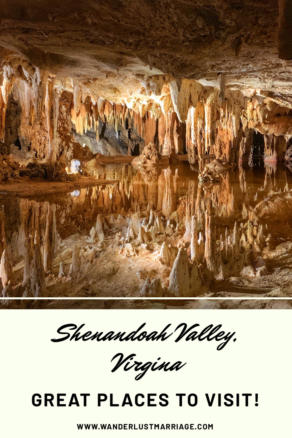 Disclosure: I visited the area as part of a press trip prior to the annual Mid-Atlantic Tourism Public Relations Alliance (MATPRA) conference in Richmond, Virginia. Special thanks to Kathy Moore for organizing a great trip on behalf of Visit Shenandoah. All photos and opinions here are mine. Also, this article contains some affiliate links.