Wild, wacky and wonderful are three words that encapsulate the experience of visiting Southeast Montana. A pontoon boat ride through Bighorn Canyon is wonderfully picturesque, and perhaps one of the most underrated experiences in the United States. The Terry Badlands offer another dramatically beautiful landscape.
Southeast Montana is also rich in Native American culture and history. Little Bighorn Battlefield was home to "Custer's Last Stand," a major Native American victory in the fight to preserve their way of life. Pompeys Pillar is where Captain Clark engraved his name during the Lewis and Clark Expedition, helping to pave the way for American expansion.
Then there's the wacky, like the world's largest steer at the O'Fallon Historic Museum. And oddities like the Church of Hank Williams, whose congregation consumes around 5,000 beers per month. Yes – almost anything can be a church in the United States, and southeast Montana offers a wild variety of surprises. Here are some of the best things to experience in the region!
Bighorn Canyon Pontoon Boat Ride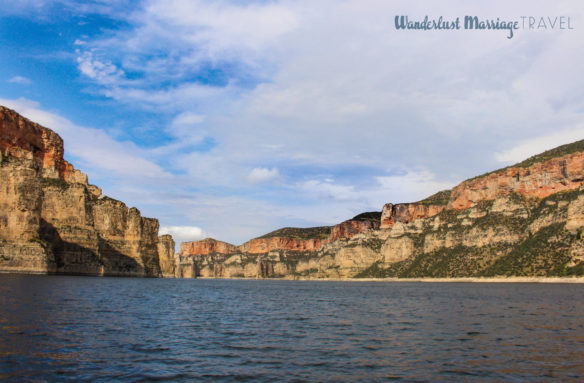 Bighorn Canyon Recreation Area is an incredibly scenic area to explore by pontoon boat and kayak. When I posted photos of Bighorn Canyon on social media, a couple people replied with 'I thought that was the Grand Canyon at first.' The area features more than 10,000 years of human history and diverse wildlife. The day I visited we saw a black bear roaming along the bank of the Bighorn River.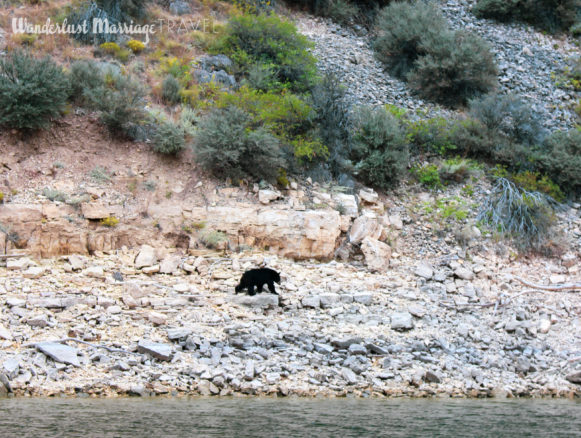 Bighorn Canyon Recreation Area is on the Crow tribe's reservation, an area of land around the size of Delaware. The Crow partner with the National Park Service to allow visitors to enjoy their beautiful land. From Memorial Day to Labor Day visitors can rent pontoon boats from the Crow for $300 for half a day or $400 for a whole day for up to 12 people. This is a great idea for a family trip or getaway among a group of friends. Pack a picnic and enjoy the day in a stunning setting. The NPS even has floating bathroom stations set up in the Bighorn Canyon Recreation Area.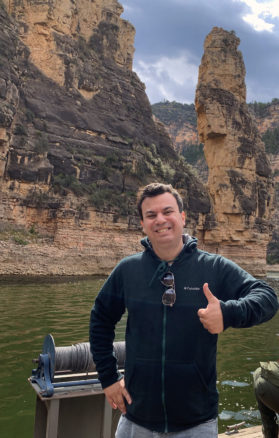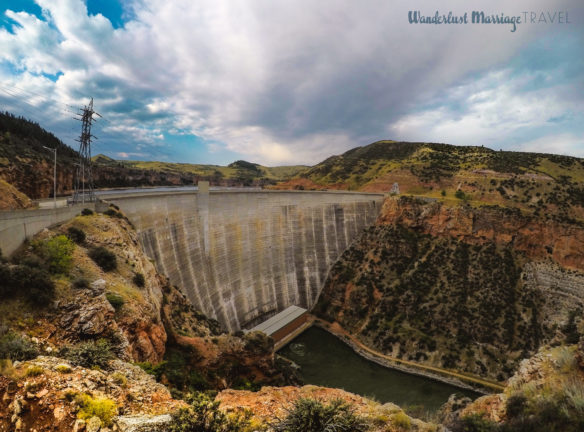 Terry Badlands
The Terry Badlands WSA is a designated Wilderness Study Area three miles northwest of the small town of Terry, in southeast Montana, north of the Yellowstone River. You can access the scenic overlook by a westbound dirt road directly off Highway 235 (The Big Sky Backcountry Byway). You can also access Terry Badlands via the Calypso trail. The Calypso Trail is a dirt road on the western side of the Wilderness Study Area, accessed by the old Milwaukee railroad grade.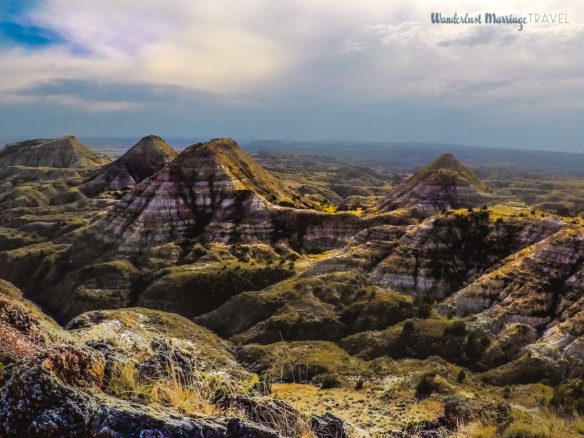 Terry is home to the historic Kempton Hotel, established in 1902. The Kempton Hotel is the longest continually operating hotel in Montana. The B&B features a charming collection of art and an impressive library. The hotel is currently undergoing renovations and some rooms are newly renovated. It's a good stay for those that appreciate historic family run bed and breakfasts.
If you're planning a road trip from Mount Rushmore or the Badlands National Park to Yellowstone National Park, the Terry Badlands is off the beaten path and a picturesque place to include in your itinerary!
Little Bighorn Battlefield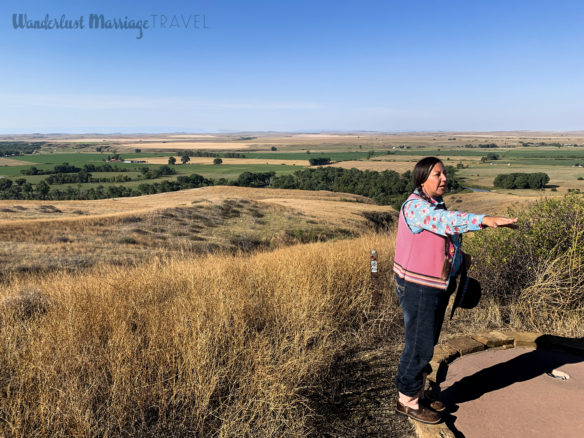 Little Bighorn Battlefield is one of the most important battlefields in the United States. The area memorializes the US Army's 7th Cavalry, along with the Lakota and Cheyenne Native American tribes. In 1876, 263 US Army soldiers, including Lt. Col. George Custer, died fighting several thousand Lakota and Cheyenne warriors. It was one of the Native American's last armed efforts to preserve their way of life after President Ulysses S. Grant ordered natives back onto their reservations, by force if necessary.
Rose Williamson gives fantastic tours of the Little Bighorn Battlefield through Indian Battle Tours. She presents an in-depth account of the events of the two sides of the battle in an entertaining style that simply can't be replicated by reading a book. Her tours range from one to three-hours long.
The cost for a 1 hour guided tour of Little Bighorn Battlefield with Rose Williamson starts at $80. How the tours work is you'll arrange to pick up Rose at the entrance to Little Bighorn Battlefield and the tour takes place in your own vehicle, as well as stops on the battlefield.
Fly Fish on the Bighorn River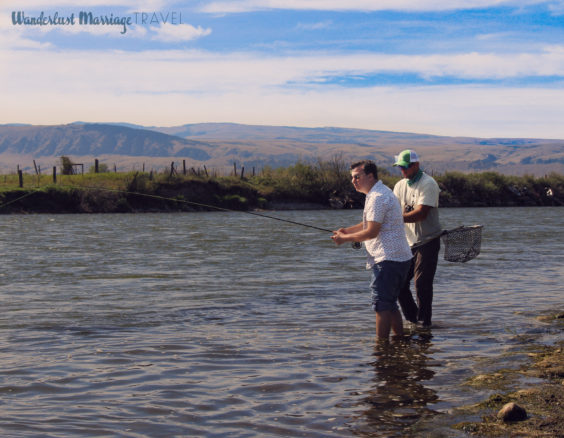 The Bighorn River offers world-class fly fishing opportunities. Fly fishing is an art, and if you haven't tried it before, you'll struggle to duplicate Brad Pitt's performance in A River Runs Through It. The popular 90's film put fly fishing in Montana on my radar for well over two decades, and I was glad to tick it off my bucket list.
Bighorn River Lodge is a great place to stay for those planning to fly fish. Cabins have modern amenities including air conditioning and the back decks have a great view overlooking the Bighorn River. Bighorn River Lodge is run by David and Carrie, a friendly couple originally from Philadelphia and Buffalo that take great care of their guests – including preparing homemade meals for dinner. They help guests arrange guided fly fishing excursions. And if you've never tried fishing, you'll probably need a guide!
I struggled a little to catch on to fly fishing but managed to catch a beautiful brown trout with the assistance of JD. We put the fish back in the water following the photo. Fly fishing on the Bighorn River is really relaxing, and part of the fun is watching some excellent fly fishermen work their mesmerizing magic on the water.
Be sure to buy a Montana fishing license online as it's required. Attaining the license is easy, and the $52.50 fee for out of state residents allows you two days of fishing.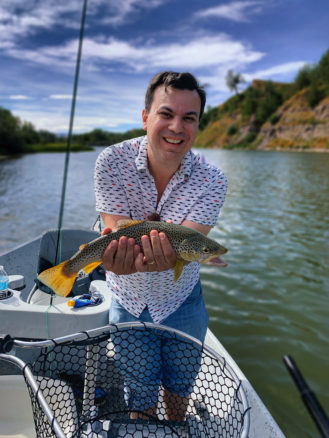 Medicine Rocks State Park
Medicine Rocks State Park is 11 miles north of Ekalaka, Montana and is managed by the Montana Department of Fish, Wildlife and Parks. The name "Medicine Rocks" comes from a series of sandstone pillars that resemble hoodoos, which Native Americans believed to have medicinal purposes. The unique sandstone pillars range in height from 60 to 80 feet (18 to 24 m) high and feature undulations, holes, and tunnels. The rocks are considered a sacred holy place by Plains Indians and contain numerous examples of Native American rock art. It's a tranquil place to visit so there's definitely something medicinal about that.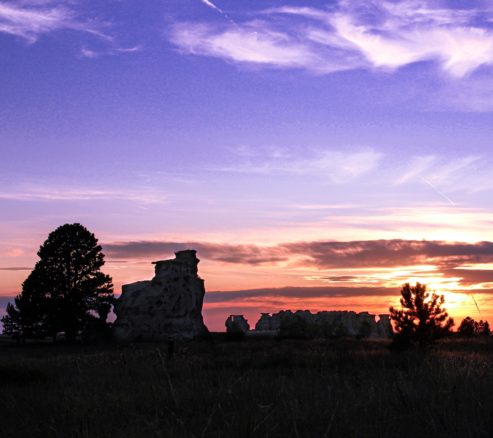 Teddy Roosevelt was one of the first tourists to visit Medicine Rocks State Park in the late 1800s and said it was "as fantastically beautiful a place as I have ever seen." Roosevelt was a rancher at the time and went on to become the 26th president of the United States, serving from 1901 to 1909.
12 campsites are available on a first-come, first-served basis at Medicine Rocks State Park. Camping is free for residents of Montana for up to 14 days. For non-Montana residents, the cost is $28.
Medicine Rocks State Park is home to mule deer, antelope, wood house toads and sharp-tailed grouse. It is also a wonderful place to stargaze at night, as there is very little light pollution. So bring a telescope if you have access to one!
Carter County Museum
Seventy-five million years ago Carter County was home to various species of dinosaurs, covering much of present-day eastern Montana. If you enjoy checking out dinosaur fossils, visit the Carter County Museum. Founded in 1936, the museum was the first county museum founded in Montana and the first to display dinosaurs. Located in the small town of Ekalaka, Carter County Museum houses some of the best paleontological discoveries in the United States. It is also home to a vast collection of artifacts related to Native Americans and early settlers of Carter County.
Pompeys Pillar National Monument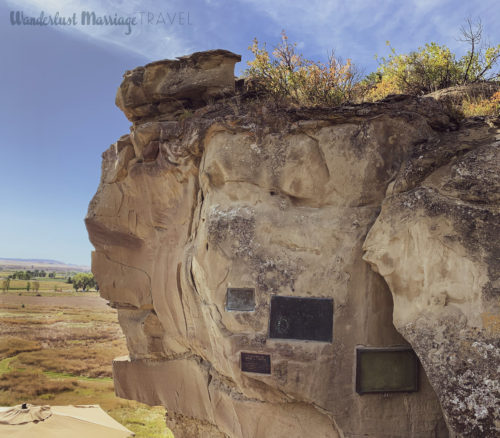 One of the many highlights of a visit to Southeast Montana is a visit to Pompeys Pillar National Monument. The view from the top is great, and it's also historically significant. On the return leg of the Lewis and Clark Expedition in 1806, Captain William Clark stopped at this pillar and carved his name into the rock, which is now encased in glass. It's the only known rock carving by Captain Clark. The rock also features petroglyph carvings by Native Americans.
The Lewis and Clark Expedition, also known as the Corps of Discovery Expedition, was commissioned by President Thomas Jefferson in 1803 following the Louisiana Purchase. The role of the expedition was to map newly acquired territory and find practical routes across the western half of the continent. This helped establish the US presence in the region, which eventually expanded the nation.
The Wacky of Southeast Montana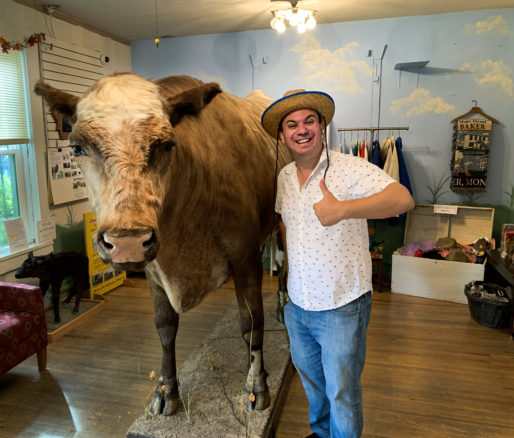 Southeast Montana is packed with surprising quirks to experience. In a future article, I'll cover more of the wacky of southeast Montana, which includes the biggest steer at the O'Fallon Historic Museum and a treasure trove of artifacts at the Powder River Historical Museum. There's also the Church of Hank Williams in Ekalaka – a congregation that proudly consumes 15,000 beers every 3 months. And in case you're wondering – they also host weddings and funerals!
Where to stay and Eat in Miles City, Montana
You may find yourself passing through Miles City, Montana, which is an interesting western town right off Interstate 94. You'll enjoy a comfortable night's rest at the Sleep Inn & Suites Miles City. Rooms are modern, spacious and feature plush beds, refrigerators and large flat-screen TV's. Additional amenities include an indoor pool, complimentary breakfast and express check-in and check-out.
The Blackiron Grill steakhouse across the street from the Sleep Inn is a must in Miles City. You'll be hard-pressed to find a better ribeye steak dinner, which was my favorite meal in a Montana restaurant. They also feature an excellent selection of craft beers, wines and cocktails.
How to Get to Southeast Montana?
Billings is the biggest city in Montana so if you're flying into the state to visit southeast Montana or Yellowstone National Park, plan to fly into Billings Airport. Most likely you'll have to make a connection in a bigger western hub like Denver, Seattle or Salt Lake City. I flew into Billings from Seattle on Alaska Air, following a small ship cruise in Alaska and flew home to the Washington, DC area on Delta via Salt Lake City.
Where to Stay in Billings
I stayed at the Towneplace Suites by Marriott Billings, which is an excellent place to stay. All the rooms are suites and include kitchenettes with full sized refrigerators and dishwashers. The hotel also features an indoor pool, laundry facilities and complimentary breakfast. I used bonus points from my Bonvoy American Express card to stay 5 nights for just $47 total during the TBEX travel blogger conference! Read more of my travel hacking tips to save big money on your travels!
The Northern Hotel is a popular place to stay in downtown Billings that offers historic luxury. It features sophisticated, western-inspired rooms, the retro-style Bernie's Diner and on-site fine dining at TEN. Several of Billings's attractions are within easy walking distance of the Northern Hotel, like the Yellowstone Art Museum, Western Heritage Center and St. Patrick's Co-Cathedral.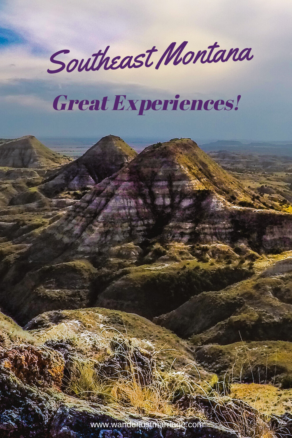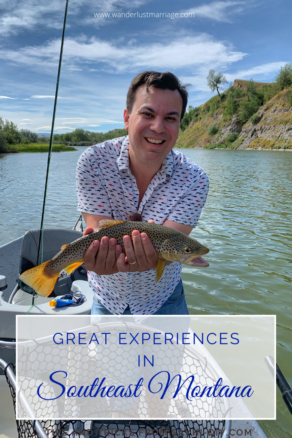 Disclosure: I toured the region while on a hosted press trip with the Southeast Montana tourism board following the TBEX travel blogger conference. Special thanks to Brenda Maas and Kristen Victoria for organizing an awesome trip! All opinions and photos here are my own.