This is the only two part post we've ever done. But the day trip to Tangier was so ridiculous and filled with folly, that it warrants many specific details in building up to being the worst guided tour ever. If you missed the first part, read here first.
After the man with the Moroccan soccer jerseys blasted me with obscenities, we continued walking through the narrow streets of the Medina. We were now hounded by men selling junky trinkets at 5 times the price that they should have been.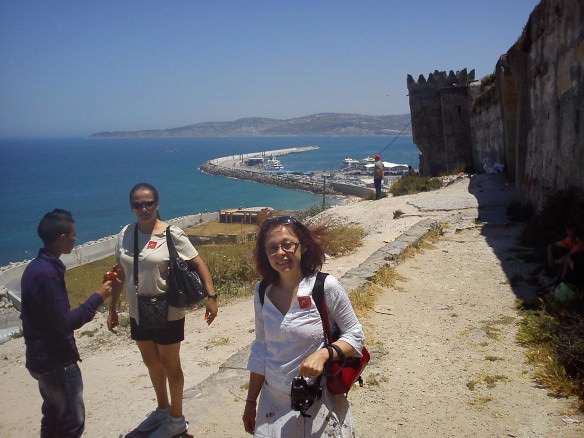 Tangier, Morocco Carpet Shop
We then arrived at the infamous carpet shop, which inevitably was coming. I had been to Turkey before and knew this was a standard part of tours in these countries. But the guys in Turkey provided 5 star service compared to the Morrocans.
They gathered us in a half circle and the show started. Many men paraded in with carpets, rolling one after another in front of us. The room was hot, there were no fans and we were offered nothing to drink. In the final act of their show, a man appeared with a carpet thrown over his shoulder, wrapped in brown paper with an address, showing they could also ship a large carpet to your home. Before booking the tour, the Spanish travel agent warned us to absolutely not purchase anything you do not receive immediately, because you will never see it.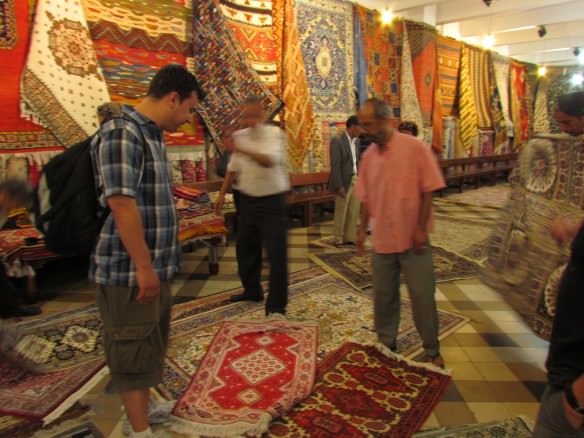 Haggling Over Carpet Prices in Tangier
After the show it was time to have a closer look at the insanely overpriced carpets and be pestered by the abundance of salesmen. My friend and I expressed interest in a very small rug- "150 euros…very good price my friend!" At that point I was immediately out, but my buddy wanted it and was willing to negotiate. The on and off negotiation lasted nearly an hour and the salesmen finally came down to a reasonable price of €40. Sold. For large carpets they were initially asking upwards of €2,000.
Those in the tour group not interested in carpets were led downstairs to a massive show room of  every house ware item imaginable (and not a single item had an actual price). Anyone interested in anything was initially offered the item at 4-5 times the price it should have been. At that moment I was done trying to buy anything.
Rude Carpet Shop Owner
Our main tour guide was now sitting next to what appeared to be the owner of this farce of a shop. Earlier in the tour, our group had been sussed out and I was already starting to be disliked. "Hey Florida, why you no buy carpet?" The tour guide said, and continued "Were they very expensive? How much? A thousand euros?" The owner then immediately snapped his fingers at one of his pawns "Hey! You no give this man good price on carpet?!" I assured them I was not interested and we were then fully on our way to being loathed by the guides.
Many Morrocans speak several languages and a friend who speaks Spanish overhead them saying "Americans are stupid and will spend their money on every dumb thing they can." Why they didn't just say this in Arabic is beyond us, it's almost like they wanted someone else to hear it.
Onward to the Tangier "Pharmacy"
After over an hour in the hot shop, without being offered to even buy a drink, I was becoming very tired and dehydrated. It was then back outside, to be thrown to the trinket vultures again, as we continued on to the spice shop. Upon arrival, we were gathered in a semi circle once again and it was time for another presentation. The spice man had a remedy for everything. "Common cold that can't be cured?…Is myth!" He said. He stopped short of selling a cure for cancer, but he even had natural remedies for snoring and herpes.
Bell and the others, while also annoyed, were not as dehydrated as me and were taking note of the reasonably priced spices they were interested in. I was groggily doodling on my paper, ready to collapse from exhaustion. After what seemed like an eternity, I left the presentation and asked the guides to please have someone purchase water on my behalf. "It's siesta time now so many shops are closed" the main guide said. When they saw I wasn't budging, they sent a boy off to fetch me a large bottle of water. I was boycotting the spice presentation otherwise.
The spices were not exorbitantly priced so I reluctantly went along with purchasing a few at 3 for €10. I was hesitant to buy anything, because Bell and I were to meant to spend the night and we felt we would get better deals on our own time the next day. But I was also starting to get wary of spending the night in Tangier. As our tour guide collected the money for the spices himself, the charade was becoming ever more clear.
Tangier Street Merchants Raising Prices After Lowering Them
As we went back out to the streets, one of the tours goons held out a cool bongo drum and asked for €20. I was adamant that I was no longer negotiating with any of them, but he eventually came all the way down to 4 euro, without us showing interest. And at that price Bell wanted it. As I went to pay he changed the price back up to 8 euro. A ridiculous first in our travel experiences. Obviously no deal. But the game continued as he dropped the price back down to 4 euro. I wasn't falling for it again, but this time he wrapped the bongo and placed it in my hands. After I handed him the €4 he said. "how about 1 more euro?"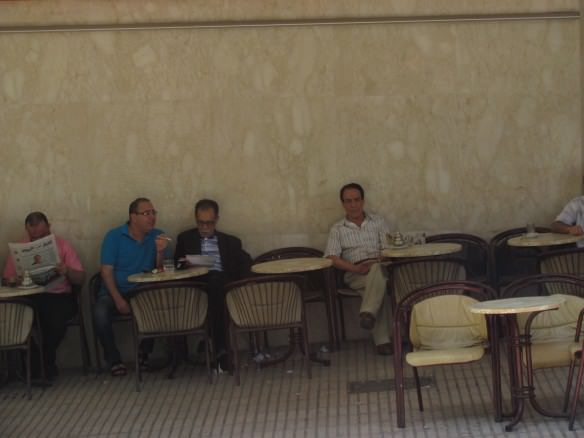 The final stop on the tour was
not
an opportunity to relax in a cafe over coffee or a beer. It was an opportunity for one last shopping frenzy. The man with the Moroccan soccer jerseys was back on the street following us. In his last ditch effort he pestered each person to buy, when they didn't he shouted "f%ck you!" at each of us.
When were taken to the tourist trap epicenter of the Medina, we were given a final 20 minutes in the area to peruse the over priced shops, or stay in the small square and be hounded by the vultures. After 20 minutes, we then waited in the square to depart, thinking the guides would lead us away to safety. Instead, they left us for one final storm of aggression. Some members of the tour cowered against a wall with a beaten look on their faces.
Leaving Tangier Early
We eventually boarded the bus for the short ride back to the ferry. As we got off the bus, the guides, incredibly, asked us to tip them. Of the 50 people on our tour, we figured a few others would also be spending the night. But no, every single one of them were leaving except Bell and I! As we were saying good bye to our friends and debating whether we should stay, the tour guide told them to hurry off or they might miss the ferry. So our friends left to go back through immigration.
For the following day, Bell and I had planned to visit a cool artists village that the Spanish travel agent had told us about. But our tour guide informed us that the next day someone would come to our hotel and take us back to the Medina. Only this time, we'd be all alone. Wow, sign us up, clearly. At that moment I decided to veto any decision Bell had. I said "come on, let's get out of here." "Are you sure?" Bell replied. "Yes." "Give us our bag back" I asked of the dodgy man with the white taxi van. "It's ok, we're with the tour company" he replied. I then went and popped the back open myself, retrieved our bag and we set off to join our friends. "Fine, go back to Spain!" He shouted.
Tangier Immigration Soliciting Bribes at Ferry Terminal
Our friends were relieved to see us when we joined them. The line to clear immigration was massive, luckily one of the employees offered to take one of our friends to the front of the line in exchange for a bribe of 20 euro. He politely declined. After an hour wait, us, along with a few other Americans missed the ferry. Fortunately there was one last ferry 1 and 1/2 hours later, but it meant some of those Americans missed their connecting bus from Tarifa to Cadiz that was included in the tour.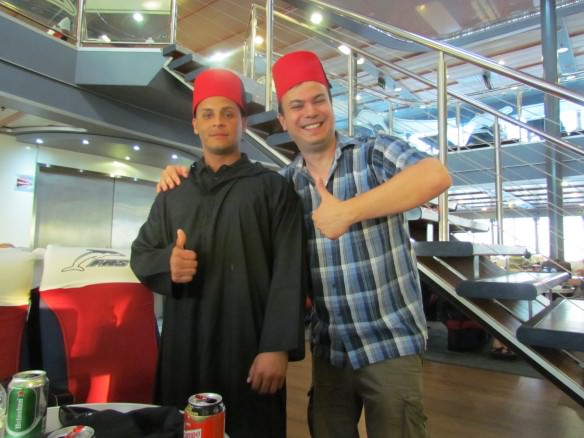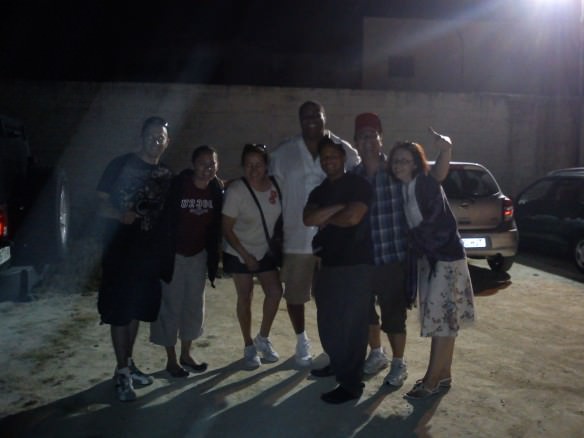 When we finally got on the ferry we were relieved and immediately ordered beers to celebrate that we were all leaving Morocco in one piece. And upon arrival in Spain, our friends were able to help the other stranded Americans by giving a ride to a couple and helping to arrange alternative transport for the rest. The day was a bonding experience and we left feeling like a few people we only met that day, were like family. We're friends to this day, and obviously none of us would recommend this tour. Apparently, according to esteemed travel writer Rick Steves, Tangier is far better enjoyed without a tour. Monetarily, you barely pay extra for the tour, and now we understand why.