Planning to travel between Dublin and the Cliffs of Moher? Great idea! When good friends came to Ireland for a four-day visit with us, we decided to split the cost of a rental car. We drove from Dublin and stayed overnight in Galway, before driving along the the coast of Count Clare. Visiting the Cliffs of Moher by rental car from Dublin is an excellent option to consider if you're visiting Ireland. We have also visited the Cliffs of Moher on a guided tour with Paddywagon. Should you rent a car or take a guided tour? We discuss the pros and cons below. Here's tips to have a great experience traveling between Dublin and the Cliffs of Moher!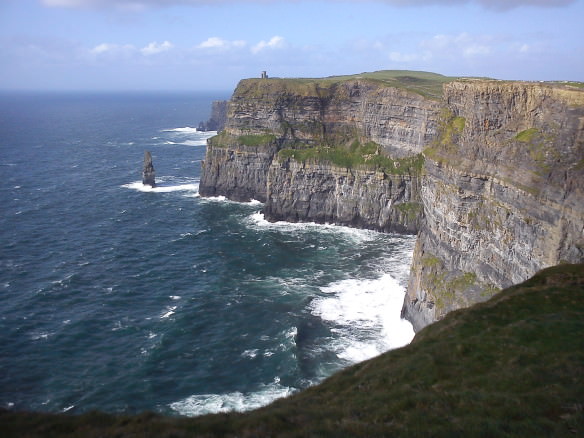 Where to Rent a Car in Dublin
We rented the car from downtown Dublin's EuropCar location, one of the cheaper car rental companies, on average. City center locations can be a great option if you don't need to pick up your car from the airport. You don't need a car while you're in Dublin anyway, as it's generally more hassle than it's worth. Uber is prevalent and cheap, if you're not already using the service, sign up for it.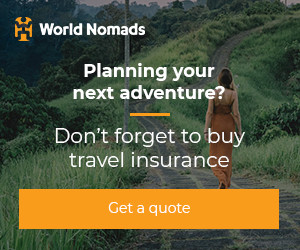 So if you're staying in Dublin, consider picking up a car in the city center on your way out of town, like we did, because if you rent a car from any airport in Ireland there is also a 40 euro ($53 US) surcharge, which is especially steep for just a 1 or 2 day rental. The downside with renting from city locations is that they close earlier and open later than airport locations, so check times carefully. Additionally, some car rental companies' city locations are closed Sundays, but EuropCar's office is open, albeit from just 9am-3pm both Saturday and Sunday. If you pick up a car in the center of Dublin, try and avoid rush hour traffic if possible.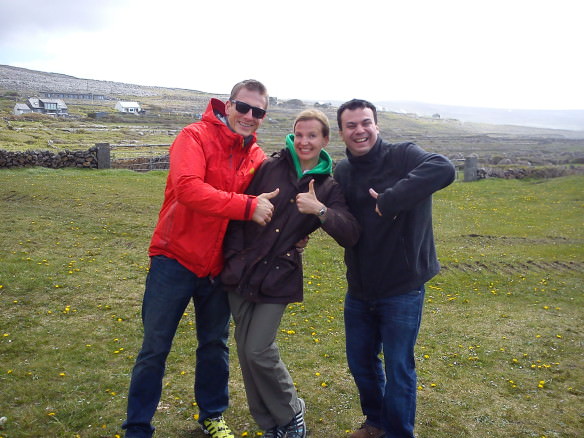 Ireland Rental Car Tips
1) You can use a US license to drive in Ireland so you don't need an international drivers license.
2) Drivers need to be a minimum of 21 years old to rent a car in Ireland.
3) Two people should consider choosing the smallest rental car. Irish roads are very narrow and in cities you'll probably have to parallel park. Gas is also more expensive in Ireland so most Irish people are also in small cars. If you're a family or group of friends be sure to pick a larger vehicle so there's room for your stuff.
4) Most rental cars in Ireland are manual and cheap rental car prices are for manual vehicles. Automatic cars are not so common in Ireland so expect to pay upwards of $40 per day extra for automatic cars.
5) Make a car rental reservation in advance to save money. If you want until the last minute, especially during the busy summer months, expect to pay much more.
Tours to the Cliffs of Moher
If you decide not to visit the Cliffs of Moher by rental car from Dublin, there are tours leaving from both Dublin and Galway daily.
Guided Tours from Dublin
This 3 day Southern Ireland Tour including Galway and Kerry from Dublin starts at $375.66. This tour includes visits to Connemara, Galway, the Cliffs of Moher, Dingle Peninsula, Killarney and Ring of Kerry. Those are a lot of magnificent places, so after spending 2 days in Dublin, this tour would be a great idea for days 3-5.
Guided Tours from Galway:
You can catch the train from Dublin to Galway (check the schedule on the Irish Rail website), then jump on some tours in Galway if you don't want to drive a car. Consider this Cliffs of Moher Day Trip from Galway, Aran Islands and Cliffs of Moher Day Trip from Galway Including Cliffs of Moher Cruise and Shore Excursion: Cliffs of Moher, Aran Islands and the Burren from Galway. Prices for these tours start from $46 US.
Where to Stay to see the Cliffs of Moher?
Luxury travelers and those visiting Ireland for a honeymoon or anniversary should consider staying at Dromoland Castle. This was the ancestral home of the Dromoland O'Briens, whose lineage goes back 1,000 years to Brian Boru, the only High King of Ireland. This is a stay fit for royals, with world-class dining, in the thick of everything County Clare and County Limerick have to offer.
You can base yourself in Galway, or perhaps the smaller towns of Doolin and Liscannor for a quieter stay near the Cliffs of Moher. It's a good idea to book hotels in advance that offer free cancellation. Budget travelers can consider a stay at the Travelodge in Galway. It's one of the cheapest stays in the area and while no-frills, perfectly acceptable just to sleep.
Families especially will find the best value on short term apartment rentals. You can find short term apartments rentals on sites like booking.com, which is preferable to Airbnb because it's ran more professionally. We've found the guest experience is more likely to be lacking when booking through Airbnb – like owners charging a hefty cleaning fee but still expecting guests to wash all the dishes and take out the garbage.
Where to Eat in Galway
After a 2 and 1/2 hour drive west, through the center of Ireland, we arrived in Galway. We had an excellent seafood dinner at McDonagh's. We highly recommend this takeaway or sit down restaurant for fish n' chips, oysters (which are great in Galway) or any of their seafood options. It's one of the most recommended places in town and busy with locals, which is usually a good sign. We then went for a few pints of Guinness and went back to our hotel for an early start in the morning.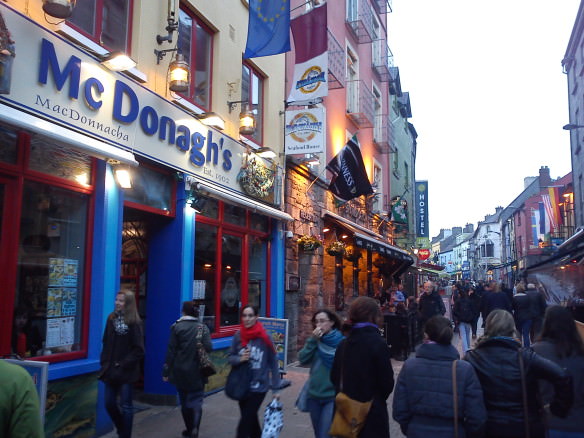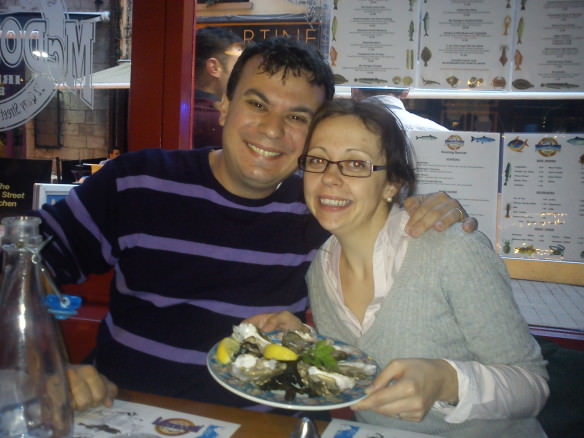 County Clare: Home of the Cliffs of Moher
County Clare is amazing and a drive through its narrow and windy roads with dramatic cliffs and picturesque seaside hills made us realize why many Irish people say "you haven't seen Ireland if you haven't seen the west coast." Though this is also because many parts of the west were less influenced by the British and in some small towns Gaelic is still the first language of many locals. When driving on the seaside road south of Galway, there are a few amazing areas to stop before the Cliffs of Moher. You'll know where based on the other cars pulled over!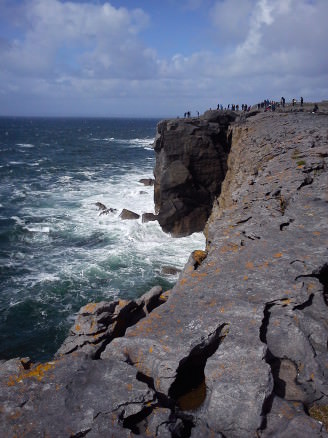 Cliffs of Moher Tips
Upon arrival at the Cliffs of Moher, parking is easy and the cost is €6 ($8.50 US) per person in the vehicle. There is a visitor center where you can buy snacks, drinks and get additional information on the area. For those that don't wish to have access to the visitors center, you can be dropped off at a pedestrian access to visit the cliffs for free.
The photos can tell the rest of the story on why the Cliffs of Moher are the most visited attraction in Ireland, drawing around 1 million visitors per year.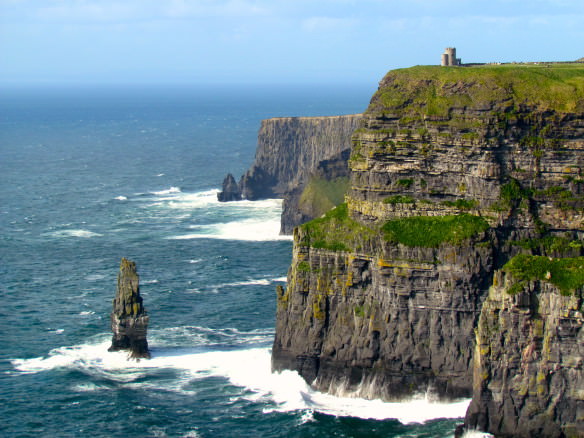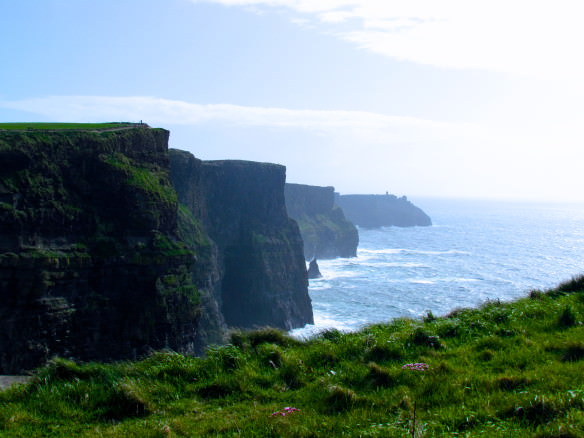 Where to Stay in Dublin?
It's a great idea to book a hotel with free cancellation in advance, especially during peak periods. Then if your plans change or you find a better deal, you can easily cancel your reservation without penalty, and book another property. Here are hotel and bed and breakfast recommendations for Dublin:
Luxury:
Shelbourne Hotel is Dublin's most historic 5-star luxury hotel, as several US Presidents and many foreign dignitaries have stayed there. The hotel is a 5 minutes walk from many of Dublin's famous attractions, like Trinity College, Grafton Street, National Gallery, National Library and National Museum. They have a wonderful cocktail lounge and great dining options. Even if you're not a guest, swing in for high tea and enjoy a lovely view of St. Stephen's Green.
The Merrion Hotel is a 5 star hotel furnished with Georgian decor and Italian marble bathrooms. Awarded 2 Michelin stars, Restaurant Patrick Guilbaud serves gourmet French-influenced cuisine overlooking the gardens. The hotel also has an infinity pool and spa. Rooms feature city or garden views.
Mid Range:
The Kilronan House is a family run, award-winning B&B in Dublin's picturesque Georgian Quarter.  Grafton Street and St. Stephen's Green are less than a 5-minute walk away. Trinity College and Dublin Castle are within a 15-minute walk from the house. Free parking is provided. This is one of Dublin's best bed & breakfasts for a romantic getaway.
O'Callaghan is a small chain of centrally located, comfortable hotels with good breakfasts. Trinity College often puts job applicants and guests up in these hotels. We stayed at The Green when Bell interviewed for her postdoctoral position at Trinity College and highly recommend it.
Budget:
Egans House is a quintessential Irish bed and breakfast in the north of Dublin. Glasnevin Cemetery, the National Botanic Gardens and Dublin Zoo are a few nearby attractions. We enjoyed our stay at Egans House when we first visited Ireland – before we lived there.
ABC House Dublin offers 3 star accommodation in a quiet neighborhood in North Dublin. Rooms offer reasonable comfort for those that don't want to spend a fortune on accommodation. Their Irish breakfasts hit the spot. We spent a week at ABC House Dublin while searching for our apartment when we first moved to Dublin.
Backpacker: 
Generator Hostel is conveniently located right next to the Jameson Distillery (fun!) and is part of a reputable chain of hostels in Europe that are known for being clean and having a fun atmosphere.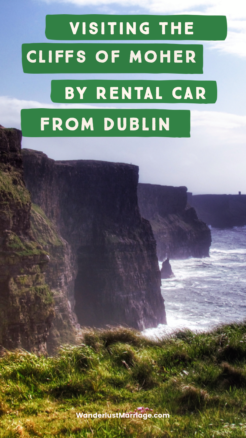 Have questions or comments about planning a trip to Ireland? Leave a comment or email me at [email protected] and I can assist you!
Disclosure: This article contains some affiliate links. We receive a small commission when you book or sign up through certain links and it costs you nothing extra. Thanks for using them to help maintain this website!