There are quite a few tour companies in Ireland, but Paddywagon has the biggest selection of budget options. With bright green buses, plastered with a giant leprechaun smoking a pipe, they tend to stand out a little more than the rest on the roadways. Among a few slogans, Paddywagon markets themselves as "the most fun tour in the world."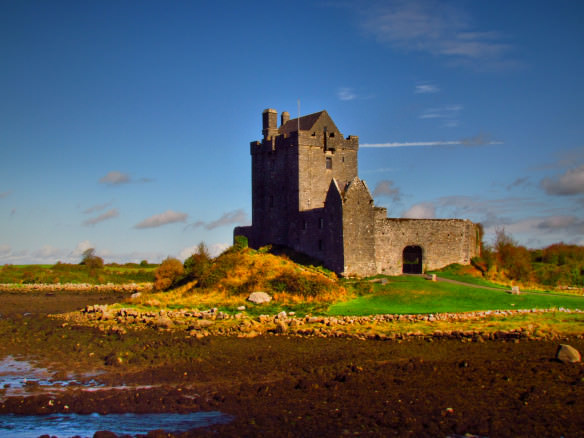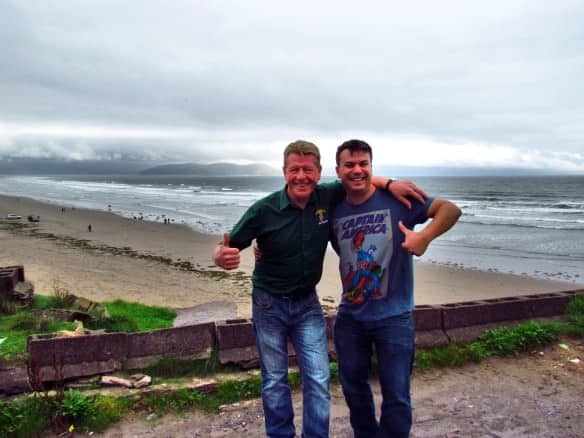 Paddywagon Tours Media Trip
Following the large TBEX travel blogging conference, Bell and I were invited on a Paddywagon Tours media trip to test out the company. Our small group tour included 11 travel bloggers, accompanied by Paddywagon organizer and filmmaker Zachary Griner.
We started by heading west to County Clare and the Burren, near the Cliffs of Moher. After a couple hours driving through the center of Ireland, we stumbled upon a group of donkeys near the road, including a baby, and our driver and guide Mike Coggins, who was seriously fantastic, decided to pull over for photos and ass mingling. The donkeys were surprisingly sociable, though we did have random bits of food that they enjoyed.
Kinvara Castle and Cliffs of Moher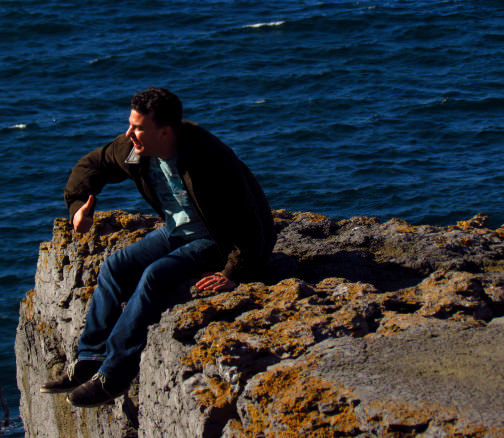 We were extremely fortunate to have gorgeous sunny weather and after stops at Kinvara castle and lunch in Doolin, we arrived at Ireland's most visited attraction, the dramatic Cliffs of Moher. With 1 million visitors per year, the cliffs can be a little busy, but as they stretch for 6km, there's plenty of room for everyone.
This was our second visit to the cliffs,  and with a 1 and 1/2 hour stop we walked in the opposite direction of our previous trip, when we found ourselves in horrendous weather. This time Bell and I took our time in the sun and enjoyed sitting on the edge and photographing the scenery. This meant we once again didn't have time to experience the visitor's center, which features an apparently interesting film of the area. A fellow travel blogger felt 1 and 1/2 hours at the Cliffs was perfect, Bell and I felt an additional 30 minutes would have been more ideal. But there was a lot more to see and quite a bit of distance to cover.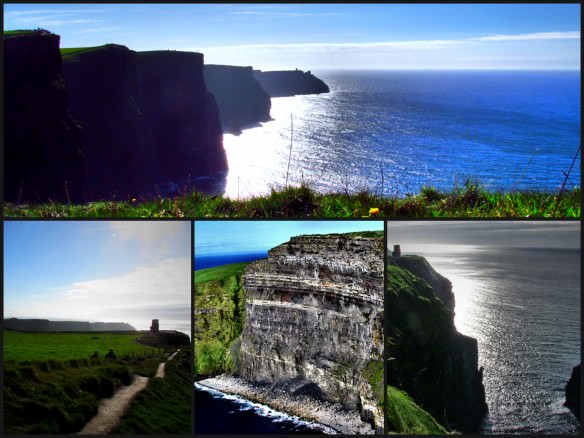 County Kerry
From the Cliffs of Moher, we headed south for our first ever visit to stunning County Kerry. It's the favorite county of many in Ireland. There was a couple hours of additional driving that also involved a ferry ride across the River Shannon to cut 80km of driving distance. As beautiful as the coastline of County Clare is, the change of scenery in County Kerry is striking, with vastly larger rolling green mountains. As many Irish will tell you, when you see photos of Ireland, they are generally of County Kerry.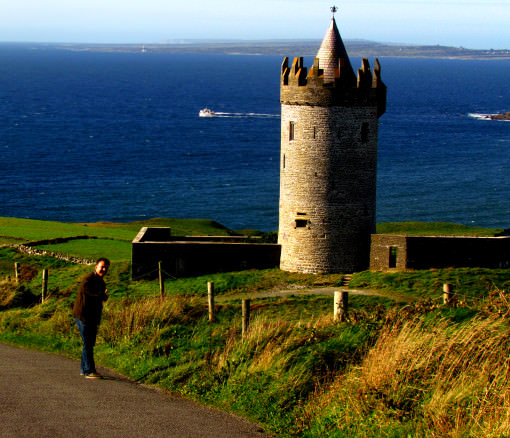 Annascual
Our accommodation for the night was in the small village of Annascaul, where Paddywagon owns a bed and breakfast, hostel and adjoining pub that serves dinner. Bell and I were given a private room with ensuite bathroom. The room was comfortable, quiet and extremely clean.
We all ate dinner together at their wonderfully named, Randy Leprechaun pub. Bell and I had chicken wings to start and burgers for mains. The chicken wings were heavily breaded and reminded me of the American chain Hooters (minus waitresses with massive cleavage and tiny orange shorts).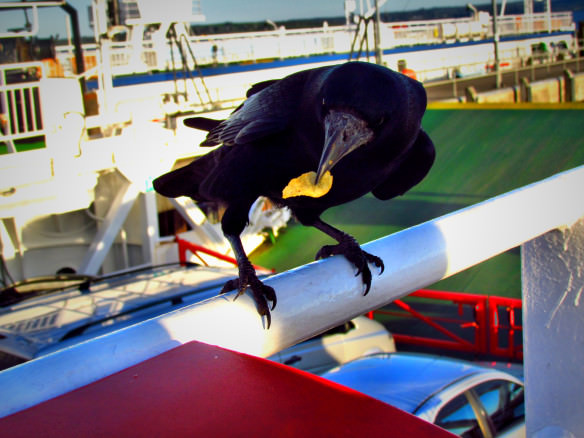 Irish Dancing
After dinner, an Irish dancing instructor came by and for just €4 ($5.40 USD), we, along with paying guests, had the option to learn and partake in Irish dancing. Given that I have the coordination of a monkey on ice, I decided to pass and opted to photograph instead. But Bell partook and had an awesome time, and I enjoyed watching her dance and laugh. Everyone that gave it a go really enjoyed it and worked up a sweat in the process.
Given that it had been a long day, most of our fellow blogging companions retired early and after the dancing finished, the atmosphere in the pub was a little lacking. This isn't a high point in tourist season though and we'd suspect that the atmosphere in summer would be much more happening until later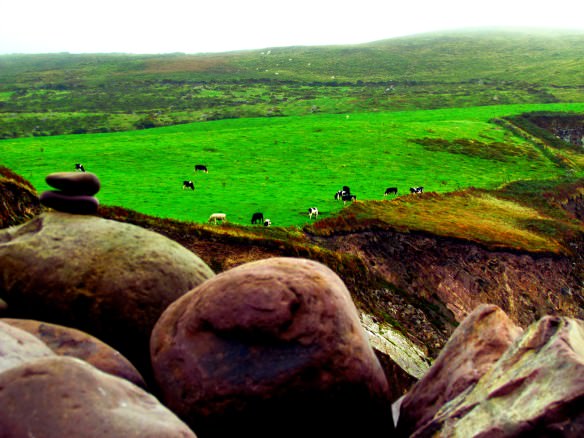 Slea Head Drive in County Kerry
For our full day in County Kerry, the Irish weather gods did not grant us the same fortunes as the previous day. So alas we were inundated with fog and rain. Fortunately, our phenomenal guide and driver Mike adjusted our schedule to suit the weather conditions. There were a few less photo opportunities but Mike knew some gorgeous, lesser known spots that were just stunning.
Along the Slea Head drive of Kerry, the early 90's film 'Far and Away,' starring Tom Cruise and Nicole Kidman was filmed. During filming, Cruise took quite a liking to a charming elderly widower named Mary, whom he preferred to enjoy his breakfasts with in her home, rather than the ones provided by the catering van. At 82 years of age, Mary still resides in her home for 6 months of the year and allows visitors to tour her charming living room and flip through photo albums of the making of the film, with several photos of her and a far younger Tom Cruise.
The €2 charge also includes access to several incredible bee hives. The incredible former residences of monks date back to the 8th century. If you're passing through this area during tourist season, definitely swing by Mary's property, it's an awesome experience for €2!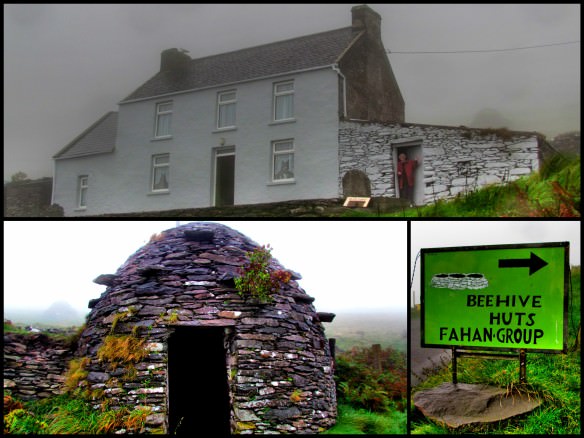 Other Paddywagon Tour Options
Among several multi day options, Paddywagon offers a 4 day southwest tour of Ireland from Dublin starting at $441 per person. They also offer a 3 Day Northern Ireland Tour from Dublin including Giant's Causeway and Carrick-A-Rede Rope Bridge from $278 per person.
Planning a Trip to Ireland
Over the years, many people have asked how to spend a week in Ireland. So we wrote an article covering a great itinerary to experience Irish attractions, culture, history and pubs. Happy travels!
Have questions about planning your trip to Ireland? Email me at [email protected] or leave a comment below and I can assist you!
Disclosure: While our 3 day tour was provided free of charge, all photos and opinions expressed here are ours. Also, this article contains some affiliate links. We receive a small commission when you book or sign up through these links and it costs you nothing extra. When it suits you, please use them, as it helps maintain this site!