What is Irish pudding? It's probably not what you imagine of pudding! There are two types of pudding commonly found in Ireland – white and black pudding. Like many people, we typically prefer white pudding over black pudding. But some people LOVE black pudding. Here is a breakdown of ingredients in both "puddings."
White Pudding
White pudding is a sausage typically made with oatmeal or barley, breadcrumbs, spices, pork fat and pork liver. The ingredients are combined into a cellulose or sausage casing. We prefer the Clonakilty brand over anything else we've tried. Their white pudding is particularly peppery in flavour, which we really enjoy.
White pudding is similar to black pudding, but does not include any blood.
Black Pudding
Black pudding is also not a sweet pudding. It is a sausage made from oatmeal or barley, pigs blood, onion, spices and herbs. The combination of all the ingredients (including the blood) creates a unique flavor. Good black puddings should have a mild and slightly sweet flavor. Black pudding is rich in iron thanks to the blood.
Is Irish Pudding Worth Trying?
We realize that for many, the idea of food made with blood is probably not so appetizing. It took Bell a good 6 months of living in Ireland to come around to trying it, but really it doesn't taste like blood. The difference between white and black pudding is to us, primarily texture. White pudding has a more oatmeal like texture, while the black is softer, and has a saltier taste to it.
Full Irish Breakfast (Fry Up)
White and black Irish pudding are commonly served as part of a full Irish breakfast. Irish breakfasts are often called fry ups on menus. Full Irish breakfasts include:
Irish bacon or rashers
Irish local Sausages
Black and White Pudding
Baked Beans
Eggs
Mushrooms
Tomatoes halved
Potatoes
Cooking Irish Pudding at Home
We have actually taken such a liking to white pudding that we fry it up every weekend as part of a big breakfast. When we have guests visiting from overseas, we include both black and white pudding. We don't tell friends and family they're eating blood pudding so shhh!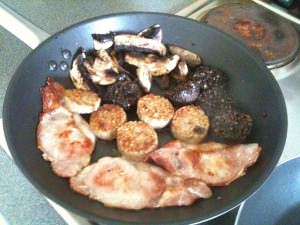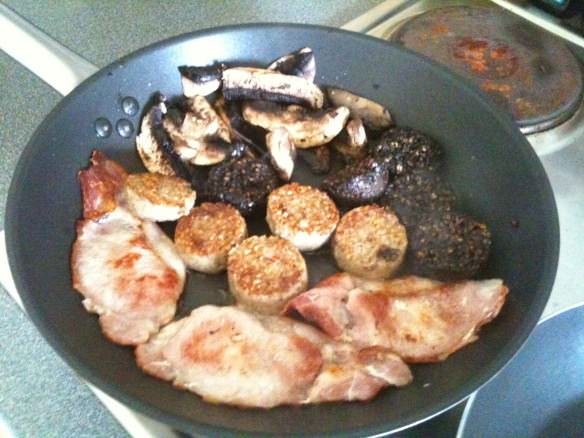 Great Places to Find Irish Pudding and Other Great Products
Hearty and delicious breakfasts are one of the highlights of a visit to Ireland. Traditional bed and breakfasts are a great place to enjoy them. Markets are another good place outside the typical restaurant scene.
The English Market in Cork is the best market in Ireland. It's a great place to try Irish pudding either already prepared, or to cook at home.
The Limerick Milk Market is a great place for breakfast. One of the oldest markets in Ireland is made up of 50 stalls and 21 shops.
Dublin Bed and Breakfasts That Offer Great Irish Breakfasts
Kilronan House is a family run, award winning B&B in Dublin's lovely Georgian Quarter. Grafton Street (Dublin's main shopping street) and St. Stephen's Green are a just 5 minute walk away. They offer free parking too – you don't need a car in Dublin though! Some of their rooms are a little dated but their Irish breakfasts in their beautiful dining room are fantastic! We enjoyed our stay at Kilronan House when we recently re-visited Ireland.
Egans House is another quintessential Irish bed and breakfast in the north of Dublin. Rooms offer reasonable comfort for travelers that don't want to spend a fortune to sleep. We enjoyed our stay at Egans House when we first visited Ireland – before we lived there.
ABC House Dublin offers 3 star accommodation in a quiet suburb in North Dublin. Their Irish breakfasts hit the spot. Glasnevin Cemetery, the National Botanic Gardens and Dublin Zoo are a few nearby attractions. We spent a week at ABC House Dublin while searching for our apartment when we first moved to Dublin.
More on Ireland
Planning a trip to Ireland? Read our article on How to Spend a Week in Ireland. We give firsthand tips on the best places to visit, stay and eat so you get the best from your visit to the Emerald Island! You should also check out our Ireland travel tips article packed with advice on best times to visit, customs, packing, money, things to avoid and more!
Have questions about planning your trip to Ireland? Email me at [email protected] or leave a comment below and we can assist you!
Disclosure: This article contains some affiliate links. We receive a small commission when you book or sign up through certain links and it costs you nothing extra. Thanks for using them!