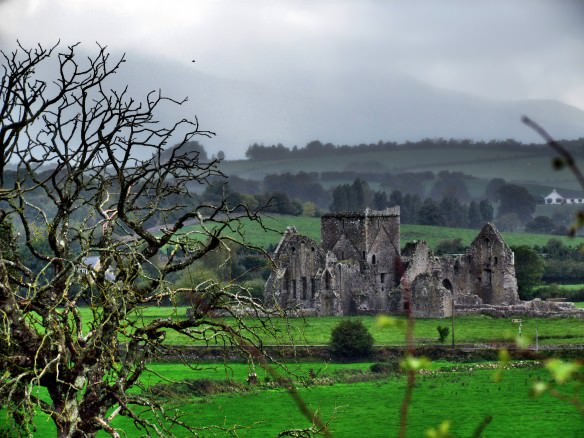 Ireland's picturesque landscape, friendly locals, historic sites and a vibrant pub culture make it a popular place to travel. We fell in love with the Emerald Island the first time we visited for our 6th wedding anniversary. So much so that we relocated to Dublin and called it home for 2 and 1/2 years. We've helped many travelers plan their trips there over the years, through articles like How to Spend the Perfect Week in Ireland. Here are some of our best Ireland travel tips!
Best Time for Ireland Travel
July and August are the most expensive months for Ireland travel because demand is high and flights and accommodation are at a premium. If you want to save money, avoid those months. Great times to visit are the second half of May and late September as you can save money and possibly have good weather.
Ireland is generally rainy and cool year round anyway, with average summer highs in Dublin only around 66 Fahrenheit (18 Celsius) and lows averaging around 54 Fahrenheit (12 Celsius). Average winter highs are around 46 Fahrenheit (8 Celsius) and lows around 37 Fahrenheit (3 Celsius). As you can see temperatures do not change drastically from season to season in Ireland.
Buy Train Tickets in Advance
Train tickets in Ireland are significantly more expensive when purchased last minute at the train station. Purchase your tickets in advance on the Irish Rail website. Utilizing trains is an excellent option for those who don't want to rent a car or take tours the whole time. Ireland is not a difficult country to travel around independently, but guided tours offer an opportunity to learn more about the nation during your visit. We recommend considering to combine train travel with day tours.
Guided Tours from Dublin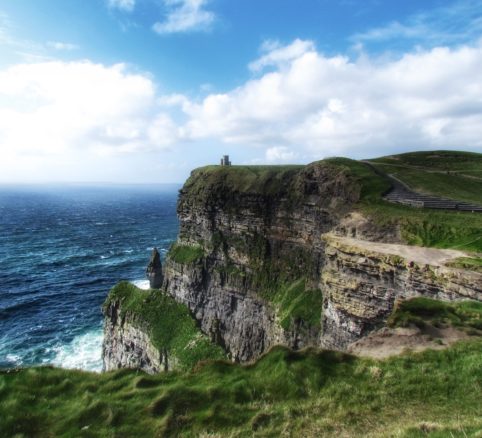 You'll most likely be starting your Ireland travel in Dublin. If you're looking to see as much of Ireland as possible in a week, with the least amount of hassle of navigating tricky roads and looking for accommodation, consider this 6 day All Ireland Tour combining train travel with guided bus tours. Prices start at $2,003 per person.
A 3 day Southern Ireland Tour including Galway and Kerry from Dublin starts at $406 and includes visits to Connemara, Galway, the Cliffs of Moher, Dingle Peninsula, Killarney and Ring of Kerry. Those are several magnificent places, if you just have a week in Ireland, spend a couple of days exploring Dublin, then this tour would be a great idea for days 3-5 of your trip.
A day tour to Giant's Causeway and Belfast in Northern Ireland is another great option, but it is a full 8 hour day. A Northern Ireland Highlights Day Trip Including Giant's Causeway from Dublin starts at $89.26. Crossing the Carrick-a-Rede Rope Bridge is a picturesque highlight of that tour.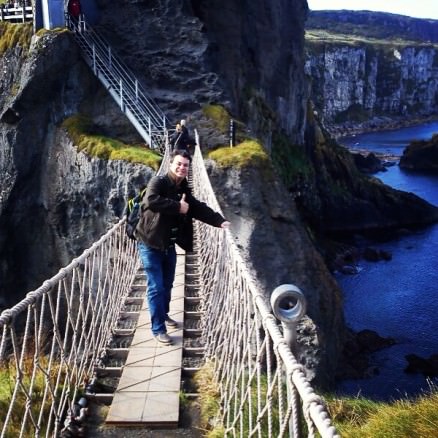 Rental Car Tips for Ireland Travel
1) You can use a US license to drive in Ireland. So you don't need an international drivers license for Ireland travel.
2) Drivers need to be a minimum of 21 years old to rent a car in Ireland.
3) Two people should consider choosing the smallest rental car. Irish roads are very narrow and in cities you'll probably have to parallel park. Gas is also more expensive in Ireland so most Irish people are also in small cars. If you're a family or group of friends be sure to pick a larger vehicle so there's room for your stuff.
4) Most rental cars in Ireland are manual and cheap rental car prices are for manual vehicles. Automatic cars are not so common in Ireland so expect to pay upwards of $40 per day extra for automatic cars.
5) Make a car rental reservation in advance to save money. If you want until the last minute, especially during the busy summer months, expect to pay much more.
Weather in Ireland
As mentioned the weather in Ireland tends to be cool and rainy year round. So even if you travel Ireland in July and August, be sure to pack a couple of warm sweaters and bring a rain jacket. It's also a good idea to bring comfortable waterproof footwear for the trip.
Currency
Ireland uses the euro and the current rate is $1 USD = around 92 euro cents. €1 = $1.09 USD. This is a favorable exchange rate for American travelers visiting Ireland.
Keep in mind that Northern Ireland is part of the United Kingdom and they use British sterling pounds. A US dollar is worth around 81 British pence. And £1 = $1.24 USD.
Currency Fluctuations
Keep in mind that exchange rates fluctuate constantly. Since the inception of the Euro over 20 years ago, the US dollar has been at par or even a little stronger than the euro. At the US dollars low point, it traded at $1.50 to €1.
At its low point, I've seen the US dollar trading at almost half to the British sterling pound. That meant you needed nearly $2 for £1!
Inflation in 2023 is a Global Phenomenon
So travelers should look to take advantage of periods with favorable exchange rates, like now. Think of it like a 10%-40% discount on travel to Europe currently! The current issue of inflation is a global problem. Fuel prices are historically higher in Europe than they are in the United States. That's why Europeans tend to drive smaller vehicles.
Border Between Ireland and Northern Ireland
The border between Ireland and Northern Ireland is open, so you do not need to go through immigration there. The border is considered a common travel area, and has been open since 1923 for people to travel freely. Its been open to the free trade of goods since 1993.
Credit Cards
Credit cards are widely accepted in restaurants, hotels, grocery stores and shops. They are more widely accepted in Ireland compared to many other countries in Europe. Not all credit cards require you to let them know which countries you will be in, but it is a good idea to call your credit card and debit card banks to let them know you will be traveling.
Ireland Travel Food and Dietary Restrictions
Ireland is known for high-quality meat and dairy products. Beef and butter are major exports. If you enjoy lamb, Ireland is a great country to enjoy it. The smoked salmon is also high quality and is typically served with delicious brown soda bread.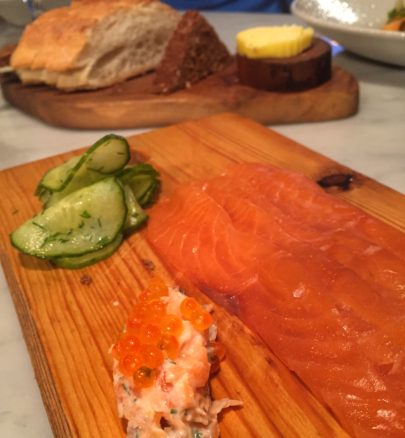 Restaurants generally cater well to vegetarians and those with dietary restrictions like gluten allergies or lactose intolerance. So fear not if you're planning a trip. Like usual, just inform the staff in advance.
The English Market in Cork is historic and the best market in Ireland. Go there if you visit Cork, Ireland's second largest city and the culinary capital of the country.
If you are a chocolate lover, Butler's Chocolate is very good and they have several locations in Dublin. They also prepare good espresso based drinks. If you enjoy mochas, they don't get better than the ones from Butler's.
Where to Stay in Dublin:
Book a hotel with free cancellation when you know your dates of travel. In the event plans change, you can easily cancel your reservation. Here are some excellent hotel and bed and breakfast recommendations for Dublin!
Luxury Hotels:
Shelbourne Hotel is Dublin's most historic 5-star luxury hotel. Several US Presidents and many foreign dignitaries have stayed there. Shelbourne is a 5-minute walk from many of Dublin's famous attractions, like Trinity College, Grafton Street, National Gallery, National Library and National Museum. They have a wonderful cocktail lounge and great dining options. Even if you're not a guest, swing in for high tea and enjoy a lovely view of St. Stephen's Green.
The Merrion Hotel is a 5-star hotel furnished with Georgian decor and Italian marble bathrooms. Awarded 2 Michelin stars, Restaurant Patrick Guilbaud serves elegant French-influenced cuisine overlooking the gardens. The hotel also has an infinity pool and spa. Rooms feature city or garden views.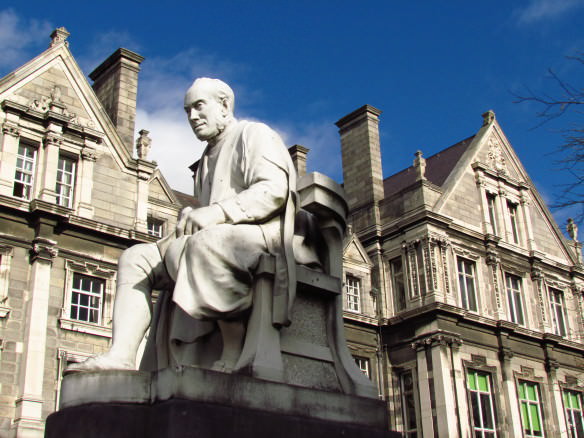 Mid Range Hotels:
Kilronan House is a family run, award-winning B&B in Dublin's Georgian Quarter that offers good value. Grafton Street and St. Stephen's Green are a 5-minute walk away. Trinity College and Dublin Castle are within a 15-minute walk from the house. The rooms are a little dated but include breakfasts in their charming dining room, which are fantastic. It's a great place to enjoy Irish pudding at breakfast! They offer free parking too if you have a car (But I don't recommend renting a car while staying in Dublin).
Clayton Hotel Burlington Road is a popular hotel for conferences. It's location is walking distance from St. Stephen's Green and Grafton Street. This is also a good mid-ranged price hotel in Dublin for those that don't like bed and breakfasts. We stayed there on our most recent visit to Dublin.
Budget Bed & Breakfast:
Egans House is a charming Irish bed and breakfast in a quiet neighborhood in north Dublin. It offers reasonable comfort for those that want to save on accommodation. We stayed at Egans House on our first visit to Ireland. A downside of this B&B's is that it's not centrally located. Breakfasts are purchased a la carte.
Backpacker Hostel:
Generator Hostel is conveniently located right next to the Jameson Distillery (fun!). Generator is a reputable chain of hostels in Europe known for being clean and having a fun atmosphere.
Free and Low-Cost Attractions in Dublin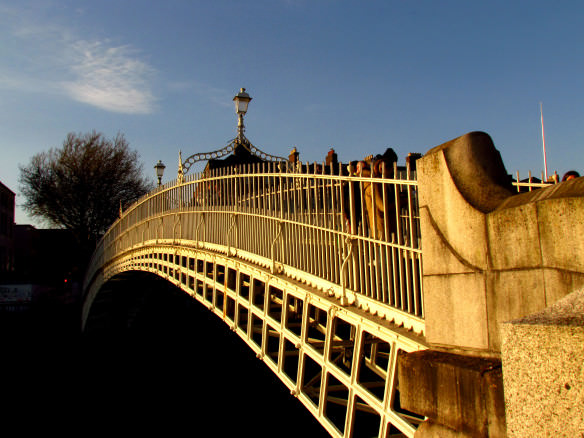 Many of the museums and galleries in Dublin are free. Take advantage of this to save some money on your vacation!
Dublin Castle was the seat of the United Kingdom's government until it was handed over to the Irish. You can take an hour tour to see beautiful staterooms, including the ornate room where the President of Ireland is inaugurated.
National Gallery of Ireland is home to an impressive collection of works. It was recently renovated and is a state of the art gallery. Admission is free too!
Chester Beatty Library is a great museum featuring one of the best private book collections in the world. Exhibits focus on the Middle East, North Africa and Asia. Free admission.
Natural History Museum is home to an impressive and extensive zoological collection. The museum's decor has changed little in over a century so it's a throwback. All ages can appreciate this museum and admission is free.
National Museum of Ireland- Archeology has a huge collection of artifacts from pre-historic Ireland as well as the Viking and Medieval periods. Free admission.
Kilmanhaim Jail previously housed many Irish political prisoners who fought for the nation's freedom. The museum offers an important and moving history lesson for those interested.
Tipping in Ireland
Irish servers are generally paid a livable salary, so tipping is not expected. However, if the service is very good in a restaurant you can reward staff with up to a 10% tip. Rounding up is also appreciated for wait staff and taxi drivers.
Traditional Irish Music
Traditional Irish music, or trad music is a highlight of Dublin pubs. It's among the great craic (Gaelic for good times) of the Emerald Island. Sundays at O'Donahues in Dublin is fantastic for traditional Irish music. Many talented performers just show up, and start playing.
Temple Bar is packed with touristy pubs. There's always live music at several of those pubs. I recommend walking around to see what's playing. Stay at a pub for drinks where you're enjoying the music and vibes!
Don't Drink the Guinness in Tempe Bar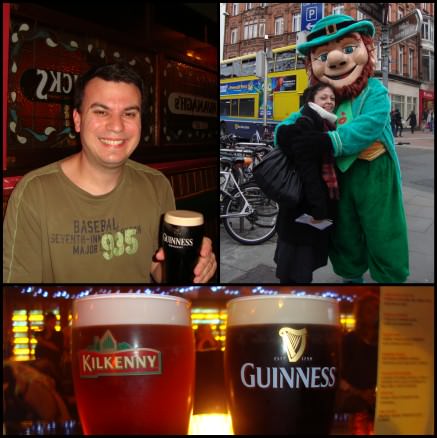 The Temple Bar area in Dublin is great fun, and many locals enjoy it too. But you won't see the Irish drinking Guinness in Temple Bar, and many advise against it. Guinness is best poured very slowly, and many bartenders in Temple Bar are too busy to pour it properly. Almost any local Irish pub is better for a Guinness, but Dubliners have their favorite spots. O'Donahues is one local favorite.
You Must Try Irish Pudding During Your Ireland Travel
Be sure to try Irish pudding while in Ireland. Full Irish breakfasts typically come with both black and white pudding. Keep in mind this is sausage, and not what Americans consider to be pudding. So this is not suitable for vegetarians as they are primarily pork based.
Saint Patrick's Day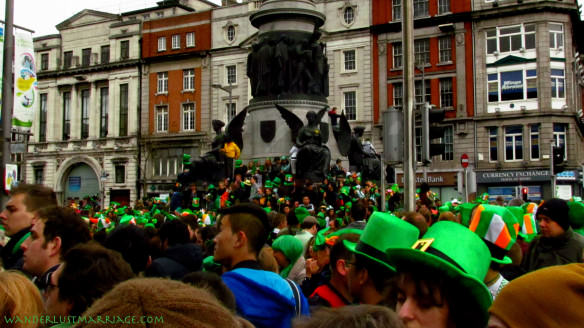 If you travel to Dublin for Saint Patrick's Day be sure to book your accommodation at least 6 months in advance. Most Irish people do not dress up for St. Patrick's Day. So you won't see actual Irish people lining the streets dressed as leprechauns or green fairies. Dublin puts on a good parade though, and there's a solid party in Temple Bar. Consider going to historic Croke Park for a Gaelic Athletic Association match after the parade. There is a hurling match (like a cross between hockey and lacrosse) and a GAA football game (a little like rugby). Ireland travel is especially popular and pricy during the summer months of July and August.
Ireland Travel for Cheap
Play the credit card points game to earn practically free flights with everyday spending. There's really no catch as long as you're responsible with credit. We take advantage of credit card bonus sign-ups and enjoy multiple international flights each year for just the taxes. Read our ultimate travel hacks to learn how we save thousands of dollars each year on travel. Get in touch if you have questions!
Questions on Ireland Travel?
If you need tips on traveling in Ireland or maximizing credit card points, leave a comment below or email [email protected]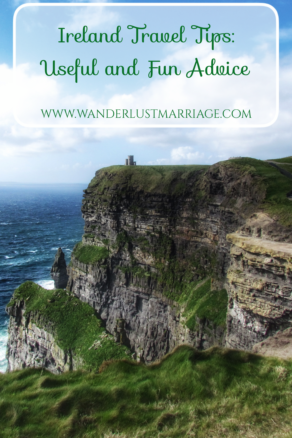 Disclosure: This article contains some affiliate links. We receive a small commission when you book or sign up through certain links and it costs you nothing extra. Thanks for using them!