HAPPY HALLOWEEN from Dublin! Yes, it's that time of year for that American tradition… Oops, I mean Irish tradition? Yes, it is believed that Halloween was bought to America by the Irish.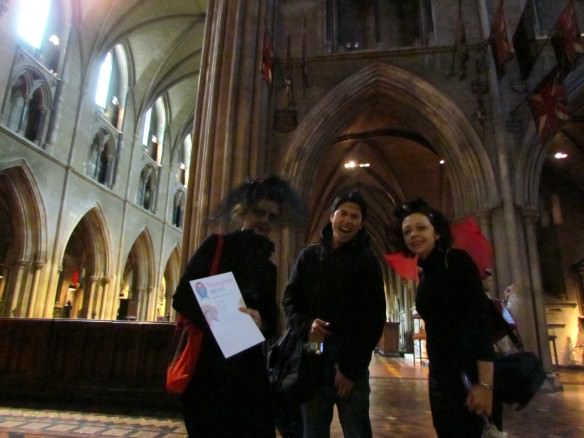 It all started with the Paleopagan Druids who were celebrating Lá Samhna, the Celtic new year. However, once the Christians moved in and went about organizing these unruly pagans around the year 800, they simply re-branded, and designated the 1st of November as A
ll Saints Day
.
The name Halloween stems from the term evening of all hallows (hallows = holy saints).
And there you have it! Well kind of, this is a very short explanation,
go here
 to read an interesting and detailed post on the link between Halloween and the Irish.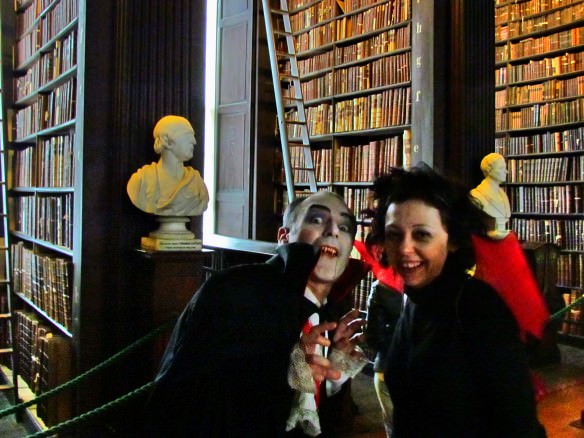 Most years we don't get to celebrate Halloween as we're usually traveling at this time of year for work. But not this year, so we've been able to fully get in to the celebrations! We took part in a vampire hunt to commemorate Irish author, Bram Stoker, who wrote 'Dracula' over a century ago, as part of the
Bram Stoker Festival
. We teamed up with a wonderful travel blogging couple, Hai and Jessica from
Notes of Nomads
 and had an awesome time. The vampire hunt was basically a scavenger hunt around town. The timed event began at City Hall where we were given a list of 10 attractions to swing into and look for answers to our clues. Once we solved the clue, we would receive a stamp upon exiting the attraction. There were also many Dracula's out and about!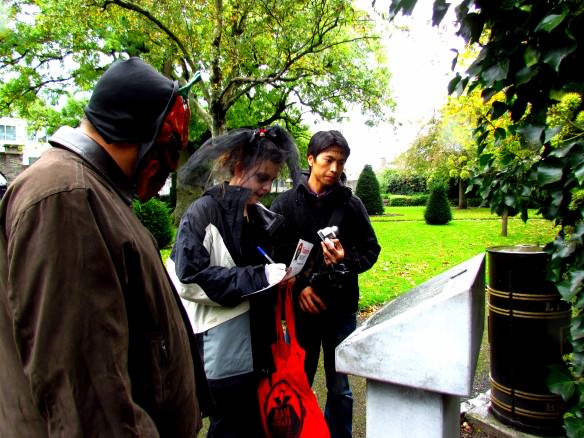 One of the really cool things about doing the free Vampire hunt, was that we received free admission to several attractions that otherwise charge. Those included Christ Church Cathedral, St. Patrick's Cathedral, the old Library at Trinity College/ Book of Kells, the Marsh library and the National Wax Museum. That was over €30 of free attractions that you could enjoy at your own pace if you didn't care about your time. We'd never previously visited the National Wax Museum and enjoyed popping in for realistic wax sculptures of many icons such as Madonna, Elvis and Darth Maul fighting a young Obi Wan Kenobi from Star Wars. You can also receive an excellent Irish history lesson there, and of course there's a statue of Michael Collins, the revolutionary leader credited with Ireland gaining its independence from Britain in 1922.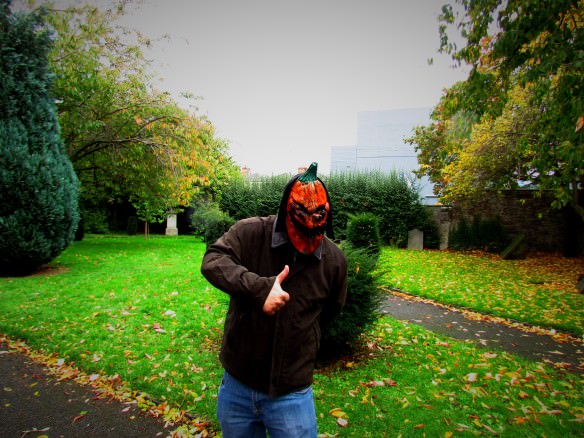 All up it took us 3 hours to complete the hunt, that's because we missed an attraction and had to backtrack, and managed to walk right past St Kevin's park, but we'll take that as a sign of being with great company! Also, we'll never again forget where to find this park in Dublin. Overall it was a fun afternoon of exploring Dublin, learning new things and seeing cool costumes.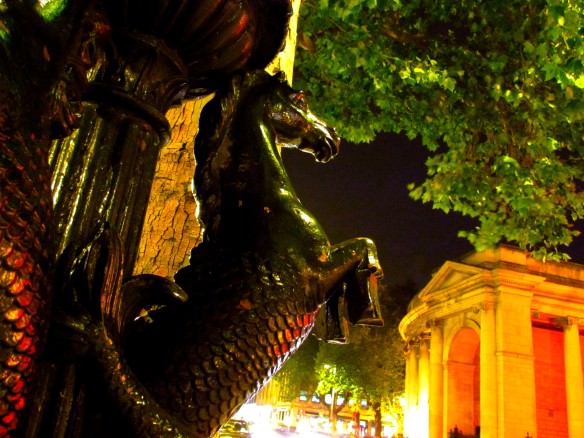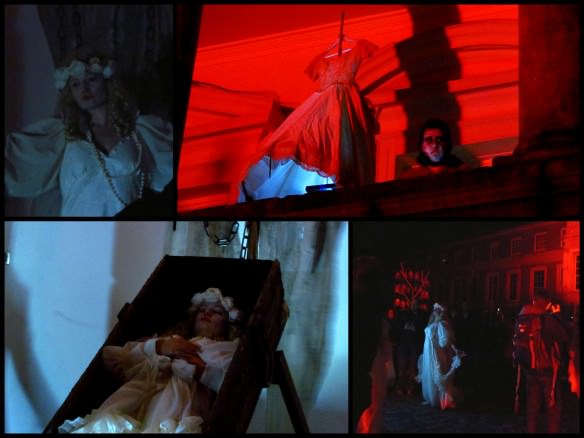 Sunday night saw us exploring the streets of Dublin to check out buildings lit up in red as part of the Bram Stoker Festival. It was disappointing that Trinity College and the Wax Museum had not put their red filters on, despite being on the list. However, the show at 
Dublin Castle
 was absolutely fantastic. They had installed an impressive fire display in a haunted castle courtyard!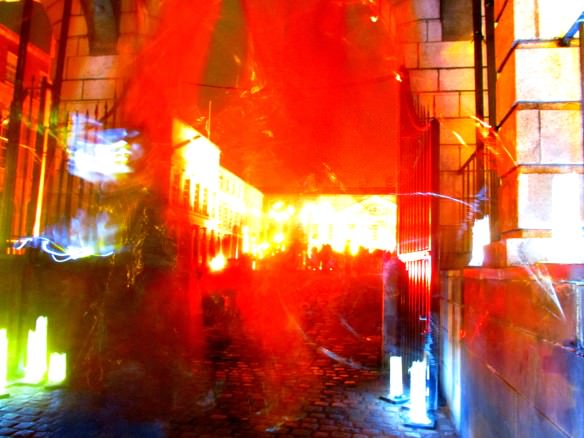 Inside the castle courtyards were beautifully designed fire displays. But you really needed to keep your eyes open for beasts and vampires as they were prone to sneaking up behind you or jumping out in front of your camera! The stunning installation was created by outdoor arts experts Walk The Plank, which was designed to evoke Stoker's imagination and give everyone a good scare if their guards were let down!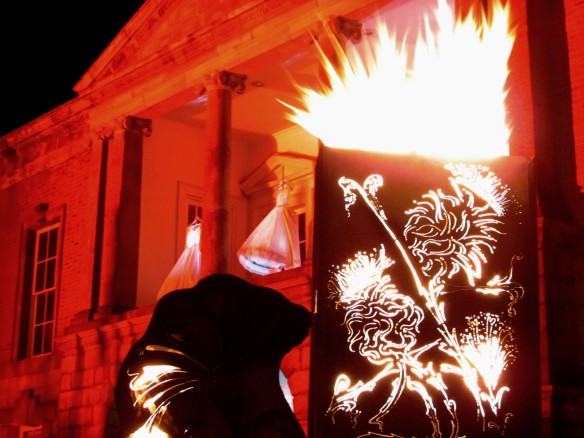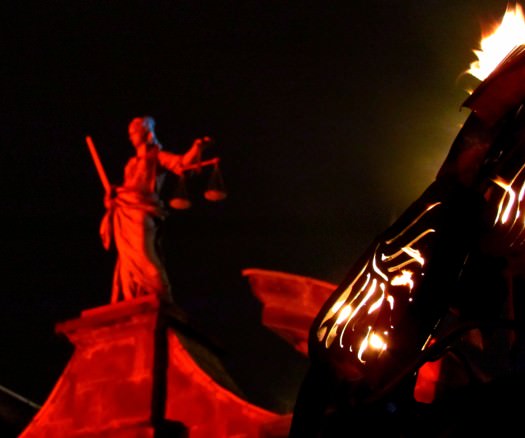 The Bram Stoker Festival happens every year in Dublin. If you missed it this year, you can join in the activities in 2014, and we highly recommend you do if you're around! Other activities included a dinner in the crypt of Christ Church Cathedral, scary movies, vampire opera and much more.
What are your plans for Halloween, and what are you dressing as? Do you have a favorite haunted house you like to visit? If so let us know!