On March 17th we celebrated our second St. Patrick's Day as residents of Dublin. It was a festive day where we took in the annual parade and visited Croke Park to attend the hurling and Gaelic football finals of the Gaelic Athletic Association (GAA). We ended our evening in touristy Temple Bar, to watch throngs of drunk people adorning green as they spilled in and out of pubs. Here's what you can expect if you visit Dublin for St. Patrick's Day!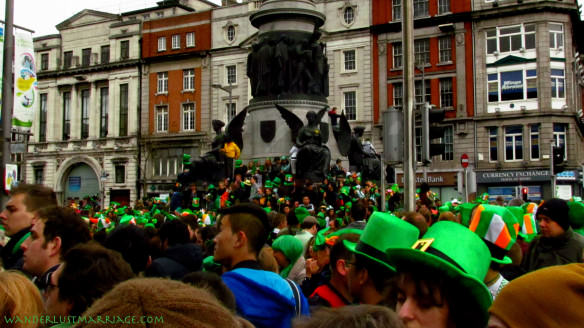 Irish People Don't Typically Dress Up For St. Patrick's Day
Something to realize is that most Irish people do not dress up for St. Patrick's Day. Do not expect to be in any Irish neighbourhood and see actual Irish people lining the streets dressed as leprechauns or green fairies. You'll generally only see this phenomenon in mass in Dublin's city center, with the most enthusiastically dressed people typically being drunk Americans. You should also not expect to see Dublin's River Liffey dyed green as is the annual custom in American cities like Chicago. While the Irish wear green for international soccer and rugby competitions, the colour that is associated with the real Saint Patrick is actually blue!
Dublin St. Patrick's Day Parade
While cities and towns all over Ireland hold St. Patrick's Day parades, don't expect them to be green themed either. Dublin's city council decided that 2014 would kick off the beginning of a three year planned theme for the parades entitled 'Past, Present and Future.' The 2014 St. Patrick's Day parade touched on Ireland's past, and we saw Viking ship and medieval themed floats. As usual, there were many marching bands and some random contraptions that we could not fully decipher their meaning. If you visit Dublin expecting a parade of leprechauns, green balloons and flying beads you may be disappointed. But it's still a great day because the Irish love the craic (Gaelic for "good times").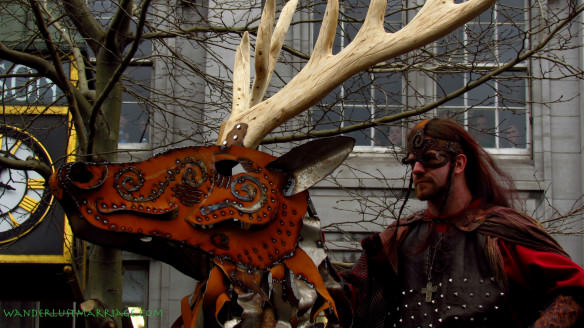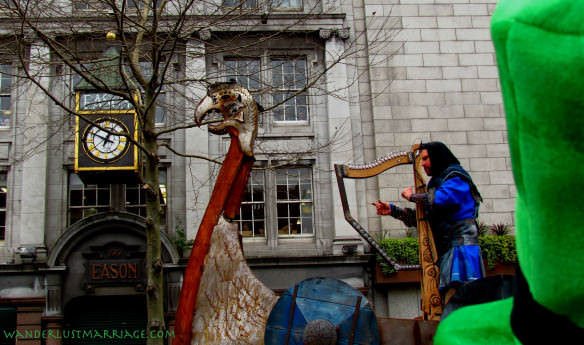 GAA Events at Croke Park
The Gaelic Athletic Association preserves Irish national sports at Dublin's historic Croke Park. With 82,300 seats, Croke Park is the 3rd largest stadium in Europe. For €25 euro ($34 USD) we watched two action packed finals in a doubleheader. If you've never seen hurling or Gaelic football, check out this YouTube video and there's a great chance you'll be inspired to attend. Our group of five was split on our preference for each sport, with Bell and I preferring Gaelic football over hurling as the ball is bigger and easier to follow. Hurling is a bit like lacrosse, with goal posts rising above a soccer net.
During half time of the matches, there was a promotion for the 2014 Croke Park Classic, held on August 30th, 2014 between American college football teams Penn State and UCF. As a graduate of the University of Central Florida, I was proud that the Knights kicked off a college football season in Dublin and dedicated a post on what to expect for the game. Non-Gaelic events are rarely hosted at Croke Park.

What to Expect at Neighborhood Pubs in Dublin
After the GAA games we swung into a busy local pub near Croke Park called Hill 16, which is historic in that the building was erected from the rubble of the 1916 Easter Rising, the catalyst for Irish independence from Great Britain. It's a great pub to visit on game day, with no crazily dressed foreigners before we arrived. While ordering a Guinness and hot whiskey I told the bartender "This is otherwise a great pub, if it weren't for all the tourists." While the five of us are all currently living in Dublin, I was the only person in the pub wearing a leprechaun hat and beard. The bartender didn't have a response except to chuckle, and I was a little disappointed that he didn't have a typically witty Irish comeback (though perhaps it's because anything good would have been insulting to us).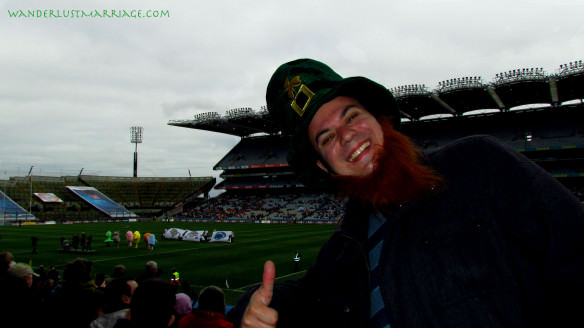 Temple Bar…Typically, Don't Drink the Guinness There
For dinner, we were not so festive as we ate Chinese on Parnell Street, at Lee's Charming Noodles, solely because it was convenient and one of our favorite places in town to have a cheap sit down dinner. And we certainly needed some food in our stomach before drinking more Guinness in Temple Bar. On a side note, we normally don't drink Guinness at touristy pubs because it honestly doesn't taste as good as local pubs. But it was St. Paddy's Day and our staple Temple Bar pubs to drink Irish microbrews, like Farrington's and the aptly named Temple Bar were far too packed. We were just happy to be able to score a table at Trinity Bar, which had a lively atmosphere, albeit lousy, bitter tasting Guinness.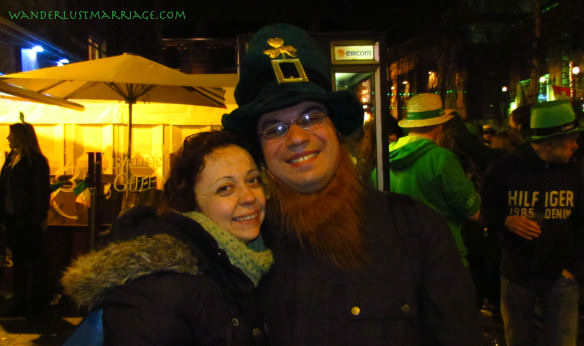 Where to Stay in Dublin for St. Patrick's Day?
If you plan to visit Dublin for St. Patrick's Day book your accommodation well in advance. You'll often find the best hotel deals on booking.com. Book a hotel with free cancellation! Then if you change your mind in time, you can easily cancel your reservation and book another one. Families especially will find the best deals on short term apartment rentals. If you've never used Airbnb, sign up here and receive $40 credit off your first stay! Here are hotel, B&B & hostel recommendations for Dublin:
Luxury:
Shelbourne Hotel is Dublin's most historic luxury hotel, as several US Presidents and many foreign dignitaries have stayed there. They have a wonderful cocktail lounge and fantastic dining options. Even if you're not a guest, swing in for high tea and enjoy a lovely view of St. Stephen's Green.
The Merrion Hotel is a 5 star hotel furnished with Georgian decor and Italian marble bathrooms. Awarded 2 Michelin stars, Restaurant Patrick Guilbaud serves gourmet French influenced cuisine overlooking the gardens. The hotel also has an infinity pool and spa. Rooms feature city or garden views.
Mid Range:
The Kilronan House is a family run, award winning B&B in Dublin's picturesque Georgian Quarter that offers good value. Grafton Street and St. Stephen's Green are a 5 minute walk away. Trinity College and Dublin Castle are within a 15 minute walk from the house. The rooms are a little dated but the included breakfasts in their beautiful dining room are wonderful. They also offer free parking.
Clayton Hotel Burlington Road is a popular hotel for conferences. It's location is walking distance from St. Stephen's Green and Grafton Street. This is also a good mid-ranged price hotel in Dublin for those that don't like bed and breakfasts. We stayed there on our most recent visit to Dublin in October, 2018.
Budget:
ABC House Dublin and Egans House are quintessentially Irish bed and breakfasts a little outside the center of Dublin. They both offer reasonable comfort for those that don't want to spend a lot to sleep. We spent a week at ABC House Dublin while searching for our apartment when we first moved to Dublin. And we've stayed at Egans House on multiple occasions.
Backpacker: 
Generator Hostel is conveniently located right next to the Jameson Distillery (fun!) and is part of a reputable chain of hostels in Europe that are known for being clean and having a fun atmosphere.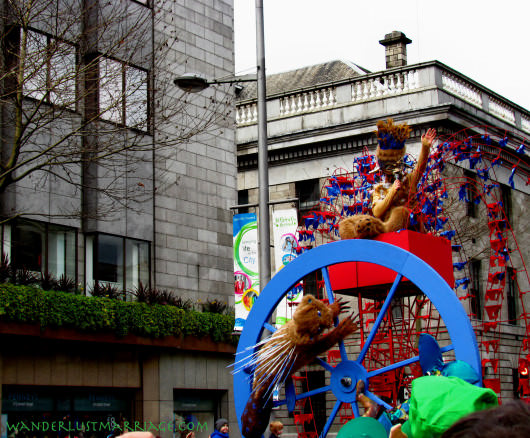 If you want to read about what we got up to for St. Patrick's Day 2012 in Dublin check out this post.
Need Help Planning Your Trip to Dublin for St. Patrick's Day?
Leave a comment or email me at [email protected] and I can assist with questions!
Disclosure: This article contains some affiliate links. We receive a small commission when you book or sign up through these links and it costs you nothing extra. When it suits you, please use them. Thanks!