On behalf of both of us, thank you to everyone for submitting such wonderful entries! We've been inspired by all the fantastic food and touched by some of the stories you've shared in this truly international recipe contest. We're really glad we are not deciding the winner among our 15 great submissions. That decision will be made by voters on this post, so please encourage friends and colleagues to vote! An email address can only vote once and please tell them to vote by number as well, because a couple names are similar. Comments (votes) go to moderation and we'll do our best to approve them asap. Voting is open for 11 days and will close on Monday, September 23rd at 5pm Greenwich Mean Time. We'll highlight the top 3 recipes and their prizes in a post to be published Wednesday, September 25th.
A big thanks to Only-apartments for sponsoring a 200 euro gift voucher to use on their website to book a short term stay in one of 20,800 apartment listings worldwide! In many exciting destinations, you can book a lovely short term apartment at a better value than anything you'll find on a hotel booking site. Thanks as well to our friends at the historic Albrecht Durer museum shop in Nuremberg, Germany for sponsoring 2nd place!
First place – 200 euro credit on Only-apartments.com
Second place – Franconian recipe book from the Albrecht Durer Museum Shop
Third Place – Irish recipe oven mitts, tea towels and a pen to jot down recipes 
All other places – A beer, wine, whiskey or juice over a nice meal, if we catch up with you somewhere on this planet!
Here are the list of entries in the order they were received: 
Recipe 1 by Angie: As strange as it sounds we were inspired to make this Moroccan spiced chicken after our trip to London. London being a cultural melting pot, had tons of street stalls selling "exotic" cuisines and Moroccan spiced dishes were definitely easy to spot. Here is our take on the dish.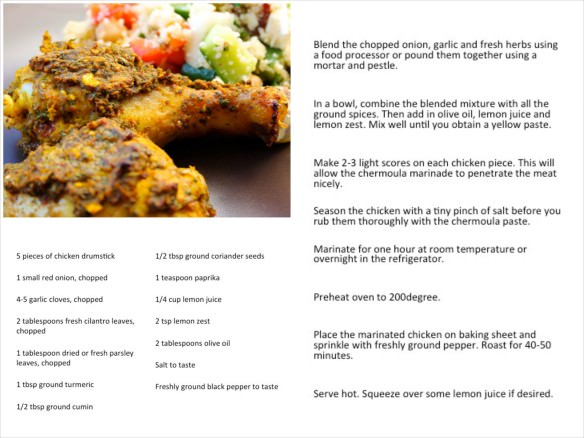 Recipe 2 by Ange: Experimenting in Czech cuisine had never interested me until I left the country after living there over a year. I began craving the stodgy meat and dumpling staple of most Czech meals, so I emailed one of my former students, Zdena.
This incredible woman told stories of the Russian invasion in 1969, tanks rolling up the narrow, cobblestone streets of Prague, her mother shouting out over the balcony as shots were fired sporadically while she and her brother hid under the kitchen table. She talked about growing up under Soviet rule and how different her life is now. I adored our meetings and learned so much about the culture and history from her.
When I asked for one more assignment from her, a recipe for traditional Czech goulash written in English, she was more than happy to oblige.
Traveling Ange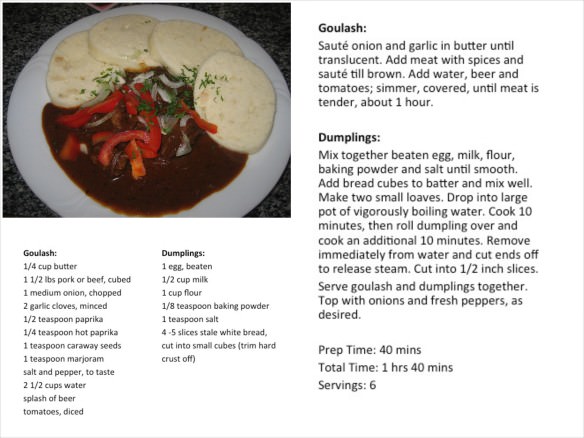 Recipe 3 by Mikey: Barcelona vacation 2012: A light meal at the apartment. Big shrimp and garlic from the local market.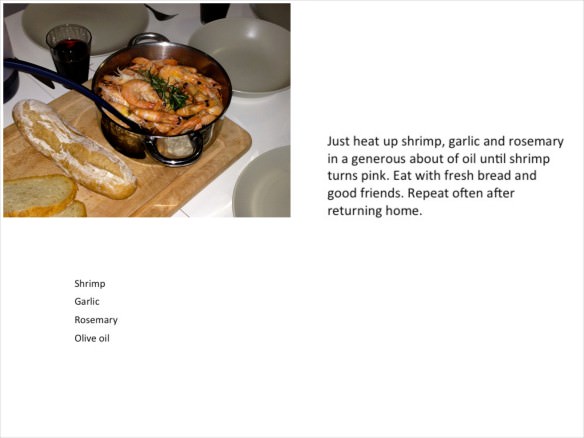 Recipe 4 by Thrifty Travel Mama: Tuscan Ragu with Tagliatelle
This summer, our family took two weeks to experience Tuscany.  We cycled the walls of Lucca, climbed Brunelleschi's dome in Florence, drove through the grape-laden hills of the Chianti region, and explored tiny hill towns full of history.  The highlight of the trip, however, was learning to make several authentic dishes in the owner's kitchen at the villa where we stayed.  This hearty meal reminds us of the richness of the Tuscan countryside and the warm hospitality of Italian people.
Want to take things a step further?  Try making Tagliatelle yourself!  Click here to read about how my five year-old son and I learned to make pasta as well as the ravioli and marinara pictured above on our recent trip to Italy.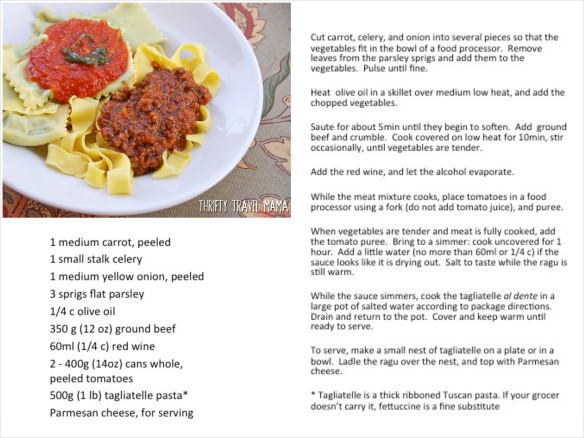 Recipe 5 by Sara: Spaghetti with avocado cream and masala curry
My travel-inspired recipe brings the memories of the street markets of two countries in two different continents, with a core settled in my own native tradition: an exotic pasta, very easy to prepare.
The first time I cooked pasta with avocado cream I was in the Island of the Sun in Titicaca Lake, Bolivia. It was my first serious trip alone as backpacker and I didn't calculate that in the island there were no ATMs, because there was no electricity. I arrived there with very few money, enough only for the boat trip back and not much more. I ended up sleeping below the stars and cooking with fire, for 5 days, only cheap Bolivian pasta with avocado, which was the cheapest vegetable available in the local market and basic ingredient of many local dishes. I deeply loved and deeply hated, at the same time, that monothematic forced experience, getting to know for first time that peculiar mixture of contradictory emotions which characterizes every true adventure.
Later I went on preparing this meal, adding ingredients from my Southern Italian tradition, as seafood and grated pistachio. The last enrichment was inspired by India, during my long trip in that colorful and spicy subcontinent, where I was traveling, again, with few money but, again, big gluttony and gastronomic curiosity: masala curry gained a place of honor in this recipe. And this recipe gained a place of honor on my dinner table!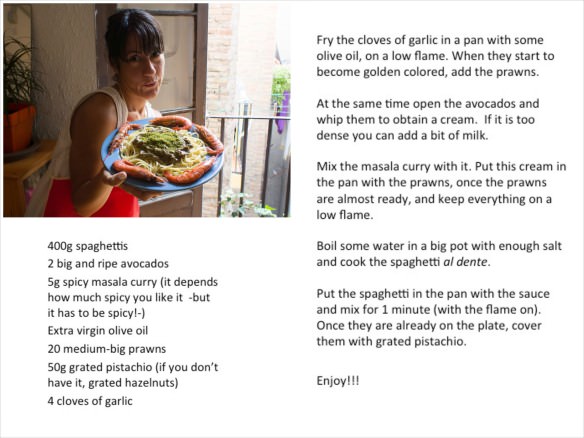 Recipe 6 by the Tuscan: It is a finer Romanian version of Olivier Salad that is mainly prepared for big holidays–such as Christmas–and it's delicious. I first tasted it during my first trip to Romania.
Like 99% of Romanian dishes though, it is very fatty and contains meat.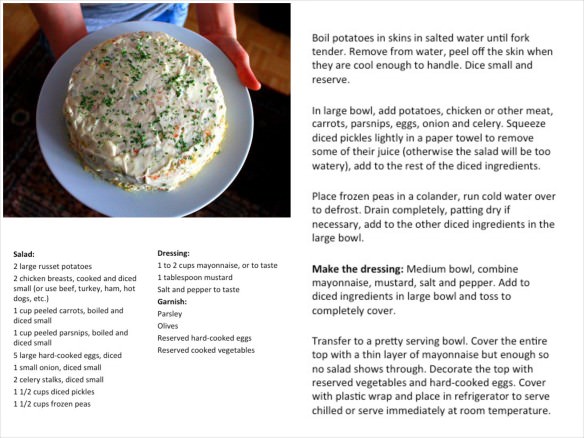 Recipe 7 by Maya: A little confession. I have always been afraid of making large meat dishes, you know, the traditional American pot roast, meat loaf, roasted turkey, etc. But since we moved to Ireland, where I find the diversity of vegetables is far less than the States, I started to turn my attention to the abundant and high quality Irish meats. Lamb, for example, is far superior and more available in Ireland than the States. I started roasting lamb with cumin after I visited Morocco in the spring.
My friend that I went to Morocco with is a huge fan of meats in general. Well, he was in heaven. We found a couple of street vendors that make succulent roasted lamb in the corner of the busiest square, Jemaa el-Fnaa, in Marakech. The meat was dirt cheap and they sell out very early in the day. The shops have an earth oven built into the ground, out of which they lifted out lamb or pork that have been roasting all morning. Big chunks of meat fell off the bones, served in foil and a generous serving of cumin and salt mixture. No utensils, hands only. I tried eating with a camping spork and resorted to my hands in the end. The meats were tasty but they were gamey. I realized that cumin salt was an excellent spice that helped to cover up the strong meaty taste or anything that might have indicated the meat as being less than fresh.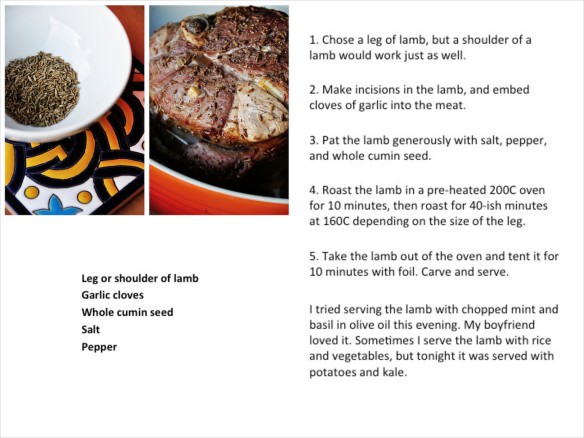 Recipe 8 by Jenn: My latest fave recipe is Mexican in origin, but I picked it up all over the western US – Huevos Rancheros. This fresh variation uses green tomatillo salsa instead of the usual red, and the refried beans are on the tortillas instead of on the side. I made this on Saturday for hubby and me and it elicited high praise, the coveted "this is really special" from hubby!
Note: Fresh tomoatillos are tough to find in Europe, so jarred tomoatillo salsa is a perfectly fine substitution, and adding cumin and garlic powder to a can of black beans supplies plenty of flavor if you are hungover or in a hurry.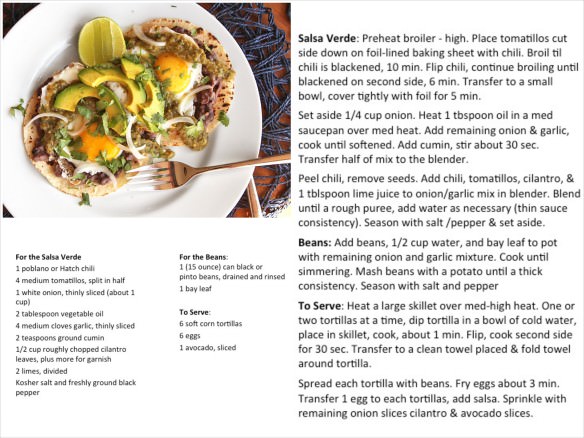 Recipe 9 by Rick: Backstory is, Texas was the first place I visited on a regular basis (every summer from birth), so you could say that those trips first infected me with the travel bug. Anyways, my grandma's brisket was a thing of beauty and after hearing me talk about it, Rick got the recipe from my Granny. We made our own adjustments of course, and here is the result with a photo from our kitchen.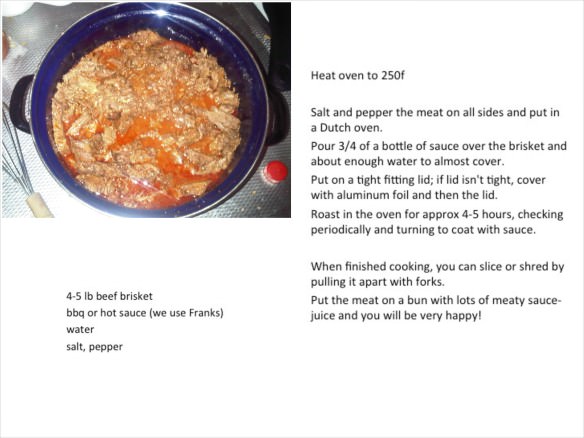 Recipe 10 by Jess & Nil:
This recipe was inspired by a dish we had in Naples. I loved eggplant parm and lasagna and this recipe intermingled the two! Yummy!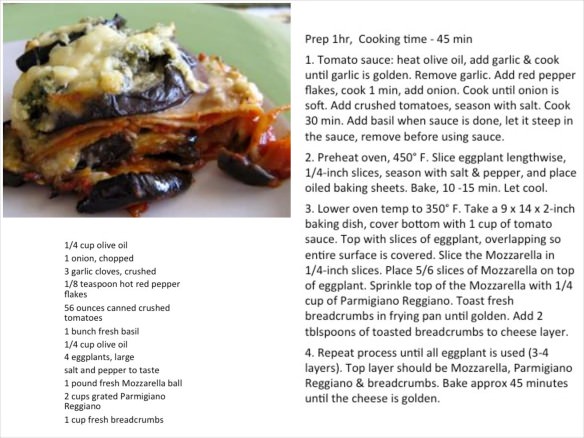 Recipe 11 by Marijke: As a European, I wasn't aware that there was any other kind of ratatouille than the mushy French vegetable stew. Nice but not a favorite. Thanks to an American boyfriend, I discovered the joy of AMERICAN ratatouille!!! Wooot, who'd have thought they'd outcook the French on one of their traditional recipes?!??!! I make it every chance I get and with whatever vegetables I can lay my hands on.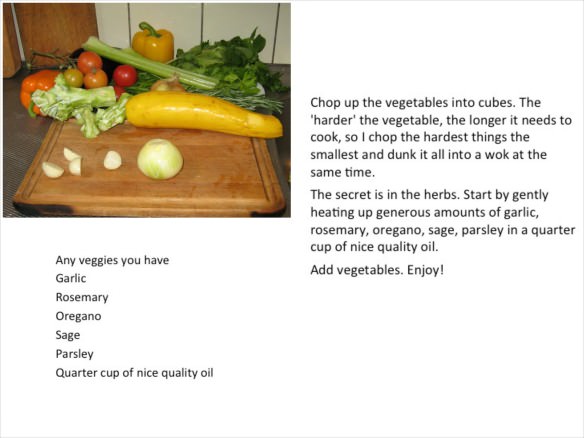 Recipe 12 by the Fitchen: Our original recipe for tabbouleh using cauliflower. We were inspired from a dish we had while on our honeymoon in Grand Cayman.
The Fitchen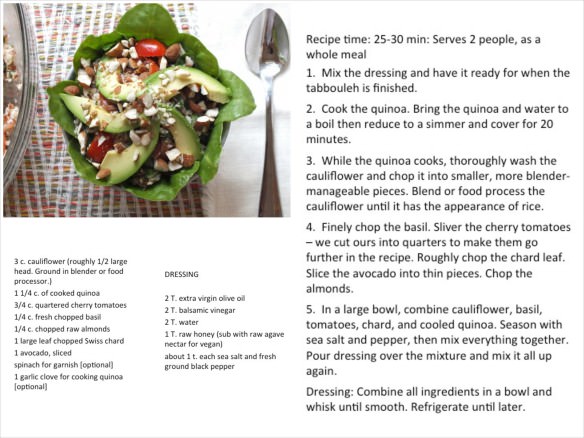 Recipe 13 by April: My girlfriend travels to America to visit me a few times a year and she is very excited to visit our grocery stores because they are so large and different than what she is used to. This visit we came upon the spaghetti squash that was in season and we wanted to try it because we had heard it appeared and tasted similar to pasta but made the dish more healthy.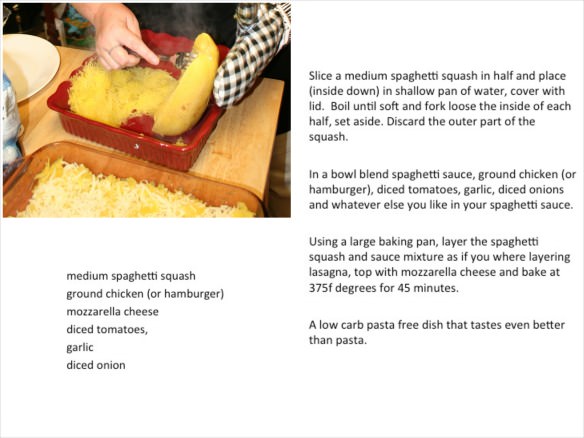 Recipe 14 by Karin: This is a simple but delicious pasta dish that I picked up in … Sweden. Haha, you didn't see that one coming. So this dish is super easy to make, but the great thing is that it's made with fresh ingredients and that's why all my guests thus far have loved it when I made it for them. And what's good for the average Dutch person: it's not expensive!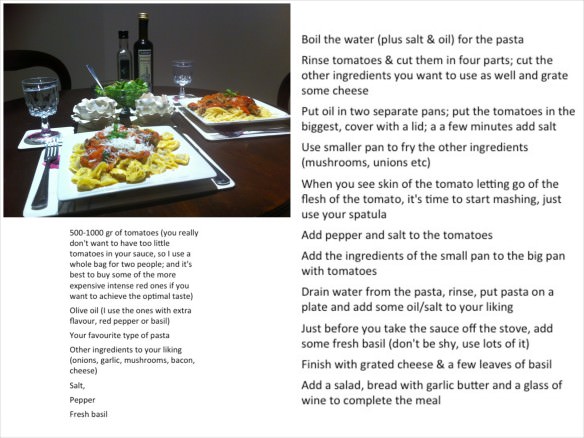 Recipe 15 by Stephanie: Imam Bayildi – This is my version of the dish Imam Bayildi (translated as "the imam approves') that I enjoyed in Turkey. It is a great dish as you can add (or take away) things that you like. I like to add zucchini or tofu as a variation.