Montreal is considered the 'Paris of North America.' And given Montreal's amazing culinary scene, wonderful art & architecture, romantic ambiance and its warm French speaking population, set to a backdrop of 374 years of history, it's a fitting comparison. Montreal is also one of the best cities in North America for a lively night on the town, making it an ideal destination for virtually everyone. For North Americans, romantic getaway ideas for Montreal offer many of the indulgences and intimate moments you'll find in Paris, without the epic jet lag!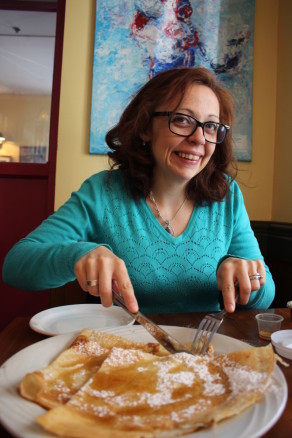 Living in Boston, which is less than a six hour drive from Montreal, we knew Montreal would be the perfect place to celebrate our milestone 10 year wedding anniversary. Unfortunately, a work emergency arose last year and our 10 year anniversary plans needed to be altered around that. So we left our Quebec visit for a long weekend to celebrate our 11 year wedding anniversary. We also spent two nights at the wonderfully relaxing Esterel Resort in the picturesque Laurentides region.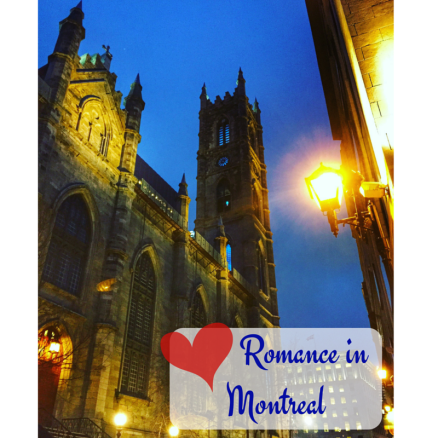 A Romantic Stay in Old Montreal (Vieux-Montreal)
We stayed at the luxurious Le Saint Sulpice, adjacent to the beautiful Notre Dame Basillica in charming Old Montreal. Le Saint Sulpice is an award winning 4 diamond hotel featuring 108 suites. Every suite features a kitchenette, Nespresso machine, fireplace and boutique toiletries by L' Occitane en Provence.
Asides from being the perfect stay for a romantic getaway to Montreal, Le Saint Sulpice is a hotel that fully appreciates the arts. Suites include a copy of the book titled 'Suite Stories', which contains short stories written by 14 writers who have previously stayed in the hotel. Le Saint Sulpice also helped produce an award-winning 15 minute mystery film, called La Valise, which takes place at Le Saint Sulpice.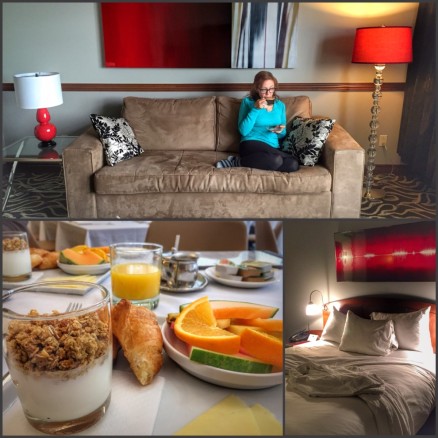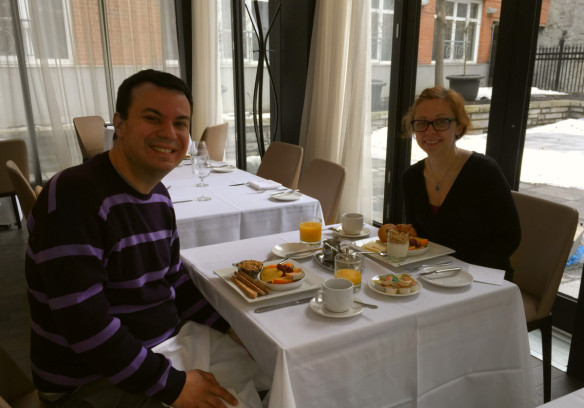 Le Saint Sulpice is right around the corner from St. Paul Street, one of Montreal's most charming streets to eat, drink and shop. We enjoyed delicious crepes at charming Creperie Chez Suzette, which oozes Parisian-esque character. One evening we concluded our night at Philemon Bar, which has a really fun late night atmosphere for drinks. Old Montreal features a wide variety of great restaurants and hangouts, like Montreal's first champagne bar, La Champagnerie, which is perfect for an anniversary celebration or other special occasions.
Go to Maison Birks – a historic jewelry store in business since 1879
Maison Birks used to also house a scrumptious restaurant, but Birks Cafe has closed. The cafe is said to have inspired the popular Audrey Hepburn film Breakfast at Tiffany's. The historic jewelry store, in business since 1879 remains open. If you're visiting Montreal for a special occasion and want to pick up some jewelry as a gift – Maison Birks is the place to shop.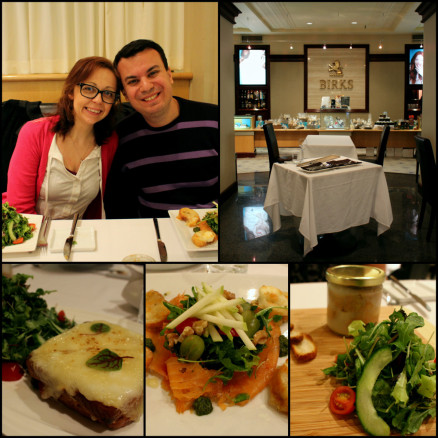 Hire a Private Guide
For couples short on time in Montreal, it's an excellent idea to hire a private guide so you can get the most out of the city. Nathalie Thivierge, founder of Native Tours, gave us an excellent 2 and 1/2 hour private tour of Montreal in her comfortable SUV that also included great stops on foot. She personally caters her tours to the interests of her clients and her car was extremely clean, comfortable and spacious.
Download the Free Montreal en Histoires App
Nathalie showed us how to use the fantastic Montreal en Histoires app, which has been developed for the upcoming 375th anniversary of Montreal next year. The free app allows you to discover Montreal through an amazing multidimensional experience. With the app, your phone will present images of what certain buildings looked like centuries ago. It also allows you to place yourself in shots that merge past and present! If you don't hire a private guide, this can be a wonderfully romantic way to discover the city with your loved one.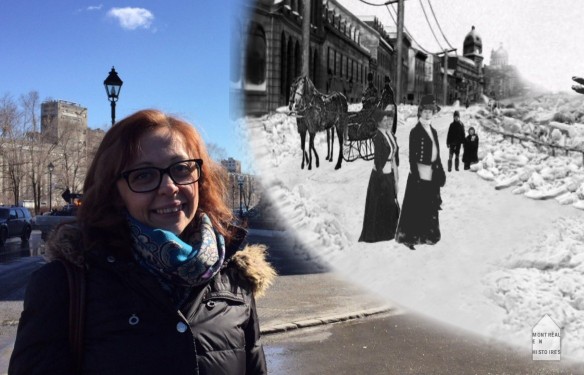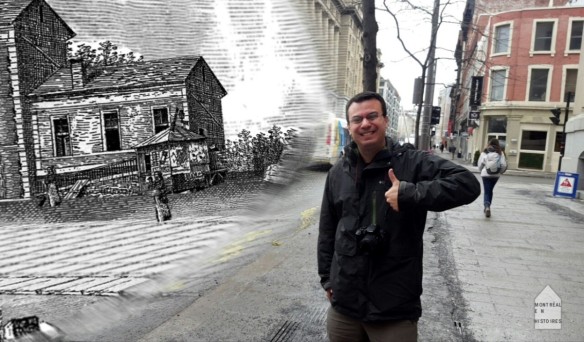 Visit the Notre-Dame Basilica in Old Montreal (Vieux-Montreal)
A visit inside the stunning Notre-Dame Basilica is an excellent idea for many couples visiting Montreal. Set to dazzling blue and gold colors, Notre-Dame Basilica was originally built in 1829. We've seen fantastic houses of worship all over the world, and we still left extremely impressed. During a visit, be sure not to miss the lovely Chapel of Notre-Dame du Sacre Coeur. Situated just behind the main section of the basilica, this ornate chapel is crafted entirely of linden wood.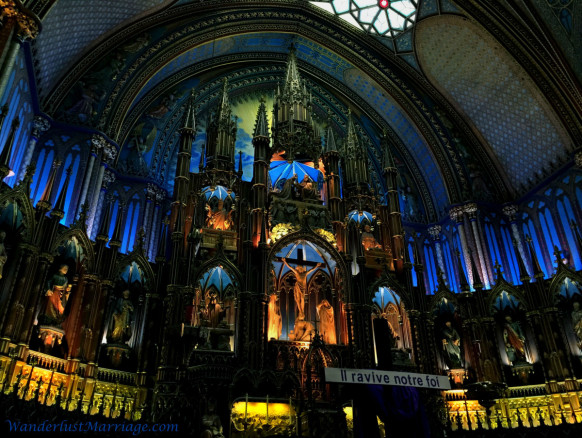 Discover Montreal's Unique Architecture
Our private guide, Nathalie, pointed out Montreal's unique modern architecture built for the 1967 world's fair. From the Old Port, we gazed across the St. Lawrence River at Habitat 67, a unique cubist structure which has been converted into apartments. As it was cold, she discussed the massive geodesic dome, the Montreal Biosphere, while passing it in her car. The Biosphere is now an environmental museum, originally built by the same architect, Buckminster Fuller, who designed the Epcot Center ball, Spaceship Earth.
From a wonderful vantage point atop Mount Royal, Nathalie discussed the world's tallest inclined tower above Olympic Stadium, built for the 1976 Summer Olympics. Measuring 574 feet (175 meters), the tower's cables are used for the stadium's retractable roof. Despite the Expos baseball team leaving in 2004, it's still an impressive site for avid sports fans.
Enjoy Quebecois Beers at a Gastropub
Nathalie also drove us through the trendy Plateau and Mile End neighbourhoods. This allowed us to get a personal overview of Montreal in a short period of time. During our drive down Rue Saint Denis, which is lined with hip hangouts, Nathalie pointed out L'Amere a Boire as an excellent place to enjoy delicious craft beers and great pub food. And that was a recommendation we thoroughly enjoyed for dinner that night. We loved everything about L'Amere a Boire, including its unique menu featuring exotic items like pilon de canard (duck drumsticks) and lapin burger (rabbit burger). There were a lot of couples hanging out there, so for fellow craft beer lovers wanting a casual yet tasteful night out, we highly recommend it.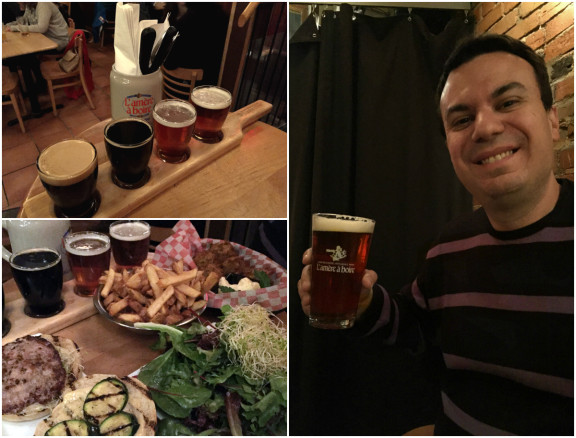 Visit the World Class Montreal Museum of Fine Arts
For art loving couples, the Montreal Museum of Fine Arts (Musee Des Beaux Arts) is fantastic. They currently have a world class exhibition on Pompeii running through September 5th, 2016. We were impressed with the collection of over 220 mosaics, frescoes, statues and artefacts. And the multidimensional theatre experience that brings the eruption of Mount Vesuvius to life is dramatic. The Montreal Museum of Fine Arts also has a wonderful permanent collection and we particularly enjoyed impressionist works by Monet and surrealist paintings by Picasso.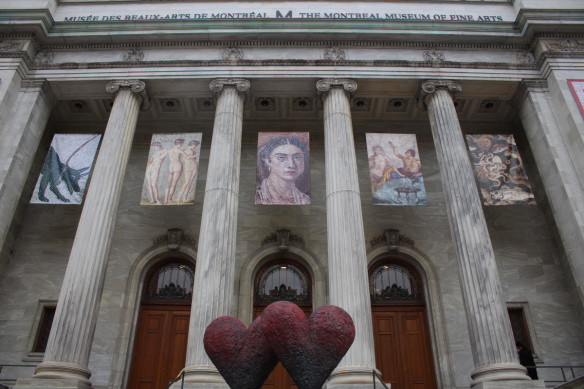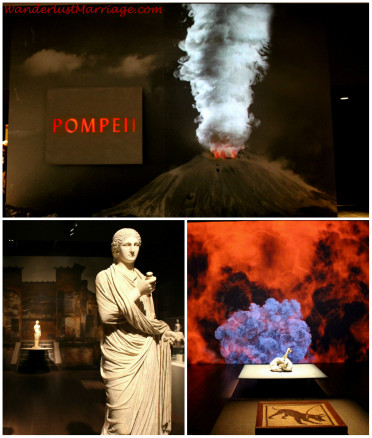 Enjoy Tasty Cocktails in Mile End
In Montreal's hip and artsy Mile End, we highly recommend cocktails and tapas at the Portuguese influenced Bar Henrietta. Their citrusy 'Belle Jaune' cocktail was refreshing and paired well with the unique and tasty black pudding chorizo tapa. Bar Henrietta is perfect for couples looking for a lively and upscale night on the town. After a visit here, just walk down Boulevard Saint-Laurent and there's a wealth of other great options a stone's throw away.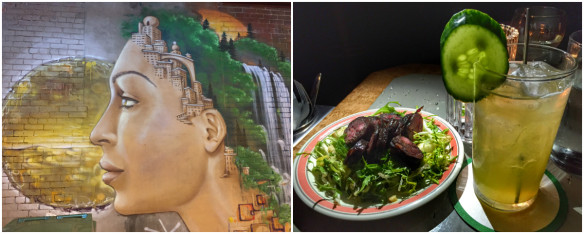 Relax and Pamper Yourself at a Unique Spa
A relaxing idea for couples on a romantic getaway in Montreal would be a visit to the Bota Bota spa. Bota Bota has a unique setup on a boat docked in the Old Port of Montreal, offering picturesque views of the city from the ship. While we would have otherwise loved to enjoy their spa and perhaps a massage, our time in Montreal was very short. We also knew there was a nordic spa at the Esterel Resort in the Laurentides, where we headed immediately after Montreal for our 11 year wedding anniversary.
Watch the Sunset over Montreal from Mount Royal
Another romantic idea for couples is to visit Mount Royal at sunset. In summer, you could plan to pack a picnic and stroll around the park. And if you visit in winter, you can even toboggan in Mount Royal! Unfortunately, as the weather warmed prior to our March visit, the tobogganing had ended. While Mount Royal is pretty in all seasons, the autumn foliage is meant to be the best time to visit.
Montreal fully deserves its title as 'The Paris of North America' because there isn't another city on the continent that compares to it. Montrealers embrace their rich history and French speaking culture and the city has food that rivals any place in the world. This makes it the perfect destination to celebrate a wedding anniversary or another romantic occasion.
Disclosure: We were hosted by the Quebec Tourism Board (#QuebecOriginal) and Tourism Montreal (#MTLmoments). We thank them for their wonderful hospitality during our amazing 11 year wedding anniversary weekend. But all opinions and photos in this article are our own. Also, this article contains some affiliate links.