Italy offers a wealth of amazing places to explore. One of our all-time favorite trips was spending two nights a piece in Lake Como, Milan and Bergamo. If you do this trip we highly recommend staying in Lecco, which offers stunning beauty for half the price of what you'll pay to stay in Bellagio. Bergamo's old town is wonderful, and we enjoyed the best food of our trip there. We had the least fun in Milan, and paid more for it.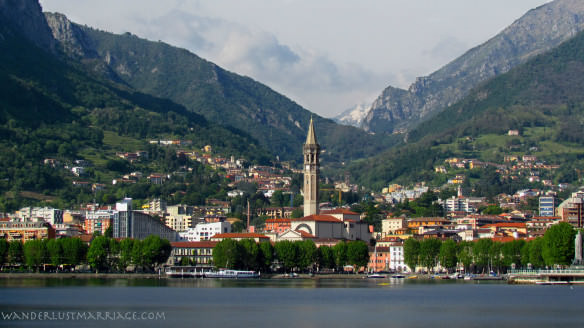 Lake Como: Home to Celebrities like George Clooney
Lake Como, in the heart of the Italian Alps, is most famous for the town of Bellagio. Celebrities like George Clooney and Richard Branson own homes in the area. During our May visit to Bellagio, the town was inundated with American travelers.
The ferry ride to Bellagio, across Lake Como, among the vast snow-capped Italian Alps is breathtaking. But the high price of hotels and predominantly American tourist vibe of Bellagio is not for everyone.
Hotel Bellagio is an excellent choice for a comfortable Lake Como base. Accessed directly from Bellagio's main square by 38 cobblestone steps, the property is walking distance from the town's charming shops, cafés and restaurants.
Lecco: Much Cheaper to Stay Compared to Bellagio and Varenna
The photos in this article are all of Lecco, which is just 25km south of Bellagio, and right on Lake Como. We spent 2 nights at the lovely HLL Hotel Lungolago with a lakefront view, which was a much better value compared to Bellagio and Varenna. But convenient enough to visit these other gorgeous places on a day trip.
Ferry ride across Lake Como
From Lecco you can take a 25km (15 mile) ferry ride along Lake Como on weekends or every day during the summer, check the schedule. If you stay during the week in early May, like we did, you can still have gorgeous weather but you'll have to catch a short and inexpensive train ride to Varenna costing only €8 roundtrip ($11 USD). You can then conveniently ferry from Varenna to beautiful Bellagio and Menagio just across the lake throughout the day.
Where to Stay in Lecco?
We recommend staying at HLL Hotel Lungolago as prices are very reasonable for a comfortable boutique hotel. We stayed in a newly renovated, ensuite room with a small balcony overlooking the lake. Lakefront rooms with huge patios are also available. All rooms feature a flat-screen TV with sky channels, a mini-bar and a bathroom with slippers and hairdryer.
Hotel rooms in Bellagio will easily cost you double the price of rooms in Lecco. Families especially will often find the best value on short term apartment rentals. Book listings with consistently great reviews for the best experience.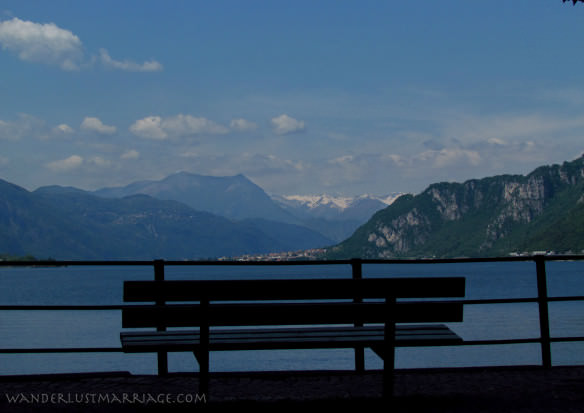 Lecco Worth Visiting?
Lecco is worthy of a day on its own if you stay there. We loved strolling the beautiful promenade along Lake Como and enjoyed some tasty food and delicious wine. There's scores of ice cream shops that also offer authentic Sicilian style Italian ice, packed with fresh fruit tartness. Check updated reviews on restaurants, as meals can be very hit or miss in Lecco (Lombardy in general). Read this article on 5 reasons to take your significant other to the Alps.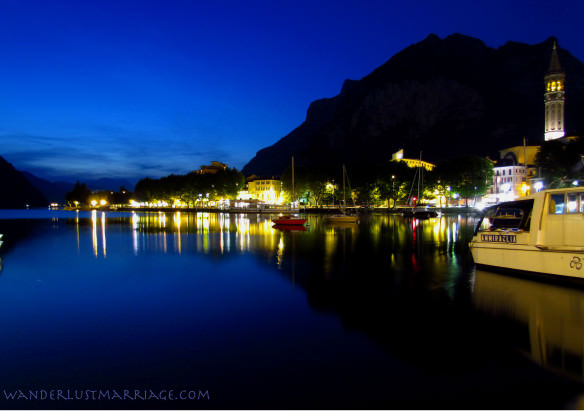 More on Lombardy: Milan, Bellagio, Lake Como & Bergamo
How to Experience Bellagio, Italy Cheaper
Bergamo, An Underrated Italian Gem in Lombardy
Varenna, Italy Beautiful Town on Lake Como
Amazing Photos of Milan's Duomo in a Thunderstorm
While we paid full price for our room at HLL Hotel Lungolago, this article contains an affiliate link. If you book through our affiliate links, we receive a small commission, at no extra cost to you. Thanks for using them and supporting independent travel media.