While in Lisbon, we stumbled upon a wonderful market for special gifts, the Ladra Flea Market. Feira da Ladra, its Spanish name, basically translates to "market of thieves." However, what you'll actually find is a market with exquisitely hand crafted items. There are stalls with beautiful jewelry made from recycled goods, like nespresso coffee pods and soda cans. We were honestly surprised when the vendor explained to us how the rings, hair pins and other items were made. She basically squished the pods and when squished they kind of resemble colourful rosettes. All the products are skillfully crafted by friendly vendors who are more than happy to talk to you about their wares and Lisbon in general.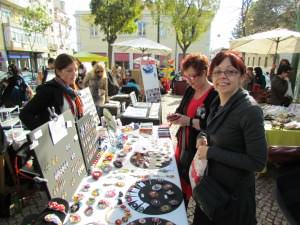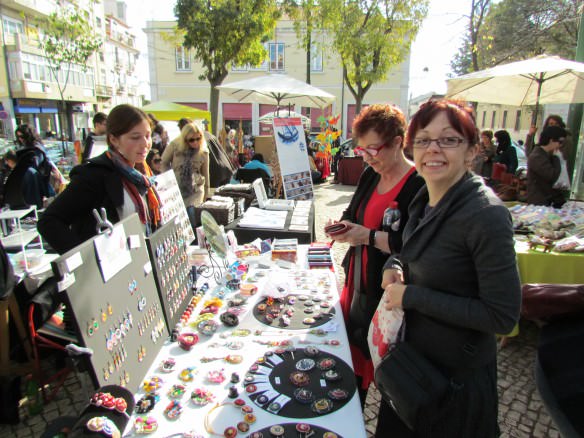 When traveling it is nice to pick up little gifts for loved ones, friends, and of course yourself! While Alex and I are HUGE fans of magnets and shot glasses with wherever we were plastered all over it, it can also be nice to find more unique gifts. The Ladra Flea Market is perfect for this and for supporting small artists rather then the large tourist company producing the same shot glass seen in every tourist shop. The market is small, but we'd still allow an hour to wander around and talk to the vendors. At one stall, my mum was buying some jewellery, and I picked an pair of earrings, we didn't spend that much, but the vendor let me choose one his rings crafted from soda cans so that I would always remember Lisbon. It was a lovely gesture and the ring is really cool!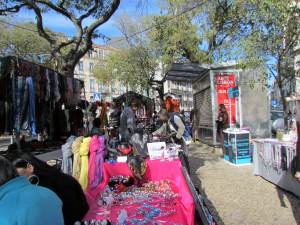 The market can be found at Campo de Santa Clara, Alfama, and tram 28 will get you there. The market runs 6am – 5pm Tuesdays & Saturdays.
If you have any other great artisan market recommendations in Lisbon, Portugal, Europe or just plain Earth, please let us know!