Who enjoys sampling different animals?…We sure do! Ok, maybe Alex more so, but Bell completely downplays her desire for this. Unless I'm eating aged pigeon pate, she'll probably at least try a bite of whatever exotic (and legal to consume) animal that is on my plate. Not too long ago I decided to putting eating ostrich in Amsterdam on the list.
If you're in Amsterdam and you also want to try ostrich, definitely head to De Struisvogel (Dutch for "The Ostrich"). You can break the bank eating out in Amsterdam, and receive a mediocre meal in the process. De Struisvogel is a wonderfully refreshing alternative from many overpriced and uninspired Amsterdam eateries. For €26 ($32 US) you are served a choice of delicious and creative starters, such as beef carpaccio with homemade truffle mayonnaise,a succulent ostrich fillet, followed by a delicious selection of deserts, including a freshly torched creme brulee. This is one of the best values in Amsterdam, hands down.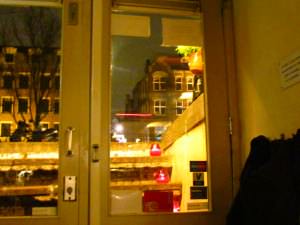 De Struisvogel isn't just a place to eat ostrich though. They have several other great mains on offer, changed seasonally and using all organic or free range meat. The 3 course menu starts at €23.50. It's a beautiful and charming small establishment, quintessentially Dutch and perfect for a date or a nice evening with friends or family. It swings both ways. And the service is friendly and attentive, particularly by Amsterdam standards.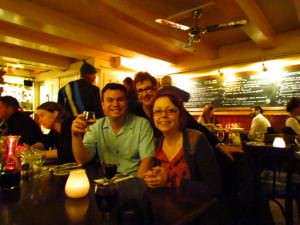 The restaurant is very small, with only 34 seats in total, so even during the week you should
definitely
book ahead. But a same day booking is possible. A word of caution for Americans or anybody in a hurry, this is not TGI Fridays. Do not dine here expecting to be out the door with a stuffed belly (of processed food) in 45 minutes. Eating out in the Netherlands is an event that is slowly savored for a couple hours. The restaurant staggers the courses accordingly, so expect to spend an hour and a half at least. It's a beautiful and relaxing environment, with great wines, and you're in Amsterdam, so take the time to enjoy yourself.
Keizersgracht 312  1016 EX Amsterdam, Netherlands
020 423 3817
Where to Stay in Amsterdam?
Hotel prices in Amsterdam can vary wildly depending on time of year and availability. Try and book something with free cancellation well in advance when you can, especially for summer and the holidays!
Luxury: 
Pulitzer Amsterdam is a great luxury choice with first class amenities and a lovely central location on Prinsegracht (western canal belt). It's walking distance from everything, but a fair bit away from the Red Light District and other noisy parts of the city.
Radisson Blu makes for the one of the best value upscale stays in Amsterdam.
Mid Range:
Citizen M is a comfortable and modern hotel in Amsterdam. Rooms come with an Ipad and a big selection of entertainment options.
We also recommend Motel One Amsterdam and Motel One Waterlooplein as they're good bang for buck, with an excellent breakfast.
Lloyd Hotel can also be great value, and it's centrally located near the Red Light District and Amsterdam Centraal train station.
Budget:
Backpackers should consider fun options like the popular Flying Pig Downtown and Flying Pig Uptown.
You'll generally find the best value booking short stay apartments in the Netherlands, especially in Amsterdam's historic center during summer and popular holidays like New Year's and King's Day. If you've never used Airbnb, sign up here for free and receive $40 credit off your first stay!
Disclaimer: This article contains affiliate links. We receive a small commission when you book or sign up through these links and it costs you nothing extra. When it suits you, please use them, as it helps us help you!