Nobody can dispute that Dublin is one of the world's greatest cities for pubs. In fact, when you combine all of Ireland's pubs, they are the country's biggest tourist attraction. Whether you are looking for a good pint of Guinness, traditional Irish music, or a solid pint of smaller batch brews, you will be sure to find plenty of options for a good 'craic' (Irish for "good times"). But the focus of this list is on the 5 best pubs in Dublin for Irish micro brews at a good price.
Messr. Maguire 
A beautiful old rustic, yet ornate pub situated in the heart of Dublin, near the O'Connell bridge, offers excellent views of the river Liffy. This place brews a wide assortment of tasty beers and all of them can be had for €4 a pint at any hour of the day. A great deal seeing as the average cost of a mediocre to lousy pint in the touristy Temple bar is over €5. They brew everything from an Irish style stout, porter and red ale to an American style pale ale, a golden ale and lager, and sometimes they brew a German style bock at 6.5% abv. At €4 a pint, in one of Dublin's most beautiful pubs, you won't find a better value for your money.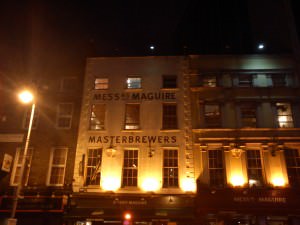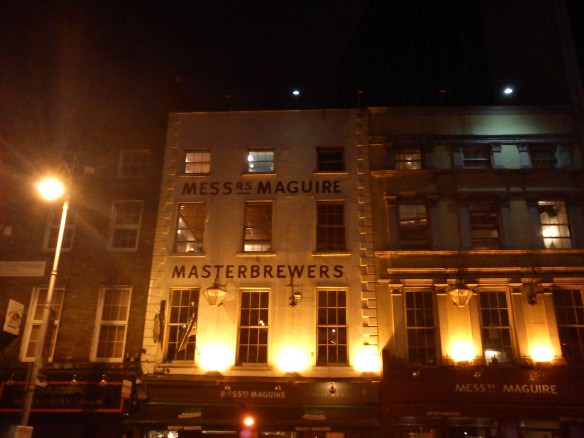 Bull and Castle
Conveniently located near Christ Church cathedral, this gastro pub  has as good a beer selection as any establishment in Dublin. While they don't brew their own, they feature many beers from Irish micro breweries, plus a good selection of Belgian, German, Czech and American beers. The restaurant downstairs has a full menu offering an assortment of nice steaks and classic dishes such as Irish stew (one of the best we've had out in Dublin). Meat is provided by FX Buckley, the best butchers in Dublin. The upstairs beer hall does not offer the full menu of the restaurant, but you can get excellent fish n' chips or a tasty full rack of ribs, with top notch hand cut chips. Monday- Wednesday nights they have quality pints for €4, such as O'Hara's Irish stout. They also feature beers of the month for €4, so check the taps in the beer hall, or ask the wait staff or bartender what's on special.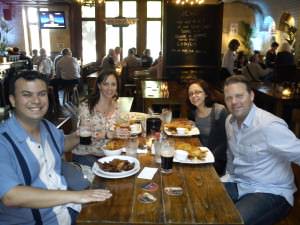 Brewdock
Brewdock is the gastro pub to be at on a Saturday night. They are currently offering 2 for 1 meals from 5-9pm. On a Saturday in Dublin? If you know someplace else with the same Saturday night special, please let us know, because this is unheard of here. They recently opened and are located near Connolly train station. The steak burgers are excellent quality, as good as any burger we've had out in Dublin. Oh, the beer? Awesome- great selection of Irish, British, Belgian and American beers. Try a Hopus here, it's a strong Belgian golden ale at 8.5% abv, served on draft, for €4.50. Just pennies more than what you would pay to drink this beer in Belgium. Best Belgian beer deal we've come across in Dublin, as the Irish aren't typically discerning savorers of strong ales. And one more final thing, classic board games, we enjoyed great laughs playing Guess Who!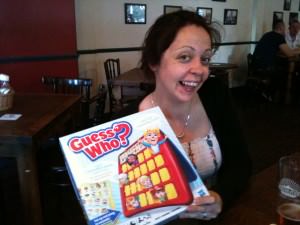 Against the Grain
Against the Grain usually only offers 1 beer of the month priced at €4 and the rest of their high quality beers are generally priced right for their quality. They have over 20 quality Irish beers on tap, plus great brews like Brewdog's 5am Saint- an extremely hoppy red ale, unique for its category and well worth trying. This pub makes this list because they offer 2 for 1 dinners every Tuesday from 5-9pm. On any other night, the other pubs listed might be a better option. Bull and Castle has better food, but when it's half price, I prefer Against the Grain.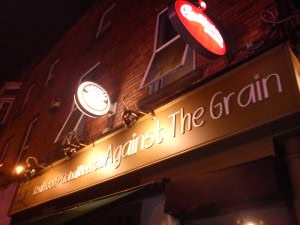 The Porterhouse Brewing Co.
The food at The Porterhouse Brewing Co. is a bit on the pricey side, but this is a beer list and a solid joint to hit up for a pint in Dublin. They brew a great assortment of their own beers. Try their Oyster stout or Wrasslers stout for a refreshing alternative to Guinness. Aside from a great variety of their own brews, you can still grab a pint of Guiness on draft if you must, and you are in Ireland, so perhaps you came here to do that. A great selection of Belgian, American and other beers in bottles are also on offer. In addition to an awesome selection of beers, Porterhouse is a fitting selection to conclude this list because they offer beers of the month for €4, the benchmark of a good beer deal in Dublin. Porterhouse has several convenient locations,  including Temple bar and close by to Grafton St.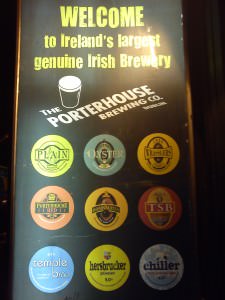 Do you have any other recommendations for great beers at a good price, out and about in Dublin publicans? Please share with us!