The Big Apple is one of the most exciting and diverse cities in the world. If overseas travelers have one American destination on their minds, the overwhelming choice is New York City. Travelers visit for world class shopping, museums, architecture, restaurants and simply to take in the contagious energy of a bustling metropolis packed with centuries of grand history. New York is perfect for a romantic getaway, and maybe even the one where you pop the big question, proposing marriage. With so much to experience, it's important to be in a comfortable, central and historic location that doesn't break the bank, making The Lexington Hotel, with prices starting at $129 per night, an excellent choice.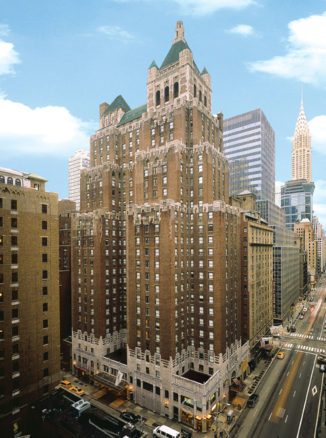 Lexington Hotel
The East Midtown Manhattan location, originally called Hotel Lexington, was built in 1929, by Lloyd Morgan of the architectural firm Shultz and Weaver. Shultz and Weaver designed other iconic hotels like the Breakers in Palm Beach, Florida. Morgan also designed the Waldorf Astoria in New York, which was the largest hotel in the world when it opened in 1931.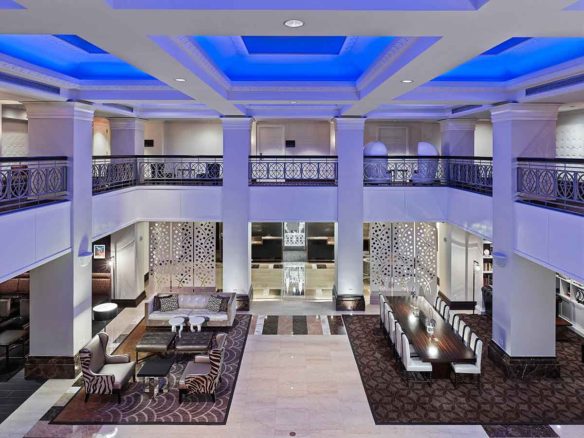 Centerfield Suite
In the 1950's, Hall of Fame New York Yankees player Joe DiMaggio and actress Marilyn Monroe resided in Suite 1806 of the Lexington during their brief marriage. The suite was redesigned in their honor now featuring baseball and Broadway memorabilia as well as art commemorating both of them. You can book the Centerfield Suite starting at $539 per night. Other suites pay tribute to artists such as legendary writer Ernest Hemingway and Jazz singer Ella Fitzgerald, offering lovely balconies overlooking the city.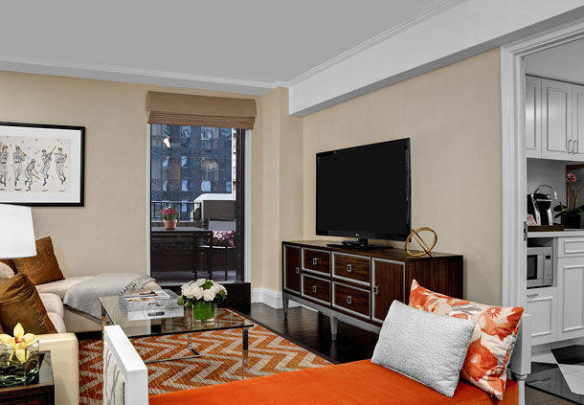 Close to Grand Central Station
Just two blocks from Grand Central Station, it doesn't get any more central than the Lexington Hotel. If you arrive by train, you don't even need to hop in a cab. Midtown Manhattan is very walkable, and it's under a 20 minute walk to the Empire State Building, Times Square and Central Park from the hotel.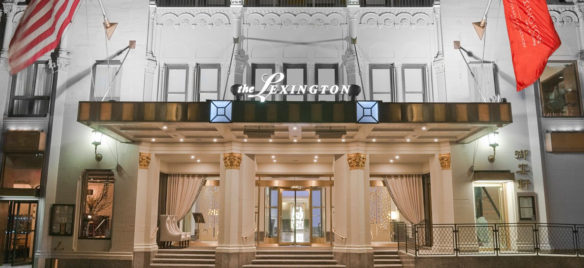 Romantic Spots in New York City
If you're planning a romantic trip and thinking to propose, you should consider doing so at the Top of the Rock Observation Deck at Rockefeller Center, which has a beautiful view of Central Park in addition to New York's iconic skyline. Another great option would be during a horse and carriage ride in Central Park or perhaps on the Staten Island Ferry from lower Manhattan, as you cruise past the Statue of Liberty. New York has plenty of fantastic areas and everything else involved to make for the perfect moment on that special day. Here are some other romantic spots to consider, with many buildings, like Grand Central Station, modeled in beautiful early 20th century beaux-arts style.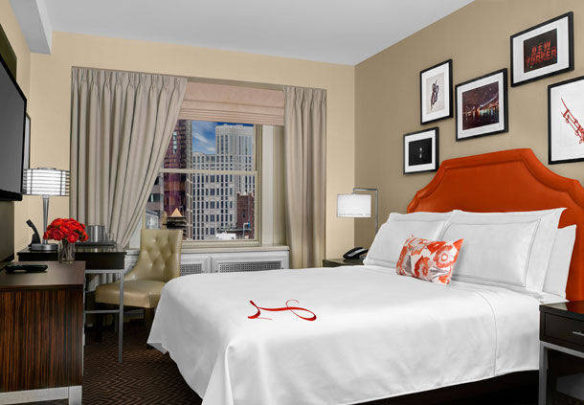 Midtown Restaurants and Bars
Although there are many chic restaurants and bars in Midtown Manhattan, as well as plenty of hipster hangouts in nearby Hell's Kitchen, if you're looking to have a day where you stay in The Lexington Hotel offers great dining and drink options on site. On the property there is Starbucks, a bistro open from 6am-midnight and a cocktail lounge. Raffles Bistro's extensive menu features omelets, sandwiches and specialty entrees. The hotel cocktail lounge, The Mixing Room, is lovely to stop in for a drink on a romantic evening. You can sip on cocktails like The Fitzgerald in a bar combining modern, classic and 1920's inspired décor while listening to live jazz.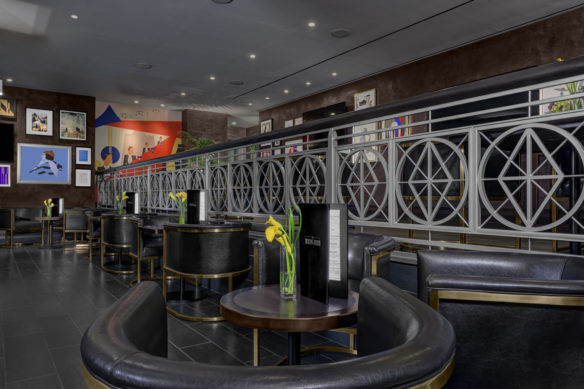 While Midtown Manhattan restaurants tend to be upscale, there are also great casual eateries for pizza, bagels, sandwiches and Asian food. Mapo Tofu is a great casual Chinese restaurant that has previously been awarded a Michelin star, and a short walk from The Lexington Hotel. For great bagels and sandwiches, go to nearby Ess-a-Bagel. Uncle Paul's Pizza is right around the corner as well. With late night hours they'll have you covered almost around the clock. Places like these are especially great for lunch options and will help you to keep your New York dining budget on target.
Fun Things to do in New York City
Read our article on fun things to do in New York City. One of the best times we had was during a NYC craft cocktail tour with Urban Adventures. It is a great way to discover great bars, learn about prohibition era history and make some new friends!
Lexington Hotel Recap
The Lexington Hotel underwent a major renovation in 2013. The hotel now seamlessly blends the past with the modern amenities of today. It's a charming art deco hotel that's perfect for those who appreciate the history of the roaring 1920's and beyond. It's also part of Marriott's Autograph Collection so any stays booked through the hotel will earn you Marriott Rewards points. The Lexington Hotel is well suited for both leisure and business travelers in the heart of New York.
Sponsored by The Lexington Hotel. Images were provided by the hotel.