Thinking about a day trip to Bratislava? Slovakia's capital is probably most famous in the US for the fictitious movie Hostel, a ridiculously graphic film about a secret organization that kidnaps tourists and murders them for fun. Certainly the Slovakian tourism board was thrilled to be featured! While Bratislava's rough communist past contributes to mixed reviews from travelers, it has a beautiful historic center and Bratislava Castle, perched high above town, offers fantastic views for miles. So is Bratislava worth a day trip or a weekend getaway within Europe?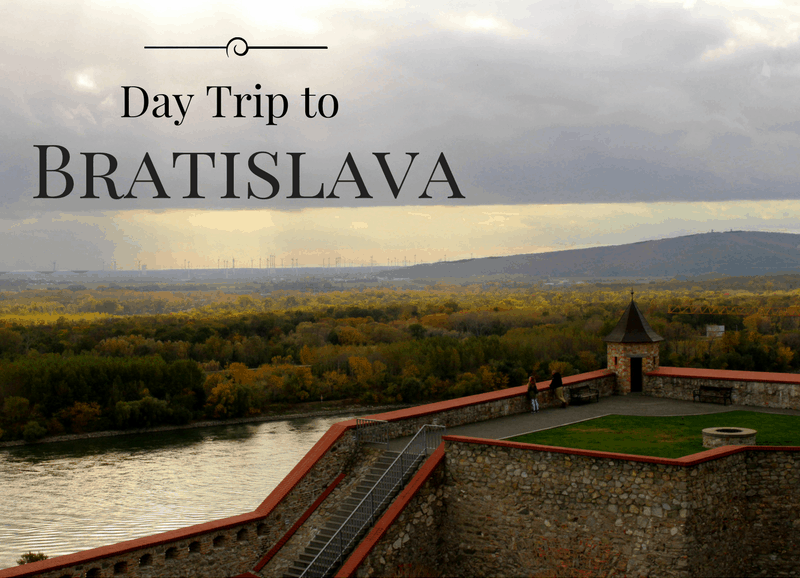 How Many Trains Between Vienna and Bratislava and What Does it Cost?
Travel between Bratislava and Vienna takes just over an hour and the train is comfortable. There are around 30 trains per day between Vienna and Bratislava. Ticket prices start at around €10.80. You can check updated timetables and book train tickets on sites like Rail Europe.
With a small historic center, Bratislava is easily navigable on a day trip, even on a short winter day. Though for many the cold and short days will make a day trip to Bratislava not as enjoyable!
Is Bratislava Friendly?
Bratislava's residents probably won't dazzle you with warmth. But it's a charming town, more so than Sofia, Bulgaria, which we visited on the same trip. Here's some suggestions for a short visit to Bratislava: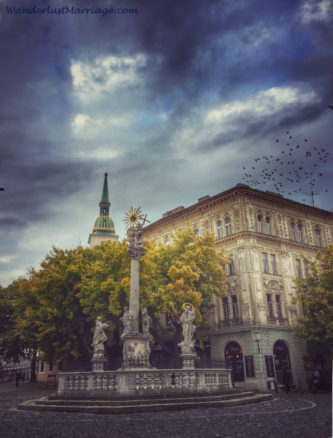 Bratislava Castle
Bratislava Castle appears in the first written reference to the city, the Annals of Salzburg of 907, in association with a battle between Bavarians and Hungarians. The castle hill was populated as early as the late Stone Age and its first known inhabitants were the Celts. They built a fortified settlement there called 'Oppidum'.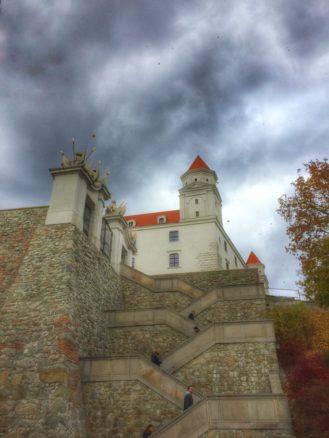 Bratislava Castle was originally built in the 9th century, then rebuilt between 1956-1964. From the isolated rocky hill of the Little Carpathians, directly above the Danube River in the middle of Bratislava, the castle offers excellent views of Bratislava, the Danube and in clear weather, the countryside of nearby Hungary and Austria.
On a side note, the castle cafe's barista was comically rude. Everything was a hassle for her, as she sighed and rolled her eyes during our order. It wasn't personal either, she treated subsequent customers exactly the same. It was good to know that someone hadn't secretly written assholes on our foreheads while we were sleeping.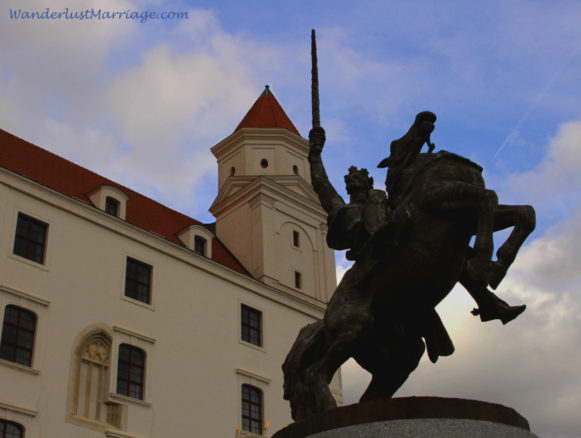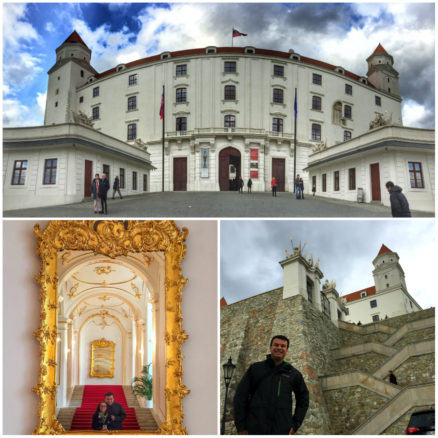 What is the Historic Center of Bratisvala Like? (Staré Mesto)
Filled with charming squares and lovely baroque architecture, Bratislava's Old Town is without doubt, extremely pretty. Every building on the Main Square is picture worthy, and the Old Town Hall is especially picturesque.
Hviezdoslav's Square
Hviezdoslav's Square is one of the city's liveliest and most beautiful squares. The Slovak National Theatre (SND), built in 1886, is the most prominent building on the square.
Presidential Palace
The Presidential Palace, built in 1760, is the main landmark of Hodža's Square. Outside the palace is an impressive fence that features two gold-plated wrought-iron gates.
Franciscan Square
The Franciscan Square is a contrast to the lively Main Square. Encircled by ancient historical buildings, visitors can go here to escape the crowds. The Franciscan Church with a monastery dates back to the 13th century and is one of the oldest churches in the country.
Fun Quirks of Bratislava
The historic center makes Bratislava worth a day trip. It has quirky sculptures, like workers popping out of manhole covers. There's good restaurants, shops, pubs and quaint cafes. The nightlife is vibrant and the city has become a popular draw for bachelor and bachelorette weekends. Our visit coincided with Halloween and Saturday night was hopping with drunken ghouls.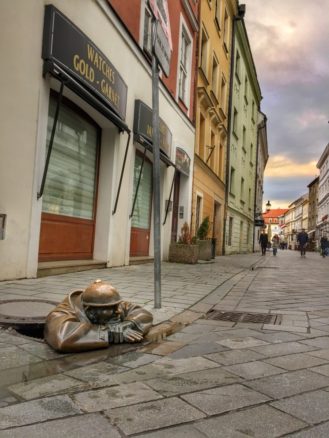 Great Value Bratislava Restaurants
There are some great restaurants in Bratislava, and some lousy tourist traps. If you can, quickly check reviews before dining. A surefire sign you should probably avoid a restaurant is when they have a "tourist menu."
Zeleny Rodriguez is a lovely restaurant just outside the historic center. Prices are good, service is refreshingly friendly for Slovakia and most importantly, the food is excellent. Try a popular Slovakian dish like Bryndzove halushky, which are potato dumplings with sheep cheese (bryndza) and roasted bacon. Their dish featuring chicken wings cooked with chili, mushrooms and cream sauce was one of the best meals we ate during our month long European trip. Wiener Schnitzel is also popular in Bratislava, as the Viennese concept of breaded veal cutlet didn't have to travel far.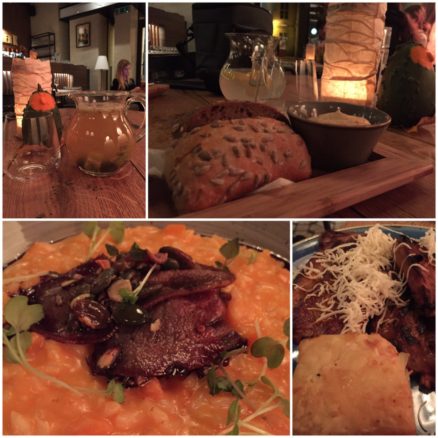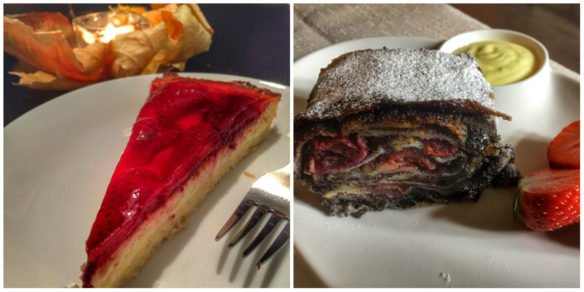 Travel Tips in Bratislava
Uber is available in Slovakia! We ordered an Uber from the train station to drop us off at our hotel on the Danube. The ride cost us less than $4 US, so it's not even worth bothering with public transportation on a short visit. It's also a good idea to order an Uber if it's late and you've had a few drinks. If you're not already signed up to Uber, do so!
Stay on a Boat Hotel on the Danube in Bratislava
We visited early November last year and spent one night at Botel Marina. While it's fun to stay on a boat on the Danube River, rooms are dated and their breakfast was comically terrible. If you're looking for a cheap stay, it's fine for a night or two for budget travelers.
Is Bratislava worth a day trip from Vienna?
Think of Bratislava like a miniature and less grand version of Vienna. It's more picturesque and navigable compared to Sofia, Bulgaria and Bucharest, Romania. While Bratislava is not as impressive as Prague, it's also less touristy. It probably best rivals Krakow, Poland, which is also pretty and fun, and features a large castle on a hill.
If you find cheap plane tickets from elsewhere in Europe, Bratislava makes for a great weekend escape. There are also some nearby spa towns close to Bratislava like Piestany, which would be perfect for a romantic couples getaway. If you only have two days in Vienna, just enjoy the Viennese capital. But if you have 3 or 4 days, it's definitely worth considering Bratislava for a day trip.
If you found this helpful, you might also like some of our other articles on Eastern Europe like:
Is Sofia, Bulgaria worth visiting?
5 Must Things to Do in Krakow, Poland
Why Bucharest, Romania is worth visiting.
If you're planning to visit Eastern Europe and have questions, we are well traveled in the region. So leave a comment or email [email protected] and I can assist you!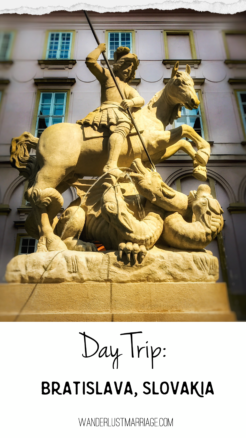 Disclosure: This article contains some affiliate links. We receive a small commission when you book or sign up through certain links and it costs you nothing extra. When it suits you, please use them!