A treasure trove of elegant highlights make Paris one the world's most romantic cities. The City of Light earns its nickname for its role in the enlightenment as well as being one of the world's first cities to adorn its grand boulevards with street lamps. The Marais district of Paris is one of the best areas to stay in for its central location, history and great variety of restaurants, bars and shopping. I recently stayed at the lovely and historic Hotel de la Bretonnerie. Here is what you can expect from a stay, along with some recommendations in Le Marais.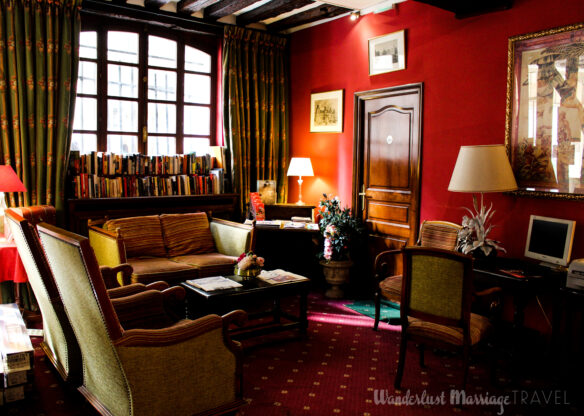 Hotel de la Bretonnerie
Hotel de la Bretonnerie is a charming 29 room boutique hotel in the Marais district of Paris. It oozes a cozy ambiance from the library in the lobby and throughout its corridors to its comfortable and well-appointed rooms. An elevator means guests do not have to carry luggage up flights of stairs either.
Step outside the 18th-century mansion to a lively neighborhood packed with great bistros, bars, shops and patisseries. It's right around the corner from Hotel de Ville, which has been the headquarters of the Paris municipality since 1357! It is also a short walk to iconic Paris attractions like Notre Dame Cathedral, the Picasso Museum and the George Pompidou Centre. You can jump on the metro at Hotel de Ville to quickly reach other highlights like the Louvre, Eiffel Tower and Sacre-Coeur.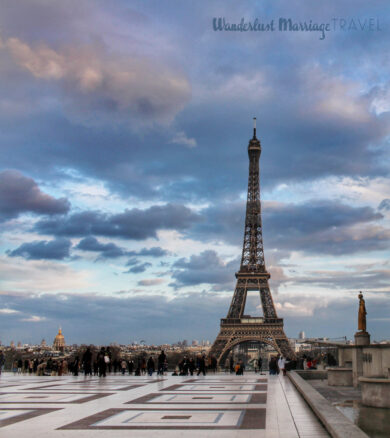 Hotel de la Bretonnerie Rooms
There are three types of rooms at Hotel de la Bretonnerie. Classic rooms are decorated in floral colors or warm tones. They measure 17 sq. meters (182 sq feet) and start at €90 ($99 USD) per night.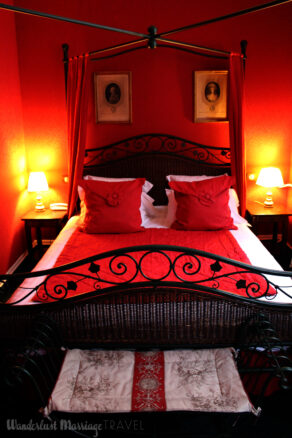 Charming rooms, like the one I stayed in, measure 22 sq. meters (236 sq. feet) and start at €130 ($143 USD) per night. The plush four-post bed offers a relaxing oasis for a comfortable rest after a day of sightseeing in one of the world's most enchanting cities. Art depicting Louise XVI and Marie Antoinette add to the aristocratic feel. Another refined touch is the marble sink basin and tub. A reasonably priced mini-bar offers a nice selection of wine, beer and snacks for guests convenience. The charming rooms are also ideally suited for business travelers that want to stay in a classically Parisian boutique hotel.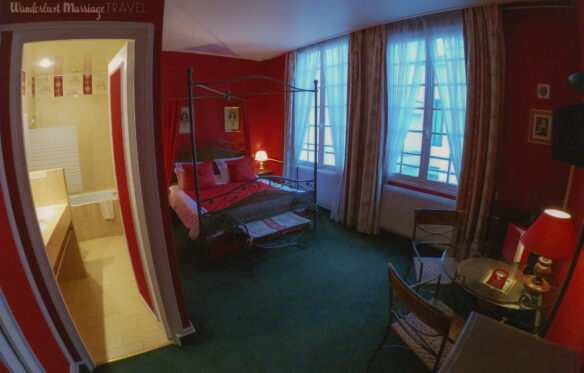 Junior suites can accommodate up to 4 people and measure 30 sq. meters (322 sq. feet). These rooms are ideally suited for families, luxury travelers, couples celebrating a special occasion and business travelers. Junior suites start at €170 ($187 USD) per night.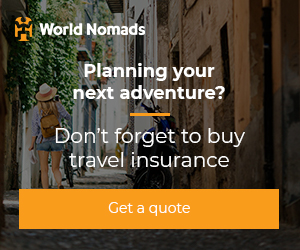 Breakfast
The breakfast buffet in the wine cellar offers a cozy oasis to begin your day. A typically delicious Parisian breakfast of fresh-baked croissants, breads, cheeses and meats like prosciutto is further enhanced with freshly squeezed orange juice and Nespresso coffee.
You can make it a relaxing holiday and enjoy breakfast in your room also! Breakfast normally costs €15 per night, but if you book your room directly on the Hotel de la Bretonnerie website, breakfast only costs €10 a night.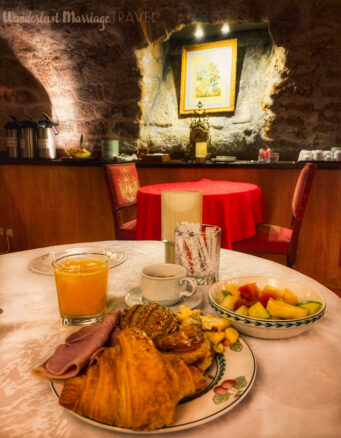 Marais
Boutique shops, great attractions and charming bistros make the Marais district in the 4th arrondissement a hip neighborhood. Formerly the city's Jewish Quarter, the area is still home to many kosher restaurants. Place des Vosges is home to the Musée Victor Hugo, where the writer lived, along with elegant arcades. There are so many great boulangeries (bakeries) in Marais as well. It's a great area to enjoy delicious pastries and macarons. A general rule of thumb with Parisian bakeries and patisseries is that if something looks good, it probably tastes even better.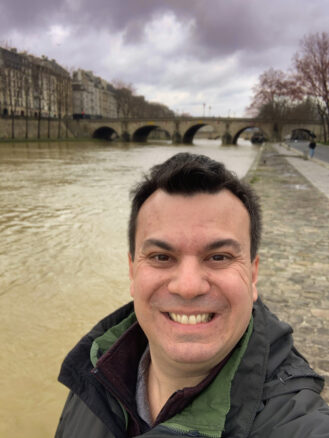 Marais Restaurants
There are so many great French restaurants in the 4th arrondissement of Marais. A wide range of choice from elegant to casual awaits visitors. If you want a nice meal to go or delicious picnic supplies swing into Eataly. There is also a grocery store right next door to Hotel de la Bretonnerie. A couple of places I dined at in Marais and enjoyed are Les Philosophes and Chez Omar.
Les Philosophes
Xavier Denamur's bistro's mission is to serve only organic food from sustainable suppliers. Everything is made from scratch, so Les Philophes is a popular eatery in Marais. I popped in for a late-night meal after the dinner rush. Many regard their French Onion soup as tops in Paris. It's a delicious soup that pairs wonderfully with a glass of Bordeaux, especially when it is cold and rainy outside. There is also outside seating, to take in Parisian people watching when the weather is nice.
Chez Omar
If you enjoy North African food, head to Chez Omar. Dishes like lamb merguez are sizeable, reasonably priced and delicious. It pairs wonderfully with a glass of Bordeaux. The charming restaurant was formerly a French bistro, and today blends a fusion of a North African and French dining experience. A mix of Moroccan and Algerian staff run the popular bistro. Service at Chez Omar tends to be faster than many French run restaurants too, which some Americans may appreciate.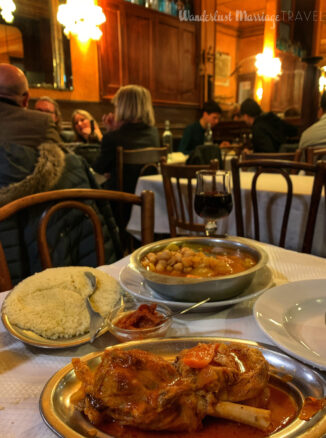 Recap
Marais is one of the best and most centrally located neighborhoods to stay in Paris. Great restaurants, hip bars, bakeries and a variety of shopping options make it a fun neighborhood. Hotel de la Bretonnerie makes for a great stay for those that appreciate comfortable boutique hotels. It is perfect for couples looking for a romantic getaway in Paris. And with complimentary WiFi that works well in rooms – it is also suitable for business travelers. Families can enjoy a comfortable stay in Junior suites.
Hotel de La Bretonnerie Address and Contact Details
Hotel de La Bretonnerie
22 rue Sainte Croix de la Bretonnerie
75004 PARIS FRANCE
Tel: +33 148 87 77 63
Fax: + 33 142 77 26 78
Thanks to our friends at Sometimes Home, as their article on Hotel de la Bretonnerie inspired a stay. And thanks to Hotel de la Bretonnerie for hosting me, allowing me to cover the property.