By Alex Kallimanis: Naxos is one of the best all-around islands in Greece. Its main town of Naxos Chora features charming pedestrian-only laneways and has a picturesque harbor with breathtaking sunsets. There are distinct similarities to Mykonos, but Naxos generally offers better value. Unlike some islands that largely abandoned farming for tourism jobs, Naxos did not. So much of its fantastic culinary scene is locally grown. There are also authentic villages in the mountains, ancient sites, beautiful beaches and stunning scenery. Here are some great tips for visiting Naxos, Greece!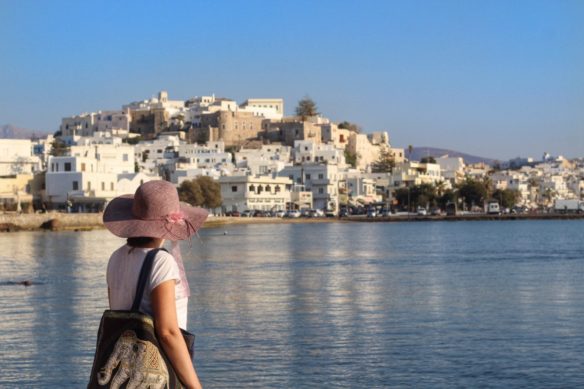 Traveling from Athens to Naxos
We visited Naxos as part of a family trip to Greece (read our article on 5 great tips for visiting Athens. It was my 89-year-old father's final planned trip to the country of his birth. So it was a special and emotional trip. We chose to make Naxos part of the itinerary because none of us had previously visited and our Greek family raved about it. It's also not too far to catch the ferry from Piraeus (the harbor town of Athens). From there, the journey to Naxos takes 5 and 1/2 hours on the slow ferry or 3 and 1/2 hours on the high-speed ferry. We did both each way, and both ships were comfortable (the slow ferry has more dining options as it is a bigger ship). You can view the Greek ferry schedule here to assist with planning your trip. You can also fly into Naxos, as Aegean Air connects the island with Athens and Thessaloniki.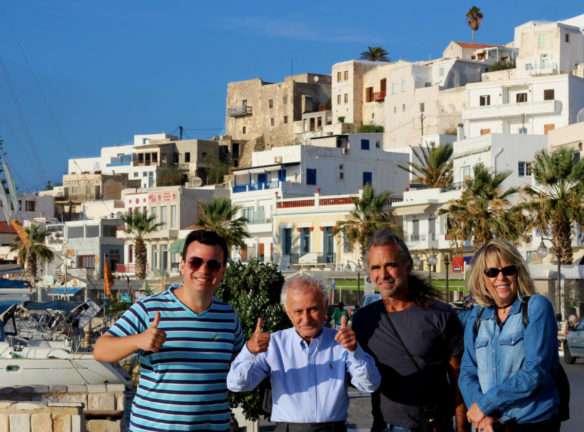 Naxos Chora
The main town of Naxos Chora is an idyllic spot on the Aegean Sea. It has a fantastic harbor lined with great restaurants, cafes and artisan shops. It also has a charming pedestrian-only old town that you should climb to the top of at sunset. There is also a beach right in town. While it is not the best beach on the island, it's fine to lay out or go for a swim.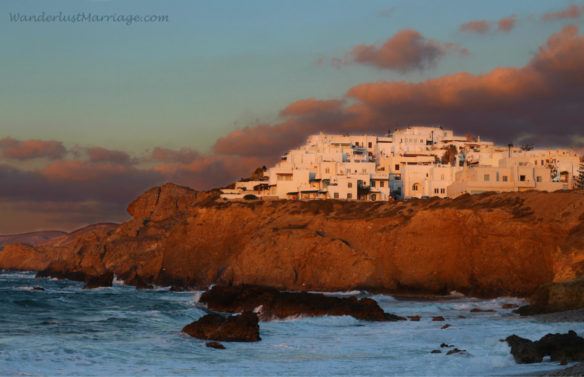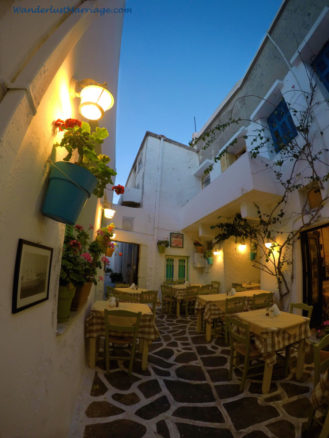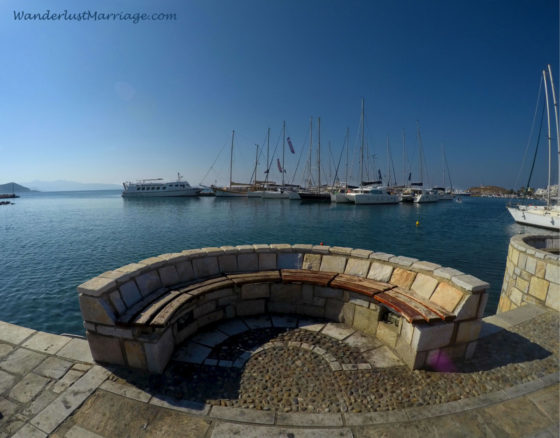 Island Hop the Cyclades
Naxos Chora is a great place to relax for a few days. It also makes for the perfect base to explore the island by car or bus. In season, you can take day trips to islands like Santorini, Mykonos, Delos (known for ancient sites) and nearby Paros, which is just 30 minutes by boat. There are several travel agencies in Naxos Chora to book ferry tickets and tours if you want to wing your trip (only advisable outside the busy summer tourist season).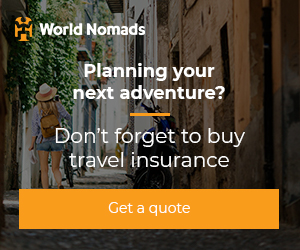 Temple of Apollo
The Temple of Apollo dates back 2,500 years, but only the door remains (the Portara). It is particularly fantastic at sunset as you can watch the sun and moon through the doorway, depending on which way you look. You also get a panoramic view of the moon over Naxos Chora, along with breathtaking colors in the sky over the mountains of Paros. This is a seriously photogenic area.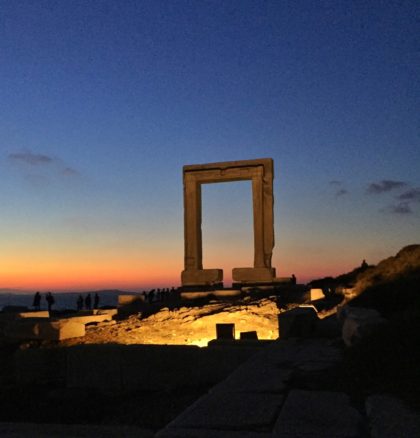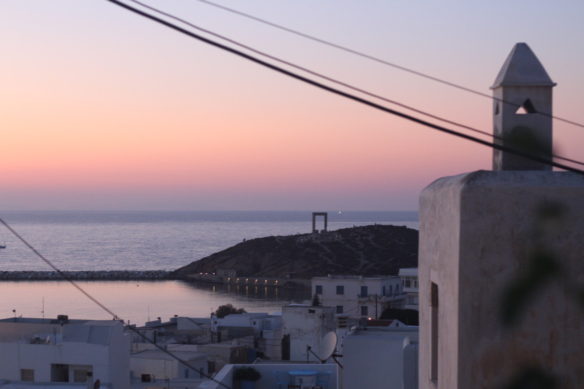 Villages of Naxos
Naxos has several charming and authentic villages, unspoiled by major tourism. Some of the popular ones are becoming more touristy, but they are still beautiful and worthwhile. We especially enjoyed the mountain villages of Halki (Chalkio) and Filoti. Small fishing villages like Agia Anna and Apollonia are great for beaches.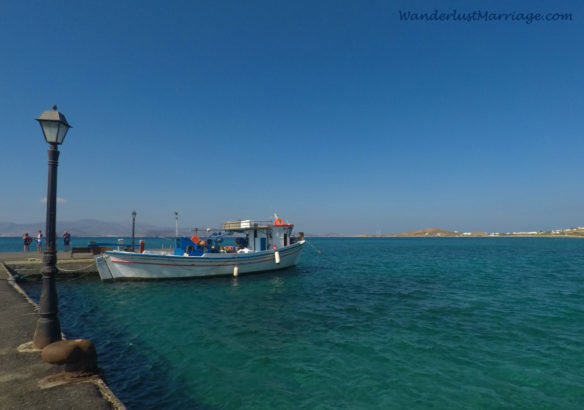 Halki used to be the capital of Naxos. With Venetian towers and Byzantine structures like the Church of Panagia dating back to the 9th century, it has a long history. This is a fantastic town to park the rental car and grab lunch or a drink in a restaurant or cafe. There are also some great artisan shops and bakeries in Halki. Here are some additional recommendations for Halki. Filoti has a charming tree-lined street filled with restaurants and cafes, some of which have a picturesque view of the valley.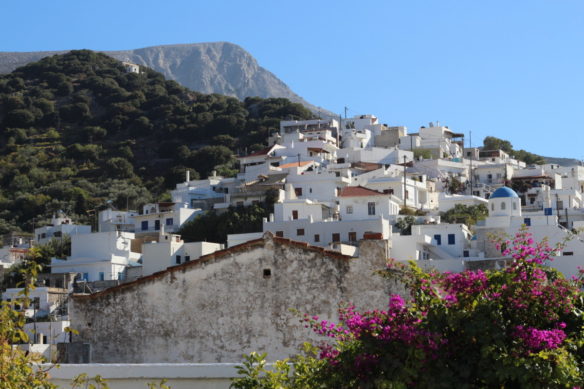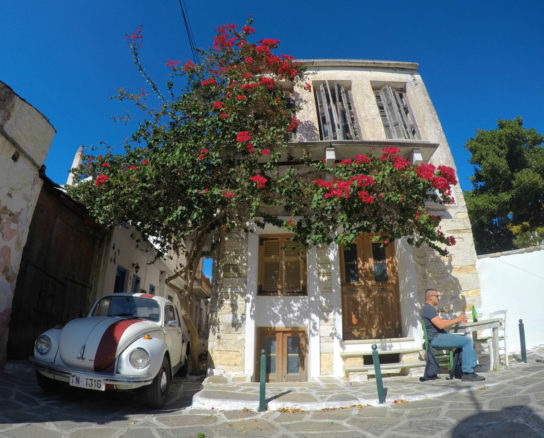 You may encounter some traffic driving around the mountains of Naxos! Sometimes the goats yield, sometimes they don't. Below is the only traffic jam we found ourselves in. Goats have the right of way in Greece, but honk if they're blocking the road for too long.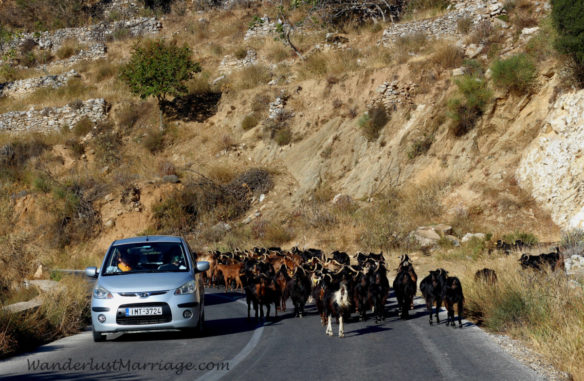 Naxos Hotels
Book a good hotel in advance with free cancellation. That way you don't miss out on the best accommodation for your budget. If plans change, you can then cancel without penalty.
Naxos Resort Beach Hotel
Naxos Resort Beach Hotel is one of the best places to stay in Naxos. Just off the sandy beach of St. George, the hotel's architecture incorporates local Cycladic and Venetian styles.
Its 88 luxurious rooms are decorated with warm colors. All rooms include balconies with a view of either the gardens or the sea and mountains. Amenities include a pool, steam room, sauna and hot tub facilities.
Polis of Naxos
We stayed at Polis of Naxos. This stylish boutique hotel is great for a comfortable family trip. The owner Alexis and his family are welcoming, hospitable and knowledgeable about the best places to go on their island. Our first morning Alexis spent over 3 hours talking with my 89-year-old father while pouring all of us glasses of raki (basically ouzo without the anise, similar to grappa). There is a bar in the lobby solely to pour his guests welcome drinks, or maybe to just randomly have a drink at midday if everyone feels like it.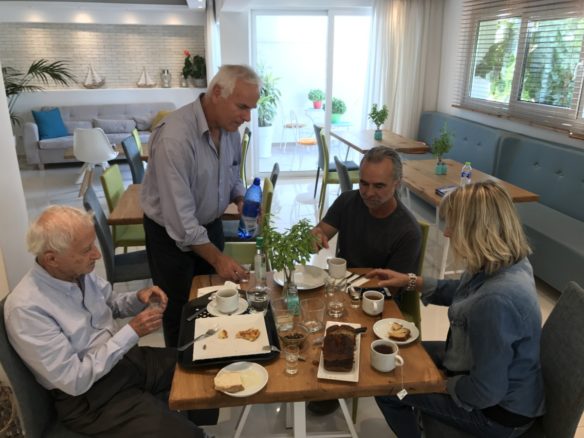 The hotel was completely remodeled last year and the beds are really comfortable. While breakfast isn't massive, there is a good assortment of hot and cold options. We loved having a slice of orange cake each morning, which is very popular in Greece. Room rates at Polis of Naxos start at 43 euro ($51 USD) per night, which is fantastic value.
Naxian Hotel
Naxian Collection is a complex of luxurious and uniquely styled villas and suites with a panoramic view of the Aegean Sea. The resort is 2,300 feet from Agios Prokopios beach and 2km (1.2 miles) from Naxos Chora. The Cycladic-style villas and suites have state-of-the-art facilities with private pools, sea-view terraces and hot tubs. They aim to please your gastronomic experience from in-room dining to offering gourmet picnic baskets.
You can also find awesome value on apartments through Airbnb. If you've never used Airbnb before, sign up here for a discount off your first stay! Book places with consistently great reviews for the best experience.
Where to Eat and Drink in Naxos Chora?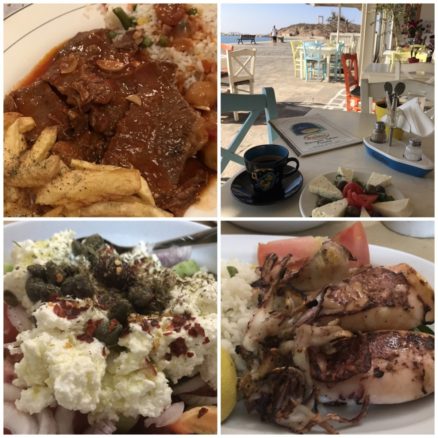 We had several fantastic meals in Naxos. The best experience we had was at Flamingo, which has been in business since 1991. The food, ambiance and live rembetika music (Greek blues) in the courtyard is simply idyllic. They also have seating overlooking the harbor and mountains of nearby Paros, so it's a great place to eat around sunset.
Naxos is a fantastic island for local products like seafood (especially local octopus and squid), spirits, cheese, lamb, honey and figs. Try the graveria cheese on Naxos, it's a delicious sheep cheese similar to Italian pecorino and Spanish manchego. Chania, Crete might be the foodie capital of Greece, but Naxos is not far behind. Some Greek islands have largely abandoned agriculture for various tourism enterprises, but agriculture is still an integral part of Naxos' economy. This means there's a lot of "farm to table" happening, with the bonus of not needing to constantly mention that phrase on menus.
There are a lot of really cool places to hang out in Naxos Chora and in the villages. The harbor of Naxos' main town is lined with restaurants and cafes that have views of the sea and the picturesque mountains of nearby Paros. Go for a cocktail at sunset at 520 Bar, which has a rooftop terrace to get a bird's eye view of one of the most stunning sunsets you'll see. Interestingly, 520 Bar gets its name from the beginning of bar codes with 5 20, which identifies that a product was made in Greece.
Naxos' Excellent Hospitality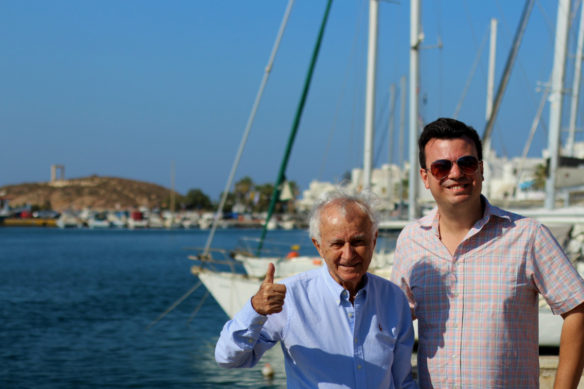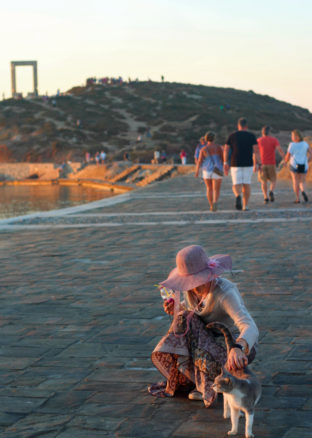 More Tips for Visiting Naxos
It's common to receive a free drink, dessert and sometimes even both complimentary, after a meal in Naxos. Be nice to your server and they'll most likely treat you great in return.
Sadly, Bell had a terrible jogging accident during our visit. She tripped and fell flat on her face in the old town, busting her lip and fracturing her nose. They sent an ambulance and she needed 10 stitches in the hospital. When we asked the hospital receptionist about payment, she said that since Bell did not stay in the hospital, there was no charge! We were stunned, especially coming from the United States, where the healthcare system is extremely greedy. Using an ambulance in the US, without insurance, is going to cost $2,000 just for the ride.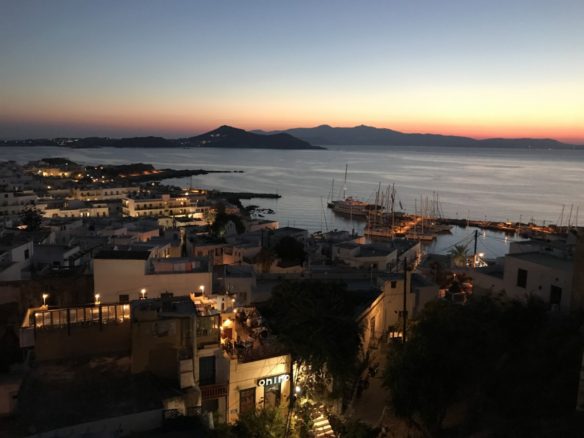 As Naxos is a large island, it would also be one of the best Cyclades islands to visit in winter. Syros, which is the capital of the Cyclades, is another great island to visit in winter. We were previously in Syros over New Year's and had a fantastic time. The Greek islands are not warm in winter, but if you find yourself in Greece during this time, it is a good option.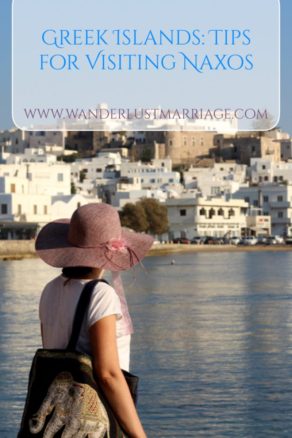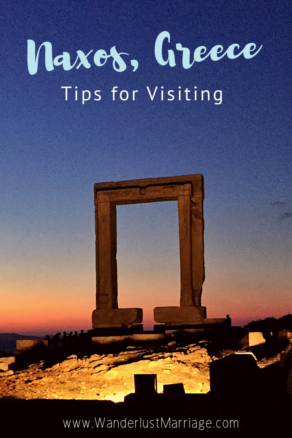 Planning to visit Naxos and have questions?
Leave a comment or email me at [email protected] and I can assist. As a dual Greek and American citizen, I've made many trips to Greece over the years. I'm happy to answer your questions! 
Disclosure: This article contains some affiliate links. We receive a small commission when you book or sign up through certain links and it costs you nothing extra. Thanks for using them and supporting this site!