As an Aussie we have certain ideas about the USA from the movies that are pumped out of Hollywood. When I first moved to the US ten years ago, I told Alex I wanted to visit Alabama. He asked why, and I said, "because I want a My Cousin Vinny experience," in reference to the cheesy 1992 movie about a New York couple who find themselves wildly out of place in small town Alabama. These days I'm definitely less about that, but still find myself enamoured with certain iconic American things. So when we were recently driving through Pennsylvania, I got a little excited about meeting Punxsutawney Phil (to say the least)!
'Groundhog Day' is also another cheesy Hollywood movie of the same vintage and in the movie Punxsutawney looks like the sweetest American town. When I nagged that I wanted to go, Alex warned me that I would be disappointed, because the actual Punxsutawney looks nothing like the movie because the movie was actually filmed in the Illinois town of Woodstock, Illinois. So at first, I thought, ok it is a little out of our way so maybe he is right. Until I did some research and discovered you could actually meet Phil, the legendary shadow seeing groundhog!! Let the nagging begin again! And because Alex is sweet (a lot of the time) and lets me convince him into doing these things he drove us there.
As we drove into Punxsutawney we saw all sorts of groundhogs. The mechanic has a groundhog painted on his sign, and as we were driving around we noticed a number of large plastic groundhogs. Turns out this is a public art project and in total there are 32 Phils. We didn't have time to see them all, but we did snap photos with a few of the different themed Phils.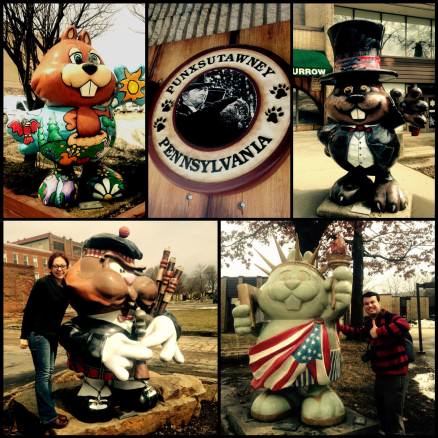 We thought it would be really easy to find Phil, but alas, we couldn't at first. So we stopped in tourist information for directions and to buy a Phil magnet. Phil lives in a den in the Punxsutawney Memorial Library and when we arrived he was just waking up from his nap. Much to my delight and he wasn't at all shy of the camera, in fact he seemed to embrace it!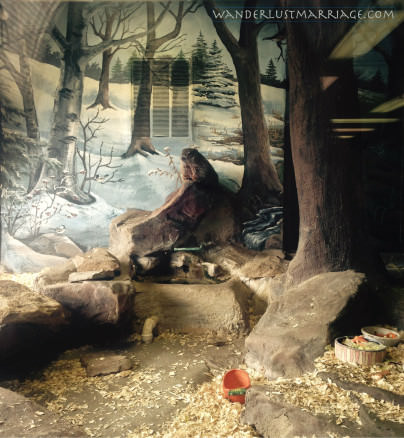 After snapping some photos, I did have a serious word with him about the terrible winter we'd been having. But alas he didn't really seem to mind as his fame has provided him a comfy den with lots of admirers and attention, cheeky groundhog!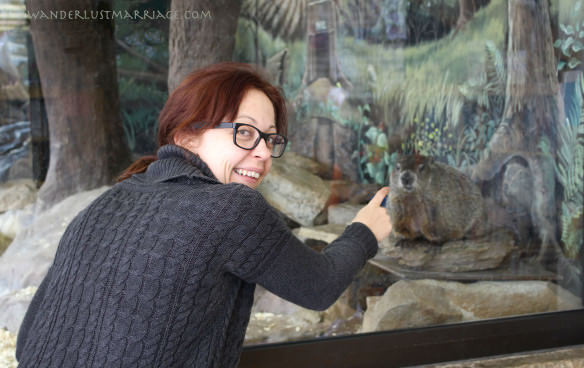 Here's the gist of Phil:
According to legend, if Punxsutawney Phil sees his shadow on the morning of February 2nd, 'Groundhog Day', there will be six more weeks of winter weather. If he does not see his shadow, there will be an early spring. Many towns and even major cities around the country are now replicating the festivities at Gobbler's Knob in Punxsutawney. New York Mayor Bill de Blassio even killed a Groundhog two years ago  after dropping him (he died a week later of internal injuries). So far, Phil has not organized a groundhog union that we know of…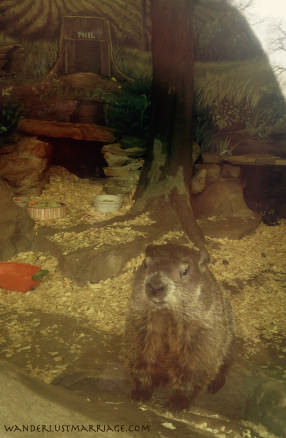 Apparently, there has only been one Punxsutawney Phil, as he receives longevity from drinking "groundhog punch" (a secret elixir of life). One sip, which is administered every summer at the Groundhog Picnic, gives him seven more years of life. On September 6th, 2015 the 116th Groundhog picnic and Phil Fest will take place and for $20 you can partake in an all day party with unlimited food, drinks and live music. And at 4pm that day, you'll see Phil drink the beverage that gives him supposed immortality.
If you're driving through western Pennsylvania anytime of the year, we recommend visiting Punxsutawney Phil and having breakfast at Esther's Amish Bakery and Restaurant in nearby Big Run. You'll be served by Amish women in traditional dress, and what they lack in smiles and quick service, they make up for in fresh high quality food at low prices. The French Toast was the best we've ever eaten for our money, with delicious farm fresh eggs. Their bakery is fantastic and we really enjoyed the cookies we bought (we were tempted to buy everything!). We don't advise buying any sweets for Phil, but if you must, we'd guess carrot cake might be his favorite.