Over 13 years ago we met in a hostel in Brugge, Belgium, while each traveling by ourselves after graduating college, and immediately just clicked. But being that we literally lived on opposite ends of the planet, it wasn't easy to co-ordinate a life together until 2 and 1/2 years later, when I moved to Melbourne, Australia while Bell was finishing her masters degree in statistics. Back then, I had been working on an MBA at UCF in Florida, but I decided that she was worth leaving my degree for (I also really disliked finance and accounting). Ultimately, it was a great decision, because we recently celebrated our 10 year wedding anniversary and have seen so much of the world together along the way!
We usually travel for our wedding anniversary and while living in Ireland last year, we travelled to Barcelona to ring in year 9. We would have loved to have returned to Brugge for our 10 year wedding anniversary, but since we currently live in Boston we decided to stay closer to home. So our thoughts turned to places like Maine, New York City and Montreal. Since we miss the cultural diversity of Europe, we decided that Montreal was an excellent place to ring in 10 years, so we planned to rent a car and drive up for a few days! But alas, sometimes life gets in the way and plans change…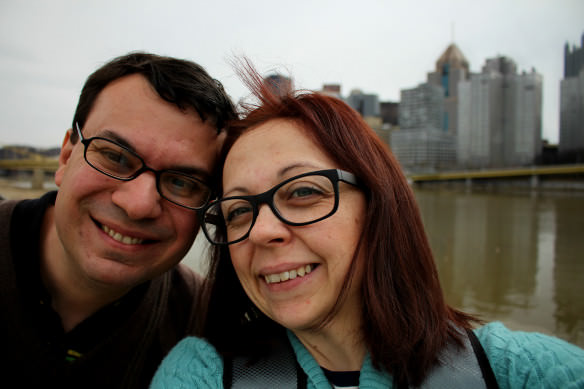 Shortly before our 10 year wedding anniversary, Bell's company informed her that they wanted her to be in Canton, Ohio for a week to interview patients with cancer at a clinic. Since I also have family in Ohio (and she was nervous about this challenging task), she asked me if I'd instead like to rent a car and combine our anniversary with a family and work trip that would extend a total of 12 days and 1,800 miles (3,000 km) of me driving (she has an Australian drivers license but doesn't drive in the US). It wasn't exactly what I'd had in mind but I'm flexible, we both are, and this is very important in keeping a marriage alive for 10 years!
We left Boston on March 11th, a day before our anniversary and we didn't get off to a good start. A few hours into our trip I was pulled over for speeding in Montgomery, New York. It was a definitive speed trap on Interstate 84, as for no apparent reason, the speed limit dropped from 65 mph to 55 mph, before returning to 65 mph within eyesight of where I was pulled over, which was obviously annoying. The police officer handed me a speeding ticket for driving 70 mph in a 55 mph zone, a really bad start to our very long road trip.
That evening we stopped in Scranton, Ohio, home of the nation's first electric light rail line and famous for being home of the hit comedy sitcom, The Office. The TV show kinda portrays Scranton as a downtrodden town with very little to do, and not much in the form of history, so we were surprised to discover significant history, some beautiful buildings and a hip cafe called Northern Light Espresso. We ordered some of the most delicious herbal teas we've ever drank before hitting the road again (their tea selection was honestly better than most cafes in major American cities like Boston).
We generally try and avoid chain restaurants when possible, but since we left dinner late, thanks to speeding tickets and herbal tea stops, we had little choice but to stop and eat at Denny's for the first time in many years. We were surprised to find that the chain had some healthy options including a generous side of raw vegetables and brown rice. Too often food that is marketed as healthy in the US isn't healthy at all, so Denny's definitely threw us a curve ball. Of course, you can still order a mountain of fried eggs, bacon, hash browns, cheese.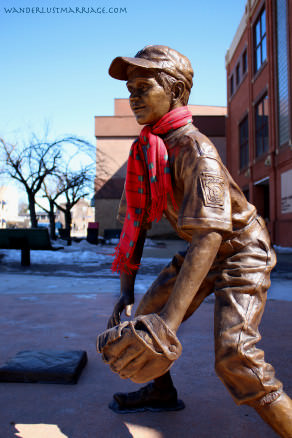 The night before our 10 year wedding anniversary we had a hard time finding a hotel, as a host of events were not going our way. There was a Pennsylvania state swimming championship at one stop that forced us to drive an additional 20 miles after midnight, to Williamsport, PA, home of the famous Little League World Series. But thanks to a hotel coupon book (great idea to pick up at rest stops on American road trips) we learned of a hotel called
Genetti Hotel and Suites
 in Williamsport, a historic hotel in a former shale town that offered beautiful rooms for $70 per night, including a hot breakfast. And since they had lots of availability, they even upgraded us to an executive king suite at no extra charge (without knowing about this website or our wedding anniversary). It was a fantastic way to ring in 10 years, because most of the day prior had gone wrong and there were more mishaps to come…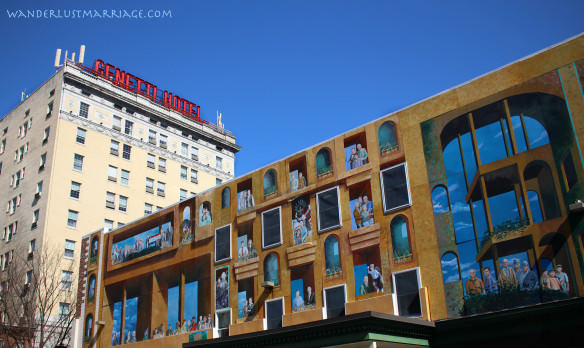 The next day, on our official 10 year wedding anniversary, Bell graciously said we could visit the
World of Little League Museum
since we happened to be in Williamsport already (by random chance) and I grew up watching baseball. It was exciting for me, but a little boring for her, even though she could appreciate that it's a great museum for those interested. And for the first time ever we raced a short sprint against one another, as the museum has a timer set up to clock your speed from home base to first. Bell sprinted 60 feet in 3.5 seconds and I ran it in 2.99 seconds. She had always believed she was faster than me, yet she had always previously refused to race until that very memorable day in our lives. After exactly 10 years of marriage, I finally proved a completely irrelevant point, and I made sure to keep my gloating to a minimum. Remember, it is the small things in marriage that count!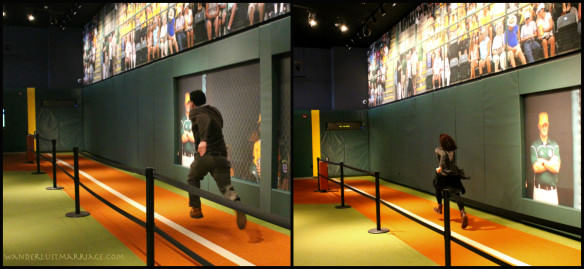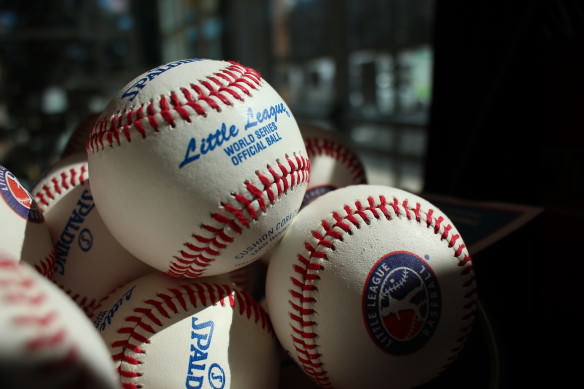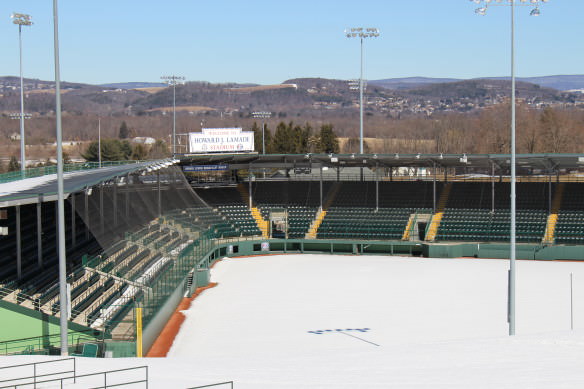 That night my idea was to enjoy our 10 year wedding anniversary dinner at a nice restaurant in downtown Pittsburgh. But due to delays and several more hours on the road, we decided to stay in a suburb east of Pittsburgh and find a nice restaurant there after checking into a hotel. The town of
Greensburg
has a highly rated restaurant in an old train station called The Supper Club, unfortunately, they closed early during the week, so instead Bell found a tapas restaurant for me to drive to. It had pretty good reviews but I thought it looked a little shady from the parking lot and decided to veto the idea and drove off. That was a bad decision on my part because we then discovered our only option in Greensburg at 10 pm was Smokey Bones, a chain barbecue restaurant.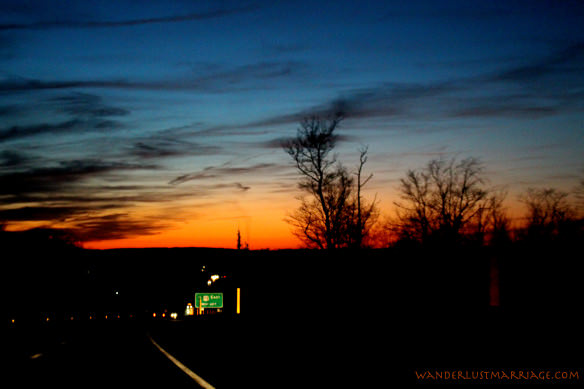 Looking across the table at each other, after 10 years of marriage, we both felt
extremely deflated
that we were sitting in Smokey Bones, as we generally try to avoid chain restaurants. We'd have both preferred to be eating in a barbecue shack with peanuts on the floor rather than Smokey Bones, where our server informed us that we could choose to order from the table side computer that will ultimately replace her someday. "We'll have a do-over" I said to Bell. And after spending a fun weekend at my brother's house in central Ohio, we had our rain check anniversary dinner at the oldest restaurant in Canton,
Bender's Tavern
, which was a really nice night out.
The important thing is, despite being from opposite ends of the planet, we've been happily married for 10 years! We've both made major life sacrifices for each other and we're really proud of this accomplishment. And the actual day itself is one we can now look back on and laugh, because spontaneity isn't supposed to go smoothly, and it's what brought us together in the first place.
Here's a quick summary of some highlights from our 1,800 mile (3,000 km) road trip, involving Bell's 5 day work trip to interview patients with cancer in Canton, immediately following our 10 year wedding anniversary:
Starting with our short stop in downtown Pittsburgh, where we were quickly reminded that we needed a break from city life…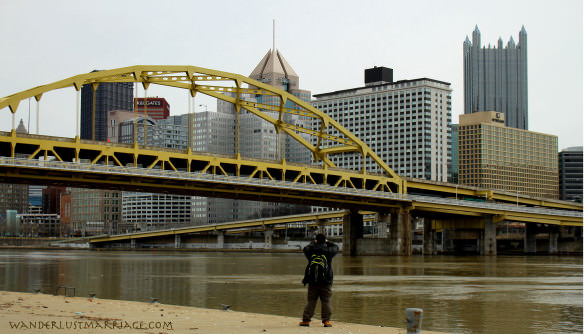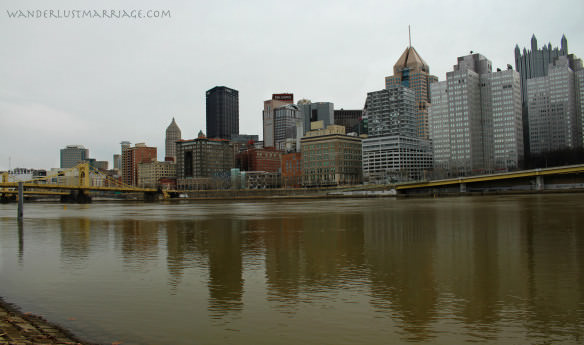 We ended up driving to the middle of nowhere in West Virginia because tourist information at the rest area told us the Palace of Gold was right off the highway. We drove 40 miles out of our way, deep into the Appalachian Mountains, over windy and unkept roads to arrive at this beautiful shrine built by Hare Krishnas and billed as the 'Taj Mahal' of North America. We also stopped for an awesome fish fry at a local church, where we felt a little out of place. It was an action packed few hours in West Virginia!
There's a lot of Amish communities in certain areas of Ohio and Pennsylvania. This buggy was on its way to church on Sunday morning. Church rotates between families in the Amish community.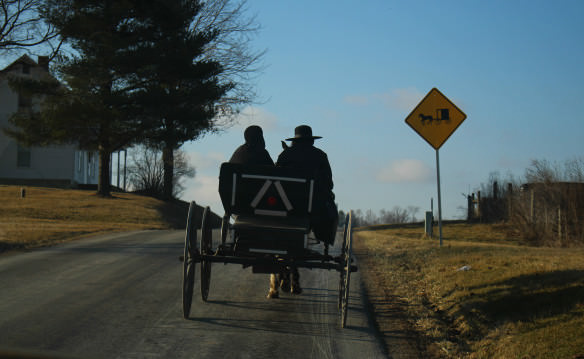 My brother took us on a beautiful, rugged and unexpected hike in Hocking Hills State Park. We did not show up with hiking clothes!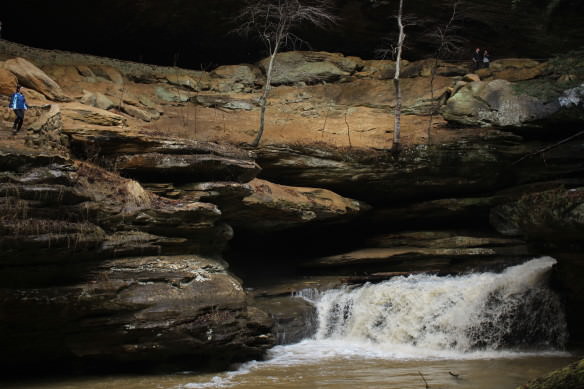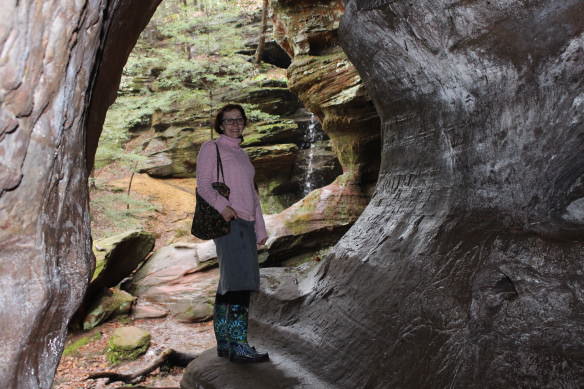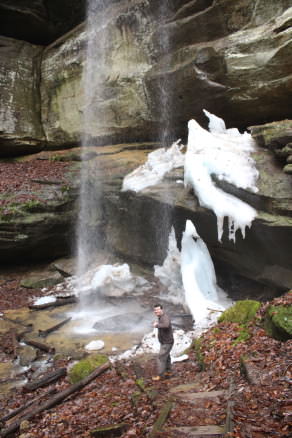 The Pro Football Hall of Fame in Canton, Ohio is cool to visit if you're a football fan like myself, not so much if you're not. Bell was spared being bored here as she was working. Read my article on the
Pros and Cons of the Pro Football Hall of Fame
.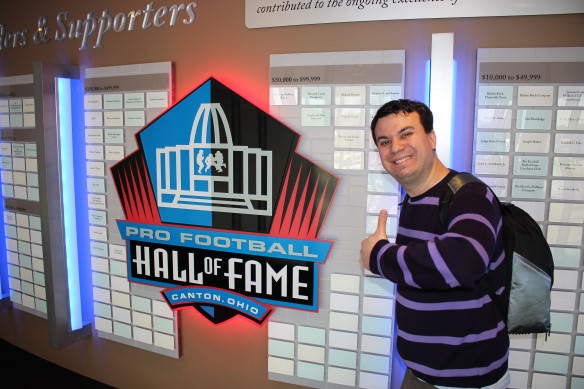 The
William McKinley Presidential Library and Museum
and adjacent
McKinley Memorial
are very worthwhile for a visit if you're passing through Canton, Ohio. William McKinley was the 25th president of the United States, in office from 1897 until his assignation in 1901 in Buffalo, NY.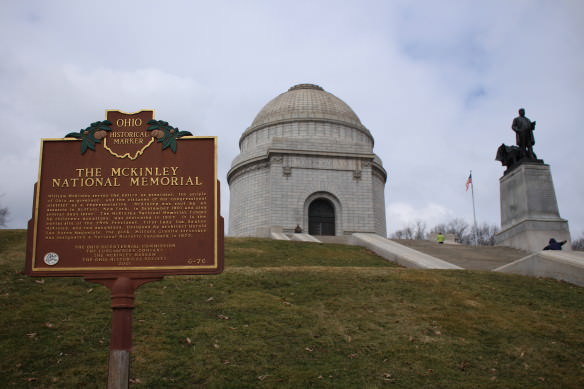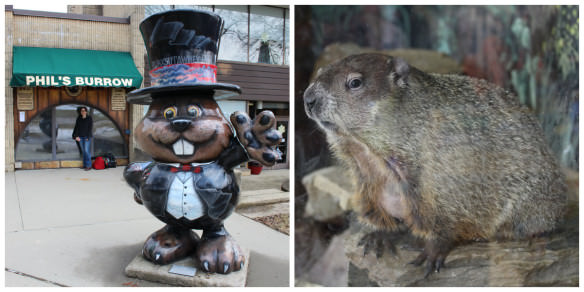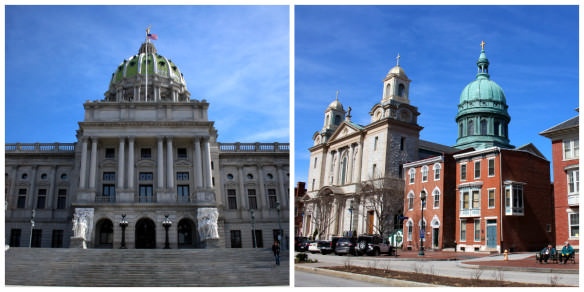 On our way home, at the very end of our trip, I drove quite a bit out of our way so we could visit Gettysburg, the turning point of the American Civil War. It was special to watch the sunset over the memorials and eat a Pennsylvania Dutch dinner at a historic restaurant, Farnsworth House Inn.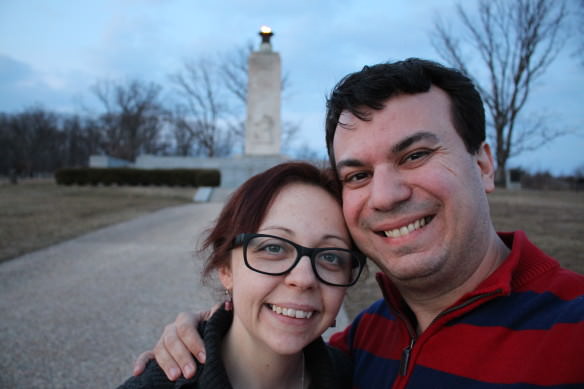 While not what we originally intended for our 10 year wedding anniversary, it was 1,800 miles well driven. And I think we officially recovered from our mishaps, which is an important lesson in marriage. While you will screw up on occasion, there's usually an opportunity to turn the ship around!