We live in Boston, which tops most American cities in terms of history, with Philadelphia being a significant exception. Independence Hall in Philadelphia is where the Declaration of Independence was signed and where the US Constitution was debated by the creators of the country. Philadelphia was the capital of the country from 1790-1800 (Boston never was). While Boston has the oldest university in the country in Harvard, Philadelphia has the oldest hospital, Pennsylvania Hospital. And both cities have been built by a diverse group of immigrants who have contributed to cosmopolitan food scenes. But by eating our way through Philadelphia, we found quite a few things that we preferred in Philly over Boston.
Reading Terminal Market
In downtown Philadelphia, Reading Terminal Market beats downtown Boston's Quincy Market in size, diversity of food and authenticity. Among other establishments, we highly recommend the donuts at Beiler's, whose selection will blow you away. There's also several places where you can eat on bar stools while watching a plethora of mouth watering sandwiches being prepared in front of you- like Dinic's Roast Pork, which is delicious, friendly, fun and award winning.
Italian Market
Philadelphia's Italian Market is located on South 9th Street Curb Market, an area of South Philadelphia featuring awning covered sidewalks. It is quite different to Boston's Italian North End. While Boston's North End is a beautiful Italian American neighborhood, the two most famous pastry shops on Hanover Street, frequently with lines out the door, are a little overrated. But establishments like Isgro Pastries in Philly, which has been in operation since 1904, had no line to buy fresh and delicious Italian cookies during our visit, in what we felt was a friendlier and more authentic atmosphere. And because rents are extremely high in Boston, nearly every restaurant in the North End is on the pricy side. That's not the case in Philly's Italian Quarter, where Ralph's, which has also been in business for over 100 years, is reasonably priced.
French Quarter
Philadelphia's French Quarter is impressive for its architecture and lovely Rittenhouse Square is lined with wonderful European inspired restaurants. We enjoyed a delicious dinner on the outdoor terrace of Rouge, with a lovely view of Rittenhouse square that made us feel like we had been transported across the Atlantic. And Monk's Cafe is the closest Belgian experience we've had outside of Belgium itself. We ate and drank in essentially a replica of a small Belgian abbey, with a beer crafted to compare to the most elusive beer in the world, the Monk made Westvleteren blonde beer, which has previously been rated as the best beer in the world.
Chew Philly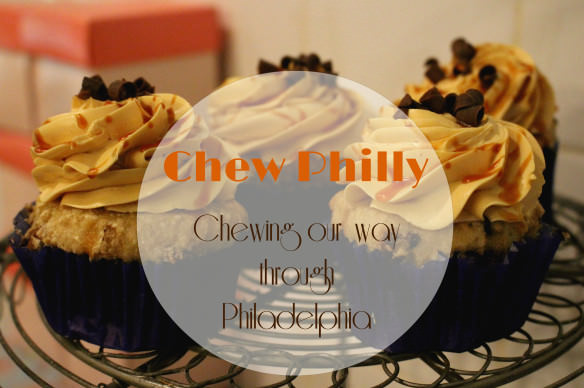 Our introduction to wonderful Philadelphia food came thanks to our walking food tour with
Chew Philly
. Owner Elyse Castillo graciously extended us an invitation to experience some of the very best food in the city, in the historic and hip Manayunk neighbourhood. Elyse was inspired to launch Chew Philly mostly based on the wonderful neighborhood itself, but also because of a prior visit to Bruges, Belgium telling us "Belgium has the best food." And while it's true that it's hard to find a bad meal in Belgium, we were also impressed by what we ate on this tour!
Marchiano's Bakery
The first stop on our tour was at Marchiano's Bakery, which has a wall plastered with famous people who have enjoyed their food. That might sound touristy, but when you pop in for a visit, this family run bakery is local to its core. It's a small establishment with no indoor seating, just delicious food like tomato pie, which is popular in Philly thanks to Sicilian immigrants who arrived over a century ago.
Visit southern Italy to discover that some of the best pizzas in the world don't even have cheese- just an incredible base, delicious tomato sauce and fresh herbs. That's the essence of tomato pie, which is only lightly sprinkled with parmesan. We were also given a portion of their unique pepperoni oreganata, which is rolled bread filled with cheese, pepperoni and spices. As good as their tomato pie is, their oreganata is even better! Imagine the best pepperoni stromboli you've ever eaten and that pretty much sums up the oreganata.
Sorrentino's Deli
A good sandwich doesn't need condiments and we like that Philadelphia subscribes to this mentality with cheesesteaks and many other sandwiches. Some modern Philly cheesesteak shops offer cheese wiz as an option over provolone cheese, but this is a new phenomenon.
Traditional establishments, like Sorrentino's Deli in Manayunk are our kind of sandwich place. They believe that a great Philly steak constitutes nothing except quality diced ribeye steak, melted provolone cheese, and delicious fresh baked bread- ingredients that compliment each other perfectly.
A lot of cheesesteaks around Philly can be too greasy, but Sorrentino's uses leaner ribeye in their sandwiches. We liked watching our cheesesteaks being prepared on the grill before enjoying them. And we enjoyed learning from our guide Lauren about what to look for in quality cheesesteaks elsewhere in town.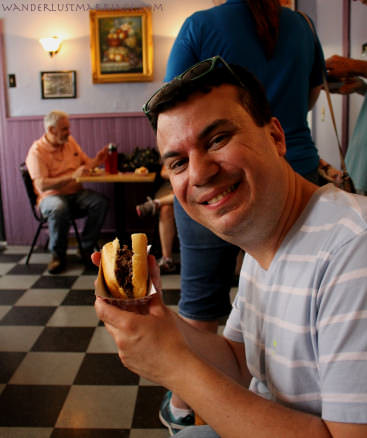 Along with the food we ate, it was interesting to learn about the history of 300 year old Manayunk, Philadelphia food and culture and stroll along the Schuylkill River. During our river walk there were several flocks of swans and it was really cute seeing so many babies. We also learned that Philadelphia is the soft pretzel and mural capital of the world.
Tasty Twisters
The average Philadelphian consumes 25 soft pretzels per year, which is far more than the typical American, so their standards are pretty high. We loved the soft pretzel we were given from Tasty Twisters and our visit to Pretzel Park- yes a whole park dedicated to delicious soft pretzels!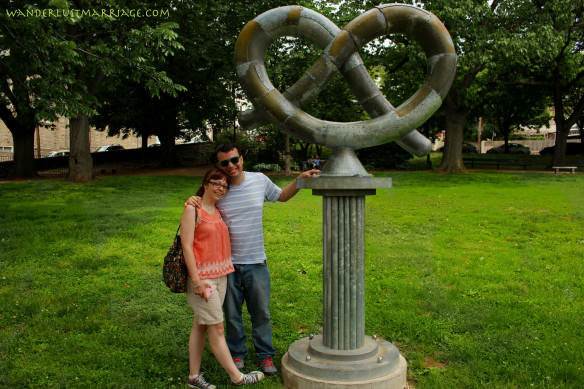 Lucky's Last Chance
We sat down in this hip restaurant to sample their PB and Bacon Burger, which was the 2013 Philadelphia Burger Brawl People's Choice award winner for best burger in town. We'd never eaten this before, and while it seems like a strange combination it works really well. And when you essentially combine a quality peanut butter and jelly sandwich with beef and bacon- that's the spirit of modern American food! Lucky's Last Chance also features some fantastic art work and 30 craft beers on draft, and a few people on the tour took the opportunity to add a tasty beer to their afternoon.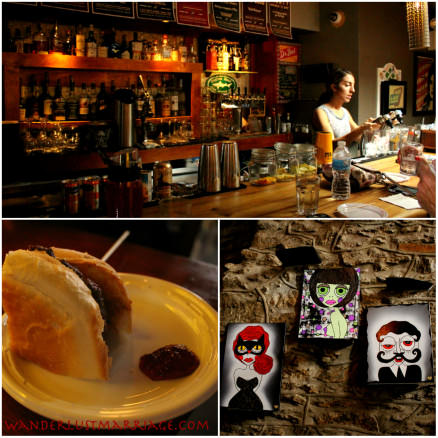 Volo Coffeehouse 
No afternoon food tour would be complete without a delicious coffee. We sat on the outdoor terrace on a lovely spring day and our guide Lauren delivered us all delicious cappuccinos. We're pretty picky about coffee and we can honestly say this was as good a coffee as you'll come across in the country. It was comparable to a cappuccino you'd find in Seattle's best cafes because Volo Coffeehouse takes coffee seriously- they even roast their quality beans in house! And no great coffee experience is complete without good conversation, and it was here that we had a great chat with some fellow members of our tour from Allentown, Pennsylvania who have traveled extensively.
Sweet Elizabeth Cakes
Our tour couldn't have finished with a tastier conclusion. We visited Sweet Elizabeth Cakes, which is as adorable as pretty cake shops come. We were given a wonderful red velvet cupcake topped with the most delicious cream cheese icing, which was as good a cupcake as we've ever eaten. And with so many other tempting sweets for sale, we wanted to buy more but were plenty full from the delicious and diverse food we'd enjoyed all afternoon. The cupcake wasn't even the only dessert we'd eaten, as we also enjoyed yummy sticky bread pudding from Breakin Bread, which was also excellent!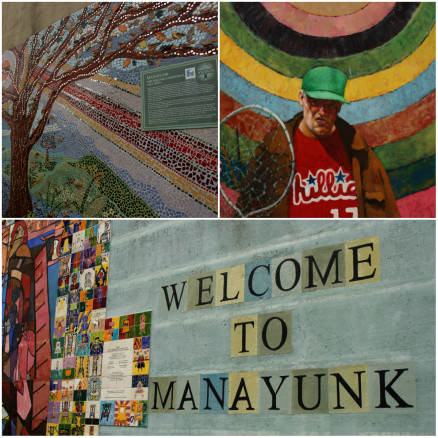 Philadelphia is the mural capital of the world and Manayunk also has some great ones that our guide discussed with us. If you're visiting Philadelphia we'd recommend starting your visit with a Chew Philly tour for both the delicious food and as a guideline for what to look for in so many other great Philly neighborhoods like Little Italy, the French Quarter, South Street and elsewhere.
We'd like to thank Chew Philly, who also has a great blog about the best food and drinks around Philadelphia and Visit Philly for their assistance in making our time in the 'City of Brotherly Love' fun, memorable and delicious!