This summer we had a chance to visit Arlington National Cemetery in Arlington, Virginia, just across the Potomac River from Washington, DC. It's a moving experience to honor those who have died in combat. Here's the history behind the cemetery and several spots you shouldn't miss during a visit.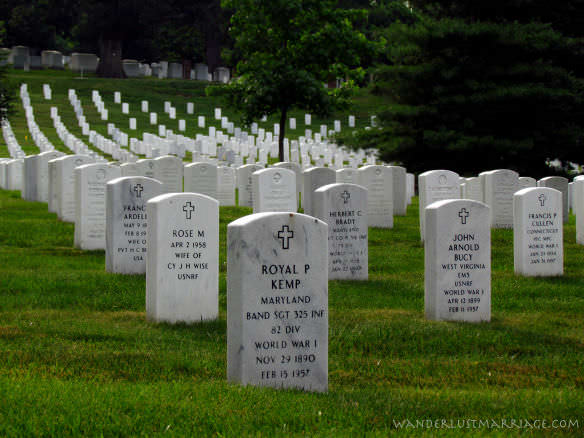 History of Arlington National Cemetery
Arlington National Cemetery is currently property of the US Army and was established in 1864 during the American Civil War. 2014 marked its 150th birthday and it has grown to house the graves of 400,000 American military members. It's easily accessible even if you're traveling without a car, as it's quick to reach via the blue line metro from Washington, DC. It's free to visit and while its a somber place of remembrance, its also extremely picturesque, sporting an abundance of lush green grass, rolling hills and a beautiful panoramic view of Washington, DC. When we visited it was later in the day and we only had just over an hour to quickly tour a fraction of the vast 624 acre grounds while visiting a couple of the cemetery's most iconic memorials, like the Tomb of the Unknown Solider and the grave of President John F. Kennedy.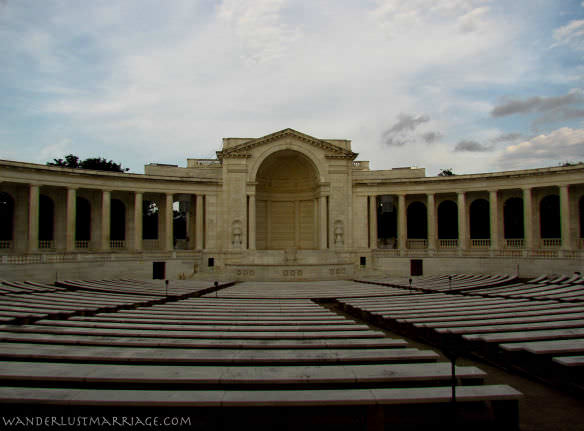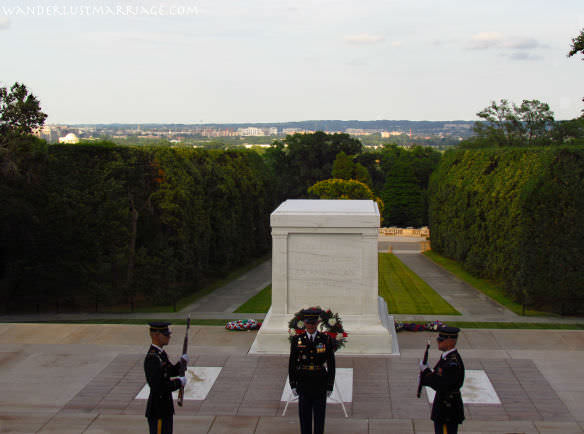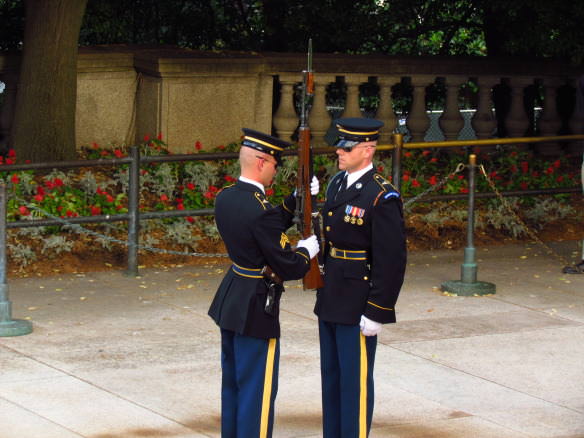 Changing of the Guard
It's easy to catch the elaborate changing of the guard at Arlington National Cemetery's Tomb of the Unknown Soldier as from October 1st-March 31st the change takes place on the hour every hour. And from April 1st-September 30th the changing of the guard takes place every half hour and closing time is 7pm instead of 5pm during the shorter and colder days. If you visit don't miss this ceremony, as it also rewards spectators with a dramatic view of downtown Washington, DC in the backdrop, playing fitting homage to the fallen.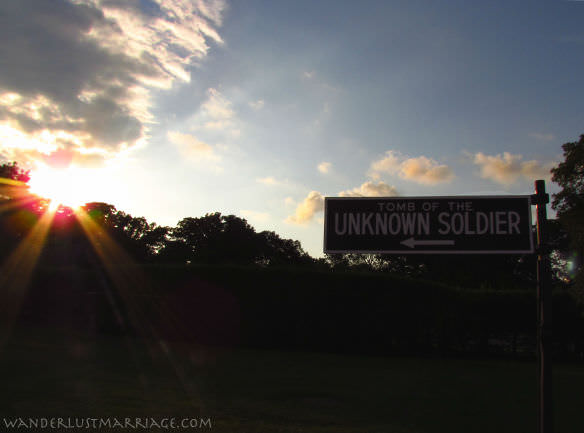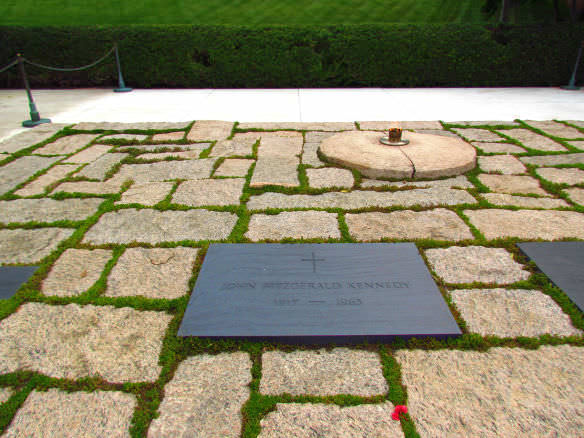 Veteran's Day, Memorial Day and Armistice Day
Veterans Day in America commemorates the service of all men and women who have served in the US armed forces. Internationally, November 11th is Armistice Day, which commemorates the signing of the treaty to end World War I on November 11th, 1918 at the Palace of Versailles, just outside Paris, France.
Some confuse Memorial Day and Veterans Day. We've even heard Memorial Day referred to as "the one where people grill." Memorial Day falls on the last Monday in May so weather around the country is generally warm and there's more of a vacation feel to it, with many Americans taking a long weekend to camp and grill with family and friends. Memorial Day specifically honors fallen service men and women, whereas Veterans Day also honors living veterans.
Global Conflicts
Given that we lived abroad for many years and are citizens of countries on opposite ends of the planet, we generally feel we're global citizens and try to take a balanced viewpoint on conflicts, as we think of the expression "one man's terrorist is another man's freedom fighter." We're happy that neither of us has anything to do with the decision making involved in sending young men and women off to war. Too often people from downtrodden towns are sent into combat in far off foreign lands, by an ever growing number of talking point politicians who have not served in the armed forces themselves. But it's unfortunately human nature to war over resources and beliefs, and it would happen regardless of religion, so somebody has to serve to protect our freedom, beliefs and land. So on this Veteran's Day, Armistice Day and Remembrance Day, we thank everyone who has served so that we did not have to ourselves, and recommend a visit to Arlington National Cemetery if you're in the Washington, DC area.
Where to Stay in Washington, DC?
Before living in Washington, DC, we visited a few times for work. A couple of our favorite stays were at the Washington Court Hotel, near the US Capitol Building. Some rooms have views of the US Capitol, so it's worth requesting them. The Washington Hilton, which hosts the Washington Correspondent's Dinner is also a favorite. If you're looking for good value in DC, you can sometimes find it on weekends when the business travelers are gone. Weekend rates are sometimes 300% less than high weekday rates!
Budget travelers should check out Airbnb. If you've never used the service, sign up here to receive a discount off your first stay. Book listings with consistently great reviews for the best experience!
Disclaimer: This post contains some affiliate links. If you book via the links we receive a small commission which helps maintain our site, but costs nothing extra for you.