Valentine's Day is around the corner, and if you didn't make plans for the occasion, that's ok. You can always surprise a loved one with a gift of an upcoming trip! We asked select travel bloggers to share their favorite romantic hotels in North America for some extra inspiration. Some of the submissions are famous resorts and historic hotels, while others are lesser known gems. If you have a favorite you'd like to share, feel free to leave a comment!
Castle on the Coast – Victoria, BC, Canada

Canada's Castle on the Coast, the Fairmont Empress Hotel, was built in 1908 and is located in Victoria, Canada on Vancouver Island. The hotel recently completed a major restoration project and is full of history, old world charm and romance. Enjoy their world-class afternoon tea or indulge in one of their spa treatments for couples.
Each room is unique and includes the following amenities: terry cloth bathrobes, WiFi, in-room safes, ceiling fan, coffee maker and tea kettle, and luxurious down-filled duvets. The hotel has 464 elegant rooms.
When you're ready to venture out, take a stroll across the street to the Royal BC Museum. It is known for its innovative approach to curating natural and human history. The location is also ideal for evening strolls along the inner harbor, or you can take a romantic carriage ride.
A short drive away is the Butchart Gardens, which are breathtaking any time of the year. The gardens are over 100 years old and started when Jennie Butchart was looking for a way to beautify what was her husband's exhausted vast open limestone quarry. The expansive garden is one of the highlights of any visit to Vancouver Island.
Staying in or going out, there are plenty of things to see and do to keep you wanting to return to the Castle on the Coast.
Submission by Cindy Graham, Blue Bag Nomads.
Turtle Bay Resort – North Shore, Oahu, Hawaii
Are you looking for warm tropical breezes, incredible sunsets and luxury by the beach? Then look no further than Turtle Bay Resort on Oahu's North Shore. This luxury resort has all the ingredients for a romantic getaway. Book a room on the Vista levels for unparalleled views of the Pacific Ocean from your balcony or lanai. It is just a short walk to the resort's secluded bay or adults only pool. When you get hungry there are 6 restaurants to choose from including award-winning Pa'akai featuring mouth-watering ocean to table dishes.
Turtle Bay Resort
has all the amenities you could ever wish for onsite including a day spa and golf course. If you do feel like exploring the local area, the North Shore is packed with adventure. Take a surf lesson or watch the professionals ride the Banzai Pipeline. You can hike to a waterfall, go horse riding on the beach or take an exhilarating zip line tour through the jungle. After a long day, relax back at the hotel and watch the sun slip below the horizon in one of the world's most romantic sunset displays.
La Valencia Hotel, La Jolla, California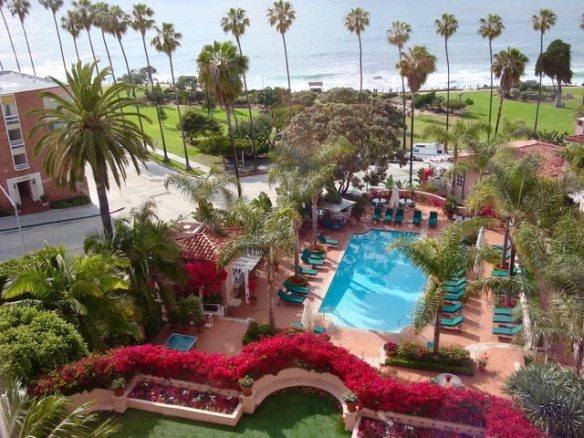 La Valencia Hotel in scenic La Jolla oozes romance and charm. In fact, it bills itself as "Hollywood Glamour on the California Riviera." Known as the "Pink Lady" for its famous pink façade, this iconic boutique hotel has been drawing visitors since 1926. Located seaside, La Valencia offers dramatic views of La Jolla's famous coastline.
Mediterranean-style architecture and colorful murals welcome guests to the hotel's bougainvillea draped pool as well. Rooms range from intimate vintage chic to exclusive private oceanfront villas. And there are amenities galore… They include an outdoor saltwater spa, a restaurant with an ocean view, and 24-hour room service. (La Valencia is even pet-friendly!)
Best of all, the hotel is centrally located in the gorgeous walkable village of La Jolla…making it easy to amble over to the beach to snorkel famous La Jolla Cove, watch the sunning sea lions or window shop the swank boutiques nearby. The restaurant scene in La Jolla is top notch too… with numerous places to perch for a sunset cocktail or enjoy a meal by one of San Diego's top chefs.
Fairmont Chateau Lake Louise – Alberta, Canada
Fairmont Chateau Lake Louise on the shores of Lake Louise in World Heritage listed Banff National Park, oozes romance and luxury. The lake itself was named after Queen Victoria's daughter.
There are seven dining options ranging from a deli to an open concept Italian kitchen and a tapas lounge with superlative lake views.
For those wanting a finer level of luxury, the Chateau offers the Fairmont Gold Experience Package. This seventh level lounge, has deluxe buffet breakfasts, complimentary canapés and private check-in and concierge. Less expensive rooms are basic, but have comfortable beds and pillows and don't stint on the all-important Fairmont service.
Surrounded by soaring mountain peaks, glaciers, snowfields and overlooking an exquisite aquamarine lake, Chateau Lake Louise is the perfect base for outdoor activities. Reserve a canoe for a cozy paddle complete with great Chateau views. My favorite activity is a walk beside the lake, extended into a mountain tea house hike that will blow your mind. From mid-December to April there are romantic Brewster Sleigh rides or ice-skating hand in hand on the lake.
Nearby Morraine Lake is ridiculously gorgeous, as is the Lake Louise to Emerald Lake drive – down through Kicking Horse Pass – returning to your own slice of Lake Louise luxury at sunset. The tourist hordes have left by then and there's still time for that lakeside stroll before dinner.
Submission by Jan from BudgetTravelTalk.
Grand Beach Hotel Surfside – South Florida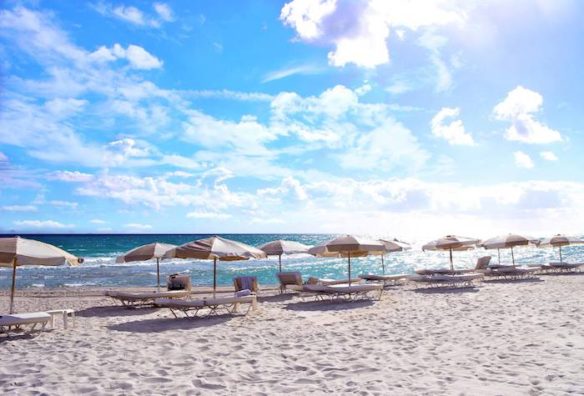 If you are looking for somewhere to relax in front of a beautiful beach, I recommend you stay at 
Grand Beach Hotel
Surfside
 – located in the vibrant town of Surfside, Florida. The hotel is located on the beach, so all you have to do is walk out the back door and you will be amazed by their beautiful private beach.
The room was very spacious, clean, and decorated in an all white theme. The balcony was huge which was an added bonus, and the ocean view was breathtaking. We also loved the super comfortable king bed. Besides the room, our favorite part of the hotel was their adult-only rooftop pool. Spectacular views and you can have nice cocktails with great service. It's definitely a perfect spot for a romantic evening.
Just in front of the hotel, there is an upscale mall called Bal Harbour shops. There are many premium designer shops, and it is the perfect spot for finding top quality and the newest fashion. Even if you don't have a plan to shop,  its aesthetics are beautiful enough to simply visit and take a stroll. There are a variety of restaurants from Japanese to Italian, all of which I would highly recommend.
Submission by Yuki from findingyoki. For more on the area, read her article on fun things to do in South Florida.
Jasper Park Lodge – Alberta, Canada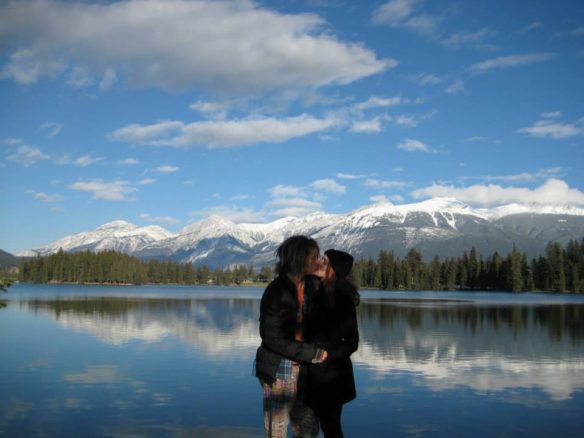 If you're looking for a romantic escape in North America, then you must visit Jasper AB, Canada. The charming town of Jasper is nestled among the beautiful Canadian Rocky Mountains with picturesque mountain views and is home to the incredible Fairmont Jasper Park Lodge.
There's no doubt that the Jasper Park Lodge is one of the most romantic hotels in North America. If you're looking for a true Canadian experience, you'll certainly find it here. You're surrounded by nature and abundant wildlife like Elk and Deer. We even spotted bear and wolf footprints on our walk around Lac Beauvert and enjoyed a cup of hot chocolate underneath the Northern Lights.
Jasper Park Lodge boasts immaculate facilities and rustic style cabins. The many restaurants all provide impeccable service and delicious food. With the most charming cozy decor inside the main lodge and a warm fireplace constantly going outside. If you're wanting to head into town, there's a free shuttle, with many Jasper attractions nearby.
Romantic Things To Do In Jasper
Snowboard the rocky mountains at the Jasper Marmot Basin

Go abseiling down Maligne Canyon

Take the Jasper SkyTram to a scenic viewpoint

Explore the stunning multi-tiered Athabasca Falls

Stroll around Lac Beauvert with your lover
Submission by Monique from honeymoonbackpackers.
The Texas Hill Country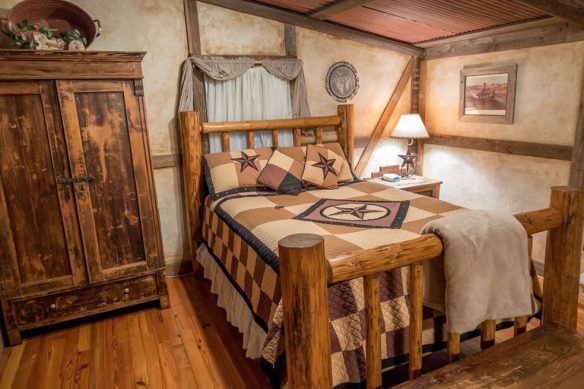 The Texas Hill Country is a popular romantic getaway for couples across the American south. Centered around the charming town of Fredericksburg, Texas, there's a host of fun activities to enjoy. In the summer, you can enjoy swimming in natural spring pools, experience the unique cultural buildings built by German immigrants who settled here and explore the deliciousness of the Texas BBQ scene. But best of all, visitors can have a glass of wine while visiting the award-winning wineries that dot the countryside. The wineries in the area produce some of the best domestic vintages you can find. The Hill Country is one of the best weekend getaways a couple can have in the U.S.
And while in Fredericksburg and the Hill Country, there's no better place to stay than Cotton Gin Village. This quaint bed and breakfast offers rugged Texas charm in their ranch-like cabins. But instead of roughing it, you'll experience first-class luxury accommodations. The private cabins have leather furniture, large beds with high-quality linens and quilts, jacuzzi tubs, and delicious homemade breakfasts.
– Lance and Laura Longwell are authors of Travel Addicts. They enjoy exploring the world, long road trips in unusual destinations, eating local foods, drinking fine wine, and sharing a beautiful sunset together.
Submission by Lance from Travel Addicts.
Chateau Frontenac – Quebec City, Canada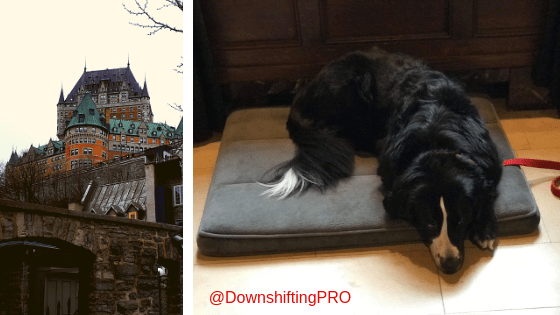 There is no better way to spend a weekend than by staying in a luxury hotel, eating great food and hearing people speaking French all around. You don't have to go to France to feel La Vie en Rose! Head up to Quebec City in Canada and spend a few days at the iconic Chateau Frontenac (the most photographed hotel in the world).
Located in the old fortified city, designated as a UNESCO World Heritage Site, the
Chateau Frontenac
celebrated its 125th Anniversary in 2018!  Fun fact: this property has the most charming Canine Ambassador- Daphnie is a St.-Pierre breed – a cross of Berneses Mountain Dog and Labernese.  She is there for guests to say hello to and even take for a walk.
Why is this a great hotel? It overlooks the St. Lawrence Seaway plus you are right in the hub of Old Town.  From Dufferin Terrace, you can descend the funicular and walk the cobblestone streets, peek into artisans shops and stop for a 'chocolat chaude', a 'tarte au sucre (sugar pie) or a 'caribou' (a local aperitif).
Submission by Margarita from DownshiftingPRO. For more on the area, read her article on What to Do at the Quebec Winter Carnival.
The Grand Hotel – Mackinac Island, Michigan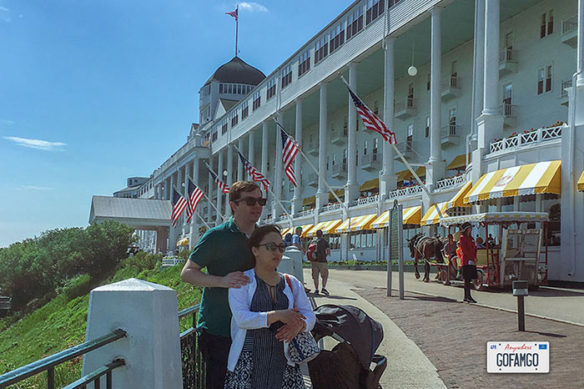 The Grand Hotel in Mackinac Island, MI has been charming its guests with old-world hospitality since 1887. Imagine dressing up for an evening of dancing and listening to a jazz band or the orchestra with your significant other. You could also just take in the views of the Straits of Mackinac while sitting in a rocking chair on the world's longest porch. If you are both foodies, the culinary options in this historic hotel will not disappoint. I will go back there even just for the food alone.
No cars are allowed on Mackinac Island which contributes greatly to the hotel's romantic ambiance. So, leisure trips on a horse and carriage or a tandem bicycle ride around the island are other great ways to spend a lovely time together.
The Grand Hotel is also one of the kid-friendliest resort hotels in North America. With its collection of activities and children's programs, you don't have to worry about taking your kids with you as well.
The Grand Hotel is a 5-star luxury experience for couples and families. With a surplus of remarkable activities for everyone to enjoy throughout the season, it is no wonder it is dubbed America's Favorite Summer Place.
Submission by Yamy Hartsough from Gofamgo. You can read her review of the Grand Hotel Macinac Island on her site.
Post Hotel – Lake Louise, Canada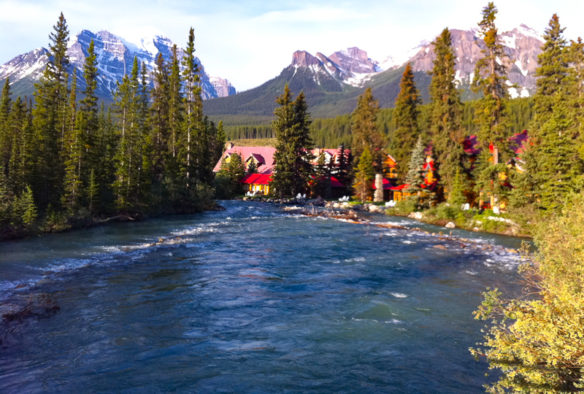 Planning a romantic getaway? Consider a few days at the Post Hotel and Spa in Lake Louise, Canada! A mountain hotel located in the tiny but very popular hamlet of Lake Louise in the Canadian Rockies, the Post Hotel offers incredible dining options, cozy rooms reminiscent of a Swiss chalet, and a full-fledged spa.
In the hotel, do not miss afternoon tea… the great selection of sweet treats and teas is perfect for a quiet afternoon of together time. And book a couples massage in the spa for an amazing relaxing experience.
You may not want to leave the hotel at all, but if you do, the scenery in Lake Louise will take your breath away. If you visit in the winter, you can dress warm and go out to view the ice sculptures on Lake Louise or go for a drive if the roads are clear, to check out the snow-covered mountains. If you love winter sports, the Lake Louise Ski Resort is just a few minutes away from the hotel.
In spring, summer, and fall, you can choose from lots of things to do in Lake Louise: you can do some lovely long walks or hikes, drive the Icefields Parkway, visit all the beautiful alpine lakes in the area, or go mountain biking.
No matter when you visit, and what you choose to do, your romantic getaway at the Post Hotel in Lake Louise will be awesome!
Submission by Dhara from It's Not About the Miles.
Located about 50 minutes from Steamboat Springs, Vista Verde Ranch is a romantic and unique ranch getaway. The ranch provides an all-inclusive experience with outdoor activities, delicious meals, drinks and all the snacks you can handle. Private cabins are available for couples to enjoy with a hot tub on each porch.
What makes Vista Verde unique is the amazing service that allows you to keep your mind at ease. In the winter, there are plenty of activities to enjoy and all the gear is provided for guests. Each day you choose from the activities available including different types of skiing, horseback riding clinics, horseback trail rides, snow tubing, horse-drawn sleigh rides, ice fishing, snowga, and more. In the summer you can learn fly fishing, go mountain biking and more summer activities.  Winter or summer, the ranch provides a wonderful atmosphere for couples to enjoy their time together, especially when you are relaxing together in a winter wonderland. Before or after your stay at the ranch you can spend some time at nearby Steamboat Springs where you can enjoy downhill skiing, natural hot springs and hike to waterfalls.
Submission by Dan Bagby from Honeymoon Always. You can read more about their stay at the all-inclusive Vista Verde Ranch on their site. 
Bentwood Inn – Jackson Hole, Wyoming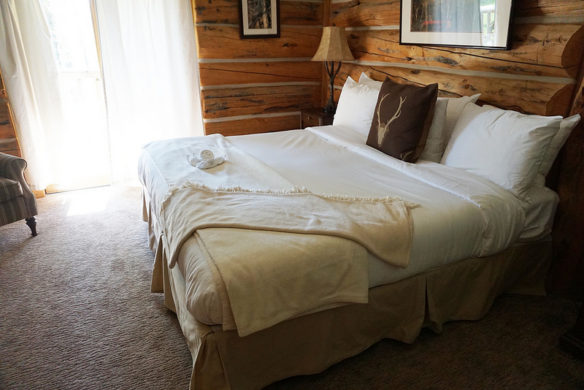 Tucked behind a line of trees and overlooking a wide, green yard, this elegant cabin in the woods is built with 200-year-old timber reclaimed after a fire in Yellowstone. The five guest rooms at Bentwood Inn are decorated with rustic touches that give a nod to the wilderness—throw pillows with deer silhouettes, headboards made of reclaimed wood, table lamps that look like trees. Downstairs, the mountain cabin feel continues with stone fireplaces and cozy leather chairs. An incredible homemade breakfast is included and the spread boasts home-smoked lox, a fresh juice of the day, and a hot dish that changes each morning.
Wilderness-lovers will find plenty of cycling and hiking trails and romantic riverside picnic spots nearby and the town of Jackson is a charmer—full of cute coffee shops and unique shops. Food-loving couples will appreciate Michael Moeri's food tours.
Suggestion by Gigi Griffis of viciousfoodie
Esterel Resort – Lake Dupuis, Quebec
The Esterel Resort offers a luxurious and romantic stay on Lake Dupuis. Located an hour outside Montreal, Esterel features a Nordic Spa with multiple outdoor pools. Bell and I spent our 11 year anniversary there and it was a wonderful place to celebrate.
In Quebec, they generally take food pretty seriously. So there are fantastic on-site fine dining options and a world-class wine cellar at Esterel Resort. You can enjoy a traditional multi-course meal at Bistro a Champlain, or cook your food over volcanic lava plates at Rok. We enjoyed both restaurants and either makes for a romantic evening with a loved one.
The Laurentides is one of the best areas to ski in the northeast, featuring 12 ski resorts in close proximity. Skiing can run through the end of April in the region.
The sugar shacks are a literal treat. Warm maple syrup toffee is freshly poured atop snow and then swirled onto a wooden stick. Sugar shacks also serve wonderful food and often feature live music and outdoor activities for the kids, like horse and sleigh rides and tobogganing. We visited Cabane a Sucre Arthur Raymond and the festive atmosphere is very contagious.
Submission by Alex from Wanderlust Marriage Travel.
Thanks to everyone for their great submissions! Check out our posts from the past two years surrounding this romantic holiday – Couples Share Travel Tips for Valentine's Day. Also, Travel Loving Couple's Share Stories for Valentine's Day.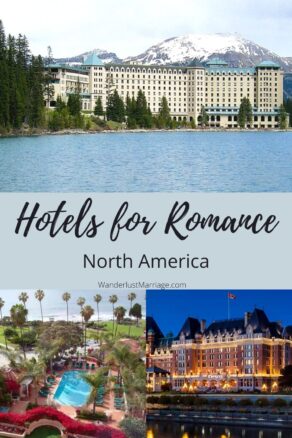 Disclosure: This article contains some affiliate links. We receive a small commission when you book or sign up through certain links and it costs you nothing extra. Thanks for using them!