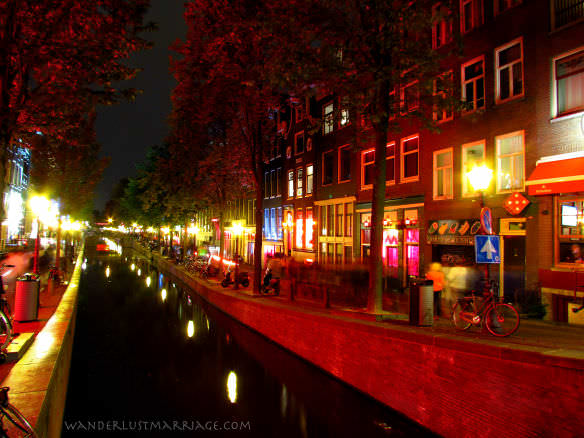 Europeans are generally more relaxed than Americans on the world's oldest profession, so one of the things Amsterdam has become most famous for is the sex trade in its
Red Light District
('De Wallen' in Dutch). The Red Light district compromises some 300 rooms (kamers), where women display themselves behind windows, as they either make seductive gestures to lure men or play on their cell phones, bored. A college friend once told us that a prostitute once opened her door, pointed at her funky shoes and laughed. So ladies, you're equally welcome to stroll the district safely, just be aware that wearing unusual attire could get you mocked, though Bell never has been. If you're in the Red Light district
do not
take photos of the girls, unless you want to get yelled at and risk your camera getting thrown into the canal. But as long as you're just capturing the general scenery and not the actual girls, your golden to take as many photos as you'd like.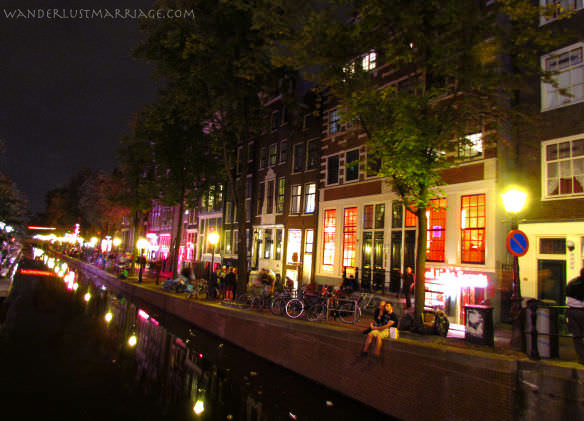 Red Light District Sex Shows and Coffee Shops
Asides from the prostitutes in windows, Amsterdam's Red Light District offers several sex shows like the Casa Rosso and Bananen Bar, where you can shell out some euros to watch live sex theater. The Black Tiger Bar has nothing to do with prostitution aside from its location, and offers great seats across the canal to watch men approach windows to negotiate sex, while you enjoy a Heineken or mixed drink. There's several coffee shops like the famous Bulldog., where you can buy and smoke weed. Bulldog was founded in 1975 and it's the oldest coffee shop in Amsterdam. When in Rome, right?
Amsterdam's Chinatown
Amsterdam's Chinatown borders the Red Light District on Zeedijk street. As is usually the case in cities worldwide, Chinatown is one of the cheapest areas to eat in Amsterdam. We used to occasionally sit down for Peking duck over steamed rice when we lived nearby as it was a great deal.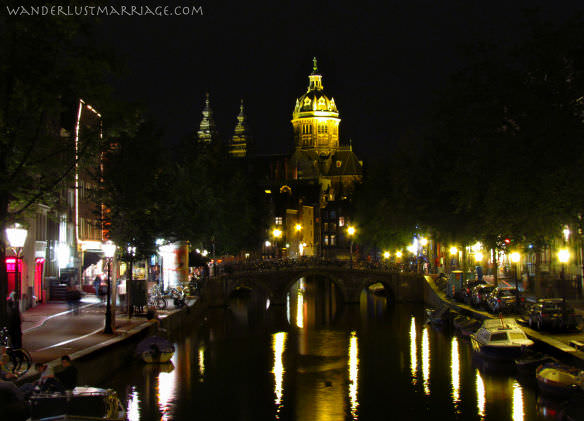 Dutch Tolerance
The Dutch pride themselves on being open and tolerant, and many believe 'De Wallen' is a testament to this. The area is relatively safe as it's regularly policed. Though you should obviously take precautions for pickpockets, especially if you're heavily under the influence of drugs or alcohol. Many argue that it's better for the girls to be behind windows than on the streets, but others argue that Amsterdam's open policy on sex trading only makes human trafficking easier. The reality is somewhere in between, prostitution and human trafficking exist everywhere and the United States arguably wastes a lot of resources to fight something that the government only pushes underground, into even more sinister terrain.
Red Light District Photo Tips
These photos were taken on a tripod in September, 2014, with our modest Canon Powershot camera with the lens opened wide and the shutter speed set to super slow, without flash, to capture as much natural light as possible. We found Amsterdam's Red Light District to be a fantastic place to take night time photos. Just remember, unless you want to get smacked, don't photograph the girls!
Tour Amsterdam's Red Light District
On a 90 minute guided tour, a local expert will explain the history of Amsterdam's legal prostitution, drugs, architecture and the laws of the Red Light District. Book this offbeat Amsterdam Red Light District tour with a local guide. Tour prices start at $23.99 US.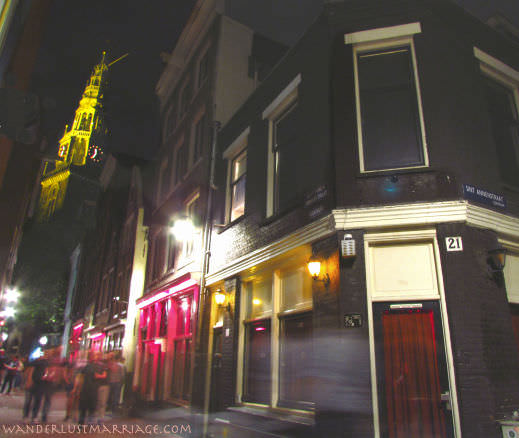 Where to Stay Near the Red Light District?
Hotel prices in Amsterdam vary depending on time of year and availability. Book something with free cancellation as soon as you know your dates of travel, especially for summer and the holidays! Keep in mind that accommodation in the Red Light District can be noisy, so you may want to stay outside the district.
Luxury: 
It doesn't get more luxurious than the 5 star Waldorf Astoria Amsterdam. Set along the UNESCO World Heritage listed Herengracht canal, the hotel is made up of six monumental 17th century canal palaces. The 2-Michelin star restaurant Librije's Zusje Amsterdam is perfect for an on site gastronomic experience.
Pulitzer Amsterdam is a great luxury choice located within 25 interlinked 17th and 18th century canal houses, between the famous Prinsengracht and Keizersgracht canals. Combining traditional and modern Dutch design, the hotel has 225 unique guest rooms and suites. It's walking distance from major attractions, but on a quieter end of the picturesque western canal belt.
Radisson Blu is the one of the best value luxury stays in the center of Amsterdam. Spacious rooms are decorated according to colorful themes. Their on site restaurant serves international meals and an extensive breakfast buffet.
Mid Range:
Citizen M is a comfortable and ultra modern hotel in Amsterdam. Every room at citizenM Amsterdam has wall to wall windows and large beds with luxurious linens. Guests can modify room color, temperature, control the smart TV and also adapt the black out curtains all from an Ipad mini.
We also recommend Motel One Amsterdam and Motel One Waterlooplein as they're good bang for buck, with a great breakfast buffet featuring delicious higher end bakery quality breads, pastries and croissants. All rooms have a private bathroom, air conditioning and flat screen TV.
Lloyd Hotel offers unique rooms in a transformed historic building. Within 10 minutes you can reach Amsterdam Central Station by tram. Rooms come in different shapes and sizes, so this is a good stay for travelers who get freaked out by cookie cutter hotels.
Budget:
You'll generally find the best value booking short stay apartments in the Netherlands, especially in Amsterdam's historic center during summer and popular holidays like New Year's and King's Day. If you've never used Airbnb, sign up here for free and receive $40 credit off your first stay!
Backpackers should consider fun options like the popular Flying Pig Downtown and Flying Pig Uptown.
Want to fly to Amsterdam for Free?
Delta has a lot of flights between Amsterdam and the US. The Delta Skymiles American Express Gold Card is free the first year and just $95 each year after. They give a 30,000 – 60,000 point bonus after the initial spend. A free flight to Amsterdam will start at around 60,000 points on Delta, and you can accumulate that difference through everyday purchases over several months. There are other perks to having the Delta SkyMiles AMEX Gold Card, like free checked bags on Delta flights.
Want tips on maximizing credit card bonuses for free flights? Get in touch!
Disclosure: This article contains some affiliate links. We receive a small commission when you book or sign up through these links and it costs you nothing extra. When it suits you, please use them, as it helps us help you!