Last week I was in London for the second November in a row, for World Travel Market, which is the biggest tourism expo in the world held in an English speaking country. It's a great event, but of course one of the best parts about being in London for WTM, is just being in London, soaking up the atmosphere of a city rich with centuries of history, great architecture and some of the finest museums and galleries on the planet. This year I had the opportunity to spend four nights at the Premier Inn London Waterloo, right across the street from County Hall and the London Eye, Europe's tallest ferris wheel.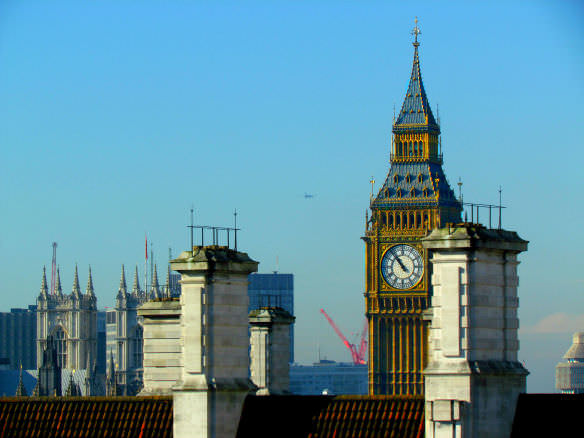 I've previously been to London several times, but I've never stayed anywhere with such an iconic view of the London skyline. From my 11th floor room the London Eye lit up the night sky, as did the famous Big Ben clocktower. During the day the opposite tower of the British Parliament was in clear view, as well as both towers of Westminster Abbey. Over the course of my stay, I continually admired the incredible view and the contrast between day and night.
Before London I'd been in Athens and brought a piece of Greece with me to enjoy in my room, with a bottle of Pinot Grigio and the London skyline to welcome me. Also welcoming was the plush bed, comfortable pillows, spacious room and a relaxing hot shower. On previous stays in London I've sometimes found myself in very small rooms, where even having enough space to properly open your suitcase can be challenging. I was thrilled to have loads of space at the Premier Inn London Waterloo, both in the room and in the bathroom. It's always nice not being packed like a tuna while showering, and I've previously been that tuna in London on prior stays.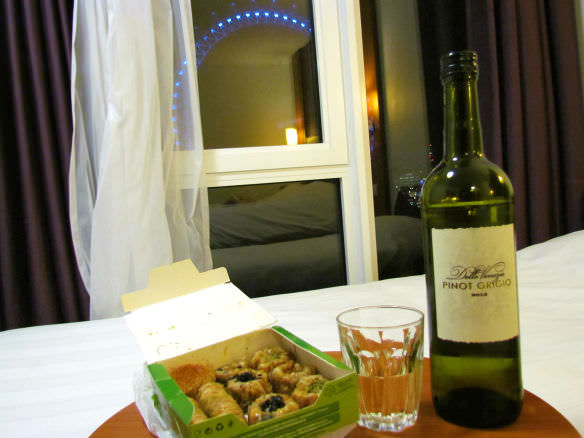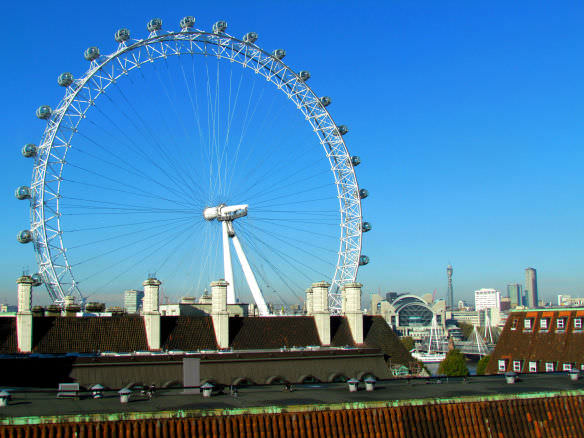 I loved being able to leave the Premier Inn Waterloo and in a 5 minute walk be on the bank of the Thames River, gazing across at London's impressive Parliament. And being that Parliament was just a 10 minute walk from the hotel, it's an extremely handy location for exploring all the magnificent attractions of London. Many of which are in walking distance, and the rest can be conveniently reached via London's famous tube, with the Waterloo station being just a few minutes walk from the hotel, with direct access to 3 metro lines and the national rail service. London's tube stops are marked with the famous red circle, with a blue line dissecting the middle and traveling via tube is part of a quintessential London experience, as is hopping on a double decker bus and riding in an old fashioned black cab.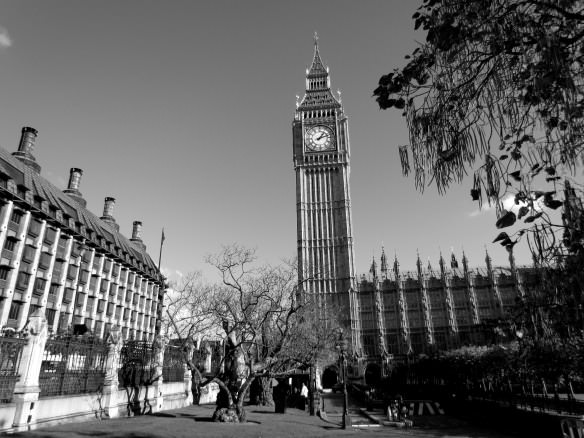 Being that I'm scared of heights (and shamefully have a fear of ferris wheels) I did not ride the London Eye. I otherwise definitely would have given it a whirl being right across the street and the panoramic views of London would have been breathtaking. It's too bad Bell wasn't with me as she often manages to drag me on things that I'm dubious of, which usually ends up being very rewarding. In any event, I enjoyed gazing up at it during the day and at night, from my room and from just outside the hotel.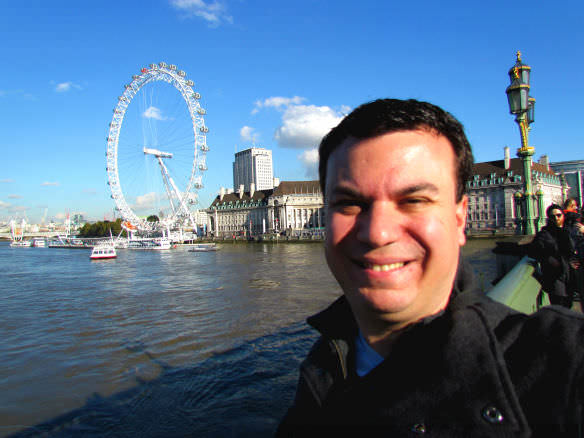 London has a wealth of world class museums, many of which are free and on prior trips I loved visiting The Natural History Museum, Victoria and Albert and the National Portrait Gallery. I re-visited the National Portrait Gallery one evening since it was open until 9pm and also decided I had to visit a museum I hadn't previously toured, Tate, the modern art museum. Tate was great for perusing some fantastic and unusual art and what also made the experience inspiring was witnessing so many art students drawing in front of portraits. While touring Tate, I watched around 20 artists attempt to mimic art works. Nearby I visited one of London's best and oldest outdoor markets, Borough Market, where I enjoyed a wonderful Ethiopian beef dish for lunch. Borough Market is famous for quality British and ethnic food and is a fantastic place for anyone who appreciates quality outdoor markets.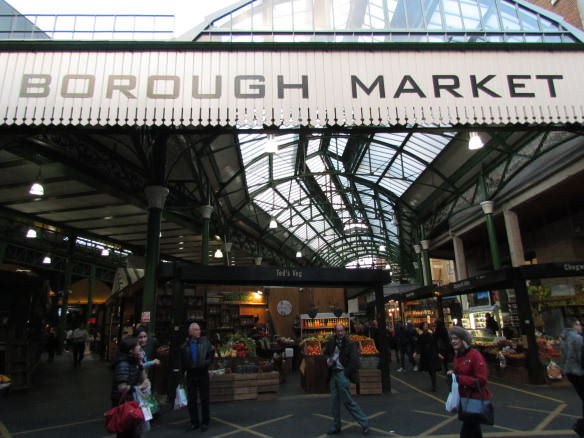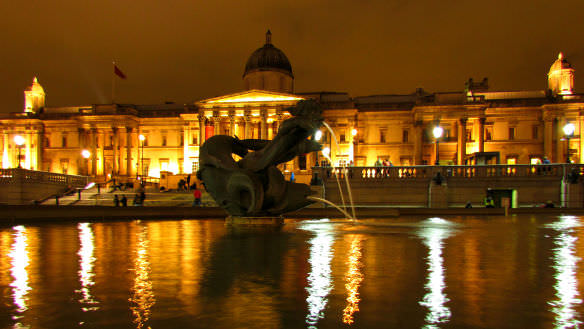 Another London first this trip was strolling through a portion of famous Hyde Park for the first time. Hyde Park is the largest park in London and is nearly the size of New York City's Central Park. There's a big lake in Hyde Park and the casual Serpentine Bar and Kitchen rests lakeside, making it a great place to grab a nibble or drink while enjoying a lovely and relaxing view.
I re-visited Buckingham Palace at night and wondered whether the Queen was home that evening. I also hopped over to Piccadilly Circus, London's equivalent to Times Square in New York and watched the advertising on the jumbo tron light up the square, as double decker busses and black cabs continually rolled by. Nearby Chinatown bustles with a seemingly endless supply of Asian restaurants to choose from, and London's Soho district is a diverse area with a variety of good pubs and restaurants.
There's something for everyone in London and it's truly one of the world's greatest places for a city break! If you visit we certainly recommend a stay at the Premier Inn London Waterloo. Prices start at £87 ($136 USD) per night, which is great bang for your buck in central London, with the entire city on your doorstep.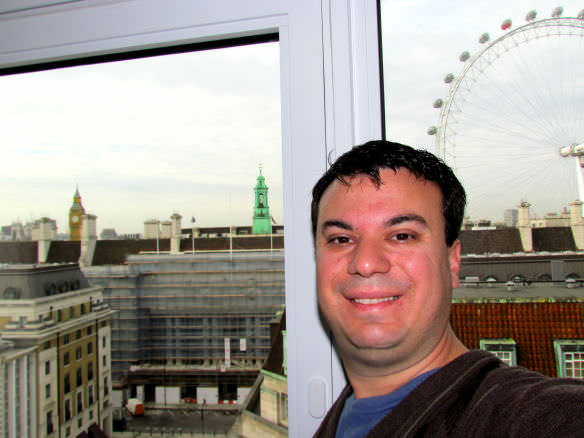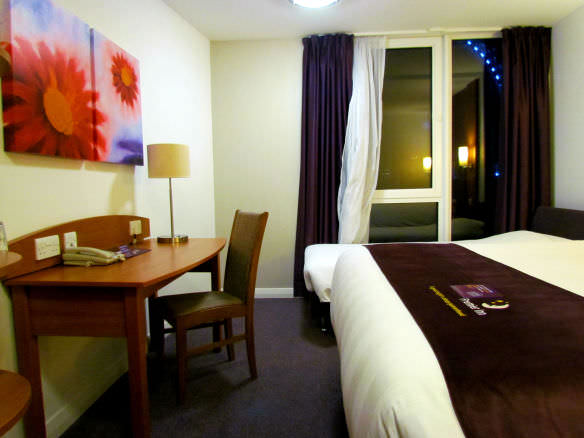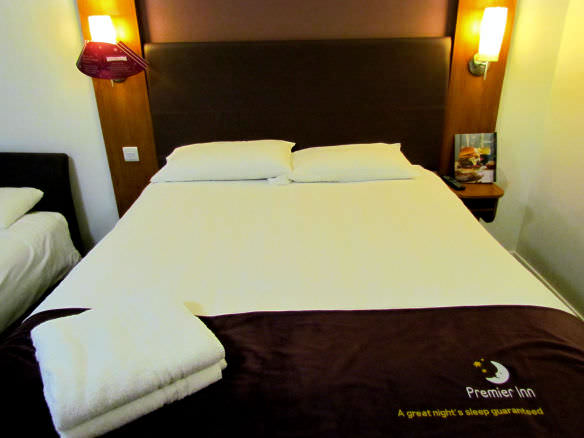 A big thanks to Visit Britain and Visit London for their assistance with my stay, as well as the Premier Inn for hosting me for 4 nights!