With all the traveling we do, often to warmer countries or at least places with opportunities to swim, we are often looking for great swimwear to bring. Comfort, quick-drying, and easily packable are all important factors when choosing a great swimsuit so we decided to try out CoolTanⓇ and their TanThrough swimsuits and shirts.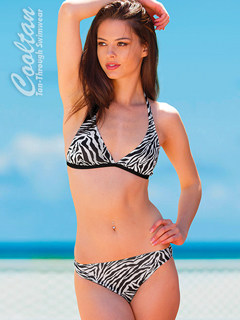 CoolTan Swim Trunks
I was sent one of CoolTan's swim trunks in emerald along with a light grey polo TanThrough shirt to try out. I thought CoolTan's concept was interesting: swimsuits and shirts that you can tan through. This isn't a concept we were previously familiar with.
Breathable Fabric
I appreciated how breathable the fabric was. It's made using a specially knitted Microsol V fabric that has millions of tiny pores that let in around half of the sun's rays while also allowing air and water flow through easily to keep you cool and dry. I also liked how easy it is to take care of the suits. They're machine washable and dry up to 3x faster than normal fabric when hang dried. This is great if you need to hand wash the items during your travels.
I thought the swimsuit was comfortable, breathable and light. However, the emerald suit I received was too see-through for my taste. The suits are linerless, to aid with the tan through abilities. This didn't really work for me. With these suits, it really depends on personal preference in terms of styles, see-through levels and where you plan to wear the swim suits.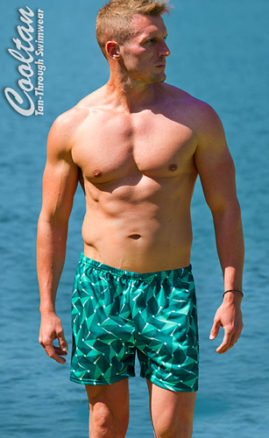 CoolTan Customer Service
I contacted the company about my issue and they quickly responded with good customer service. I received blue aztec swim trunks to try out that were a little less see through. While I appreciated that they did their best to make sure I had a suit I was comfortable in, I personally prefer to wear underwear underneath the swim trunks to a pool or the beach.
CoolTan Polo Shirts
I was also sent a large blue TanThrough polo shirt. This is a shirt that I enjoy wearing out to minimize tan lines. Their polo shirts also contain Microsol fabric that lets you tan through while you go about your day. You can even wear it for a round of golf. The first shirt I was sent was a bit large, and I contacted them about the issue at the same time as my issue with the emerald swim trunks being too see through. They replied quickly and sent me another size shirt to make sure I had the most comfortable fit.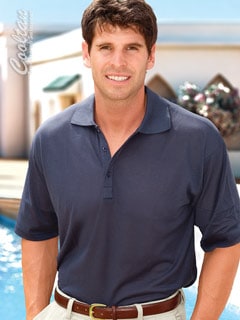 Conclusion
I didn't enjoy CoolTanⓇ swimsuit at first due to how see-through it is. So I would only recommend it if you want to show more skin. But I like how comfortable both the swimsuit and shirt are and really appreciated how quickly customer service assisted with my issues. If you don't mind showing a bit of skin, and want to get a tan right through your swimsuit, give CoolTan a shot. Also, while the attire provides some UV protection, consider applying some sunscreen, especially if you're fair skinned.
Disclosure: This article is sponsored content with photos provided by Cool Tan. But the opinions expressed here are Alex's first-hand experience with Cool Tan's men's line of swim trunks and polo shirts.