The Alex half of Wanderlust Marriage grew up in Florida. After my parents separated in Niagara Falls, NY and my father took custody of his kids, he was quite distraught and asked his 9 year old son and 8 year old daughter where they wanted to start a new life, preferably somewhere warmer. As little Alex had spent his 7th birthday at Walt Disney World, the kids choice was easy…Orlando! While we didn't have much after the divorce, my father felt bad for us kids and spoiled us with Disney passes for a couple seasons. And when I was 16 I ended up employed there and realized it was far better to play than work there. No surprise!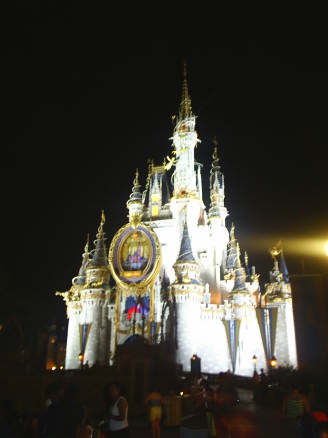 Being a Silly Disney Kid
As young teenagers, my sister and I actually became little trouble makers at Disney. My father, content to read a book on a bench in the sun, would let his 13 and 11 year old children go off on their own in the parks. As we had sadly grown a bit bored of many rides, we sought out a new, silly ways of making Magic Kingdom more fun involving mischief.
Lines are frequently long at Disney, for anything worthwhile at least, especially during summer vacation and Christmas. As it's not very much fun to wait an hour and a half in the scorching heat for the Thunder Mountain ride, it was better to ride the Tomorrowland Transit Authority monorail, that circles around Tomorrowland, where there was usually no wait. This combined with the moving, aerial advantage over Tomorrowland's attractions provided a great launching pad to hurl condiments, just before the monorail ducked inside an enclosure. We would fling them up for grabs and then immediately duck in the car. We knew where the 4 cameras were so we avoided that. 20 years later I'm far certain this is monitored better, but back then Disney was a treasure trove of fun for misbehaving kids. Yes, it was stupid I admit that. And I also apologize for it.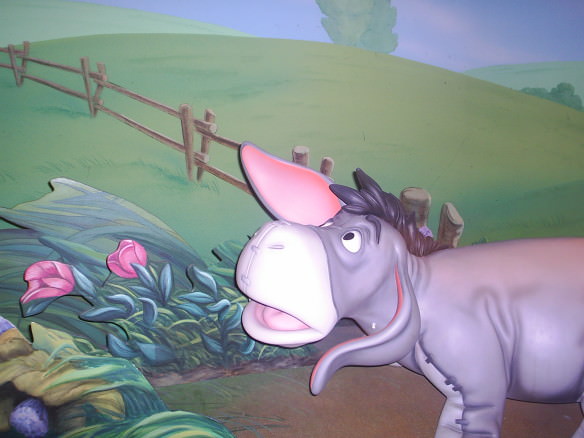 Back then there was a Skyway ride that went from Tomorrowland to Fantasyland. You could catch the skyway one way, either way. During the day the lines were too long, but in the evening they cleared up. My sister and I liked to ride that for our "Grand Finale." The skyway went over the Dumbo ride and there was always a large concentration of people. So we would "make it rain" and then immediately duck our heads below vantage point. A
stonishingly
, we never got caught for doing that! But one night, immediately after releasing the unopened condiment bombs over Dumbo, my father, who happened to be standing around in the area saw this and we locked eyes. Suffice to say he was rightly furious and we were grounded from Disney for awhile. Many years ago Magic Kingdom got rid of the skyway. People waiting in line for Dumbo can rest easier now.
Working at Disney
Fast forward a few years and I find myself toiling in the fast food restaurant, Peco's Bill, in Adventureland. My duties included putting food and drink orders together, stocking the salad bar and funny enough, looking after the condiment bar. I also worked the cash register. During summer and peak holiday periods during lunch and dinner rushes, the line to order any food at Magic Kingdom is around 30 minutes. Disney's goal was for us to ring up 90 transactions per hour. That equates to around 45 seconds per order. It's a well oiled machine there.
While the job was no fun, it was pretty decent for a 16 year old as it allowed me free access to hang out in the park. When I wasn't working and I could bring up to 3 friends, 12 times per year. And yes, at that point I had certainly retired from my condiment hurling days. But it was incredible to me that I was only paid $5.95 per hour, about the cost of a hamburger and fries back then (way more expensive now!). I arranged a couple hundred orders over the course of an hour.
We always had leftover food at the end of each night but rather than let us hungry teenagers eat, the managers usually made us throw it away, as we needed to clean up and they did not want us eating on the clock. And the punishment for eating when you weren't supposed to was immediate termination. So it was a treat when the managers let us eat. But there was a small unused stage with curtains in the dining room that was a popular hiding place for some of us kids to quickly stuff our hungry faces. One kid got caught and was terminated, luckily I never was. Disney stunk in that regard.
I worked at Peco's Bill for a year, including on Grad Night, which was the night the park was open all night for Orlando area graduating high school seniors. I didn't have many good friends in high school so rather than spend money on the event I chose to work it. It was disappointing to serve my high school peers rather than be among them for a few obvious reasons.
I went to school 5 days a week and worked every weekend, meaning I hardly ever had a day off when I was 16. Over the summer I picked up extra shifts around Magic Kingdom wherever I could- stocking retail shelves on Mainstreet USA, attractions greeting and occasionally janitorial work. Nobody would let me touch any electrical work. I did one time accidentally crash a cargo cart into the underground tunnel wall while trying to make a u-turn and busted a headlight (Think of the first Austin Powers movie, yup I did the exact same thing!).
I graduated high school at 17 and that summer went full time at Disney, moving over to guess where? Tomorrowland Attractions. And all of a sudden I was the one seating people onto rides and viewing the monitors on the Tomorrowland Transit Authority for any ramboxious kids standing in the trains. Anytime I saw one I would announce on the intercom for them to "please be seated, standing in the cars is not allowed." Life had gone full circle, like a school teacher who in their previous life had chucked paper airlines at their teacher, and was now receiving the same fate.
It wasn't horrible working alongside Mickey and Minny (who by the way are usually played by petite students who can sometimes be caught smoking cigarettes, in character, holding their heads in the underground tunnels below the Magic Kingdom). But it was definitely better to grow up playing alongside them. I do often look back nostalgically at being a Disney kid. And I certainly do apologize for some of my young teenage shenanigans.