Milton Hershey founded Hershey's chocolate company in 1894. Today a town built on chocolate welcomes visitors from around the world to experience a place where streetlights are capped with Hershey kisses. Prior to visiting Hershey, we knew about the amusement park, Hersheypark, but were unfamiliar with other great activities this family destination has to offer. Here are our recommendations for a 2-day itinerary in Hershey and Harrisburg. This area makes for a convenient weekend getaway from nearby cities like New York, Philadelphia, Baltimore and Washington, DC (where we live), all of which are under a three-hour drive away.
Hershey and Harrisburg, Pennsylvania Hotels
We stayed three nights at the Hotel Indigo Harrisburg – Hershey, which recently opened in April, 2018. Rooms are well appointed, with designer toiletries, large flat screen TV's and plush bedding. Hotel Indigo prides itself on featuring local food and drinks on their restaurant menus.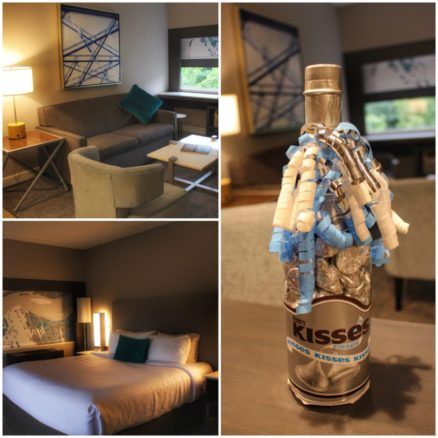 With several great area breweries, we were thrilled to see only local brews on Hotel Indigo's beer taps, including Troeg's Perpetual IPA (a favorite of mine). Many chain hotel bars include something like Goose Island IPA (now owned by Anheuser Busch-Inbev) along with other mainstream beers. Breakfasts are made to order and feature tasty options like smoked salmon flatbread and BLT pretzel rolls.
Hotel Hershey is a great option to stay near Hersheypark. The hotel was founded in 1933 and is great four star luxury option featuring a spa and fine dining on-site. The Historic Hotels of America member sits on a hilltop overlooking the town of Hershey and its attractions.
Hershey's Chocolate World: Half a Day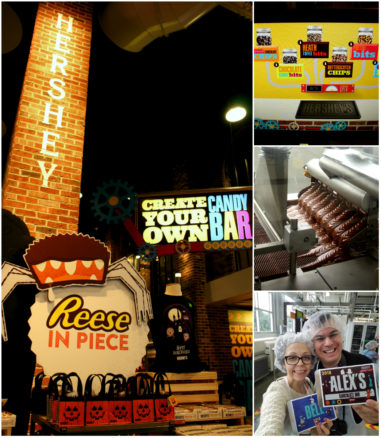 "There's a Chocolate World at Hershey?!" has been the response from several people regarding our experience in Hershey. Queue your childhood fantasies because Hershey is like a cross between Willy Wonka and Disney. There's a lot to experience at Chocolate World including the free Hershey's Chocolate Tour ride, where you receive a complimentary product sample at the end.
It's a fun and interesting ride where you get to see and smell the transformation of cocoa beans into chocolate during a moving journey filled with sweet characters. Lines for the ride can be around 30 minutes on weekends, but often there's no wait on weekdays. If you can visit Chocolate World on a weekday during your trip, plan for that.
Activities at Chocolate World
Asides from the Hershey's Chocolate Tour ride, there's a lot of other fun activities at Chocolate World that can either be purchased as standalone experiences or bundled. We did Create Your Own Candy Bar ($21.95), the Chocolate Tasting Experience ($10.95) and took a 75-minute Trolley Works tour around the town of Hershey ($13). You can bundle everything mentioned, including a 4D Chocolate Movie for $40 for adults and $33 for children. Bundles start at $15 and you can see all the Chocolate World ticket and bundle options here.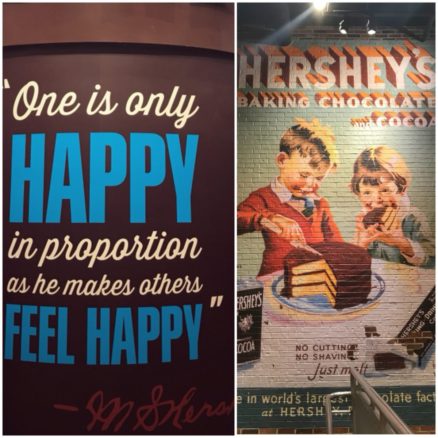 Create Your Own Candy Bar Experience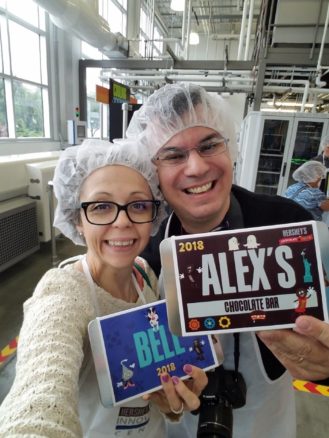 The Create Your Own Candy Bar Experience is fun and unique. You're given the option of choosing your chocolate flavor and toppings on a computer screen. Then you get to follow your chocolate bar down the production line and watch the toppings get applied. After following your chocolate bar, you then design a custom label for it. I was certain Bell would design a better label than me, so I actually put far more effort into creating mine than she did.
Chocolate Tasting Experience
The Chocolate Tasting Experience is also interesting and fun for kids and adults. Guests learn about chocolate production and how to properly taste chocolate. Before tasting four different types of chocolate, we tasted cocoa nibs (pieces of cocoa beans). Cocoa nibs are high in antioxidants, which is why dark chocolate, in moderation, has health benefits. We were asked to touch all the flavors of the four chocolates we tasted on a computer screen and the results were then added up amongst the group. It was interesting to see how our palates stacked up to the group, along with the Hershey's chocolatiers.
Trolley Works Tour

The 75 minute Trolley Works tour is a historical sightseeing and chocolate tasting tour. Knowledgable and entertaining guides regale visitors with history and stories while frequently passing around trays of assorted chocolates. Guests learn the ups and downs of founder Milton Hershey's life, the Hershey company and various aspects of the town, from production facilities to everyday life like education. Life in the United States prior to chocolate production is referred to as BC (Before Chocolate). Highlights of the Trolley Works tour include Milton Hershey's birthplace, his former home at Highpoint Mansion, Chocolate Avenue, the Hershey Kiss Streetlights,  views of HersheyPark and the Milton Hershey School.
Sweet Recommendations at Chocolate World
There are lots of fantastic fresh chocolates, baked goods and milkshakes available for purchase at Chocolate World. We highly recommend the dark chocolate covered bacon with chocolate chips, which are an excellent deal at three pieces for $5. The many fresh muffin choices (some packed with Reese's peanut butter cups and other chocolate flavors) are another confectionary delight. These options exceeded our expectations with Hershey's.
Cocoa Kayak: 2 & 3 Hour Kayaking Trips on Swatara Creek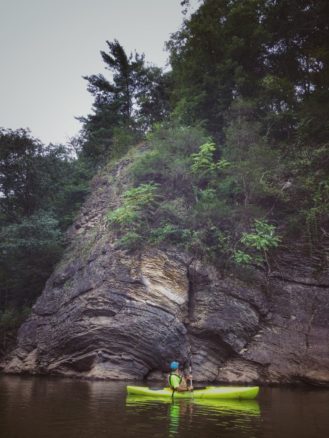 With so much chocolate in Hershey, it's a good idea to do something physically active. We really enjoyed our kayaking tour with Cocoa Kayak Rentals of Hershey. Ben and Deb are a wonderful couple that have been running the company for the past six years. Ben is also involved in keeping the local waterways healthy by organizing clean ups. They have several options for kayaking trips that range from 2-3 hour trips, both guided and un-guided.
We did their 2-hour guided Tavern Run that leaves at 9am. The Tavern Run involves a leisurely 5-mile paddle down the picturesque Swatara Creek, which is lined with impressive trees and dotted with small islands. We saw several birds including great blue heron and a bald eagle sail overhead. Cocoa Kayak is a small mobile business, with stream side meet up locations at water trail access points, instead of an outfitter shop.
We loved how Cocoa Kayak covers a lot of little details. They loaned our group (which included two others) waterproof cases to protect our cell phones. There was some rain during our tour and they distributed ponchos to keep us dry. So even if there is some light rain, you can still enjoy kayaking with them.  Single kayaks start at $39.99 for 2 hours. You can see the full calendar of options and book via the Cocoa Kayak website. For more information or to make a booking you can also call Ben at 717-756-5766 or email [email protected].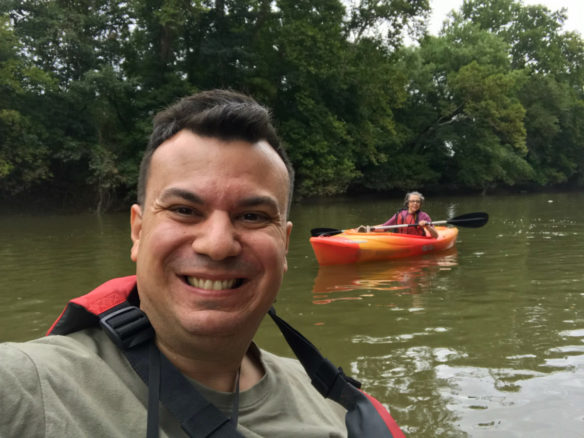 After our Saturday morning kayaking tour with Cocoa Kayaks we went to Harper's Tavern for lunch, as Ben and Deb highly recommended it. This is an excellent historic tavern in business since 1804 and just a couple hundred meters from the meet up point of the Tavern Run. I personally recommend their fried Haddock sandwich with fries. The potatoes are locally sourced and the fried fish was really good.
Troegs Brewery: 2-Day Itinerary in Hershey and Harrisburg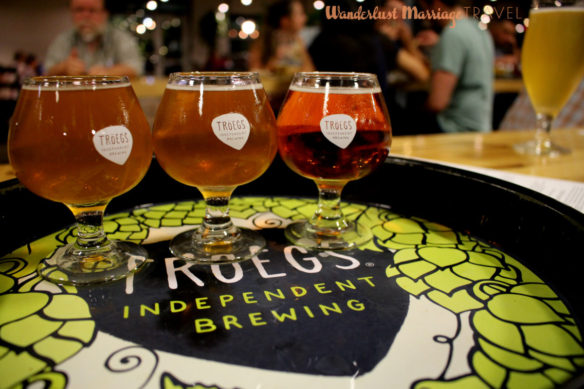 There are several great breweries in Hershey and Harrisburg. Troegs is close to the Hershey attractions, featuring a spacious beer hall with open table seating. It's somewhere you can quickly duck in and out of with kids too, as food is ordered at the counter. There's an option to do self-guided tours of the brewery in addition to guided tours. Troegs Perpetual IPA is an excellent choice if you like flavorful hoppy beers.
You can also choose your own tasting of beers they don't sell outside the brewery. My favorite was the #340 double dry hopped IPA, with notes of elderflower, mixed berry jam and a hint of citrus. Highlights of the food we ate at Troegs were the Troegsworst sausage and brown butter & rosemary popcorn. We were really excited by the duck confit with polenta, but it was the weakest dish we tried at Troeg's as the polenta was a little dry. The duck confit itself was fine, but the Troegsworst sausage was excellent.
Hershey Story
Hershey Story is an interesting and tasty museum located on 63 West Chocolate Avenue. The museum showcases the history of Hershey, Milton Hershey's philanthropic legacy and the town of Hershey, PA. Exhibits explore Mr. Hershey's early failures, how he successfully revolutionized the process of making milk chocolate, and how he donated his fortune to the orphan boys of the Hershey Industrial School.
Hershey Story also has a chocolate lab, where you can make your own chocolate bar. This is a very different experience from making your own candy bar at Chocolate World, because in the lab you make your chocolate bar by hand. This also means you don't customize a fancy label on a computer screen, but simply write your name with a marker.
The Chocolate World candy bar looks more impressive, but the hand made chocolate bar tasted better in our opinion. That, however, is totally subjective, because the topping choices in the lab included cocoa nibs, crushed red pepper and cinnamon. Many would prefer the more traditional confectionary options like butterscotch chips,  sprinkles, crispy rice and Heath toffee bits at Chocolate World.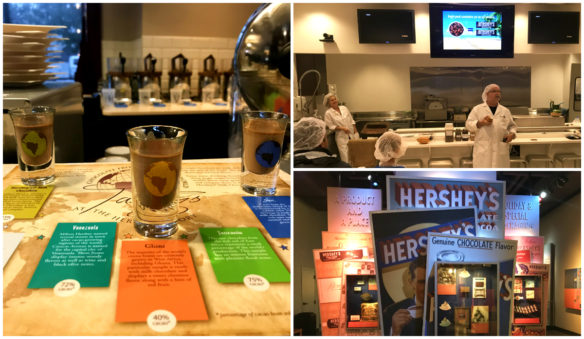 The single origin chocolate tasting at Hershey Story is also worthwhile. You have a choice between 3 or 6 shot glasses of warm chocolate, ranging from dark chocolate from Tanzania to milk chocolate from Java. When tasting chocolate remember to start with darker (more bitter) and end with sweeter milk chocolate. But don't worry, you'll be reminded of this when tasting chocolate at Hershey's.
Hershey Story currently has a special exhibition on Mr Hershey's Cuba, a Sweet Venture in Sugar 1916-1946. The exhibit explores how sugarcane is processed into both raw and refined sugar. Milton Hershey was awarded the "Grand Cross of the National Order of Carlos Manuel de Céspedes" by Cuba's president in 1933. It was the highest honor a foreigner could receive from the Cuban government and the medal is on display in the special exhibition.
National Civil War Museum in Harrisburg
An affiliate of the Smithsonian Institute, the National Civil War Museum is the largest museum in the world fully dedicated to the American Civil War. It houses an impressive collection of over 24,000 artifacts, manuscripts, documents and photographs. The museum offers an unbiased account of the American Civil War that occurred from 1861-1865, from both a military and civilian perspective.
The National Civil War Museum has several impressive exhibitions. One depicts an amputation following battle. The museum isn't well suited for young children, but consider taking older kids there. It's an opportunity to learn about the history of slavery and the human costs of war, along with the inclusion of minorities and women in the American Civil War.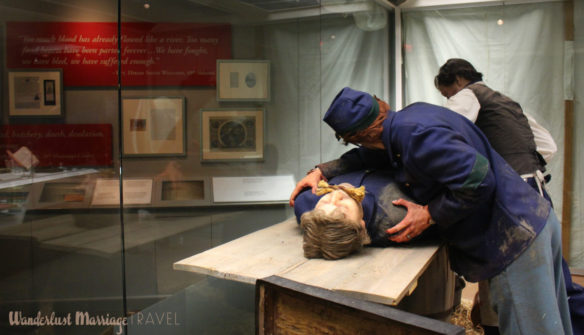 After visiting the National Civil War Museum, visit Broad Street Market in downtown Harrisburg. Then head into Millworks for lunch. Millworks is a brewery, gastropub and art gallery right across the street from Broad Street Market. Their barley salad is an outstanding dish, and it's fun to peruse quality local art over a beer.
The Vineyard and Brewery at Hershey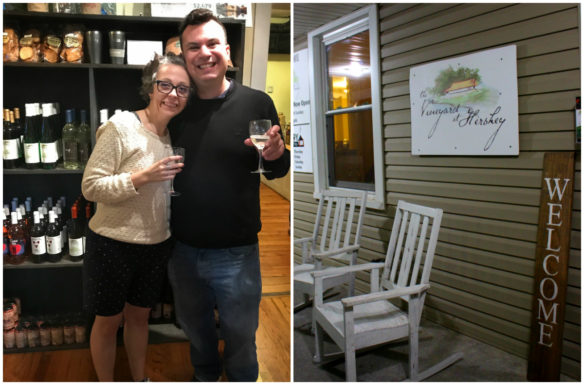 The climate in this region is similar to the wine producing region of Germany. So white wines, especially German-style rieslings are popular in this region. We enjoyed tasting 6 wines for just $6 in the tasting room at the Vineyard at Hershey. A couple of favorites that we brought home are their blackberry fruit wine and the strawberry cider. A portion of the proceeds from the strawberry cider goes towards assisting wounded veterans.
There's also a brewery right next door to the wine cellar at the Vineyard at Hershey. The concept of having wineries and breweries on the same property is becoming more common. Unfortunately, we didn't get a chance to try their brewery. So I can't give specific recommendations on their beers. But the Vineyard and Brewery at Hershey is an excellent idea if your group includes both wine and beer drinkers.
The Pennsylvania State Capitol Building in Harrisburg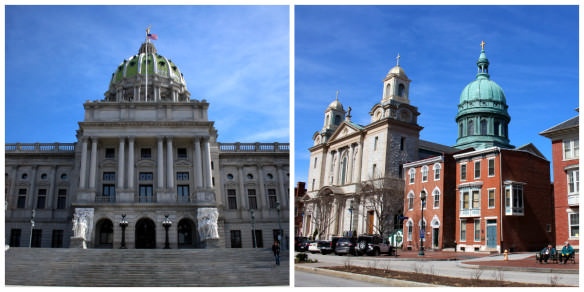 Harrisburg has been the capital of Pennsylvania since 1812. The current Pennsylvania State Capitol building was completed in 1906 and designed in a Beaux-Arts style with decorative Renaissance art. Guided tours of Pennsylvania's Capitol are offered every 30 minutes Monday – Friday from 8:30 a.m. to 4:00 p.m. On weekends and most holidays, tours are offered at 9:00 a.m., 11:00 a.m., 1:00 p.m. and 3:00 p.m. We did not tour the Pennsylvania State Capitol building on our most recent visit, but previously stopped in during our 1,800 mile 10 year wedding anniversary road trip a few years ago. 
Hersheypark
If you like amusement parks, Hersheypark has rides for all ages. There are thrill rides and kids rides, many are Hershey themed, like the Kissing Tower and Hershey Triple Tower. If you visit Hersheypark, plan to spend at least half the day there and pick what else interests you from our recommendations. We did not visit Hersheypark during our visit, but we plan to go next time!
For more information to help plan your trip to Hershey and Harrisburg, PA check out the official VisitHersheyHarrisburg website.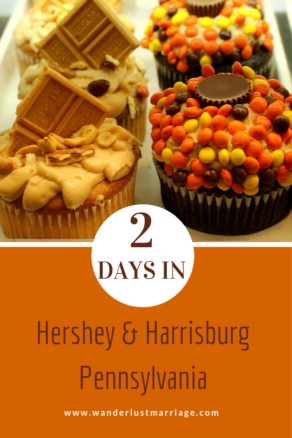 Disclosure: We were hosted by Visit Hershey & Harrisburg and the Hotel Indigo Harrisburg-Hershey. But all opinions expressed here are ours. Also, this article contains some affiliate links where we receive a small commission from bookings, at no extra cost to readers.