By Alex Kallimanis: Tarpon Springs, Florida, just 30 miles northwest of Tampa, has the highest per capita Greek population of any town in the United States. The area first saw a significant wave of Greek immigrants in the early 1900's, primarily from Dodecanese islands like Kalymnos. Those immigrants built the sponge docks, and the sponge industry remains an important part of the local economy. A huge variety of Greek restaurants, bakeries and shopping make Tarpon Springs a great tourist draw. Authentic Greek food and culture gives the town a true Greek islands vibe.
When we resided in Tampa, we visited Tarpon Springs regularly, and we recently returned with my father and some friends to celebrate his 90th birthday. Here are some great tips for visiting Tarpon Springs, Florida!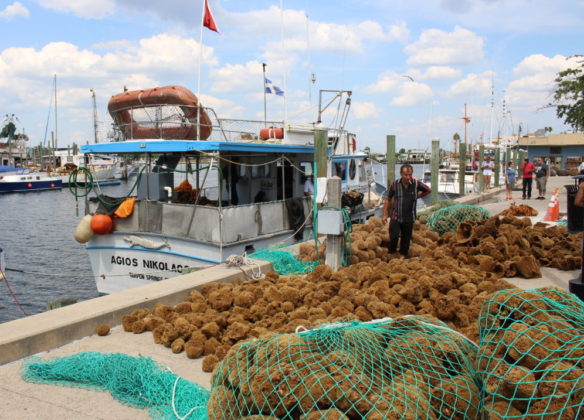 Sunset Beach
Sunset Beach is a lovely spot to soak up some sun and fresh seaside air along the Gulf of Mexico. Lay out during the day or enjoy a stunning sunset on the beach. The vibrant orange, pink and red colors in the sky, set to a vista of palms trees is dramatically beautiful, making the beach appropriately named. Pack a picnic filled with local Greek treats you pick up from bakeries in Tarpon Springs! There are lot of picnic tables on Sunset Beach with lovely views of the palm trees and Gulf of Mexico.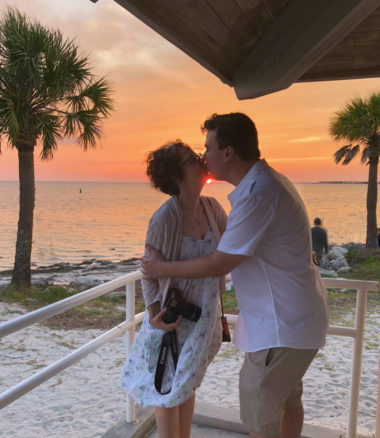 Fred Howard Park
Fred Howard Park is another wonderful spot for beach goers. A scenic one-mile long causeway connects the park with the mainland. Enjoy the white sand beach, which offers lovely views of windsurfers navigating the Gulf waves. The park has picnic shelters, a butterfly garden, softball field, beach volleyball court, playground and a hiking/biking trail. It is just 1.3 miles (2.2km) from Sunset Beach to Fred Howard Park. You can drive, bike or even walk between the two beautiful parks!
Where to Eat in Tarpon Springs, Florida
Tarpon Springs offers some of the best bang for buck eating on the coast of Florida. Highlights among the many restaurants include delicious traditional Greek dishes, fresh seafood and an abundance of wonderful patisseries. Enjoy Greek wine as the country produces quality wines beyond retsina and they're well priced in the restaurants of Tarpon Springs. A popular appetizer to order around town is saganaki (halloumi sheep cheese set ablaze table side). Here are some of the very best places to eat in Tarpon Springs:
The Limani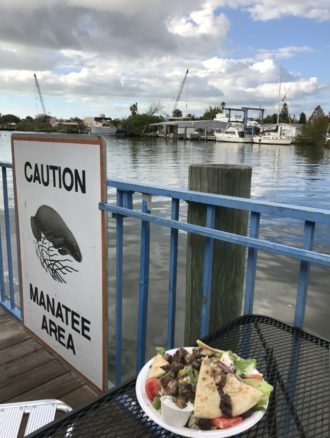 The Limani is the place to go for a fast and delicious lunch that won't break the bank. While not a full-service restaurant, they do have outdoor tables on the water. They prepare an excellent Greek salad topped with delicious souvlaki style pork for under $10. Combined with the waterfront location, this is one of the most popular places to eat in Tarpon Springs. This location is cash only.
Dmitri's on the Water
We enjoyed Dmitri's on the Water so much that we returned the next day for lunch. The food, prices, service and lovely waterfront location make it one of the best places to eat in Tarpon Springs. Traditionally, Greeks eat family style. So order dishes to share among your table. Their octopus stifado (octopus cooked in tomato sauce with feta cheese) is delightful. All their seafood is fresh and the whole fish is well priced. Their complimentary bread and olive oil dip (mixed with balsamic vinegar, garlic and spices) is excellent and sets the tone for a great meal ahead.
Katerina's Taverna and Grill
Just off the tourist trail of the sponge docks, the food at Katerina's Taverna and Grill is fantastic. Their village salads, piled with excellent feta and Greek croutons reminds us of the most delicious salads we've enjoyed in Crete. The Greek food at Katerina's is as authentically Greek as it gets. The one exception is that they gave us butter instead of olive oil to dip the bread in. Just ask them for olive oil if you prefer that, like we do. They will happily oblige with excellent extra virgin olive oil! And the staff are very generous to offer more complimentary bread without even asking.
Hellas Restaurant and Bakery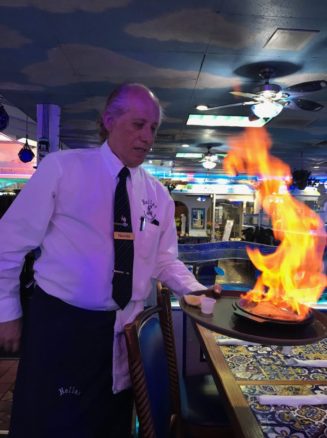 Hellas Restaurant is one of the most popular Greek restaurants and bakeries in Tarpon Springs. Given its festive ambiance, we decided to give them another try with my father and friends. The food is good, but not the best in Tarpon Springs. They also don't serve quality olive oil to dip your bread in like Dmitri's on the Water.
Hellas' bakery is impressive though, with a wonderful variety of Greek, Italian and American desserts. I recommend passing on their restaurant and swinging by for a coffee and pastry at the bakery instead. Enjoy a Greek coffee, Espresso Fredo or excellent Frappe au la mode there. There are so many excellent choices from baklava to key lime pie – covering dessert highlights from Greece to Florida. Or try a lesser known sweet like Diples – a fried Greek pastry with honey and nuts. They also bake delicious Melomakarona (honey & spice Greek cookies), made with walnut, spices, orange & honey. Melomakarona are traditionally a Greek Christmas cookie, but you can find them year round at Hellas and around Tarpon Springs bakeries.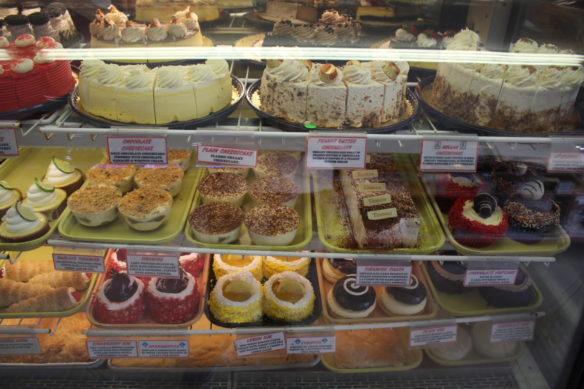 Fournos Bakery
This small bakery at 520 Athens Street is wonderful for Greek desserts, small bites and fresh baked bread. Try their tahini- ropita – its a huge sweet treat smothered in tahini. Their spanakopita (spinach pie) or tiropita (cheese pie) are great if you want a tasty and quick lunch or savory snack. Fournos Bakery bakes excellent bread if you want to make sandwiches, or just dip it delicious Greek extra virgin olive oil or honey (which they also sell). Grab a huge fresh baked loaf of their village bread or Athens bread for just $2!
Where to Stay in and Around Tarpon Springs
Luxury
Innisbrook Golf Resort in nearby Palm Harbor is an excellent choice to spend your vacation. The resort has outdoor pools with water slides, 11 tennis courts and 4 golf courses. There is also a full-service spa with massage service and sauna, as well as a fitness facility. Guests can choose between 5 on-site restaurants like Packard's Steakhouse. A flat-screen cable TV and kitchenette are provided in all suites. Some suites have a fully equipped kitchen, balcony, and sofa bed.
Mid Range
Hampton Inn and Suites Tarpon Springs is 3 miles from Tarpon Springs' historical district. A gym and business center are available, along with on-site laundry facilities. Hampton Inn offers a reliably comfortable stay with plush beds and a good complimentary breakfast for a chain hotel.
Budget
Quality Inn and Suites Tarpon Springs has an outdoor pool, hot tub and fitness center. All guest rooms have a coffee maker, desk, hair dryer, cable TV, iron and ironing board. Some rooms have a microwave, refrigerator, sofa sleeper and balcony. Other amenities include a free breakfast, free wireless high-speed Internet, free daily newspaper and free phone calls. Quality Inn and Suites Tarpon Springs is a short drive from the Tarpon Springs Sponge Docks, Clearwater Aquarium, Howard Park Beach, Caladesi Island State Park and Brighthouse Fields.
Tarpon Springs Boat Tours
Dodecanese Boulevard is a great area to unwind, packed with good restaurants, shops and several companies offering short boat tours. You can take a boat ride out to see dolphins, manatees and nearby islands for under $20, right from the docks along lovely Dodecanese Boulevard. Be aware that if you visit during the week when there aren't so many tourists, you could see your sunset cruise canceled. The owner of Spongeorama Cruise Line informed us that they require a minimum of 20 people on their cruises otherwise they don't run them. So instead of watching the sunset on the cruise, we drove to Sunset Beach instead, which was also beautiful.
 Tarpon Springs Shopping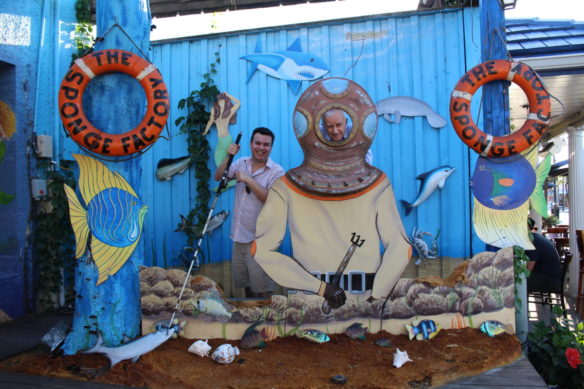 There's a wide variety of good shopping options in Tarpon Springs, from kitsch Florida souvenirs to high-quality Greek made products like soaps and creams. The town was built on sponges and that's still a big draw of Tarpon Springs today. Every time we visit Tarpon Springs we purchase some sponges to take home and to give as gifts. If you want sponges to wash yourself with, pay a little extra for the wool sponges, which are softer.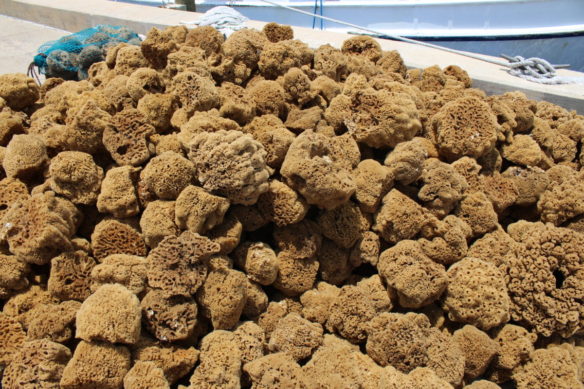 Swing into Leather Outlet for great deals on jewelry (including emeralds from Colombia), along with beautiful leather wallets starting at $10 and leather bags. You can also stock up on Greek olive oil and other goodies from overseas for reasonable prices.
Saint Nicholas Greek Orthodox Cathedral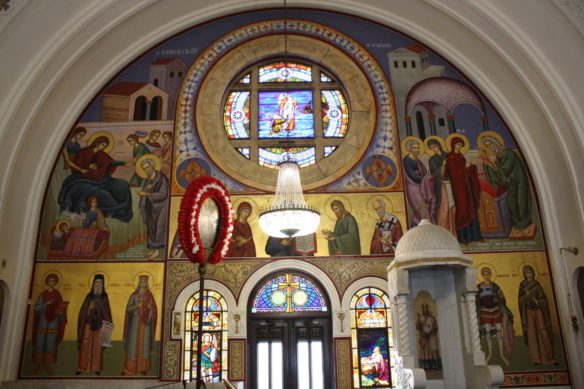 Saint Nicholas Cathedral is the parish for Greek-American life in Tarpon Springs, Florida. Located at 36 North Pinellas Avenue, the storied Neo-Byzantine church features beautiful frescoes and marble from Greece. Saint Nicholas is the patron saint of the sea, so many Greek churches and cathedrals are named after him.
St. Nicholas hosts an annual Epiphany celebration on January 6, where Greek Orthodox boys aged 16 to 18 dive into the Spring Bayou to retrieve a white wooden cross. It draws thousands of spectators and is televised in the Tampa area. Legend says the finder of the cross will be showered with good luck for the year. The diving of the cross is the largest event of its kind in the Western Hemisphere, with thousands in attendance. A statue of an epiphany diver is located in front of St. Nicholas Cathedral.
Tampa, Clearwater and St. Petersburg Tours
While you're in the area on vacation, consider one of these great tours!
A St. Petersburg Historical Segway Tour is a fun way to get to know the town. Learn about the Sunshine City's historic sites and Victorian homes as you loop around town. Tours are from $60 per person.
Take a Tampa History Cruise. Learn about Tampa's history through live on-board commentary while you sail. Multiple departure times make it easy to fit into your itinerary. Light refreshments are provided. Tours start at $30.77.
A 2 Hour Cruise Around Clearwater Beach with Optional Dining. Enjoy an afternoon on a narrated 2-hour sightseeing cruise along Tampa Bay and Clearwater's beautiful inland waters. Aboard the lovely StarLite Majesty yacht, enjoy the open-air deck or select the climate-controlled indoor cabin if it's too warm. This is a great opportunity to see dolphins in the Gulf! Tours start at just $17.52 with the opportunity to add lunch.
Tarpon Springs Recap
Tarpon Springs is one of the best destinations in the USA to experience Greek culture in a picturesque setting. Enjoy authentic Greek cuisine and desserts seaside and lap up the ambiance with your loved one or your family. Don't forget to purchase some sponges too. They're wonderful for bathing and cleaning so they make for ideal gifts. Tarpon Springs is one of the best Florida vacation destinations for culture.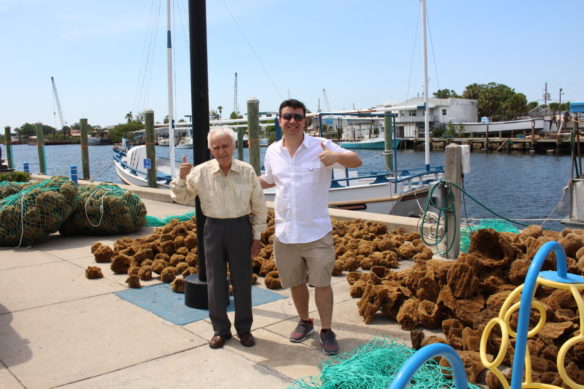 Have questions about planning your Florida vacation? Leave a comment below or email me at alex(at)wanderlustmarriage.com! You may also want to read my articles on Great Day Trips from Tampa and Alternative Orlando Gems You Don't Read About.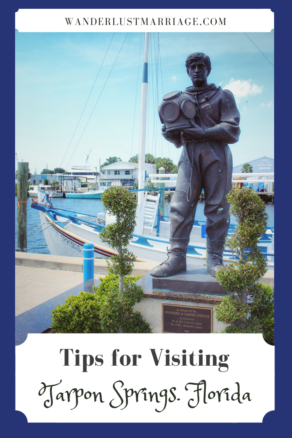 Disclosure: This article contains affiliate links. We receive a small commission when you book or sign up through these links and it costs you nothing extra. Thanks for using them!