Just 30 miles northwest of Tampa, Tarpon Springs has the largest per capita Greek American population among USA destinations. Around 25% of over 29,000 Tarpon residents are of Greek descent. An abundance of excellent Greek restaurants, bakeries, fresh seafood, craft breweries, boutique shops, beach concerts and festivals makes Tarpon Springs a popular tourist draw – especially on weekends.
The Sponge Docks are also a great place to take a boat tour to nearby Anclote Key, for fishing, dolphin watching, or a small boat sunset cruise. This unique Florida Gulf Coast town offers a slice of the Mediterranean along Dodecanese Boulevard and Athens Street. Revitalized downtown Tarpon Springs is home to an additional wealth of excellent restaurants, a hip cocktail bar, wine bar and breweries among hip hangouts.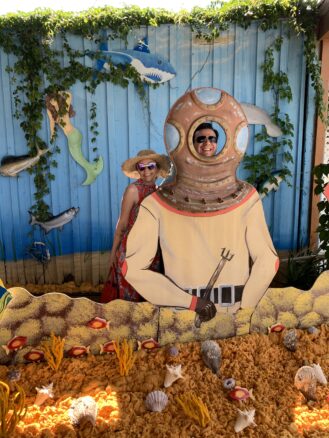 When we resided in Tampa, we visited Tarpon Springs regularly. While living in Washington, DC, we returned with my father and some good friends to celebrate his 90th birthday. We loved the area so much, we recently relocated here when we bought a house in Tarpon Springs. You can read our moving to Florida tips if that's a topic that interests you. Here are local tips for visiting Tarpon Springs, Florida that goes beyond just the most popular tourist spots!
Tarpon Springs Sponge Docks and the Sponge Industry
Tarpon Springs is considered the Sponge Capital of the World. In the early 1900's, around 500 Greek sponge divers immigrated primarily from the Dodecanese Islands and helped grow the industry. Prior to the 1940's, the sponge industry brought in even more money than tourism to the state of Florida!
To harvest sponges, divers take 20 day trips into the Gulf of Mexico to sustainability hand cut sponges from the bottom of the sea. They leave a small sliver so the sponges grow back. I love using a natural sea wool sponge in the shower. It's such a natural and soft way to clean yourself! While on the Sponge Docks along Dodecanese Boulevard, you may see a boat that has just returned with a huge nets of various sponges.
There are a lot of shops to purchase a variety of natural sea sponges. The Sponge Factory offers some of the best prices on natural sea wool sponges. They also sell a variety of other quality products from handmade soaps to Greek hand creams featuring olive oil and chamomile. There is a fun display out front that includes a painting of an original sponge diving suit that you can get photos with. You can learn more about the sponge industry on a boat tour or by watching one of the videos in the sponge shops.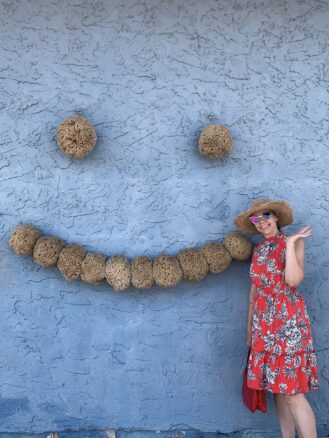 Tarpon Springs Restaurants
Tarpon Springs offers some of the best value dining along the coast of Florida. Highlights among the many restaurants include delicious traditional Greek dishes, fresh seafood, great patisseries and bakeries, ice cream shops and a variety of cuisines like Italian, Creole, Japanese and Mexican.
Enjoy Greek wine as Greece produces quality red and white wines beyond traditional retsina. Greek wines are typically well priced in the restaurants of Tarpon Springs, especially compared to big cities like New York, Washington, DC, Chicago and Boston. A popular appetizer to order around town is saganaki (typically halloumi sheep cheese set ablaze table side). Here are some of the best places to eat in Tarpon Springs!
Katerina's Taverna and Grill
Just off the tourist trail of Tarpon Springs famous Sponge Docks, the food at Katerina's Taverna and Grill is fantastic. Their village salads, piled with excellent feta and Greek croutons reminds us of the most delicious salads we've enjoyed on islands like Crete, Naxos and Andros. Katerina's is wonderful for traditional Greek dishes like Moussaka, Pastichio, Souvlaki, roasted lamb and grilled seafood.
There are small touches at Katerina's Tavern and Grill that are not frequently found outside Greece. One of them is the char-grilled bread with a hint of lemon, served with pork souvlaki. Their gyro meat on a spit includes succulent pork slices, instead of the overly processed mystery beef and lamb combination served in some restaurants.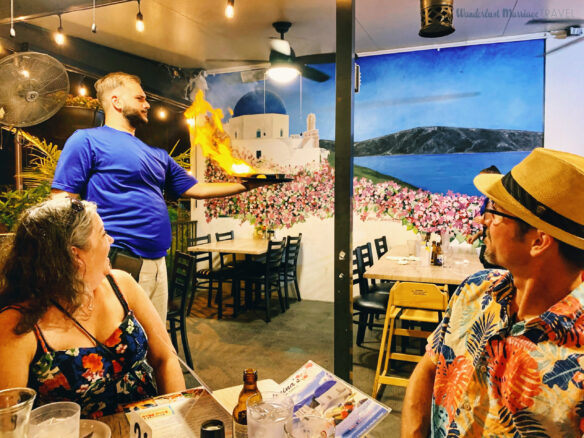 Hunger is quickly satiated at Katerina's because like many Greek restaurants in Tarpon Springs, they serve complimentary white and wheat bread shortly after customers sit. Catering to American preferences, Katerina's serves butter with their bread instead of extra virgin olive oil. But you can request olive oil if you prefer it, like we do. They will happily oblige with a delicious small plate of olive oil mixed with herbs and spices. Their warm staff are generous and sometimes offer additional complimentary bread you even ask!
The Bistro
The Bistro is one of our favorite restaurants to dine in downtown Tarpon Springs. Its charming decor and fun ambiance is perfect for a date night. Their menu features a variety of Mediterranean dishes, including some Greek and Italian favorites.
One of my favorite dishes at The Bistro is the pollo pesto pasta. The dish consists of homemade gemelli pasta with chicken, shaved parmesan, asparagus, roasted red peppers and grape tomatoes tossed in pesto sauce. You also can't go wrong with their Bistro Burger, which includes a half pound of short rib brisket in between a brioche bun, accompanied by parmesan truffle fries.
Bayou Bistro
Bayou Bistro is a wonderful restaurant and bar for delicious seafood in a completely unpretentious environment. It's located right on the water and has a quintessential laid-back Florida vibe to it. We highly recommend ordering off their specials menu. We've enjoyed the most delish scallops and ahi tuna at Bayou Bistro.
Bayou Bistro is also an especially idyllic spot to drink or dine just before sunset. Sunsets from their outdoor terrace are breathtakingly beautiful. It's also a great place to enjoy beer from local Florida breweries, as they feature several delicious rotating local brews on draft.
Rusty Bellies Waterfront Grill
Rusty Bellies Waterfront Grill is the most popular seafood restaurant in Tarpon Springs. They have an extensive menu including a variety of fresh seafood, pastas and even sushi Thursday – Saturday after 4pm. The wait, especially on weekends, is usually around 90 minutes. And unfortunately, they don't take reservations. A good strategy is to arrive before you're hungry to put your name on the waitlist. Then enjoy drinks at their bar or browse the shops along the Sponge Docks.
Yiannis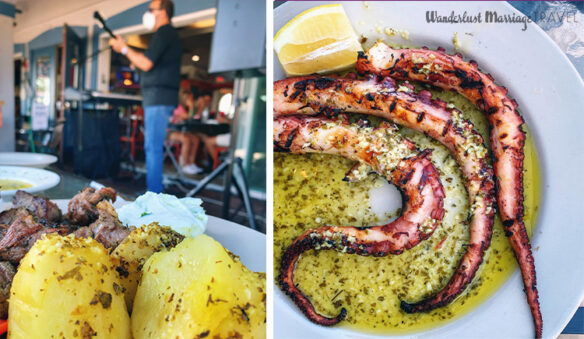 Yiannis Seafood and Greek Cuisine is a local favorite for dishes like delicious char-grilled octopus expertly prepared with extra virgin olive oil, spices and lemon. Their lamb dishes, souvlaki and spanakopita (spinach pie) are also fantastic. They typically feature live music on weekends including local Greek musicians like Demetrios. Weekends are the best time to visit Yiannis for its lively atmosphere. While Yiannis doesn't have outdoor tables along the water like Dmitris on the Water, their excellent grilled food makes up for that.
Hellas Restaurant and Bakery
Hellas Restaurant is one of the most popular Greek restaurants and bakeries in Tarpon Springs. On weekends, the line is often out the door. The food and atmosphere at Hellas is pretty good, as its a local institution. But it's not worth waiting if there is a long wait. There are other delicious restaurants in Tarpon Springs and Hellas is not the best for most dishes. They also don't serve quality extra virgin olive oil to dip your bread in like some of the other nearby Greek restaurants. They will serve it to you upon request though.
Hellas' house Greek wines are well priced and tasty. A red will pair well with a roast lamb dish. Their house white pairs well with seafood and/or a very hot summer day. Fix is a smooth Greek lager that's preferable to Mythos or Budweiser.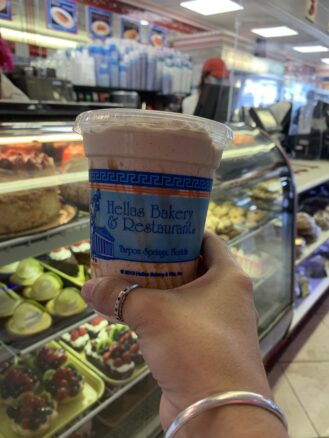 Hellas' bakery is impressive on the eyes, with a massive selection of Greek, Italian and American desserts. This is a nice spot to enjoy a coffee and pastry. We always order their Frappe au la mode – a delicious blended mix of coffee and ice cream. Dessert choices range from baklava cheesecake to key lime pie – covering many bases between Greece and Florida. You can also try a lesser known Greek dessert like Diples – a rolled crispy fried pastry filled with honey and nuts.
The Limani
The Limani is the place to go for a fast and delicious lunch that won't break the bank. While not a full-service restaurant, they have outdoor tables on the water. Their Greek salad topped with delicious souvlaki style pork is excellent. Combined with a great view of the Sponge Docks, this is one of the most popular places to eat in Tarpon Springs. Note that the counter service location is cash only. But it's also the best value for money along the Sponge Docks, so it's perfect for budget travelers.
Tarpon Springs Cafes and Coffee Shops
Copenhagen Cafe
Danish owned Copenhagen Cafe brews great espresso based coffees in Tarpon Springs. They make homemade bread and an assortment of delicious cakes, gelatos and treats (we love their rum balls). You can enjoy a European-inspired breakfast, lunch or dinner there.
Copenhagen Cafe has a good selection of vegetarian options, including vegan options like Chickpea Masala, Lentil Soup and African Soup. As someone whose lactose intolerant, I appreciate that they have a good selection of non-dairy milks for lattes and cappuccinos, like coconut milk, almond milk and soy milk.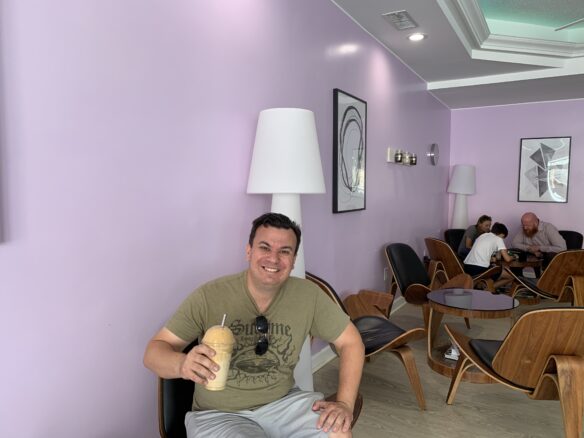 Urban Grounds
Urban Grounds is a charming cafe in downtown Tarpon Springs. Their coffee beans are sourced from high quality farms. So their baristas currently brew perhaps the tastiest espresso based coffees in town. Established in 2021, they have a charming motto – "Enter as strangers. Leave as friends."
Urban Grounds also has a wide selection of desserts like cupcakes, scones, muffins and cakes. They're made in house by Lolita's Cupcreations. You can also have a light lunch from a selection of wraps and quiches.
Urban Grounds Address and Contact Details
150 East Tarpon Avenue, Tarpon Springs, Florida 34689, United States
Phone: 727-940-8830
Email: [email protected]
Tarpon Springs Bakeries, Delis and Markets
National Bakery
National Bakery prepares some of the best Greek desserts, including baklava, in Tarpon Springs. Their Melomakarona are another popular favorite (honey & spice Greek cookies), made with walnut, spices, orange & honey. Melomakarona are traditionally a Greek Christmas cookie, but you can find them year-round at Tarpon Springs bakeries. 
National Bakery also sell quality large fresh breads without preservatives for around $3. Along with a variety of sweet treats, try their almond cookies, which is a specialty of Mykonos. Note that National Bakery is cash only!
National Bakery address:
451 Athens St.
Fournos Bakery
Fournous Bakery is great for fresh-baked bread, small bites and desserts. Their spanakopita (spinach pie) or tiropita (cheese pie) fit the bill for a tasty savory snack or lunch on the go.
Fournos Bakery bakes excellent fresh bread if you want to make sandwiches for a picnic at the beach or park. It's also great for dipping in delicious Greek extra virgin olive oil or honey (which they also sell). Grab a huge fresh-baked loaf of their village bread or Athens bread for just $3!
Fournos Bakery
520 Athens Street.
Acropolis Meats and Deli
Acropolis Meats and Deli is fantastic. As Tarpon Springs locals, this is our go-to place for meats, cheeses, olives and more. If you're staying in an Airbnb in Tarpon Springs swing by the deli to stock up. A few things we highly recommend are their sliced prosciutto, house-made roast beef, feta, graveria (aged Greek sheep cheese), fresh bread, Kalamata olives, Greek extra virgin olive oil, sausages and more.
It all adds up to a great arsenal for picnic supplies at the beach. They also sell a great selection of steaks, pork chops, crab cakes and more that you can throw on the grill at home or even on a pubic grill in Fred Howard Park!
Acropolis Meats and Deli
148 E Tarpon Ave, Tarpon Springs, FL 34689
Agora Food Market
Agora Food Market is the best place to stock up on imported foods from Greece. This is the place to buy fantastic Greek extra virgin olive oil, oregano, dried figs, honey, dolmades, wine, pastas and more. Their deli has a nice selection of olives and Greek cheeses like feta, graveria and kasseri. If you enjoy tea, try Greek mountain tea with nice honey – it's relaxing before bed and filled with anti-oxidants.
602 Athens St, Tarpon Springs, FL 34689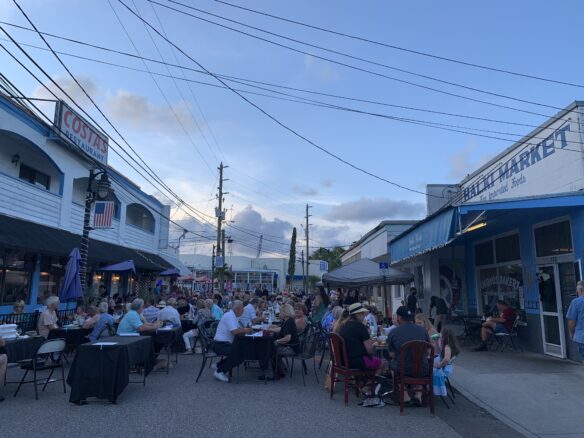 Pelican Point Seafood
Pelican Point Seafood is a retail and wholesale seafood market in Tarpon Springs that carries local, wild caught Florida seafood and more. We love buying seafood like wild salmon, ahi tuna, shrimp and flounder from Pelican Point. Sometimes they also sell delicious house-smoked fish. This great local business helps support local fishermen, many of whom's families have been involved in the industry for multiple generations.
Tarpon Springs Breweries, Wineries and Distilleries
5 Branches Brewing
Tarpon Springs has several great craft breweries, multiple wine bars and a distillery. If you're strolling around the Sponge Docks, 5 Branches Brewing is conveniently located on Athens Street, near Dodecanese Boulevard. They recently won the Silver Medal in the Imperial Stout category at the Great American Beer Festival for their Doggin Wrench Imperial Stout. They were also awarded the Very Small Brewing Company Brewer of the year at the Great American Beer Festival.
One of my favorite beers at 5 Branches Brewing is their Red Tail Red IPA. The brew is perfect for those that like a well hopped beer that doesn't skimp on maltiness. They also brew a delicious German Dunkel and often rotate through a variety of small-batch offerings including Belgian quadruples. They feature live music from 7pm-10pm on Saturday nights. 5 Branches Brewing hosts open mic nights on Wednesday from 6:30pm – 9:30pm. Pop into this veteran owned establishment for a tasty brew and some fun!
Unrefined Brewing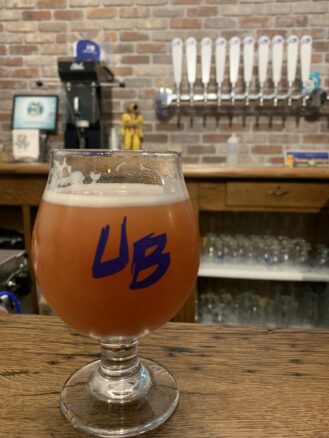 A quaint and fun space to enjoy delicious craft beer in Tarpon Springs is Unrefined Brewing. They feature 20 taps with a variety of brews from stouts, IPA's to sours. Try their Number 6 Dance, a Double Imperial Milk Stout with dark bitter chocolate and hints of vanilla. They brew a wide variety of interesting sours, more than most brewers. Their Bacchus sour is aged in Cabernet Sauvignon barrels with lactose and vanilla beans. We especially love the fruited sours there as they aren't too sweet, and have a refreshing tartness. Try their I'm in Crisis Sour, a kettle sour with blackberries, cherries, lactose and vanilla.
Tarpon Springs Distillery
If you're looking for a delicious cocktail, with a fun and unpretentious vibe, visit Tarpon Springs Distillery. They have an excellent menu featuring a variety of Old Fashions, Mojitos, Margaritas and more. Tarpon Springs Distillery offer tours of their distillery, which produces whisky, rum, gin and vodka. They also distill ouzo (a traditional Greek spirit distilled from grapes, with added aniseed) as well as aquavit, a traditional Norwegian spirit. I especially enjoyed their ouzo mojito, a fantastic cocktail for $8. Bell enjoys a good Old Fashion and appreciates that their menu offers several choices.
The building previously housed the Stephen Katzaras Sponge Company for 60 years. Katzaras immigrated from Symi, Greece and eventually served in the US military, fighting on D-Day. The owners of Tarpon Springs Distillery are Barry and Lisa Butler, who relocated to Tarpon Springs in 2013. They've done a fantastic job embracing the unique Greek-American heritage of the community.
Swing by the distillery on a weekend evening as they often feature live music on stage, in front of their spacious terrace. They decor inside personifies the town, featuring sponge dock memorabilia and art. Check their calendar of events also, as they have recently held goat yoga as well as a food and drink 3 course menu in collaboration with Copenhagen Cafe.
Sunset Beach
Sunset Beach is a lovely spot to soak up some sun and fresh seaside air along the Gulf of Mexico. Lay out during the day or enjoy a stunning sunset on the beach. The vibrant orange, pink and red colors in the sky, set to a vista of palms trees is dramatically beautiful, making the beach appropriately named. Pack a picnic filled with local Greek treats you pick up from bakeries in Tarpon Springs! There are lot of picnic tables on Sunset Beach with lovely views of the palm trees and the Gulf of Mexico.
Sunset Beach also hosts a great outdoor concert series. We've watched some fantastic bands perform for big crowds on the beach around sunset. There's also an occasional outdoor movie screening. Check Tarpon Springs calendar of events for an updated schedule of performances.
Fred Howard Park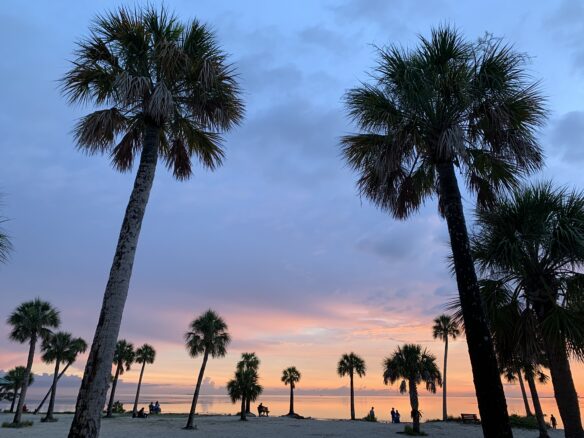 A fantastic places for beachgoers is Fred Howard Park. A scenic one-mile-long causeway connects the park with the mainland. Enjoy the white sand beach, which offers lovely views of windsurfers navigating the Gulf waves. The park offers picnic shelters, public grills, a butterfly garden, softball field, beach volleyball court, playground and a hiking/biking trail. It is just 1.3 miles (2.2km) from Sunset Beach to Fred Howard Park. You can drive, bike or even walk between the two beautiful parks!
Renting kayaks is a fun outdoor activity to enjoy in Fred Howard Park. It's lovely to kayak around the islands, causeway and to the nearby mangroves on the mainland. Kayaks can be rented by the hour, for half day or a full day. It's a great way to explore the area and to work up an appetite for so much delicious eating around Tarpon Springs!
Craig Park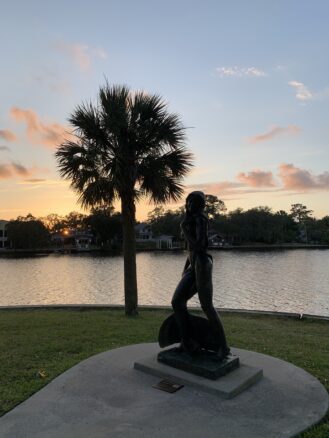 One of the most picturesque areas in Tarpon Springs is Craig Park. Located at 5 Beekman Lane, it's dotted with scenic bayous, and covers 6.8 acres in the heart of town. It features a saltwater boat launch, two lighted tennis courts, restrooms, practice tennis wall, six shuffleboard courts, playground, bandshell, picnic tables and benches The scenic walkway around the beautiful Spring Bayou is a lovely place for a walk or run. During the warmer months, you can often spot manatees playing in Whitcomb Bayou. 
Craig Park hosts the largest Greek Epiphany celebration in the western hemisphere. Epiphany Day is held annually on January 6th each year and is a fantastic time to visit Tarpon Springs. The event draws around 20,000 spectators and is typically followed by a Glendi celebration of food and dancing. The Tampa Bay media always covers the event, which draws high profile guests like Greek and American politicians. The winner of the annual dive for the cross is meant to have good luck for the rest of the year.
Check out a complete list of Tarpon Springs parks on the city's official website.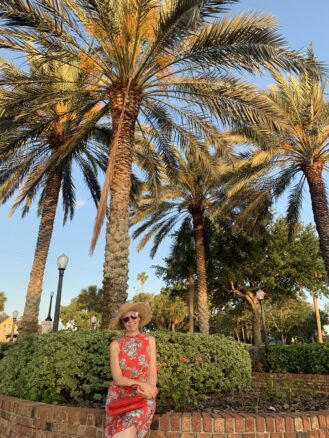 Tarpon Springs Boat Tours
Dodecanese Boulevard is a great place to eat, shop and sightsee. Several companies offer boat tours that leave right from the picturesque Sponge Docks. Enjoy beautiful scenery while viewing wildlife, learning about sponge history and perhaps visit the stunning Anclote State Preserve. You can often save the $5 Tarpon Springs parking fee if you're taking a boat tour too.
Odyssey Cruises
Odyssey Cruises offers a 2 hour trip down the Anclote River into the Gulf of Mexico. Common sights on their afternoon cruises include dolphins, manatees, sea turtles, fish, tropical foliage and a variety of birds. An optional shore excursion is available to disembark at the Historic Anclote Key Lighthouse on Anclote State Preserve. Explore the beautiful island's wildlife up close or stroll the beach looking for precious shells.
St. Nicolas Boatline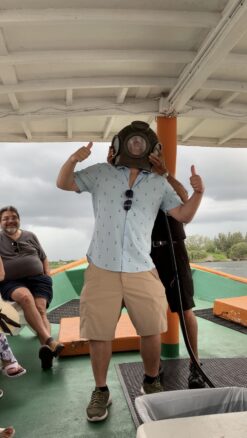 St. Nicolas Boatline is a third-generation family-run operation that launched in 1924. This picturesque narrated boat tour sails down the scenic Anclote River as visitors learn how Tarpon Springs became the "Sponge Capital of the World." One highlight of the tour is watching a sponge diver in a traditional inflated sponge diving suit dive from the boat into the river. Watch as he moves quickly across the river floor to harvest a live sponge and return to the boat with it. Learn about the different types of sponges, their uses and proper care to ensure they last a long time.
Tarpon Springs Shopping
There's a wide variety of good shopping options in Tarpon Springs, from kitsch Florida souvenirs to high-quality Greek made products like soaps and creams. The town was built on sponges and that's still a big draw of Tarpon Springs today. Every time we visit Tarpon Springs we purchase some sponges to take home and to give as gifts. If you want sponges to wash yourself with, pay a little extra for the wool sponges, which are softer.
Swing into Leather Outlet for great deals on jewelry (including emeralds from Colombia), along with beautiful leather wallets starting at $10 and leather bags. You can also stock up on Greek olive oil and other goodies from overseas for reasonable prices.
Tarpon Springs Historical Society
The Tarpon Springs Historic Train Depot was built over 100 years. It's no longer a train station but now serves as a museum managed by the Tarpon Springs Area Historical Society. The Tarpon Springs Area Historical Society promotes the research and preservation of artifacts, relics and historical points of interest in the Tarpon Springs area.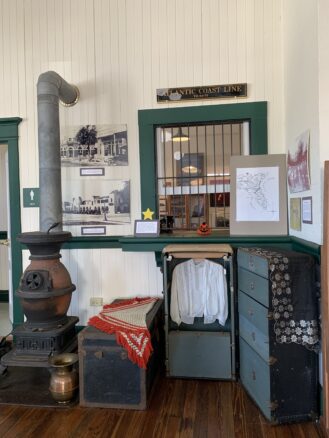 Tarpon Springs is the oldest town in Pinellas county. The train depot previously served as the cultural meeting point of the town, where people came to see who was coming and going. There's a lot to learn at the Tarpon Springs Historical Society, which also documents the separate ticket windows for whites and blacks under Jim Crowe laws. The museum aims to further educational and cultural development; while preserving materials, information and historical artifacts for future generations.
Tarpon Springs Festivals
First Friday
Tarpon Springs is home to a variety of festivals throughout the year. First Fridays are popular with visitors from around Florida's Gulf Coast. Tarpon Springs Road closes to vehicular traffic and downtown becomes a big street party with live music and lots of tasty food and boutique stalls. First Fridays happen on the first Friday evening of each month from around 6pm-10pm.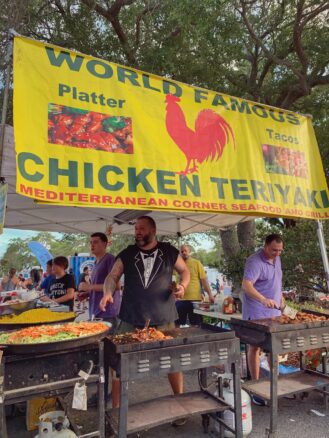 Sunset Beach Concert Series
Sunset Beach also hosts free live concerts once a month during the summer. This is another popular draw, sometimes drawing buses of visitors from The Villages. Plan to arrive early for closer parking. Or you can park in a nearby neighborhood and take a short walk to enjoy the live music.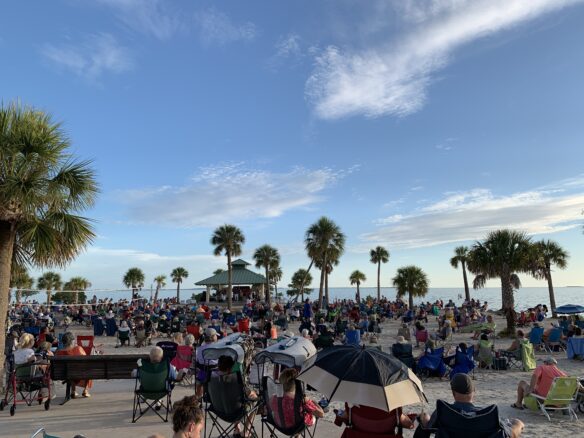 Tarpon Springs Events Calendar of Festivals and More
Other festivals throughout the year include Athens by Night, Craft Festivals, Hippie Festivals, Christmas Lighting, Shakespeare and more. Check the Tarpon Springs events calendar for upcoming events.
Saint Nicholas Greek Orthodox Cathedral
Saint Nicholas Cathedral is the parish for Greek-American life in Tarpon Springs, Florida. Located at 36 North Pinellas Avenue, the storied Neo-Byzantine church features beautiful frescoes and marble from Greece. Saint Nicholas is the patron saint of the sea, so many Greek churches and cathedrals are named after him.
St. Nicholas hosts an annual Epiphany celebration on January 6, where Greek Orthodox boys aged 16 to 18 dive into the Spring Bayou to retrieve a white wooden cross. It draws thousands of spectators and is televised in the Tampa area. Legend says the finder of the cross will be showered with good luck for the year. The diving of the cross is the largest event of its kind in the Western Hemisphere, with thousands in attendance. A statue of an epiphany diver is located in front of St. Nicholas Cathedral.
Tarpon Springs Hotels
Luxury
Innisbrook Golf Resort in nearby Palm Harbor offers a luxury stay just a few miles from Tarpon Springs. The resort has outdoor pools with water slides, 11 tennis courts and 4 golf courses. Innisbrook hosts the Valspar Championship, a PGA golf tournament on its Copperhead Course.
Innisbrook offers a full-service spa with massage service and sauna, as well as a fitness facility. Guests can choose between 5 on-site restaurants, including Packard's Steakhouse. A flat-screen cable TV and kitchenette are provided in all suites. Some suites have a fully equipped kitchen, balcony, and sofa bed.
Mid Range
Hampton Inn and Suites Tarpon Springs is 3 miles from Tarpon Springs' historical district. A gym and business center are available, along with on-site laundry facilities. Hampton Inn offers a reliably comfortable stay with plush beds and a good complimentary breakfast for a chain hotel.
Budget
Quality Inn and Suites Tarpon Springs has an outdoor pool, hot tub and fitness center. All guest rooms have a coffee maker, desk, hairdryer, cable TV, iron and ironing board. Some rooms have a microwave, refrigerator, sofa sleeper and balcony. Other amenities include free breakfast, free wireless high-speed Internet, free daily newspaper and free phone calls. Quality Inn and Suites Tarpon Springs is a short drive from the Tarpon Springs Sponge Docks, Clearwater Aquarium, Howard Park Beach, Caladesi Island State Park and Brighthouse Fields.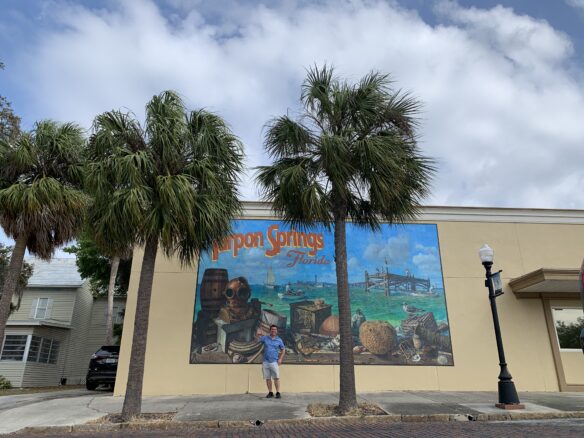 Tampa Bay and St. Petersburg Tours
Tarpon Springs is close to a wealth of great destinations like Honeymoon Island State Park, Dunedin, Clearwater Beach, St. Petersburg, Fort De Soto, Tampa and more. While you're in the area on vacation, you may want to consider one of these interesting and fun tours!
You can take a Tampa History Cruise. Learn about Tampa's past through live on-board commentary while you sail. Multiple departure times make it easy to fit into your itinerary. Light refreshments are provided onboard. Tour prices start at $30.77.
A St. Petersburg Historical Segway Tour is a fun way to get to know the town. Learn about the Sunshine City's historic sites and Victorian homes as you loop around St. Pete. Tour prices are $60 per person.
Tarpon Springs Recap
Tarpon Springs is one of the best destinations in the USA to experience Greek culture along the Sponge Docks. You can also enjoy fresh seafood, multiple beaches at Sunset Beach and Fred Howard Park and lap up the relaxed Florida vibes. Plan to take one of several picturesque boat tours, like Anclote Key or a sunset cruise. Don't forget to purchase some sponges. They're wonderful for bathing and cleaning, so they make great gifts too. Tarpon Springs is one of the most authentic Florida vacation destinations for culture!
Have questions about planning your Florida vacation? You can leave a comment below or email me at alex(at)wanderlustmarriage.com and I'll be happy to assist you. You may also want to read my articles on Great Day Trips from Tampa and Alternative Orlando Gems You Don't Read About.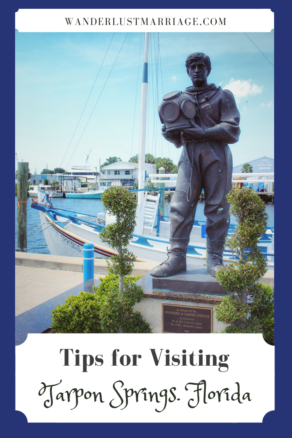 About the Writer and this Website
Alex Kallimanis is a UCF graduate who grew up in the Orlando area before living in destinations like Australia, the Netherlands and Ireland. As a travel journalist and travel consultant, I enjoy assisting readers with getting amazing experiences and value from their trips. I've visited 58 countries and counting.
I'm also a Greek citizen that has made 10+ trips to Greece. My wife of nearly 17 years, Bell, is an Australian scientist working in cancer research. We first met in a hostel in Brugge, Belgium while backpacking Europe solo after college. You can read more on that story in our about page if you're interested.
This is our second stint residing in the Tampa Bay area, as we previously lived in Tampa from 2005-2008. Tarpon Springs was one of our favorite places to visit on day trips in past years. We're now proud to call it home and love the community.
I encourage you to browse some of the other destinations we've covered for helpful tips. I also share advice in our resources page that could save you thousands on travel costs!
Disclosure: This article contains some affiliate links. We receive a small commission when you book or sign up through these links and it costs you nothing extra. Thanks for using them!