Planning a USA road trip during the coronavirus pandemic and want to travel safer? We recently embarked on multi-week road trip from Washington, DC through West Virginia, Kentucky, Ohio, Indiana, Tennessee and back through Virginia. After being cooped up for months, we especially enjoyed lively country music on outdoor terraces in the "Music City." Nashville is also home to the world's only recreation of the Parthenon. It was the perfect time to visit since American travelers are currently banned from visiting most European countries for leisure. Read our firsthand experiences and detailed tips to help you plan safer trips during the pandemic!
Another highlight was staying on a horse farm just north of Louisville, Kentucky that we booked off Airbnb. Louisville is home to the Kentucky Derby and there are many horse farms around both Lexington and Louisville.
The plan was to go as far as St Louis, Missouri to see the famous Gateway Arch. But driving cornfields in stifling heat gets old quickly. Even with air conditioning in the car, the sun blazes through when it is in the high 90's and sucks the wind out of you when you step outside to enjoy a walk in nature. Perhaps road trips closer to home are more advisable right now, but we took safety precautions during our trip. And there is always some risk in anything we do – even driving to the grocery store.
Along the way, we saw businesses doing things the right way. And we saw businesses acting like the coronavirus does not exist. What was most frustrating was entering businesses where people look at you funny for wearing a mask. It is the right thing to do. So here are some tips to stay safe on a road trip this summer!
Be Open to Last Minute Travel Plans
The coronavirus pandemic has taught us that things can change rapidly. I was traveling in Sicily for the TBEX travel conference when the Italian government announced the national lockdown in March. Subsequently, I experienced the lockdown in Italy, France (with Explore with Lora which we discussed on an episode of the Travel Horror Stories podcast), the Netherlands and the USA. I also talked about this in an episode of the TBEX Travel Matters podcast. You can also read about my tales of Coronavirus Pandemic Travel in Europe. Sadly, as cases in the USA have skyrocketed beyond Europe, American travelers are currently banned from visiting the European Union. The European Union is only allowing travelers from nations that have fewer coronavirus cases.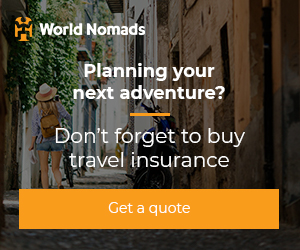 While it is good to have a plan and be organized, we would not necessarily advise planning too far in advance right now. Be open to last-minute travel plans and understand that plans can get canceled again due to another shutdown. On our current road trip, we booked hotels fairly last minute in the event plans would change beyond our control.
Choose a Road Trip Or an Airline Taking Appropriate Safety Precautions
Some will argue that it is unsafe to travel right now no matter how you do it. And we don't necessarily advise that you do – but we also understand that some people need to travel for business or to visit family. Or just simply, for mental health's sake. When possible, a road trip is the better choice because you have more control over your situation. If you are not comfortable, it is okay to defer your travel for a safer time.
If you need to fly and have a choice, choose an airline that is taking passenger safety more seriously. Delta and JetBlue have blocked middle seats and limited capacity to allow travelers to practice social distancing. Airlines like American Airlines and United are selling middle seats and not limiting capacity. But keep in mind, airplanes are flying tubes and you don't know who you'll always be sitting with and how careful they have been in reducing their COVID-19 exposure. Generally, our feeling is that there is more risk in flying than taking a safe road trip.
Wear a Mask, Wash Your Hands and Practice Social Distancing
These are the best things we can do to help stop the spread of COVID-19. The coronavirus spreads through air droplets, and wearing a mask helps protect yourself and others. You should also keep a safe distance of 6 feet away from others whenever possible. Additionally, wear a clean mask every day and avoid touching it too much. Wash your hands thoroughly with warm soapy water for at least 20 seconds regularly and have plenty of hand sanitizer in your car and on your person and use it after you touch foreign objects for when you can't wash your hands.
Avoid Crowded Destinations
Disney World in Orlando just reopened. Meanwhile, COVID-19 cases in Florida are skyrocketing and it has become an epicenter for the disease. Even destinations like the Bahamas recently banned American travelers in the short term. Florida is popular but we do not advise trips to crowded theme parks right now. That is why we recently asked other travel writers to share great Florida vacation destinations perfect for social distancing. Visit beaches that are not as crowded or take hikes off the beaten trail.
During our recent road trip, we hiked off-the-beaten-path trails in West Virginia, Ohio, Tennessee and Virginia. We did not visit any major National Parks, like Smoky Mountain National Park, because we knew they would be busy. In addition to staying safer, you will also avoid traffic and save money on accommodation!

We were shocked to visit the Kentucky state capital building in Frankfort to find that we were the only tourists milling about. As Frankfort is a small town, there was just one police car guarding the state capital building and governor's mansion. This was very different from the state capital building in downtown Nashville, which was lined with police and protestors across the street. Granted, we firmly stand for equality and righting the wrongs of racial injustice in the United States.

Meals at Restaurants During Coronavirus Travel
To eat out or not during coronavirus travel is a question that only you can answer and also will depend on where you are and what they are offering. We had a rule for dining out – only on outdoor patios or outside. Many restaurants are offering patio seating because the demand is there. We sometimes had to wait an extra 15 minutes but to us, it was worth the wait; other times because it was hot we had the outdoor seating all to ourselves.
We also had picnic gear in our car and found scenic spots to enjoy either a sandwich or leftovers from the night before that we'd packed in our cooler bag with ice from the hotel ice machine. Many times we had these picnic spots pretty much to ourselves and we enjoyed our meal with no COVID-19 related stress. Sometimes, we would grab a takeaway ice cream and enjoy it at a scenic spot; like along the Ohio River with a view of Louisville (pictured below).
Support Businesses Taking COVID-19 Precautions
Many of the bourbon and whiskey distilleries in Kentucky and Tennessee were closed. We stumbled on a small distillery in Sevierville, Tennessee called Tennessee Legend that was open. They had a sign out the front offering a 10% discount for customers wearing masks. We wish more businesses did this in counties where masks are not mandatory! Tennessee Legend offered tastings with social distancing in place and plexiglass on the bar to separate customers from the staff. We picked up a bottle of coffee-flavored whiskey as we enjoyed it. They also sold craft moonshines.
We were pleased to see many hotels taking extra precautions during the pandemic. For example, having to request cleaning services versus automatic cleaning services. Many gyms and pools were closed (or there were strict rules about how they could be used). Certain Hilton properties even wrapped the TV remote control in a plastic Lysol wrap to let guests know it was clean. There were also additional precautions taken for breakfast. This meant no breakfast buffets where people can congregate and also spread germs by touching things. At many hotels, breakfast is still available as a to-go bag with a piece of fruit, some sort of breakfast bar and a bottle of water.
Before booking hotels, read recent reviews to see if there are complaints regarding a lack of COVID-19 precautions. An example of the bad would be a Sleep Inn we stayed at in Henderson, Kentucky. We had read no bad reviews regarding a lack of COVID-19 precautions so we were shocked when we arrived. The staff did not wear masks. Additionally, they served their breakfast buffet complete with scrambled eggs, sausage, potatoes and biscuits. We know some people still expect this, but it just is not responsible under the current circumstances.
Consider Airbnb Stays to Avoid Crowds
We stayed at a couple Airbnb's during our recent road trip. We had great experiences at both rentals because we choose properties with consistently great reviews. A perk with most Airbnb's is that you do not have to encounter other guests in the lobby and elevators. Both Airbnb's we stayed involved check-in via lockbox meaning we did not even have to check-in face to face with the owners, increasing safety during coronavirus travel. At one property the owners were onsite, but communication regarding the stay was handled via the Airbnb app. At the other location we stayed at, we didn't see the owners at all during our stay. It is definitely a good option for safe travel.
Packing List for Coronavirus Travel
Hand sanitizer for the car and your pocket/handbag
Several days worth of face masks
Picnic gear (blanket, knives, forks, plates, cups, a cooler bag and something to put ice in (eg., Tupperware container))
A sense of adventure
USA Road Trips Articles
We've been living in the Washington, DC area for over 3 years now. We've also resided in Boston and Florida so we especially know the east coast of the United States well. Here are a couple of other USA road trip articles we've written that you may find useful! If you have questions, feel free to comment below or reach out directly via email to alex(at)wanderlustmarriage.com.
Washington, DC to Niagara Falls Road Trip Tips
Great Road Trip Stops from Florida to Washington, DC
Disclosure: This article contains some affiliate links where we earn a small commission when you book or sign up directly through the links. This comes at no additional cost to you. Thanks in advance for using them when possible!