The diverse community of Silver Spring, Maryland sits nestled along the boundary of Northwest Washington, DC. The Silver Spring Metro stop, on the red line, conveniently connects residents to DC and northern Virginia suburbs like Arlington, Alexandria and National Airport. It only takes 15 minutes on the metro to travel between Silver Spring and Union Station, the main train station in Washington, DC. From Union Station, you can walk to the US Capitol building in under 10 minutes. There are also buses in Silver Spring that you can take directly to Baltimore and New York City.
Silver Spring is also close to Rock Creek Park – the largest park in Washington, DC. Silver Spring, Maryland has been our home for 4 years. For recommendations on Washington, DC, read our previous article on 25 Washington, DC Travel Tips. Here are some of the best restaurants, cafes and places to stay in Silver Spring, Maryland!
Silver Spring Restaurants
Silver Spring, Maryland has a wide variety of restaurants, reflective of its diverse population. But some are overpriced and/or mediocre so it is important to know where to go. The small businesses listed below are flavorful and lively places to dine.
Charm Thai
Charm Thai in downtown Silver Spring is one of the best affordably priced Thai restaurants you'll come across. It's also one of our favorite restaurants in the area and we enjoy trying different dishes off their menu. Try their Kao Soi, a Northern Thai style curry with egg noodles, bean sprouts, red onions, scallion, cilantro, chicken and shrimp. Their pineapple fried rice is another highlight. Of course, green curry and Panang Curry are always great choices. They also have creative monthly chef specials so you can always try something new if you want.
Charm Thai address
8408 A Georgia Ave.
Silver Spring, Maryland 20910
Beteseb
Silver Spring is home to many Ethiopian restaurants. Given the large Ethiopian population in the Washington, DC area, flavorful Ethiopian cuisine is certainly a culinary highlight. Beteseb is a reliably great choice for Ethiopian food in Silver Spring. They have a lot of vegetarian options, along with great beef, chicken, lamb and tilapia dishes. Try their fish goulash – crispy tilapia sauteed in a garlic tomato stew, served with vegetables atop injera bread. Injera bread is a thin pancake style bread that is ubiquitous in Ethiopian cuisine. Or try one of their half and half combos like Beef Wat (spicy beef stew) and non-spicy Beef Wat, to try different dishes atop injera.
If you have a gluten allergy, Beteseb offers a choice of gluten-free injera bread or rice!
BETESEB RESTAURANT Address and Contact Details
8201 Georgia Ave, Silver Spring MD
Phone: (301) 448-1625
E-mail: [email protected]
The Big Greek Cafe
Being of Greek descent – I'm picky when it comes to Greek food. Big Greek Cafe hits the spot for tasty Greek food at an affordable price. We often like to go on Wednesday for their $5 gyro special – packed with tasty tzatziki (yogurt sauce) and fries. Start with a cup of Avgalomeno soup – a lemon rich chicken and orzo soup. Their pastitsio, Greek-style lasagna will satisfy those with a hearty appetite. For a healthier option, order the grilled salmon entree with roast Greek potatoes as a side. Their baklava is also excellent.
Big Greek Cafe Silver Spring Address and Phone Number
8213 Georgia Avenue,
Silver Spring, MD
20910
(301) 587 – 4733
Ikko Sushi
If you have a hankering for sushi, sashimi, ramen dishes or rice bowls, Ikko Sushi is the place to go. There are a wide variety of creative sushi rolls from lobster rolls to shrimp tempura rolls. Good tempura is another highlight of Japanese dining. So another recommendation is their shrimp and vegetable tempura bowl served over rice.
Ikko Sushi Address and Contact Details
1215 E West Hwy
Silver Spring, MD 20910
(301) 562-9400
Mandalay Restaurant and Cafe
Mandalay Restaurant and Cafe offers flavorful Burmese style cuisine in Silver Spring. While the atmosphere in the restaurant is rather bland, the food is excellent. Go for a dish like KyetThar Aloo Masala Hin – chicken strips and lightly fried potato in onion-tomato base curry with masala spice. Another tasty favorite is Ngar MaGeeThee Hin – a choice or salmon or lightly fried catfish in onion-tomato base curry with tamarind and green pepper.
Mandalay Restaurant and Cafe is also a great choice for vegetarians with around 15 veggie dishes to choose from. Go for a dish like Nyat KaukSwe Gyaw – flat rice noodles stir-fried with yellow beans, bean sprouts, romaine hearts, crushed peanuts and lightly fried tofu.
Mandalay address and Phone Number:
930 Bonifant St, Silver Spring, MD 20910, USA
(301) 250-4078
Urban Butcher
Urban Butcher (temporarily closed as of December 8th, 2022) is the place to go for those that love quality meat prepared Latin American style. This vibrant "alternative steakhouse" features house-made charcuterie and 60+ day dry-aged steaks. Their lavender margaritas on happy hour are phenomenal.  They also serve one of the best burgers you'll come across – a succulent half-pound patty on a brioche bun. Their truffle mac and cheese is another delicious highlight.
Update: The sister establishment of Urban Butcher, El Sapo Cuban Social Club, is open in Silver Spring. The Cuban restaurant and mojito garden offers fresh cocktails, lively music and bold island flavors.
El Sapo address and contact details:
8455 Fenton Street
(entrance on Wayne Ave.)
Silver Spring, MD 20910
(301) 326-1063
Buena Vida and Tacos, Tortas & Tequila (Update: Currently Closed)
Buena Vida serves creative Mexican dishes like Mezcal Cured Organic Salmon Tostada's, Sweet Corn Empanadas and Chilorio Braised Pork Sopes. This is in the upstairs section of the restaurant.
Downstairs, at Tacos, Tortas & Tequla, the concept is Mexican style street food served with quality and fresh ingredients. This establishment is one of Silver Spring's best places to enjoy tasty food, whether upstairs or downstairs, over a great selection of margaritas and sangrias. Located near the Silver Spring metro station, it is convenient to reach by public transport.
Update: If you're looking for tasty modern Mexiacan cuisine, the proprietors opened a new location across the Potomac River in Arlington, Virginia called Buena Vida Gastro Lounge.
Silver Spring Bars and Beer Gardens: Best Places for Drinks
Silver Branch Brewing Company
The largest and best craft beer lineup in Silver Spring, Maryland can be found at Silver Branch Brewing Company. Their beers focus on the world's four main brewing cultures – the Americas, Belgium, the British Isles and Central Europe. And their biergarten aims to reflect a range of ambiances from a classic American taproom, bustling Flemish cafe, cozy British pub, and a raucous German beer hall.
Try Silver Branch's Beyond the Gnome Saison recently won the gold medal in the saison category at the Great American Beer Festival. Their Belgian-style abbey single is another personal favorite, and very drinkable at 5.2% abv. Silver Branch also brews excellent IPA's, and their Quantum Shift East Coast IPA is possibly the best of any Washington, DC area brewery. Their Chronicle Tropical Stout is delicious when the weather is cooler.
Order a tasting tray to begin, to discover a favorite beer that suits your palate. Silver Branch has a limited food menu, with delicious tacos and German pretzels being a couple of highlights. This is our favorite brewery in Silver Spring, and we enjoy catching up with friends in their biergarten.
Silver Branch Address
8401 Colesville Rd #150
Silver Spring, MD 20910
Denizens
Denizens has the nicest beer garden of the downtown Silver Spring breweries. Their spacious and open beer garden offers ample room to catch up with friends outside. Their beers are good, but not quite as good as Silver Branch. One personal favorite is Denizens Lowest Lord ESB. The English style bitter is very drinkable at 5.3% and is packed with the perfect blend of hops and malt, featuring notes of toffee and biscuit. Their core lineup also includes beers ranging from Belgian style tripels to hazy IPA's. They also brew seasonal beers, hard seltzers, meads and even offer a few nice wines on the menu.
Denizens Address
1115 East-West Hwy
Silver Spring, MD 20910
Urban Winery
If you're a wine enthusiast, Urban Winery is a charming wine bar to sip on a glass of wine or two and dine over meze style Greek and Spanish small plates. The wine list includes wines produced by the owners, with unique flavor profiles and also includes a more extensive list with both international and national selections. If you want to try some different wines – go for a wine fight. Wine flights range from French, Spanish, Portuguese, South African, Greek, Down Under (Australian) and more.
Urban Winery Address and Phone Number
All Set Restaurant & Bar
All Set Restaurant & Bar offers one of the best happy hours in Silver Spring both for both great drinks and food. It's an American-style menu, and their chickpea fries are delicious and served Jenga-style; we never miss getting a plate, or two when we pop in. The other great thing is that happy hour is for the entire restaurant and not restricted to the bar. They have a small outdoor patio seating and the staff are always friendly.
All Set Restaurant & Bar
8630 Fenton Street, Plaza 5
Silver Spring, MD 20910
301-495-8800
[email protected]
Silver Spring Best Cafes: Where to go for Coffee
There is an abundance of good coffee shops in Silver Spring. We encourage people to not always patronize Starbucks and Peet's. Though props to the staff at Peet's in Silver Spring as their staff is very friendly!
Bump N Grind
What a fun name for a cafe! The staff at Bump N Grind make great coffee, the music is good and the wifi is reliable. They'll whip up tasty drinks from soy cappuccinos to matcha lattes. They also serve beer and wine. Some evenings there is live music or other performances – during normal times!
Kaldi's Social House
Kaldi's Social House is one of the hippest and best cafes in Silver Spring. This coffee shop was founded by an Ethiopian immigrant in 2014. Coffea Arabica, the coffee plant, originates in Ethiopia. Kaldi comes from an Ethiopian legend about a goat herder who discovered the power of the coffee bean.
The Washington, DC area is home to the largest Ethiopian population outside Africa and this spacious cafe draws a diverse crowd. Asides from coffee, Kaldi's also has a liquor license and kitchen. With a rooftop bar, this hip place is great for grabbing a drink with friends.
Kefa Cafe
Kefa Cafe is another Ethiopian owned coffee shop in Silver Spring. In addition to great coffees, this is a good place to grab a quick breakfast item like an egg and cheese croissant sandwich. The service here is warm and friendly. The word coffee is believed to have originated from the Ethiopian word, "kaffa."
Kefa Cafe has two locations in Silver Spring. One location is located on the ground floor level of the public library. It's an ideal spot to read a book or study!
Zed's Cafe
Zed's Cafe is Silver Spring's favorite funky cafe. This is the cafe, which calls itself "one big living room", that may feel a little like sitting in your grandmother's house. There is an odd mix of different furniture, including couches. Also, coffees are served in an eclectic mix of mugs. If the uniformity of Starbucks is your thing, Zed's may not be for you. While Zed's coffee may not be the best in town, this is the coziest cafe to hang out in.
Zed's Cafe Address and Contact Details
Address: 8225 Georgia Ave, Silver Spring, MD 20910
Treats in Downtown Silver Spring
Moorenko's Ice Cream Cafe
After you have stuffed yourself with dinner, head to Moorenko's Ice Cream Cafe, which is a short walk from the main downtown area to treat yourself with artisanal, handcrafted ice cream. The milk they use to create their ice cream comes from family-owned farms in nearby Pennsylvania. Need we say more?
Velatis
1866, this is the year Velatis started serving customers their small-batch gourmet handcrafted caramels. In addition to delicious caramels, they also make delicious chocolate. This is also a great place to pick up a tasty gift for a loved one or to take to a dinner party!
FRESHFARM – Downtown Silver Spring Saturday Market
The FRESHFARM Saturday market is one of the weekend highlights of downtown Silver Spring. We enjoy swinging by to pick up locally produced artisan food. The bustling year-round market operates includes farmers and producers from DC, Maryland, Pennsylvania, Virginia and West Virginia. At the market, you'll find certified organic fruits and vegetables, pasture-raised meat, artisan sweet and savory baked goods, fresh milk, butter, yogurt, cow and sheep cheeses, jams, jellies, sauces, honey, fresh oysters, local wines, craft beer, flowers and much more.
From April 4th – December 26th FRESHFARM runs from 9am-1pm every Saturday. From January -March the market runs from 10am-1pm.
Silver Spring, Maryland Hotels
There are several good hotel options in downtown Silver Spring, Maryland. Here are a few of the best-reviewed hotels, walking distance from many of the great restaurants, bars and cafes mentioned above. Also, these Marriott and Hilton properties offer points and upgrades for guests using their accompanying hotel credit cards. Read our article on Travel Hacks to Save Big Money to learn about maximizing credit card points and miles! We save thousands each year on travel and it helps us get room upgrades and other perks too.
Courtyard By Marriott Silver Spring Downtown
Courtyard By Marriott is the best-reviewed hotel in downtown Silver Spring, Maryland. The hotel has 179 well-appointed rooms close to many dining and shopping options. Additionally, Silver Spring metro station is less than a 10-minute walk – which conveniently connects guests to Washington, DC.
Hampton Inn Silver Spring
Hampton Inn is another well reviewed hotel near many dining and shopping options in the heart of downtown Silver Spring. All rooms include a 32-inch flat-screen TV, coffee maker, work desk and ironing equipment. The hotel is just 3 blocks from the Silver Spring metro station.
Doubletree by Hilton Hotel Washington, DC – Silver Spring
Doubletree is not rated as well as the two hotels mentioned above. But it still ranks among the better hotels to stay in downtown Silver Spring for its modern business facilities, spacious indoor pool and state of the art fitness center. It is also located near the Silver Spring Metro and many shopping and dining options. Also, a highlight of staying at Doubletree's is the complimentary delicious fresh-baked chocolate chip cookies on arrival!
Sheraton Silver Spring Hotel
Sheraton in downtown Silver Spring, Maryland rounds out the hotels we recommend staying. Contemporary rooms feature a flat-screen TV, movies-on-demand, tea and coffee making facilities and a rollaway bed. Guests can enjoy a drink in the lobby bar. The Sheraton is also walking distance from restaurants, shops and the Silver Spring metro station.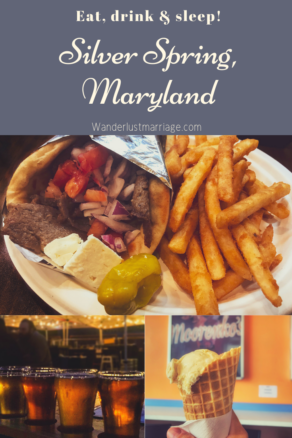 Disclosure: This article contains some affiliate links. We earn a small commission when you book your travel through them. Thanks for using them when you can to support independent travel journalism!