By Alex Kallimanis: The world just changed dramatically for all of us. A few weeks ago I was excited to leave for Paris and Italy, despite ominous warnings of the coronavirus. The TBEX blogger conference in Catania, Sicily was on the agenda for me. Bell had a flight to join me post-conference to spend our 15 year wedding anniversary in Italy. Just prior to walking out the door Bell, who works in medical research, said "I'm worried I won't see you for months." My response, albeit slightly rattled, "that's ridiculous!" I never imagined that I would have to navigate around so many lockdowns during coronavirus travel.
Fast forward a couple of weeks and I found myself randomly in Amsterdam, trying to fly home before borders potentially close. Bell and I were anxiously hoping neither the US or Dutch government would completely ground commercial airlines. We were frightened to be separated for an indefinite period of time. In a nutshell, this was the greatest misadventure of my life.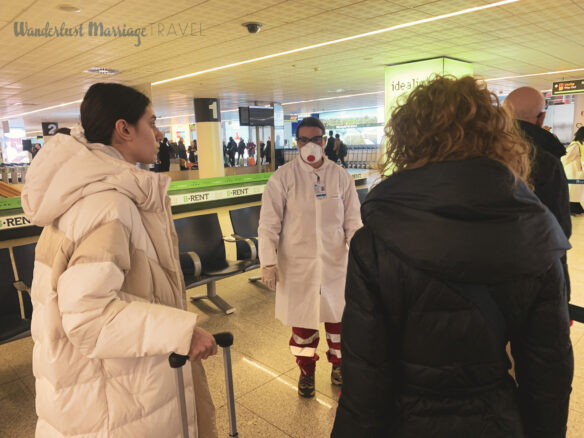 Coronavirus, aka COVID-19 Pandemic
The current coronavirus pandemic is the greatest crisis our planet has faced in generations. Hospitals in northern Italy are overwhelmed with sick people and lack the resources to treat everyone properly. Globally, healthcare workers are or will be faced with impossible decisions of who to treat on respirators and who to essentially leave to die.
This is a crisis that we all must take seriously to minimize the spread. Social distancing is the best thing we can all do right now, that means staying inside, wipe down everything that comes into your home (e.g., take-out containers) and keep your hands clean.  Twenty seconds with soap and water, it's better than hand sanitizer, and we should all be doing this every day of the year! If you're feeling sick, stay home and especially avoid all contact with older people, even your family. As you can be a carrier of COVID-19 without showing symptoms, you should also avoid people who are at increased risk of complications from the disease. For example, those with cancer, any sort of pulmonary disease and so forth.
Departing for Europe: Coronavirus Travel
Back to the story. On my way to the airport on March 2nd, I learned that TBEX in Catania was canceled due to the threat of the coronavirus. It was a gut-wrenching start to the trip, and I had not even arrived at Washington's Dulles Airport yet. But I had other plans for the trip, including holding out hope that Bell could join me later to celebrate our wedding anniversary. So off to Paris on Air France I went!
Paris
Upon arrival in Paris, I caught a direct bus from Charles de Gaulle Airport to Gare Du Nord train station. A careless car pulled out in front of the bus, and the bus plowed into it. The bus driver jumped out of the bus and nonchalantly handed the car driver a piece of his fender. They chatted for a minute and off we went a few minutes later, as though this happens daily. It shook me up a little but fortunately nobody was hurt.
Paris was eerily quiet during my visit. Lots of people were already canceling their trips. For example, my Paris Night Bike Tour with Fat Tire Tours had 5 people instead of 20 or more (an amazing tour). The Louvre was initially closed when I arrived, but they re-opened, only to close again. The Eiffel Tower was still humming with visitors on Friday. Now all tourist attractions are closed, and Paris, like much of the world, is on lockdown.
The day before my flight to Catania, the Italian government announced it was locking down much of northern Italy. It was deeply concerning, but my flight to Catania was not canceled and TBEX organizers, as well as local tour operators, were trying their best to accommodate us. So off I flew to Italy, as my stomach simultaneously churned.
Catania, Sicily: When Coronavirus Travel Hit the Western World
Catania is the second largest city in Sicily after Palermo and sits at the foot of Mount Etna, an active volcano. I was looking forward to hiking its slopes. While the volcano is still active, eruptions are slow and non-threatening to visitors. That means it's a relatively safe active volcano to tour.
There are many amazing things to do in Catania. Around the city you will find ancient ruins, impressive cathedrals and marvelous piazzas to dine al fresco. Sicily is known for its fantastic culinary scene and offers great dining options for both luxury and budget travelers. Among the highlights of its cafe culture, are perfect espressos and delicious pistachio cream-filled croissants. The Catania fish market is another noteworthy highlight, with vendors literally serenading the crowd for a sale.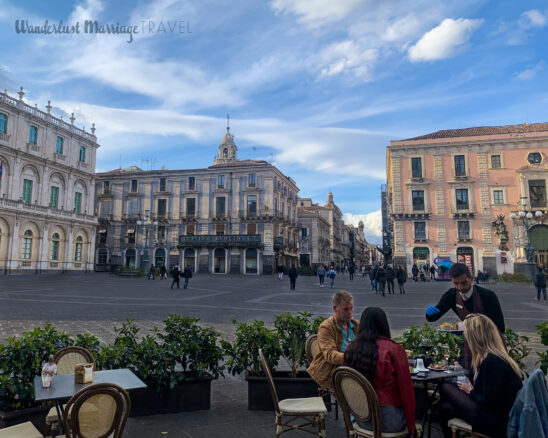 I stayed at The Artist's Home in Catania. It's a small boutique hotel right off the main shopping street, Via Etnea. The location is fantastic and ideally suited for a comfortable stay at a good price. Guests receive a voucher for breakfast at the cafe across the street and includes coffee and croissant choice. I highly recommend the pistachio cream-filled croissant as it is absolutely delicious.
Militello, Sicily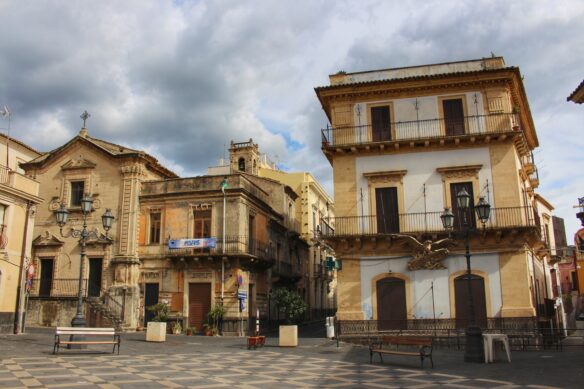 Unfortunately, I did not get to see much of Sicily beyond Catania and a lovely half day tour to Militello with Wishing Sicily. Local guide Grazia Manuele gave us a great tour of the town's impressive churches and museums. We also enjoyed a variety of delicious cookies and the best mandarins you can find. Militello is a wonderful place to tour for those that want to get off the tourist trail, to see what small town Sicilian life looks and tastes like. Militello is just 35 km southwest of Catania, and the winding drive offers great photo opportunities of Mount Etna across the horizon. Individuals or groups can book tours through Wishing Sicily.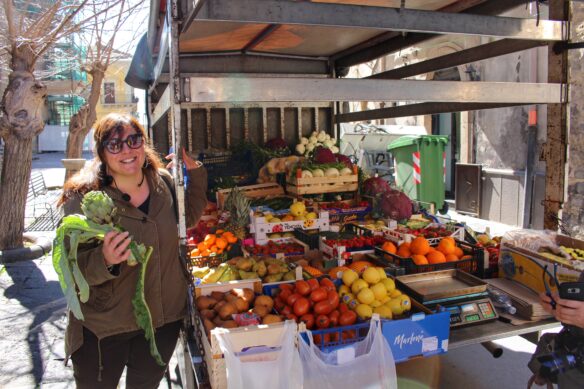 National Lockdown in Italy
My sneaking suspicion that things were about to unravel were quickly confirmed. On my second day in Italy, a group of 15 TBEX attendees enjoyed an impressive dinner at Ristorante Be Quiet in Catania. On the table were plates with plentiful amounts of cured meats, pasta dishes and seafood. Mario, the organizer, was quietly listening to the news at the end of the table. After a short while he informed us that "Italy has announced a national lockdown, I advise you to leave the country as soon as possible." It was a surreal moment. This was the beginning of coronavirus travel…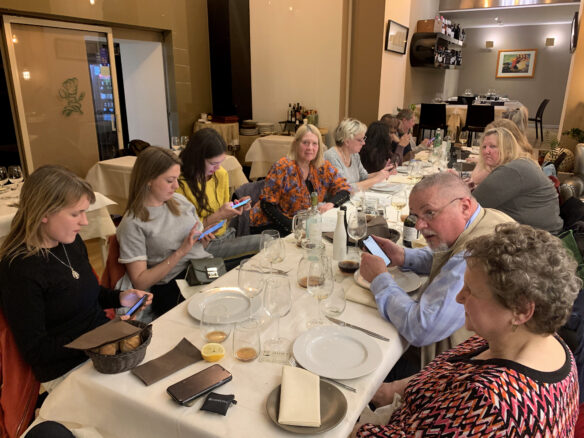 All of a sudden, as plates of food continued to arrive at the table, with lost appetites, everyone made plans to leave Italy. I booked a Ryanair plane ticket to the small island nation of Malta. The next morning, I woke to learn my flight was canceled, as were many of the flights of my dining companions.
Several of us spent the first day of Italy's nationwide lockdown taking photos in Catania, while enjoying some great food and wine. We tried making the most of the day while developing plan B. Eventually, I booked a plane ticket to leave Catania for Marseille the next day with Canadian travel writer, Lora Pope, at Explore with Lora. I was fortunate to have wonderful company during a historically bad moment in history.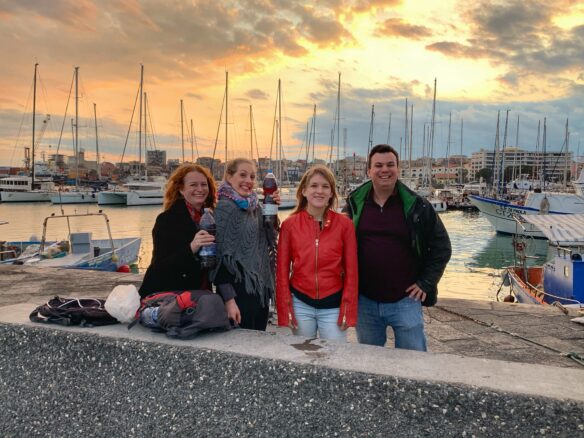 Coronavirus Travel Escape to Marseille, France
Marseille is the second largest city in France. The city's picturesque setting on the French Riveria makes it an idyllic cruise ship port. Upon arrival in Marseille we booked a great Airbnb apartment for just over $70 per night. Included were sweeping views of the city. In one direction you could see the Mediterranean Sea, in the other the beautiful Basilica of Notre Dame. The apartment included a Nespresso machine, washing machine and all the utensils to cook homemade meals in a charming setting. For an evacuation spot, we could have done far worse!
Our first night in Marseille, we had dinner at a fantastic Spanish tapas restaurant called Les Membres. The food is great and the staff are the loveliest people. We enjoyed great wine and tapas, and I had the opportunity to get to know my new house mate who I'd just escaped with. After dinner, the wonderful staff treated us to many complimentary homemade apple rum shots while sharing local tips and stories. We stumbled out of the restaurant at around 2:30am, just as Donald Trump announced a 30 day travel ban with Europe.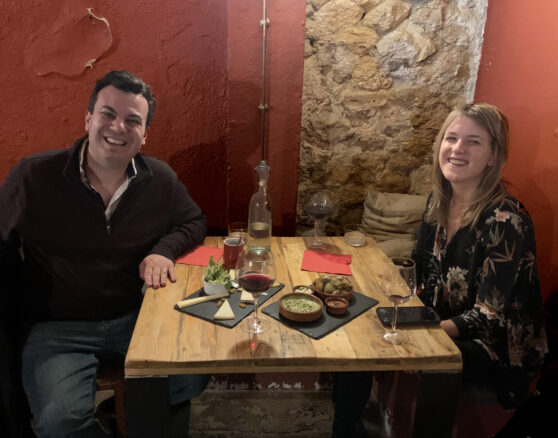 Up to this point, we had both been in some denial about the full magnitude of the situation. We had been hopeful that we could continue with alternative travel plans. The residents of Marseille briefly lulled me into a false sense of security, despite the rapidly deteriorating situation in northern Italy. The grocery stores were fully stocked, restaurants were busy and live music performances continued to take place along the port. We did our best to avoid crowds – as we all should be doing now.
Road Trip to Calanques National Park and Cassis
On our final day in Marseille we decided to rent a car, to salvage a little bit of our respective trips before going home. The roads in Marseille are very narrow. Our GPS routed us along an unpaved road in Calanques National Park. Avoid the unpaved roads in Calanques National Park if you want to keep your sanity. It's basically a single lane dirt road winding up the mountain, which cars use to drive in both directions. While we enjoyed a scenic view overlooking Marseille, it's best to park at the bottom and hike up this section. Or stick to the paved roads elsewhere in the park. Unfortunately, given the stressful situation, we did not have time to visit Gorges Du Verdon.
A popular day trip from Marseille is the tranquil seaside town of Cassis. Cafes line the marina and offer a relaxing oasis to enjoy food and drinks. Unfortunately, our stomachs churned with the predicaments we faced of getting home. US airports were a chaotic mess, and the President of the United States had done little to assure confidence in returning. For Canadians like Lora, their government was asking them to return home immediately or risk getting stuck. Unfortunately, the cost to fly home had sky rocketed for Canadians.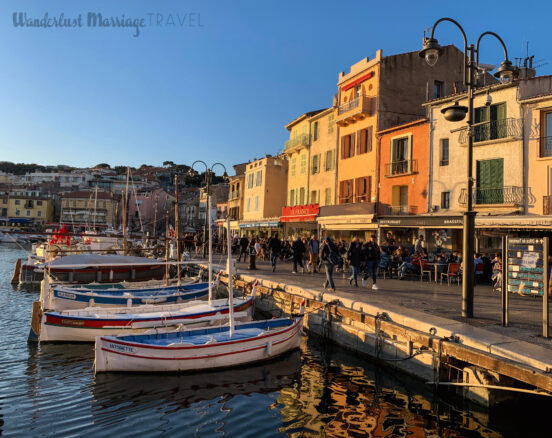 Coronavirus Travel Escape to Amsterdam amid the Covid-19 lockdown
Lora was initially excited because she had purchased a ticket home using Aeroplan points from Marseille. Unfortunately, she never received her ticket; essentially her third canceled flight in less than a week. Amid the travel uncertainty, we both purchased Ryanair tickets to fly to Lisbon. I realized though that it would be more difficult to return home from Lisbon and did not use my ticket. Lora flew to Lisbon. Shortly after arriving, she was able to use points to fly from London to Toronto two days later.
Trying to change my Delta flight during Coronavirus Travel
During that time, I was frantically trying to change my Delta flight which was ticketed from Rome for April 23rd. It was nearly impossible to get through to airlines on the phone, and I was unable to change it on Delta's website. I found well priced tickets leaving Paris and Amsterdam directly back to Washington, DC. Given that I'd spent 3 and 1/2 years living in Amsterdam, and with borders closing around me, I figured that was the safer bet.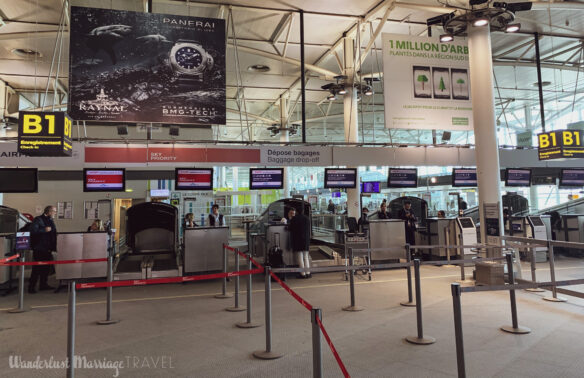 The lockdown of non-essential businesses in France went into effect the day I departed. Marseille Airport was a ghost town when I arrived. Air France had temporarily closed off their check-in. I worried France had closed their border and I was stuck. But alas, my flight was not canceled and I checked-in for my flight. After passing security I was able to pop into the lounge in Marseille thanks to my Priority Pass, though there were few guests. I flew to Amsterdam via Strasbourg, and there were many empty seats on both flights.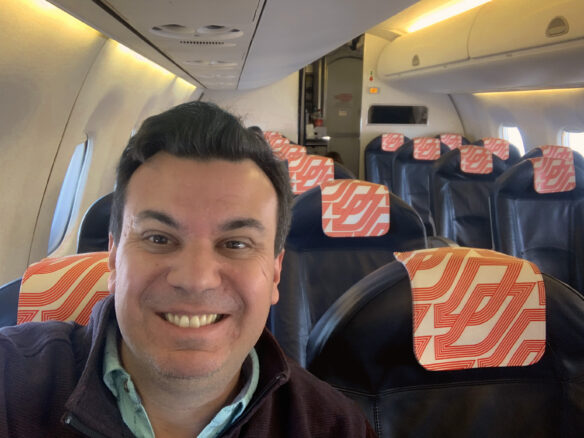 Experience in Amsterdam in the early stages of the Coronavirus Travel Lockdown
I arrived in Amsterdam shortly after 6pm on March 15th. Earlier that day, the Dutch government had ordered all restaurants and bars to close at 6pm. Amsterdam Schipol Airport added a comedic twist to the dystopian feel. A continuous announcement said 'restaurants and bars are closed by order of the Dutch government, you can drink tap water.' At a table of a closed cafe, I sat to book a hotel. Eventually, the announcement became more helpful, telling travelers they could purchase groceries in the Albert Heijn store in the airport. On my way to my hotel, I watched other travelers scratching their heads because there was nothing to do in Amsterdam. An absolutely bizarre scene.
I booked a room at the Doubletree NDSM Wharf for $60 a night, including tax. With my Hilton AMEX gold card, I received a free room upgrade and breakfast buffet. Only 17 of 80 rooms were occupied. The first morning the impressive buffet, including a huge fresh honeycomb, was amazingly open. By that evening the Dutch government had ordered hotel restaurants to only provide room service. Some Amsterdam restaurants were still open for takeaway or delivery. Even the green coffee shops of Amsterdam were restricting patrons to takeaway only. Doormen were standing guard to limit the number of patrons inside to a few at a time.
Flying from Europe to the USA During a 30 Day Europe Travel Ban
I booked a direct KLM flight home from Amsterdam to Washington, DC. The flight was available to USA citizens and legal residents given the 30 day travel ban with Europe. My temperature was not checked. Most seats on the Boeing-787 plane were empty. I gladly enjoyed several South African white wines to help me relax on the way home.
Upon arrival at Washington Dulles Airport from Amsterdam, we all waited in line to consult with medical staff. The wait was less than 30 minutes. They checked which countries you had visited. Medical staff advised me that I'd been traveling in countries with the coronavirus and that I was now entering a country with the virus. Some people from my flight had their temperatures taken, mine was not. I was never tested for the coronavirus either. They advised me to self-quarantine for 14 days which I am doing along with Bell.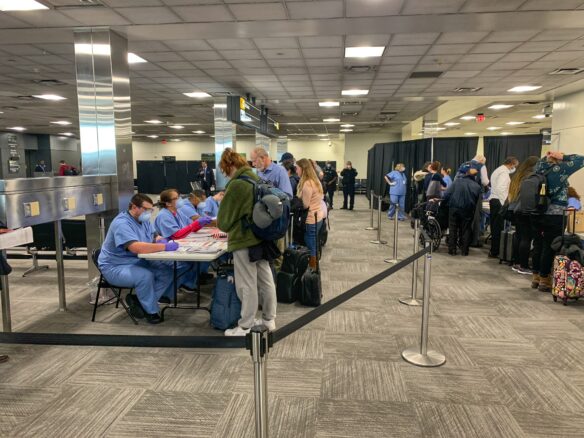 Coronavirus Travel Conclusion
There are so many stories similar to mine. Read more of them in the article Stacey Wittig put together on how Covid-19 hobbled veteran globetrotters.
I'm relieved to be home with Bell. Now is not the time to be traveling. We all have to play our part to minimize the spread of COVID-19. If we don't, we will overwhelm our healthcare systems and the death toll will be much higher. I wish I had better news to report, but I have seen how this plays out in four countries now. Short term, the worst is yet to come. Long term, hopefully, it will be a new beginning and a chance to make significant improvements to our beautiful planet. Stay calm and look forward to future travel plans. Where are you dreaming to visit when the threat of the coronavirus pandemic ends?