Panama City, Panama is often called the Dubai of Central America. Banking along with the Panama Canal has spawned a high-rise metropolis nestled along the Pacific Ocean. Panama City is central American hub, which is fitting since it was the first European settlement along the Pacific Ocean. The ruins of the first European settlement at Panama Viejo date to 1519 and are a UNESCO World Heritage Site.
The revitalized historic quarter of Casco Viejo brims with hip rooftop bars, trendy restaurants and quaint cafes. Hotels line the Panama Canal, and you can watch ships sail through the canal from your hotel room or viewpoints around the city. Panama is also a fantastic destination to see exotic wildlife like sloths and toucans, even within the city. Here are tips for visiting Panama City!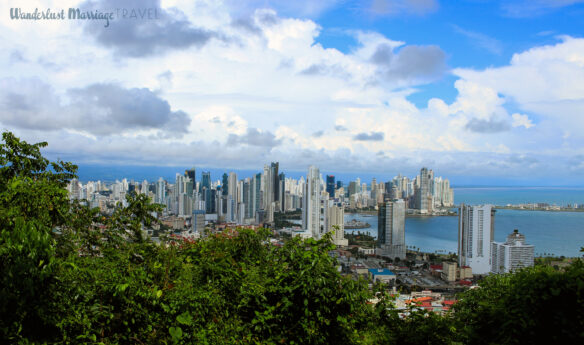 Pack a Rain Coat if Visiting During Rainy Season
The rainy season in Panama lasts from May through November. The rain is sporadic and you can't fully trust weather forecasts. If you travel there during the rainy season like we did, you need to anticipate that you could encounter some heavy rain. It may only last an hour, but if you're not prepared you'll quickly get drenched.
US Dollars are Used in Panama
Especially for Americans, it's handy US dollars are used throughout Panama. The usage of dollars is a carry over of past American occupation and involvement in the building of the Panama Canal. Don't bring too much US money, but bring some if you can. Always remember to notify your bank of where you're traveling so they don't mistakenly flag a fraudulent transaction. Currently, there is a maximum ATM withdrawal of $250 US.
Panama also has balboas as a currency. But when you withdraw money from the ATM you will be given US dollars as they're used everywhere. We only received a handful of balboa coins as change during our 2 week trip in Panama.
Which neighborhood to stay in Panama City, Panama?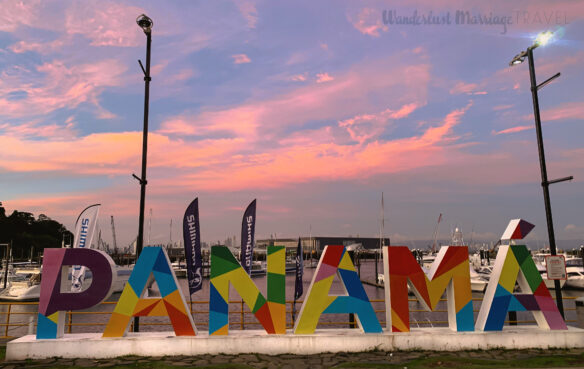 We were in and out of Panama City during a 2 week trip to Panama. So we stayed in several hotels in different areas to try them out.
Financial District
The financial district of Panama City offers the best bang for your buck on hotel stays. The area is packed with great restaurants, bars and nightclubs. It's also a short and inexpensive Uber ride to the historic district of Casco Viejo. You'll typically only pay around $5-6 USD each way, including a $1-$2 tip.
Over my 43rd birthday, I redeemed IHG points for a complimentary stay at the Intercontinental Miramar. Executive rooms and suites offer sweeping views of the Pacific Ocean, Panama City skyline and huge cargo ships waiting to enter the Panama Canal. The pool at the Intercontinental is huge and nice for relaxing during a stay. I received a complimentary room upgrade as my IHG Mastercard comes with IHG elite status. Read our travel hacks that can help you save thousands every year on travel!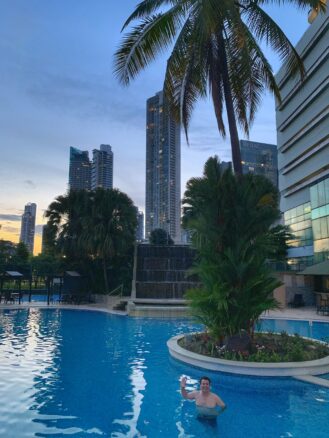 We also stayed at the Holiday Inn Panama Distrito Financiero. It offers a comfortable stay in the heart of Panama City's financial district – close to good restaurants and bars. The included complimentary breakfast buffet is solid, with Panamanian eggs (scrambled eggs mixed with sausage), corn tortillas, pancakes, fresh fruit, cheese, oatmeal and other offerings. I redeemed IHG points for another complimentary stay and found this hotel to be great value for the redemption.
The Waldorf Astoria Panama offers great value for a luxury stay in Panama City. Comfortable well appointed rooms include modern amenities and a spa tub. It's just 150 feet from Balboa Avenue, offering a picturesque walking and bike trail along the Pacific Ocean. Multiple on site restaurants and bars make this is great for couples looking for a romantic and fun stay in Panama City.
Casco Viejo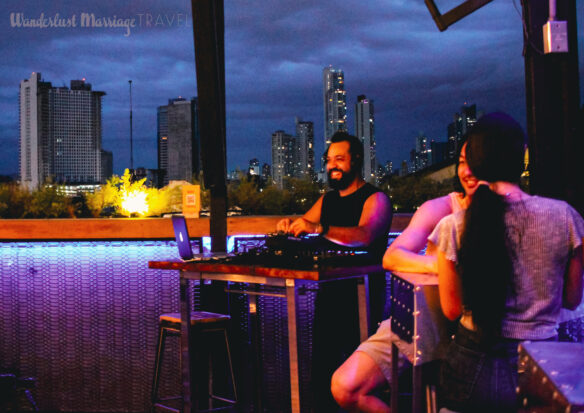 Casco Viejo is the revitalized historic district of Panama City. Settled in 1673, its vibrant colonial architecture stands as a UNESCO World Heritage Site. Hotels in Casco Viejo tend to be more expensive. But especially on weekends, it might be worth it to be within walking distance to hip restaurants and happening rooftop bars.
La Concordia makes for an excellent stay in Panama City's Casco Viejo. Stylish rooms offer a mix of old-world charm and modern amenities. Some rooms have balconies with sweeping views of charming Casco Viejo.
The American Trade Hotel is one of Panama City's most iconic hotels. Many of its stylish and comfortable rooms have balconies with sweeping views of Casco Viejo. Its one of the best hotels in Panama City for celebrating a special occasion, with the old quarter on your doorstep!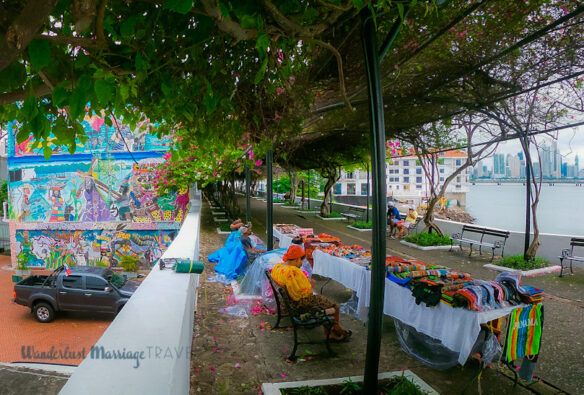 Just Outside Panama City, in the Rainforest
We enjoyed staying a couple of nights at Summit Rainforest & Golf Resort. The property is located in a tropical rainforest within the Camino de Cruces National Park. The resort has an 18-hole golf course, 2 outdoor pools, 4 nature trails, a butterfly farm and frog farm, sloth Rescue and Rehabilitation Center.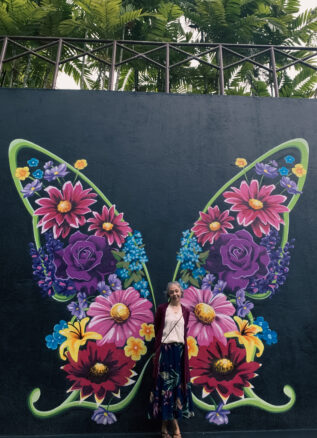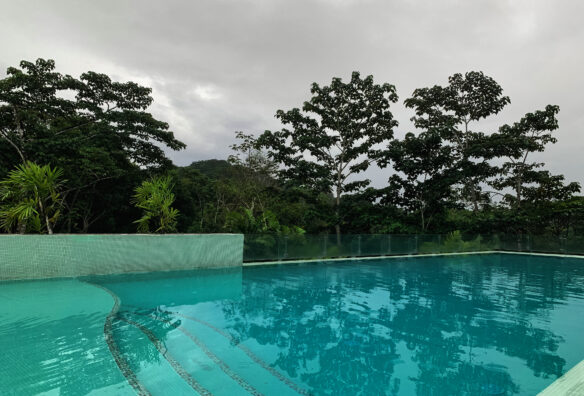 Summit Rainforest & Golf Resort is around a 20-30 minute drive outside Panama City. We used Uber to get between the city and resort. Summit offers a peaceful stay with balconies overlooking the lush rainforest. Spacious rooms with comfortable beds can be booked at a great price. With on-site dining, we enjoyed a relaxing couple days on the property.
Summit Rainforest & Golf Resort can make for an ideal getaway during a Central American golf trip that doesn't break the bank. The property is just 1.2 miles from the Panama Canal. So you can plan to tour the famous canal during your stay too.
Where and What to Eat in Panama City
Enjoying delicious local meals is one of the highlights of traveling for us. Here are some of the best places we enjoyed eating at in Panama City!
Breakfast
For breakfast or a coffee, we enjoyed Cafe Ruigar. The chipotle eggs are absolutely delicious- if you enjoy spicey food! They also have reliable wi-fi and Bell spent an afternoon working in this cafe.
Lunch
A good spot for lunch is Cafe Coca Cola, which is a total throwback. It opened its doors in 1875 and is the oldest cafe in Panama City. It's also the only cafe in the world operating, legally at least, with Coca-Cola in its name. Go there to enjoy hearty portions of stews and rice for a taste of history at a good price. The food is not fancy, and the service isn't fast, but the ambiance is fun old school Panamanian diner.
For drinks and bar food, we recommend La Rana Dorada Casco. They have a tasty selection of craft beers ranging from IPA's to coconut porters. We ordered the sampler and tried them all while munching on a delicious ceviche with plantain chips.
Dinner
Foodies will love dinner at Fonda Lo Que Hay. We questioned if we were cool enough to gain entrance! The menu here changes regularly, but we enjoyed perfectly fried chicken and a mouth watering bowl of guacho. A traditional Panamanian rice dish a little like risotto, Guacho is one of the dishes you should eat in Panama. The bowl we enjoyed at Fonda Lo Que Hay danced with rich flavors, and might have been the best dish we ate during our trip!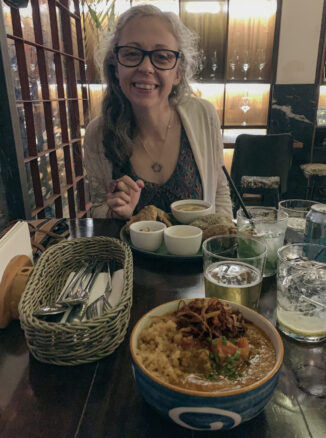 Nomada Eatery has a nice craft beer and wine selection, as well as delicious well-priced cocktails. Order a flavorful ceviche as a starter. We tried many ceviches in Panama City and Nomada Eatery's was a favorite. Their fish tacos are excellent, and the steak with plantains was also very tasty. This is also a good spot for lunch or a coffee.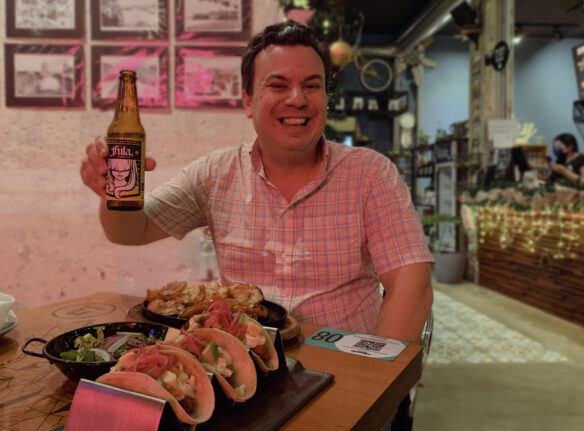 How Long Can American Tourists Stay in Panama?
American tourists are allowed to stay in Panama visa-free for 180 days. For longer stays, tourists need to apply for a "change of migratory status visa" with the assistance of a Panamanian lawyer. Visitors need to apply before spending 180 days in the country.
Panama is a popular destination with American expats. Be sure to follow Panama's immigration laws if you're considering relocating to Panama.
Use Uber in Panama City
Uber is prevalent in Panama City. Since there is a record of rides, it's more reliable and generally cleaner than taxis. You can catch it upon arrival at Tocumen International Airport and the 30-minute ride into the city only costs around $15 US.
Uber is fast. Often times it would only take a few minutes for Uber to arrive at a hotel within the financial district of Panama City. Rides from the financial district to Casco Viejo only cost around $4. We even ordered an Uber from Panama City to Anton de Valle. The 2 hour trip cost $93, in part because the Uber driver likely comes back without passengers. Uber is only available around Panama City. Elsewhere in Panama you'll have to use taxis or private car hire services that can be organized by hotels. It's a good idea to tip Uber drivers – we normally tipped around $2 each ride.
Casco Viejo: Places to Experience in Panama City
Completed and settled in 1673, Casco Viejo is Spanish for old quarter. The UNESCO World Heritage Site quarter is Panama City's most charismatic neighborhood. Delicious restaurants, hip rooftop bars, trendy bars and historic landmarks dot the quarter.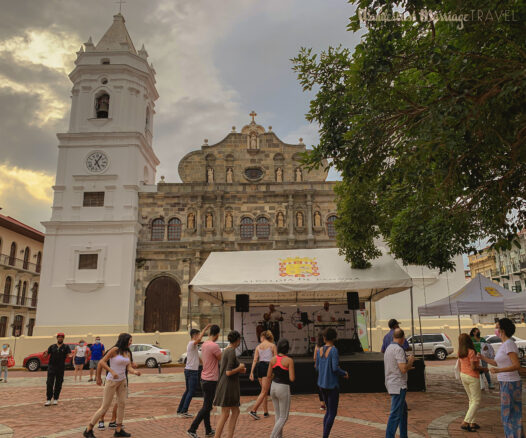 Don't confuse Casco Viejo for Panama Viejo. Panama Viejo is on the other side of Panama City and is grounds with the ruins of the original European settlement founded in 1519 by the conquistador Pedrarías Dávila. Panama Viejo was the first European settlement built along the Pacific Ocean of the Americas. After Panama Viejo was destroyed by fire thanks to Captain Morgan, they had to rebuild elsewhere. Hence the construction of Casco Viejo, so it's akin to being the new old quarter. Got it? Good!
Hike Up Ancon Hill in Panama City
Ancon Hill overlooks Panama City from a peak of 199 meters. Adjacent to the township of Ancón, Ancón Hill was used for the administration of the Panama Canal. It was under U.S. jurisdiction as part of the Panama Canal Zone until 1977, when the canal zone was returned to Panama. A large Panamanian flag waves proudly atop Ancon Hill today.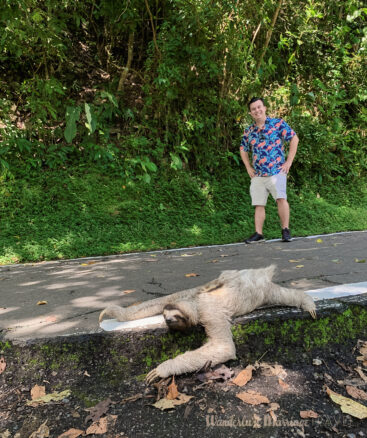 Shortly upon arriving at the paved path to hike Ancon Hill, we were greeted by a friendly sloth. Sloths spend most of their time in trees, and move extremely slowly on the ground. We also saw multiple toucans and agoutis, which are a cute Panamanian rodent. It's also possible to see tamarin monkeys during the 30-minute hike, but we didn't encounter them.
How to Reach Ancon Hill
We caught a short and cheap Uber ride from our Panama City hotel to Mia Pueblito. This attraction with replicas of colonial and indigenous buildings is also worth visiting to learn about Panamanian traditions and rural life. From there, it's just a short walk to the Ancon Hill trail. On weekends, there are quite a few people hiking the trail, and there is security around.
Explore the Panama Canal and its History
The Panama Canal is one of the world's most important waterways for global shipping. It's on the doorstep of Panama City, so there are many ways to explore it without even moving hotels from Panama City.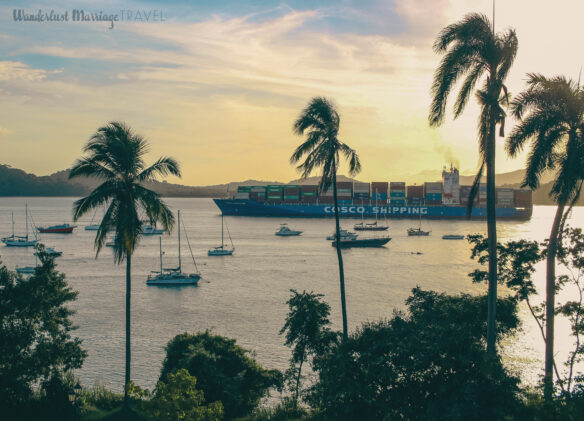 Panama Canal Museum
The Panama Canal Museum opened in 1997 to showcase the incredible story of the planning, construction and present-day operations of the world-famous Panama Canal. The Museo del Canal is located in the heart of Casco Viejo in Panama City near Avenida Central.
Adult admission to the Panama Canal Museum for non-Panamanians costs $15.
Miraflores Visitors Center
Miraflores is one of the three locks and the name of the small lake that are part of the Panama Canal. The lake separates the three locks from the Pedro Miguel Locks upstream.
The Miraflores Visitors Center offers a unique Panama Canal experience. Four exhibition halls portray the Canal's history, biodiversity, and its functioning and international importance in a dynamic and especially attractive manner.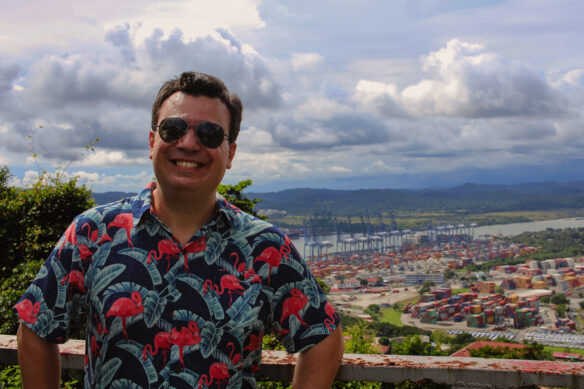 Miraflores Visitors Center has three levels for observing the Panama Canal's operation, including the passage of ships through the lock system. It's a unique place to take pictures of an engineering marvel. Just remember that ship transits can vary depending on schedules.
Adult admission to the Miraflores Visitors Center for non-Panamanians costs $15.
Panama Canal Tours
There are a variety of tours to take along the Panama Canal. They are a great opportunity to sail alongside massive cargo ships while learning about the history of the canal. There is also an opportunity to see Panama's impressive biodiversity and wildlife up close. A baby capuchin monkey briefly jumped in my lap on my 43rd birthday, so really close!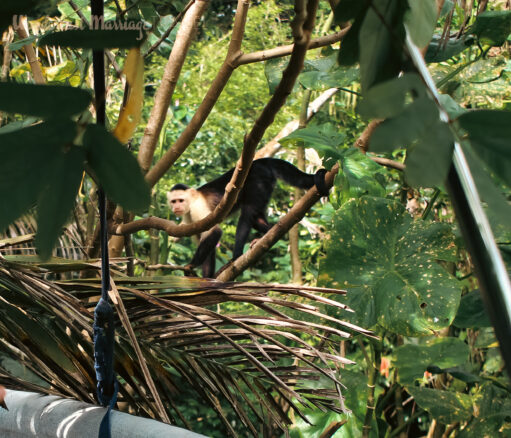 We took the Monkey Island Tour from Panama City with San Blas Tours Panama. We were picked up from our hotel in an air-conditioned van and transported to a pontoon boat on Gatun Lake. Gatun Lake is a manmade lake that's part of the Panama Canal system. We sailed alongside a huge cargo ship from Belgium and learned that it paid around a $1 million tariff to cross the Panama Canal!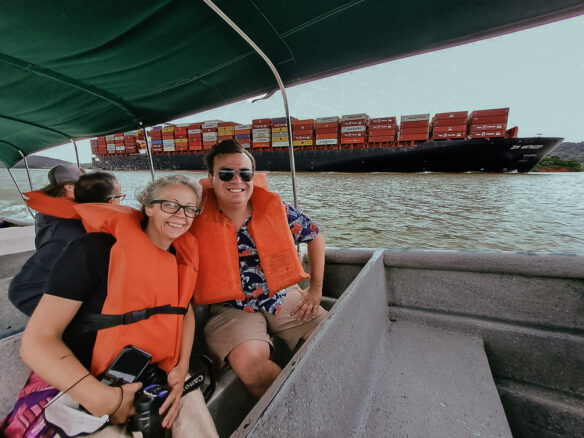 The tour took us to the Monkey Islands on Gatun Lake. The islands are home to an impressive variety of wildlife. We saw 3 species of monkeys including Geoffroy's tamarins, white-faced capuchins and black howler monkeys. We also saw an array of birds, alligators, turtles and bats. It's a good idea to take the tour that picks up at 7am instead of the 12pm tour because the monkeys are usually more active in the morning.
The Monkey Island Tour from Panama City costs around $80 and takes 4-5 hours, depending on traffic.
Causeway Islands (Islas Calzada de Amador)
The Causeway Islands are four small islands near the Pacific entrance to the Panama Canal. Islands like Flamenco Island offer fantastic views across Panama City, including Casco Viejo. You can also get a closer look at the ships waiting to sail through the Panama Canal.
The causeway was built from rock extracted during excavations while constructing the Panama Canal. It also serves as a breakwater for the Pacific entrance. We took an Uber ride to the Causeway Islands from Panama City.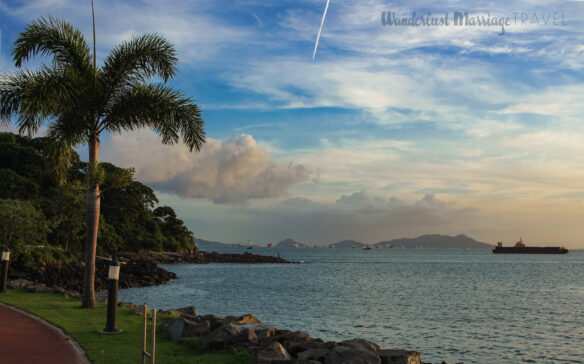 A variety of restaurants and bars are dotted along the Causeway Islands. We don't necessarily recommend eating there as our dinner was not one of the better meals we had in Panama City. It's a place to go for views and maybe a couple drinks. The Causeway Islands are also popular with joggers, you can also rent bikes as there is nice pathway to run, walk, bike along.
You can also catch a ferry from the Amador Causeway to Taboga Island. The ferry only takes half an hour. Upon arrival in Taboga, the small island is easily walkable.
Visit The Anton Valley (El Valle de Anton)
Located a 2 hour drive outside Panama City, El Valle de Anton is a unique destination. It's home to one of the world's only towns built within an extinct volcano. It's known as the "land of eternal spring" for its year round moderate temperatures. The comfortable weather reminded us of Salento, Colombia.
El Valle de Anton offers wonderful hiking opportunities. Hike the 2.2 mile La India Dormida ("Sleeping Indian") for fantastic views overlooking the Anton Valley. It's truly a unique opportunity to stand atop the rim of an extinct volcano.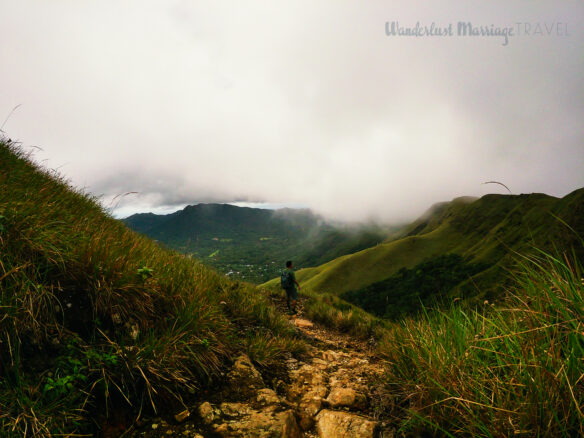 Especially during rainy season, the weather can change frequently atop a cloud rain forest. While admiring the views, clouds swept in and engulfed us. They quickly turned blue skies into low visibility, offering another perspective on the destination.
Anton Valley Hotels
We enjoyed our stay at the Golden Frog Inn. It's a wonderful place for couples. It offers a peaceful oasis, just outside town, with a picturesque view of the surrounding cloud rainforest. The Golden Frog Inn has an outdoor swimming pool, restaurant, bar and garden.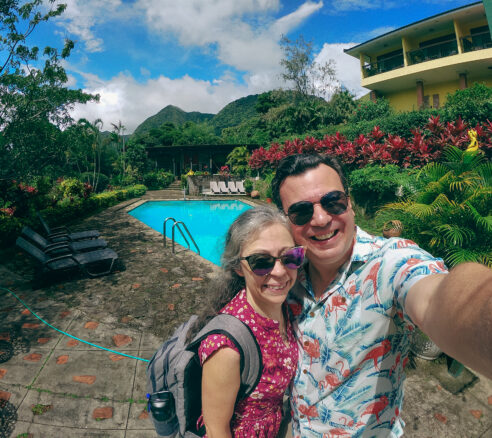 We enjoyed some dinners at the restaurant, including fantastic fish tacos and burritos. The Pina Coladas there are as delicious as they come and I highly recommend them! Tasty complimentary breakfasts featuring popular items like made to order Panamanian breakfasts, pancakes, oatmeal, omelets, yogurt bowls and fruit.
Panama City Recap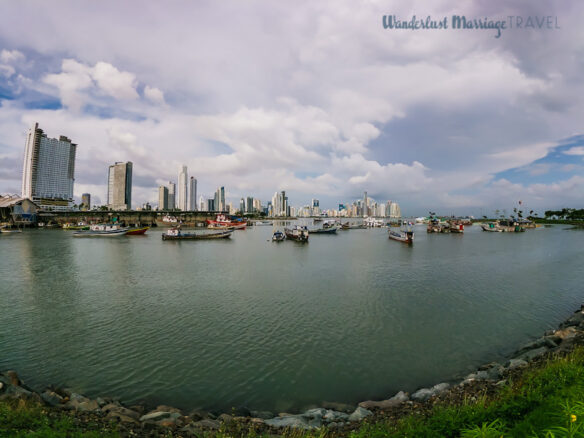 Panama City is a great destination for a city and nature getaway. The Panama Canal is a popular attraction and you don't even have to leave Panama City to view it. Ancon Hill offers scenic views overlooking the Miraflores locks and it's wonderful to encounter wildlife like sloths and toucans during a hike.
Casco Viejo is idyllic to explore during the day, and for a delicious dinner and drinks at night. The Causeway Islands offer gorgeous views across Panama City. They're perfect for a romantic afternoon or early evening to watch the sunset.
Enjoy delicious ceviche in Panama, as it's one of the culinary highlights. For the best meals, like many places, you need to know where to go. While it might be easier to find a great meal in Mexico, we definitely enjoyed some excellent Panamanian meals. Traditional Panamanian Guacho at Fonda Lo Que Hay was probably the best dish we ate in Panama.
Panama City is the gateway to explore more of picturesque Panama. Visit the beautiful Anton Valley for a relaxing getaway amidst a cloud rainforest. The San Blas Islands are popular for beach getaways. That was less interesting to us since we live near lovely beaches in Florida.
Panama City has a variety of luxury hotels that are a fraction of the cost of what you would typically pay in a major US city. If you redeem hotel points in programs like IHG and Hilton, you'll find fantastic value in redemptions. Happy exploring!
Disclosure: This article contains some affiliate links. We earn a small commission when you use our links to book travel at no extra cost to you. We appreciate you using them to supporting independent travel journalism during this challenging time for the industry!