Our goal is for travelers to experience more of the world, in a financially and environmentally sustainable way. Welcome to a new series we're planning to feature monthly called Couples Share Travel Advice. I asked Zac and his wife Virginia, from TravelFreely, seven questions on travel and their relationship.
Their website focuses on how travelers can go farther for less money, maximizing credit card and airline bonuses and points programs. They recently traveled to Hawaii on a luxury vacation and did a great job of documenting exactly how they did the trip for very little money (their plane tickets and accommodation were free). As they have great travel advice to share, we're happy to feature them.
Bio: Zac and Virginia live in Denver, Colorado. Zac works as a teacher by day and also co-founded a non-profit organization called Sports Servants, which helps keep children in Belize physically fit and out of trouble. Virginia works as a mental health counselor.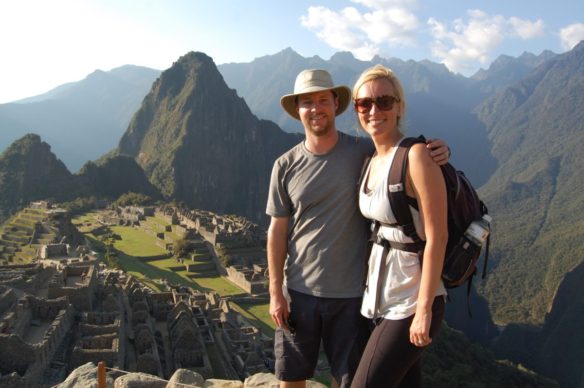 1) Describe your ideal trip.
Virginia: One that combines relaxation with sightseeing and adventure. It's nice to feel rested and not completely exhausted upon your return.
Zac: I always love a blend of culture, beauty, history, and exploration. Our recent trip to Hawaii had it all. Previous trips to Peru and Turkey also brought that combination of adventure and cultural immersion. I don't like to be uber planned when it comes to travel, so I like building in time to discover new places or simply relax based on our mood.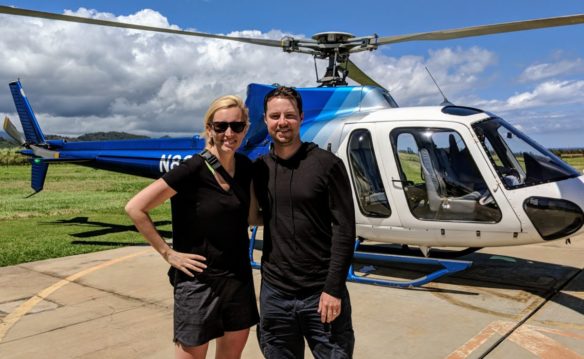 2) What's your best piece of couples travel advice?
Zac: Set expectations and communicate them! Early in our marriage, I realized that I had all these goals for our trips, but they were all in my head. I rarely communicated my expectations. So, when Virginia was like, "let's go on this hike and then eat lunch at this really cool place," I would get frustrated that we weren't going to do what I had envisioned. Thankfully, she's good at recognizing when something is off, and I quickly learned that I needed to vocalize my desires for the day and the trip as a whole.
Secondly, figure out one or two small things that will make travel much easier for your partner. For Virginia, it's making sure she has a window seat on the plane and a bag of chips. So I always get a big bag of Lays at the grocery the night before our trip.
Virginia: Talk about your individual hopes and expectations ahead of time. That way, you can plan a trip that meets each others' needs. Otherwise, you discover unmet expectations in the moment and have to deal with unexpected disappointment along the way.
3) What are your most important items to pack and why?
Virginia: For me, it's snacks that conform to my needs since I have food allergies. Many times airports in other countries cannot provide what I need, so I have to be prepared! Also, an eye mask, earplugs, and a good book are necessities.
Zac: A really good book and a journal allow me to relax and help put life in perspective. Travel is where I get some distance from regular life. For international trips, having Google's Project Fi service has been incredible. My phone works in almost every country and the data is the same price as it is at home. Also, get a credit card with no foreign transaction fees for international trips.
4) How do you resolve conflict on the road?
Virginia: Get distance if you need it – go read a book, take a walk or a nap, and attend to your own needs. Then you'll be ready to come back together in a better mood, and able to resolve the conflict after you step away.
Zac: Before we were getting free flights and hotels, I would get so stressed about our travel budget. If a certain excursion didn't go well or the weather was bad on a certain day, I could get in a really bad mood because of how much money was spent on a poor experience. Now, I don't have to put pressure on how a trip should go. If plans fall through, or something epic doesn't live up to the hype, I am much less stressed than if I had paid a lot of money to make the moment happen. As a result, the budget for food and activities have increased. Therefore, I don't have to nitpick every expense.
When we do have conflict, Virginia is really good at helping us communicate. She rarely holds grudges that last more than a few minutes. So, when we have some conflict and she's ready to be kind and makeup, it's hard for me to stay upset for too long. It's mostly my fault anyway.
 5) What's the most romantic destination you've visited and why?
Virginia: Definitely the French Riviera, where Zac proposed to me. The Mediterranean setting, the long strolls on cobblestone streets with gelato and the 15th-century church where he popped the question is out-of-this-world romantic.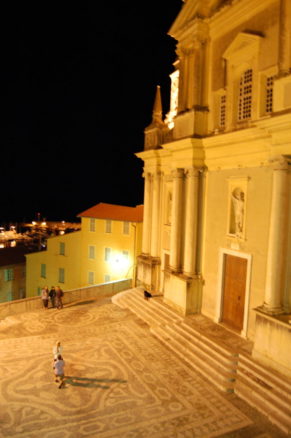 Zac: When I was 18, I had the chance to play tennis tournaments along the coast of Southern France. It was incredible, and I fell in love with the culture and the landscape. Our home base was a small town on the Italian border called Menton. There's barely any English there, just the beach, cafes, farmer's market, and an old part of the city perched on a hill. At 18, I was so enamored with it that I decided this is where I wanted to propose. And almost 10 years later, that dream came true!
 6) Why is travel important to your relationship?
Virginia: Travel gets us out of the daily grind and engages our senses, imaginations and hearts. We work really hard and we care about what we do, meaning we also need down time where we are totally free from obligations and just get to explore and play together.
Zac: Travel has the ability to bring us together in the midst of our modern, chaotic lives. We are able to slow down, reflect and experience new things individually and as a couple. Traveling with other friends has also been incredibly fun. The world is full of amazing people and places, and travel is the way to be immersed in those things.
 7) How did you meet?
Mutual friends set us up. They clearly knew what they were doing!
Great advice here. Good communication is key to a successful experience when couples are on the road (and at home). Big thanks again to Zac and Virginia for taking the time to share their story and travel tips! On TravelFreely, they've even created a cool program that helps people keep track and maximize airline and credit card bonus point programs.
You can also connect with them on the major social platforms here:
Instagram: ITravelFreely
Twitter: @ITravelFreely
Facebook: @ITravelFreely