By Alex Kallimanis:
Greece conjures images of picturesque island hopping amid storied ancient sites. How to spend the perfect week in Greece depends on the individual. If you want to lie on the beach by day and party at night, visit Ios or Myknonos in summer. This article assumes you want a mix of highlights that makes Greece an "All Time Classic": sun soaked beaches, delicious food, world-class ancient history and warm hospitality. You can stay on the mainland and have an amazing time that ticks all these boxes. The southern Peloponesse has epic spots like Olympia, Monemvasia and Nafplio and the ancient amphitheater at Epidaurus. Northern Greece offers phenomenal highlights like the ancient temples in Delphia and dramatic byzantine monasteries high atop monoliths at Meteora. But most travelers visit Greece for the islands, particularly the legendary Cyclades. If the itinerary options below seem fast-paced, just omit something.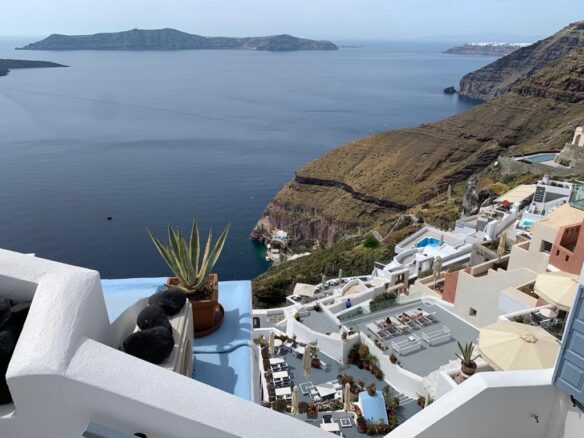 2 Days in Athens
Athens is the oldest capital in Europe and is considered the birthplace of democracy. The city's pace can be frenzied and chaotic at times, which can detract from a perfect week in Greece. But it's a city packed with epic sites, stunning vistas of the Aegean Sea, delicious food and fun nightlife in the Plaka, Monastiraki, Pysri and Gazi neighborhoods. Over the years I've shown quite a few people around Athens, including visiting for a travel blogging conference, and have heard many visitors say "Athens is even better than I imagined." With that said, many prefer the relaxing islands and smaller towns to the bustling capital, where 40% of Greece's population resides.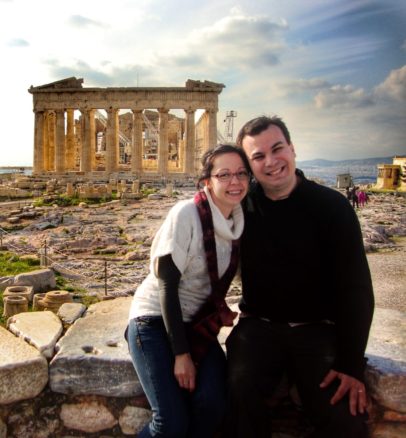 Democracy originated when the Parthenon was built. So a visit to the Acropolis should be part of a perfect week in Greece.
 There's a lot to see atop the Acropolis and the ruins of ancient Athens, like the ancient Agora (marketplace), Theatre of Dionysus and Library of Hadrian. A close up look at the Temple of Hephaestus (Theseum), which is the best preserved ancient Greek temple is also a must. Plan to visit the separate Acropolis museum too, among other sites. For more on Athens, read my article on
5 Great Tips for Visiting Athens
.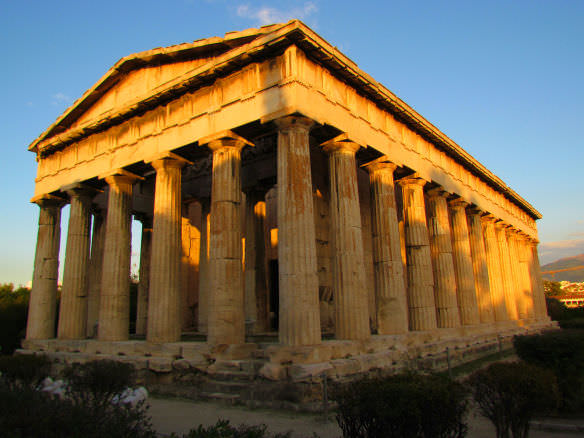 Where to Stay in Athens? (Section updated in 2019)
Book well-reviewed accommodation with free cancellation for your perfect week in Greece. Then if plans change, you can always cancel your booking! Athens is a popular destination during the warmer months.
Luxury:
The
Grand Bretagne
is a historic 5-star hotel in Athens with history dating over a century. Rooms have marble bathrooms and some have balconies facing the Acropolis and the daily changing of the guard at the Parliament. From their Roof Garden Restaurant, you can see the original Olympic Stadium and Acropolis. The Grande Bretagne Spa offers a thermal suite, complete with herbal bath, grotto, ice fountain, couples retreat and indoor pool. Guests can even pamper themselves with ouzo oil massages.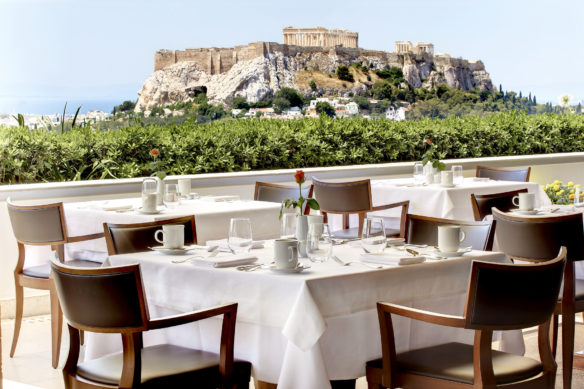 Mid Range:
The Artist Athens
 is one of my favorite hotels in Athens. It recently opened in summer 2018 so everything is brand new and the bedding is plush and comfortable. If you book a suite on an upper floor you'll have a view of the Acropolis. Many of the lower floor rooms have nice views of a lovely 17th century Orthodox Church next door. Complimentary breakfasts are fantastic with made to order items like croque madams, cappuchinos and gourmet croissants and honey. It's in the Psyri neighborhood, which is centrally located and one of the most vibrant neighborhoods in Athens. This is a great area for wonderful taverna restaurants featuring live Rembetika music (Greek blues) and Laika (Greek popular music).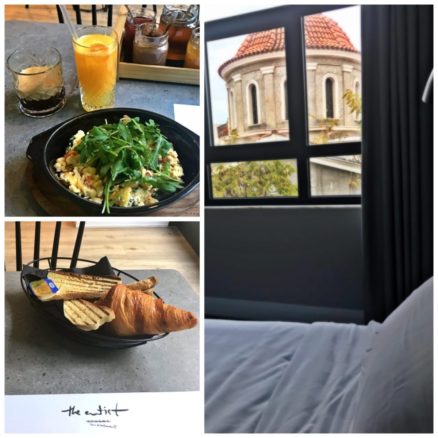 Athenaeum Grand Hotel
 is a modern hotel offering a comfortable stay at a good price. Rooms and suites are fitted with hardwood floors, nice furnishings and a modern bathroom. All rooms even include use of a smartphone, programmed with a guide to Athens that guests can use while touring the city. Beds are really comfortable and the breakfast buffet is great quality. We enjoyed our stay there.
Budget:
For solo travelers and backpackers, 
City Circus Athens
is a great place to stay. They offer dorm rooms and private rooms. Their on-site restaurant, Zampano, is a nice place to eat and caters well to vegetarians. They have evening happy hours and organize local pub crawls that bring travelers together. The downside is that rooms don't have TV's or phones, which can be found at some other budget hotels. But it's 2019 and they do have WiFi.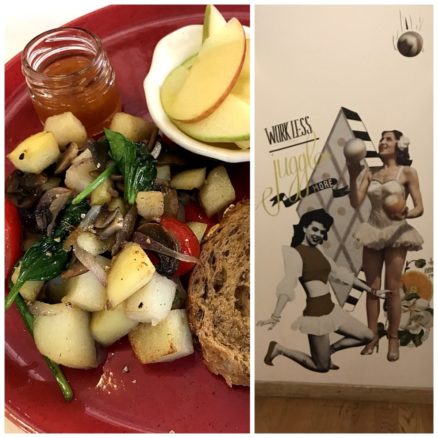 Delphi Art Hotel
is a nice budget choice housed in a neoclassical building dating back to 1930. Some rooms even have balconies overlooking the lovely National Theatre of Greece! Budget travelers should also consider renting an Airbnb apartment with good reviews. If you've never used the service, sign up here to 
receive a discount
off your first stay! Book apartments with consistently great reviews for the best experience. Neighborhoods like Plaka and Psyri are centrally located a short walk from the Acropolis, with great restaurants and fun nightlife nearby. You can also rent an apartment on the beach, somewhere like Glyfada and catch the Athens coastal tram into the city. Athens is one of the few capitals in Europe to have beaches. The Athens coastal tram has 3 lines, with great views of the Saronic Gulf. Blue line 3 runs from Syntagma Square (home of the Greek parliament) to the seaside town of Voula. If you want to stay on the beach in Athens, stay at the
Poseidon Hotel
in nearby Faliro Beach. 
London Hotel
in Glyfada Beach is another option but it's further from the center of Athens. It's still not so far of an Uber or taxi ride to go into Athens to visit the Acropolis and other attractions if you don't want to take the tram.
Optional Day Trip to Delphi, Meteora or Athens One Day Cruise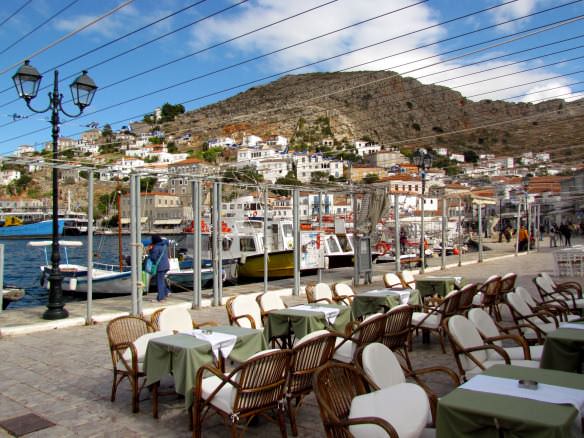 Athens One Day Cruise
An excursion to rack up several islands on a day trip from Athens is
Athens One Day Cruise
, which you can read about in my review of that cruise. Athens One Day Cruise travels to the beautiful carless island of Hydra, along with Poros and Aegina. This is a great idea if you want to see a lot of Greek islands, but are short on time. The cruise costs around
€
100 ($125 US) per person, leaving at 8 am and returning at 7:15 pm.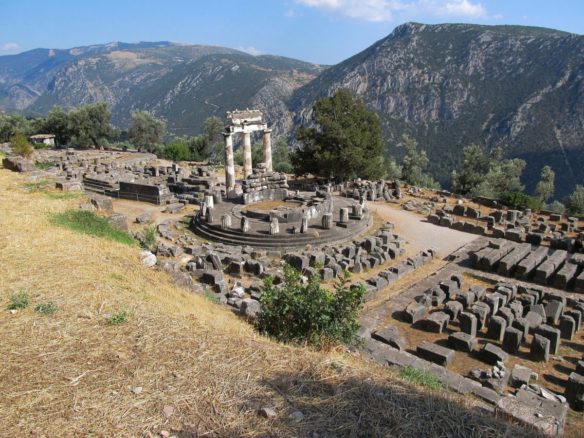 Day Trip to Delphi
Atop Mount Parnassus,
Delphi
is the most visited archeological site in Greece outside the Acropolis. The important mountainside archaeological complex dates back to the 4th century BC and contains the remains of the temples of Apollo and Athena Pronaia, as well as an ancient theater and stadium. The views of the surrounding mountains from the ancient site are fantastic. You can take a
Delphi day trip from Athens
from $115 US per person.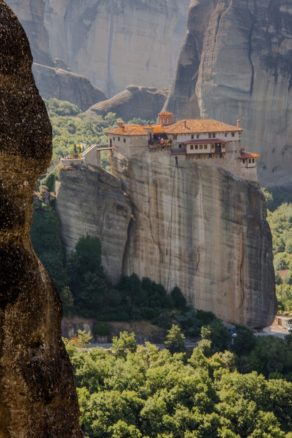 2 Day Trip to Meteora
The Byzantine monasteries of Meteora, whose names translate to "suspended in the air," is another UNESCO World Heritage Site. Atop tall monolith rock formations, six monasteries remain, with the monastery of the Holy Trinity dating back to 1475. Centuries ago the only way to reach the monasteries were via basket attached to a very long rope, deliberately hard to access to be protected from Ottoman occupiers. Unless you're a huge buff of ancient Greek history, Meteora is possibly even more worthwhile to visit than Delphi because of its unique beauty. You can also consider a
2 day trip to Meteora and Delphi from Athens
, for $226 per person including accommodation in a 4-star hotel. It's been quite a few years since I visited Delphi and Meteora, and when I did, I traveled there independently, combining train travel and taxis. You can also rent a car and drive to Delphi or Meteora, planning an overnight in Kalambaka, the town adjacent to Meteora.
Day 3 Ferry to Naxos or Fly to Crete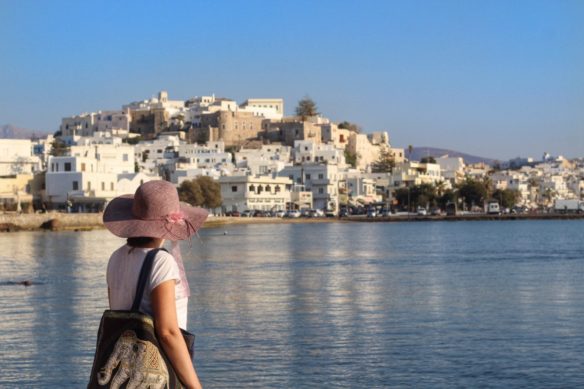 If You Choose Naxos: Day 3 and 4
Naxos is one of the best all-around islands in Greece, making it popular with Greeks and outside visitors alike. It only takes around 3 and 1/2 hours to reach Naxos on the high-speed ferry from Athens port of Piraeus. The Cyclades islands are majestic, featuring some of the most stunning sunsets on the planet. Some Greek islands have predominantly given up agriculture in favor of tourism jobs, but not Naxos. This means much of what is served on the island is truly farm to table.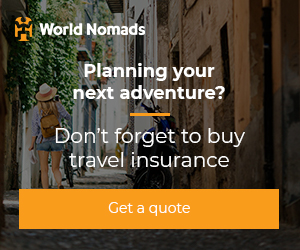 Naxos's pedestrian-only old town resembles that of Mykonos, but Naxos is generally more authentic. You also get better value for your money on Naxos over Mykonos, as accommodation and restaurants are cheaper and generally more hospitable. Naxos also has great beaches and authentic villages in the mountains. Rent a car and take a day trip to lovely mountainous villages like Chalkia, Filoti, Apeirenthos, and Appolonas on day 4. Or just lie on the beach in Naxos Chora or Aghia Ana.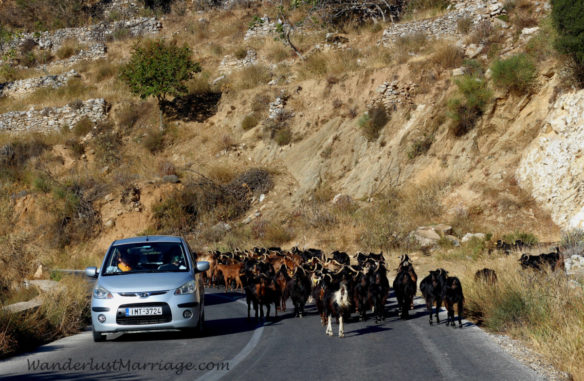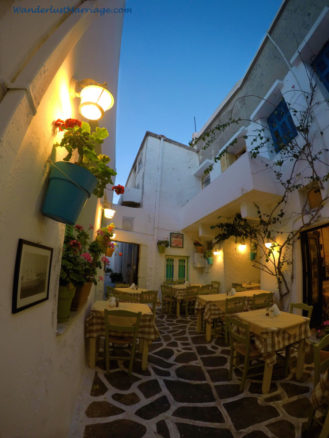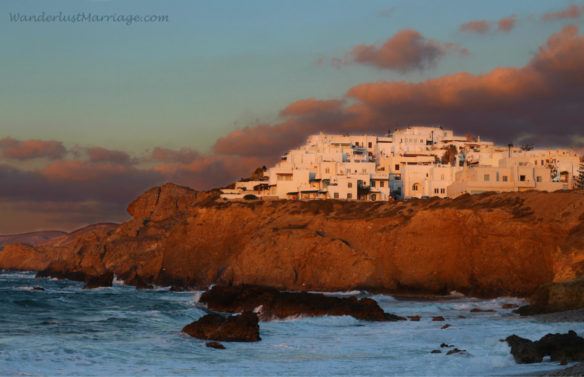 We can personally recommend staying at 
Polis of Naxos
. This stylish boutique hotel is great for a romantic getaway or a comfortable family trip. Read our article on
Tips For Visiting Naxos
 for more on what to do in Naxos and the nearby Cyclades Islands. Naxos is a great island for a week in Greece.
Or Crete for Days 3 and 4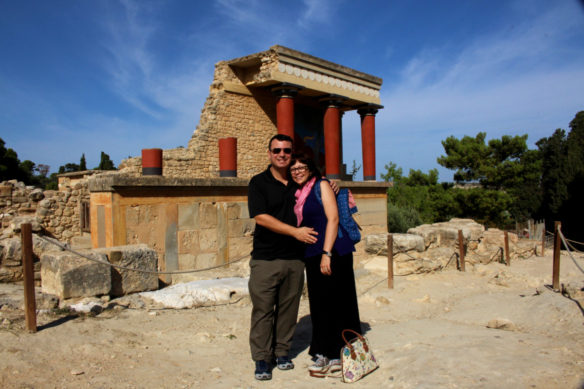 Crete is also one of Greece's best all-around islands, featuring Europe's largest gorge at Samaria. If you only have a week, it's best to fly to either Heraklion or Chania. Chania is a former Venetian colony and one of the foodie capitals of Greece. It also has the most hospitable restaurant scene of any Greek town I've been to. It's standard to receive a complimentary carafe of raki and a small dessert after your meal. Raki is a spirit made from distilled grapes, similar to grappa. Heraklion, which is the capital of Crete, is better for history lovers. Referenced by Homer in
The
Odyssey,
the ancient ruins of Knossos are just outside town. If you only have a week in Greece, it's best to pick either Chania or Heraklion. You can stay on a nearby beach in either town.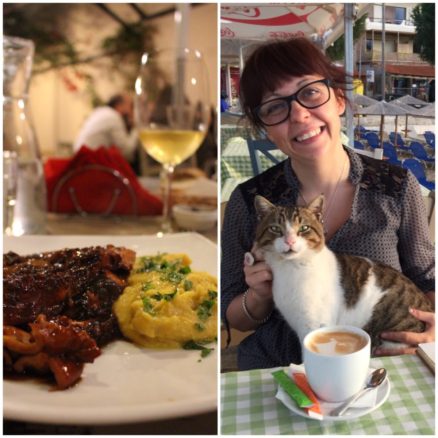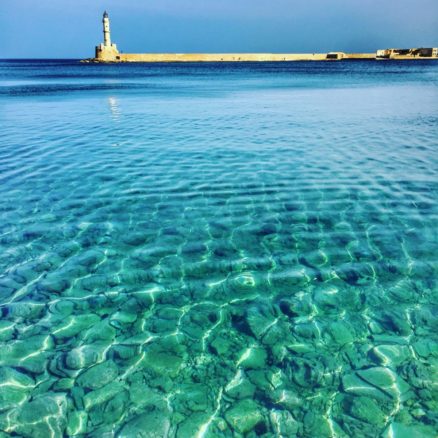 Read our article on
Reasons You Will Love Chania, Crete
 that goes much more in-depth into one of my favorite towns on the planet. And if you want to learn more about Knossos, check out our article on the
Palace of Knossos: Europe's Oldest Civilization
.
Day 5 Ferry to Santorini from Naxos or Crete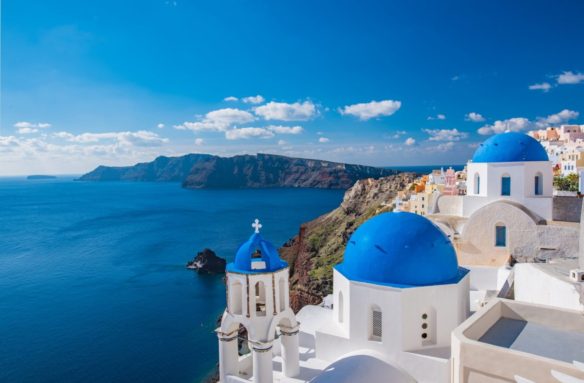 You can catch a ferry to Santorini from either Naxos or Crete. Santorini is the most famous Greek island and is especially crowded in summer. A lot of cruise ships also dock in Santorini. If you want to avoid huge crowds, it's best to avoid Santorini in summer and combine Naxos and Crete instead. These are some tips on
Santorini for first timers
. Santorini is absolutely worthwhile, with unique black sand beaches and stunning views of a crescent-shaped island surrounding a dormant volcano. There are also several wineries on Santorini, like
Boutari
, which is a great activity to unwind on day 6 before returning home. Ideal months to visit Santorini are May and September.
Day 6 and 7: Return Home from Santorini or Crete
You may need to return to Athens to fly home after a week in Greece. But Santorini has an international airport that serves much of Europe. The airports of Heraklion and Chania in nearby Crete also have direct flights to many major European cities during the busier tourist season that runs from April-October. It's hard to go wrong visiting a Greek island. But depending on the time of year, and which island you choose, the experience can be vastly different. Read my article on
6 Fantastic Greek Islands to Visit
for a breakdown of several of the best Greek islands. There's so many great spots in Greece. If you're interested in visiting Olympia, I've previously written on this important ancient site, along with tips on
Olympia
.
Want to travel to Greece for Very Cheap?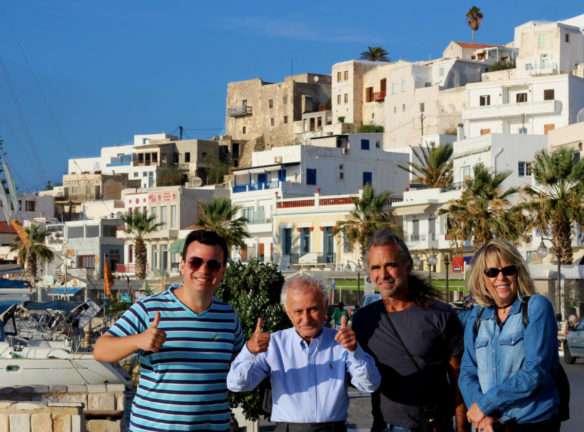 Many travel rewards credit cards offer huge bonus point offers. We  take multiple free flights a year using this strategy. If you can fly to Greece for almost nothing, you'll have more money to spend on a perfect week in Greece. The catch is being responsible with credit to avoid interest payments. Need tips on travel hacking? Get in touch!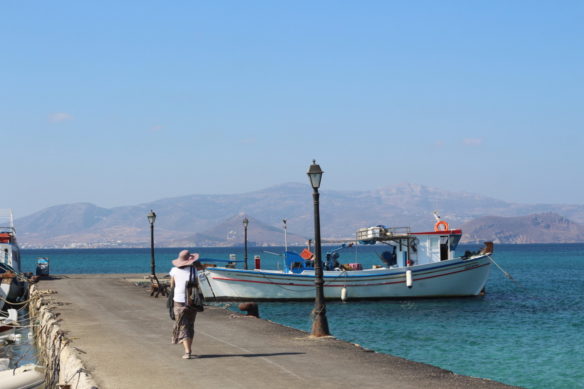 Have questions or something to add on travel in Greece? Leave a comment or email me at [email protected] and I can assist you!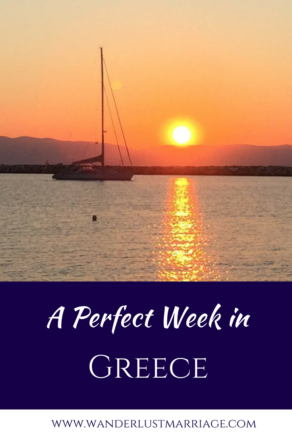 About the Writer and this Website
Alex Kallimanis is a UCF graduate who grew up in the Orlando, Florida area before living in destinations like Australia, the Netherlands, Ireland and east coast destinations like Boston and Washington, DC. I'm also a Greek citizen that has made 10+ trips to Greece. As a travel journalist and travel consultant, I enjoy assisting readers with getting amazing experiences and value from their trips. I've visited 58 countries and counting.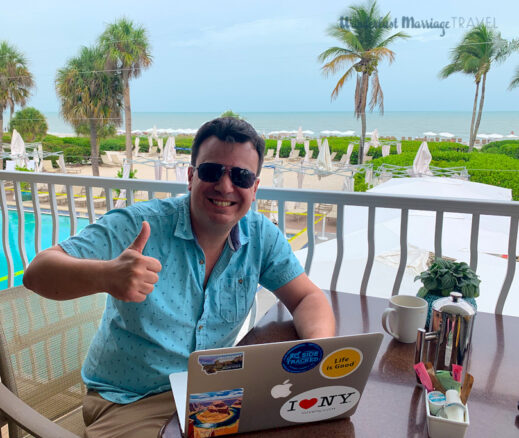 My wife of nearly 17 years, Bell, is an Australian scientist working in cancer research. We first met in a hostel in Brugge, Belgium while backpacking Europe solo after college. You can read more on that story in our
about
page if you're interested. I encourage you to browse some of the other destinations we've covered for helpful tips. I also share advice in our
resources
page that could save you thousands on travel costs!
Disclosure: This article contains affiliate links. We receive a small commission when you book or sign up through certain links and it costs you nothing extra. When it suits you, please use them, as it helps to maintain this website.