Written by Rebecca Crawford: Getting away together is every couple's dream, but travel can be stressful and expensive. Crowded cities, packed itineraries, and pricey destinations can leave us too worn out to truly enjoy the time we worked so hard to find with our significant other. If you want an escape from the crowds, there is another way to go!
Hiking together is a wonderful way to reconnect with your lover and with nature. Peace and quiet, breathtaking views, and one-on-one time mean serious bonding. These five destinations offer the best in all three. Let's take a look at some of the most romantic hikes in the USA!
Hike #1: Cadillac North Ridge Trail, Acadia National Park, Maine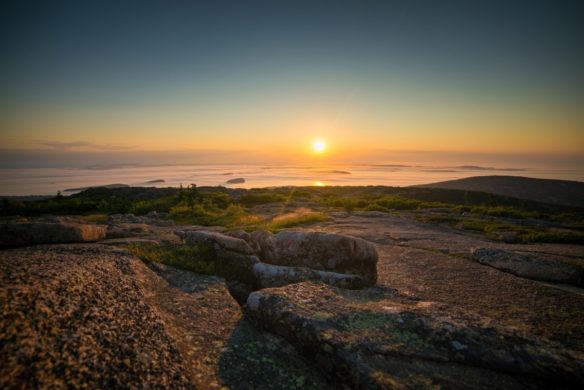 Photo credit: Pixabay
Cadillac Mountain isn't just one of the most beautiful spots on the Atlantic Coast, it's also the highest point. This 4-mile hike is a popular destination for all types of hikers, and for good reason. The North Ridge Trail takes hikers up the rocky coastline to the peak across pink granite and chaparral, where it overlooks the ocean for miles.
While this hike is gorgeous the entire way, it starts our list of romantic hiking destinations for its amazing sunsets. Dusk at the summit of Cadillac Mountain is famously spectacular, and if breathtaking sunsets aren't romantic, we don't know what is. This spot is ideal for a natural excursion that combines romance and natural beauty. Acadia National Park, and driving along the coast of Maine, previously covered by Alex and Bell of Wanderlust Marriage, is truly gorgeous.
Hike #2: Kalalau Trail, Kauai, Hawaii

This romantic hike is for those with a little more of an adventurous spirit. This 11-mile out-and-back traverses steep coastal cliffs, river-carved valleys, lush tropical forest, and isolated beaches on the Na Pali Coast – a remote portion of the island of Kauai. This portion holds centuries of history, and hikers can see early foot trails that linked early Hawaiian communities in the 19th and early 20th centuries. Wildlife like wild goats and boar are abundant, and rare tropical plants grow alongside the trail.
What makes this hike perfect for couples is its combination of stunning views, isolation, and intensity. Not a mile goes by on this trail where you won't see something truly incredible, whether it's the rocky "pali" at Kalalau Beach, inland waterfalls, or breathtaking trail-side wildflowers. The intensity of the hike means that fewer people choose to hike the whole thing, and you and your lover are sure to have plenty of time to yourself to enjoy each other's company in the serenity of the Hawaiian wilderness.
Hike #3: Heart Lake Loop, Anacortes, Washington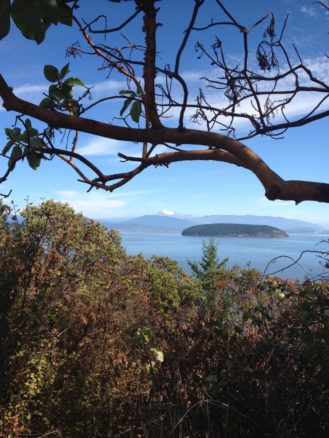 Of course, no list of romantic hikes would be complete without a mention of Heart Lake. Just an hour and a half north of Seattle, this little-known treasure is aptly named because Heart Lake is shaped like a heart. The hike itself is a 3-mile loop around parts of Heart Lake as well as Mount Erie, Mount Sugarloaf, and Whistle Lake through quintessential fern and moss-filled Pacific Northwest forest.
The loop around Heart Lake is easy and makes for a perfect day trip for you and your sweetie. There are plenty of picnicking spots by the lake, so take your time to plan a day exploring the forest, sharing stories, and maybe even hunting for wild morsels to store in your DIY hiking backpack. There's no better way to bond with your partner than in a beautiful, and symbolic, location.
Hike #4: Havasu Falls, Havasu Canyon, Arizona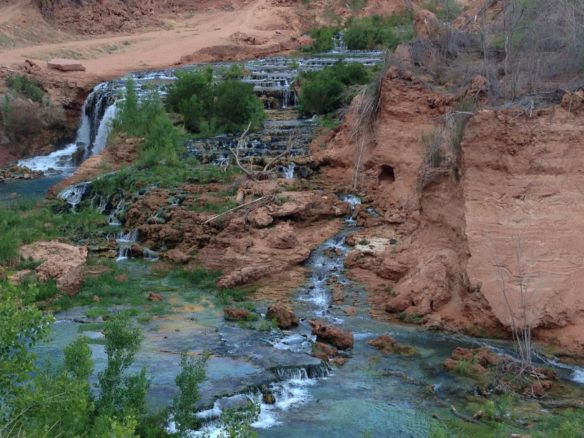 Although its another hike for the more adventurous, Havasu Falls is truly an incredible destination. Travelers must trek 8 miles one way to the bottom of the Grand Canyon to reach the Havasupai Reservation, where lodging and other accommodations are available. From there, it's another 2 miles to the Falls – but it's worth the walk.
Havasu Falls are located in a narrow portion of the canyon with stunningly high redrock walls. The water is crystal clear and bright blue – a result of natural minerals. Enter the dry Arizona heat, and the falls are a true natural resort experience. This incredible destination is truly one-of-a-kind, and there is no better way to reconnect with your lover than in the peaceful waters of this ancient canyon. Just make sure you bring a great camera for outdoor snapshots. You're going to want to remember this experience for a lifetime!
Hike #5: John Muir Trail, California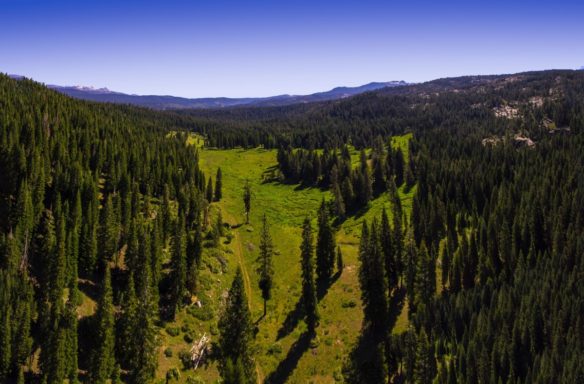 We couldn't end this list without giving a tip of our hat to the ultimate wilderness romantic – John Muir. This writer truly understood the beauty and romance of nature, and his namesake trail is sure to prove that to you. The John Muir Trail is a full 215-mile trek through California that winds through Yosemite National Park, Sequoia National Park, King's Canyon National Park, and the Ansel Adams Wilderness. You and your lover don't need to experience all 200 plus miles to feel the romance, though.
Whether you take a picnic day on the Goddard Pass trail in King's Canyon and just enjoy each other's company, or decide to spend the night backpacking in one of Yosemite's many backcountry camps, the incredible views, history, and wildlife of the High Sierra mountain range are sure to bring you that much closer to the one you love. John Muir definitely had it right.
And there you have it – 5 of the most romantic hikes in the USA for you to share with your partner in life. These wild destinations are perfect for finding a little escape from the hustle and bustle of the city and reconnecting in a more natural setting.
Do you have any romantic stories that happened outdoors? We'd love to hear about them!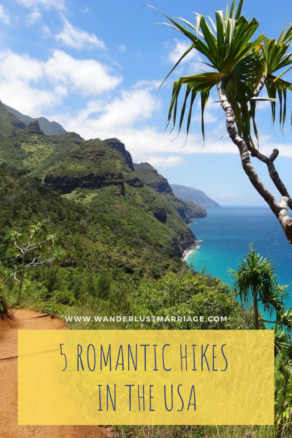 Author Bio
Rebecca Crawford lives in the USA, but loves hiking all over the world. Her favorite is the Everest Base Camp Trek in Nepal. It usually takes 16 days, but she likes to slowly enjoy mountains, company of other adventurers and take more pictures. So it took her 28 days last time. Another of her passions is the ocean, so all hikes along the shore bring her a lot of joy. She also writes for HikingMastery.com.
All photos courtesy of Pixabay Creative Commons.