Since March 2020, many of us who spend most of the day typing away on a keyboard and staring at a screen, have been working from home. No more long commutes into an office wearing stiff clothing and often uncomfortable shoes. In 2020, I stopped riding Washington, DC area public transport, a commute that at best took 40 minutes one way, and the worst-case scenario was over an hour.
After years of remote work, there is no way we want to return to long work commutes. My current day job is 100% remote and since starting this job in the Autumn of 2020, we have taken advantage of the flexibility remote work offers. Here are some tips and tricks for working remotely while being on the road!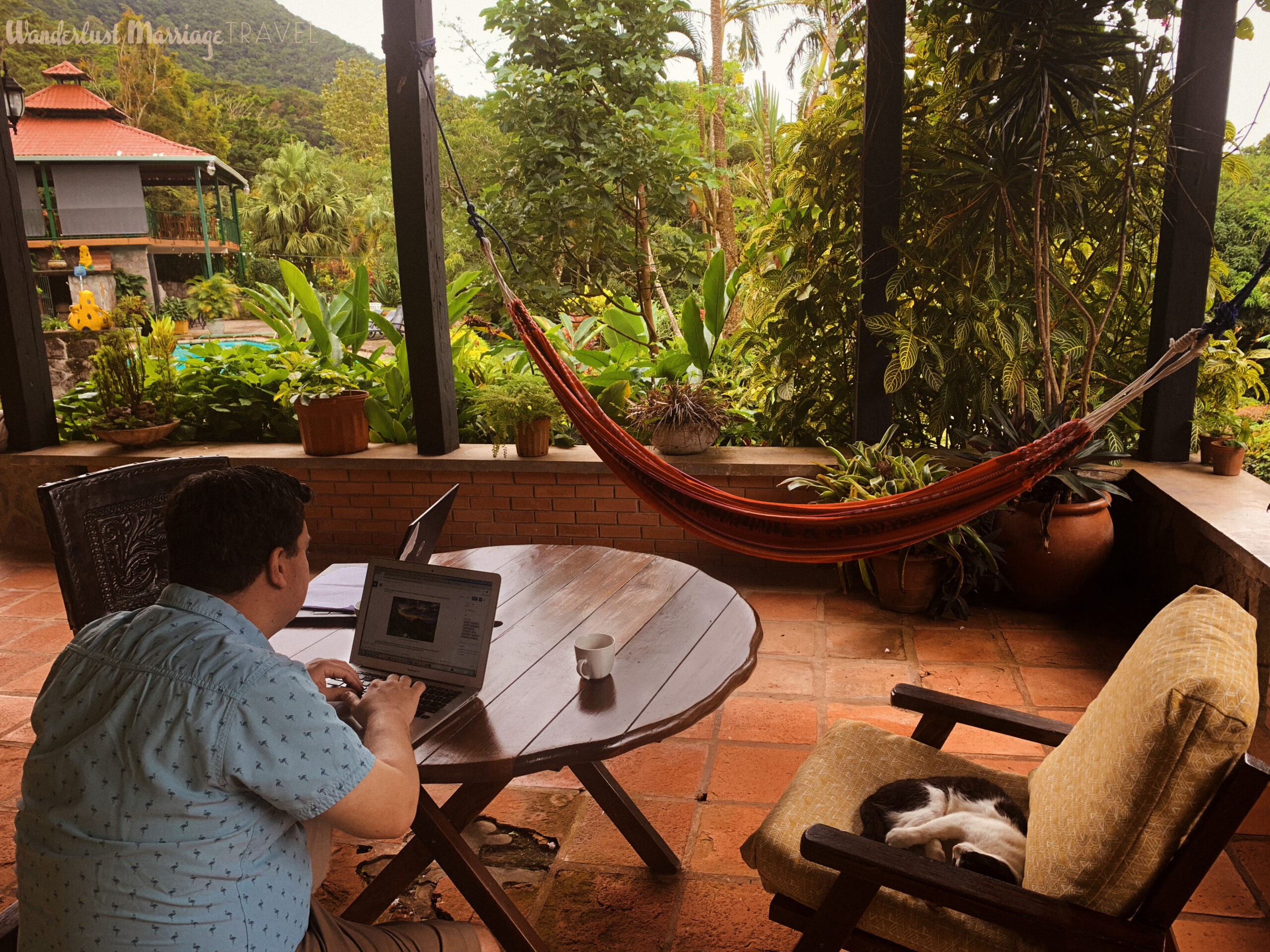 Internet Tips
Reliable internet is extremely important to successful remote work. However, sometimes issues arise. Hotels are often your best bet for reliable internet. We typically read through hotel reviews on Google and booking.com looking for comments or concerns regarding a hotel's Wi-Fi before booking. If we notice several recent reviews with complaints about an accommodation's Wi-Fi, we book elsewhere.
When two or more people are working remotely for an extended period of time, an apartment with a separate living room is usually preferable to a hotel room. However, apartments can have weak Wi-Fi or there can be service provider issues. Because I spend at least 2 hours on zoom calls a day, 5 days a week, regardless of where we are staying, I always need to have a back-up plan. So that means service on a mobile-phone and/or a quiet nearby cafe with Wi-Fi.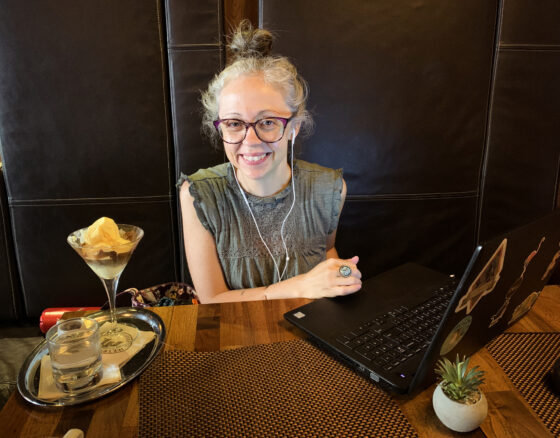 Mobile phones
The best remote work tip we have if you are abroad is to buy a local sim card for your phone. For this, you will need an unlocked phone. In other words, you own your phone outright. In most countries sim cards are cheap and you will just need to show your passport to purchase one. Sim cards can often be purchased in the airport when you arrive or even at small convenience stores. Though in some countries you will need to go into a mobile phone store (e.g., Greece). In Poland, we bought a sim card with 5GB and it was just $2 USD! I couldn't believe it.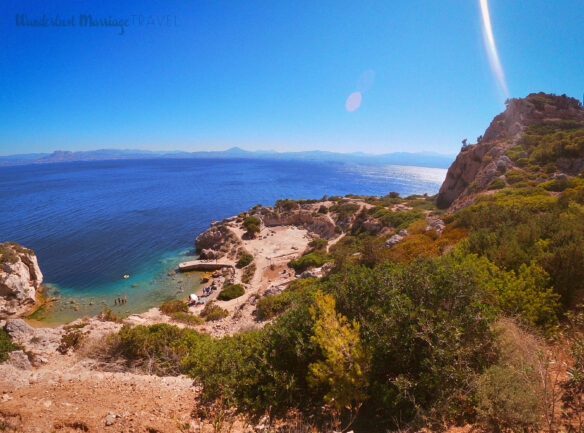 5GB of data will cover at least two 1-hour calls including a lot of video. But you can get more time if the video is off. However, you can always just call in by pulling up the local Zoom/Teams phone numbers for the region if your data is low.
Our mobile carrier in the USA is T-Mobile. They have generous plans for international travel, and this is the reason we stick with them. In most countries, we've had reasonable internet speed that is sufficient for checking and writing text emails. Your mobile phone is your best friend for remote work but do check your plan before leaving home! Roaming charges can be brutal.
Apps downloaded to your phone
I have everything on my phone needed for work. The staples include Microsoft Word and Outlook, Zoom and Teams. As the need arises I have added things like Powerpoint and Webex, but then I remove these apps after I'm done.
For travel blogging, it's good to have WordPress downloaded to your phone. If photography is central to your website, it's great to have a photo editing app like Lightroom downloaded to your phone as well. It's often easier to be inspired to create content from a tranquil setting like a beach over a home office.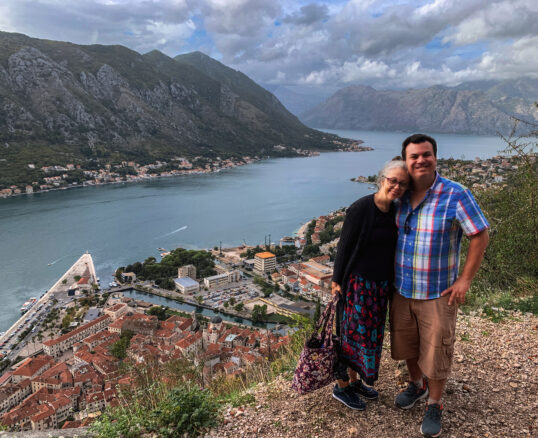 Make Use of Time in Transit
You can also utilize time spent in transit on planes, trains, buses and airport lounges to work on your phone. This is also handy because you may be somewhere where you can't charge your laptop. So having your necessary tools downloaded to your phone can allow you to continue working.
It's nice to be able to work from airport lounges during lengthy connections. Airport lounges offer a quieter reprieve from busy terminals with comfortable seating. There is also usually ample outlets to charge laptops and mobile phones. And often times, complimentary drinks and food are provided (though quality can vary substantially).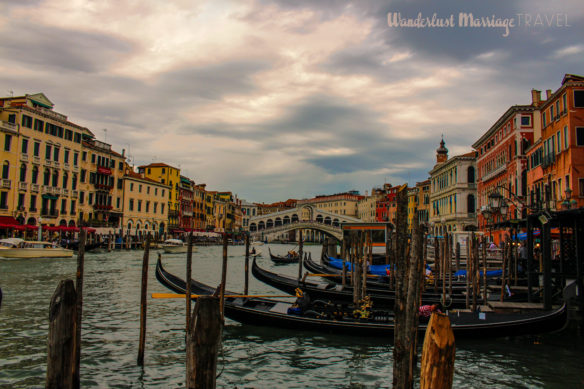 Priority Pass is one means to access lounges when you aren't flying business or first class. Priority Pass has a variety of membership options that allow travelers to access over 1,300 airport lounges. Turkish Airlines is a favorite lounge partner of ours with our Priority Passes. They serve delicious food, desserts like baklava and offer a nice selection of complimentary of wines, beer, spirits and non-alcoholic drinks.
Choose the Right Accommodation to Work Remotely
We always check the reviews before booking a hotel or apartment for any comments regarding the Wi-Fi. If there are a few complaints of poor internet from prior guests, we will avoid the hotel/apartment. However, this isn't a guarantee for reliable internet! I also like to check if there are other locations that can be used nearby in case of any problems.
Back Up Locations
Libraries can be a good option for working, especially if you are looking for somewhere quiet. Lobbies of large hotels also work. There is often, but not always, free Wi-Fi in the lobby and you can usually find a quiet corner to work. Many of large hotels and resorts have nice cafes on their property. So you can just buy a cup of coffee and now you are a customer that can work off their Wi-Fi for awhile.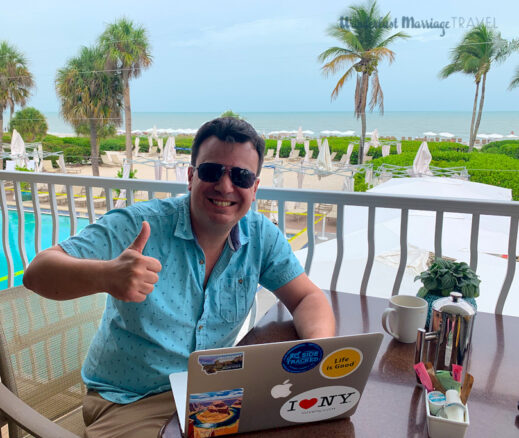 Chain businesses typically offer a reliable option for internet. Mcdonald's, Starbucks and Dunkin Donuts tend to have reliable internet. We use these as a last resort option since we prefer to support small businesses.
We noticed on our travels around central Europe and the Balkans last year that there were some great cafe options for remote workers. With the rise of remote work, we suspect this market will continue to grow. It's in a cafes interest to make their customers happy. But sometimes, an independently operated cafe can't offer Wi-Fi due to a lack of seating capacity. So be sure to ask the barista about their Wi-Fi before ordering and login immediately to check it if you urgently need access.
Plan Your Workday
Thoughtful planning can go a long way to ensure all your work is completed in a timely manner. My work doesn't require me to be online for the entire workday. If I know there is a period where I won't have internet access, for example on the bus or train, I plan to use that time for work that doesn't require being online. Because some of my work requires deep thinking, I personally enjoy being offline and away from the distraction of emails and internet rabbit holes for periods of time.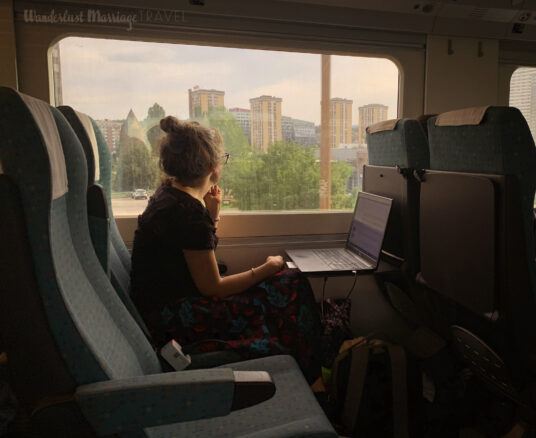 Remote work from a different time zone
If you're working remotely from a different time zone use this to your advantage. I love quiet mornings while the US is asleep. Alex and I often enjoy lunch together in a beautiful square before we jump back online for the east coast of the US morning.
However, that being said, I am also incredibly flexible on my hours when we're off traipsing the world. If there is no other option for a meeting than 11pm local overseas time, I plan accordingly and am on the call as perky as I would be if I was at home sitting at my desk.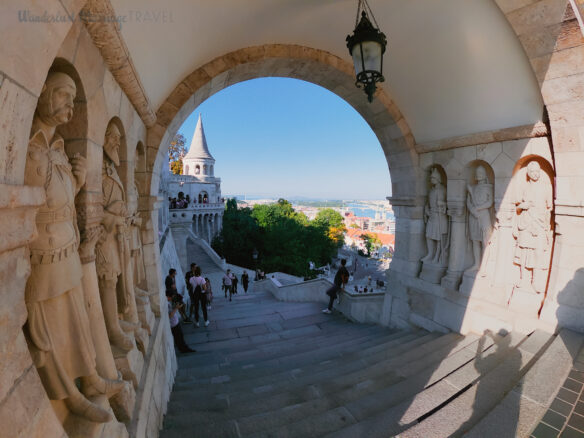 Travel Days
We try to keep travel days to Saturdays and Sundays. But this doesn't always work. If you are traveling in the off-season or in more remote areas you may have to move during the week. Our advice here is to be thoughtful. Just because the schedule says you will arrive at your new destination at noon, don't consider it written in stone. Trains can run late, and connections can be missed.
In Poland we needed to travel on a Friday. We were able to stop in a small town, Skierniewice, mid-way between Warsaw and Łódź. We found a wonderful cafe, OPEN cafe and restaurant, located on the main square. We were able to set up there and work the afternoon away before heading back to the train station to carry on to Łódź, where we spent the weekend with old friends.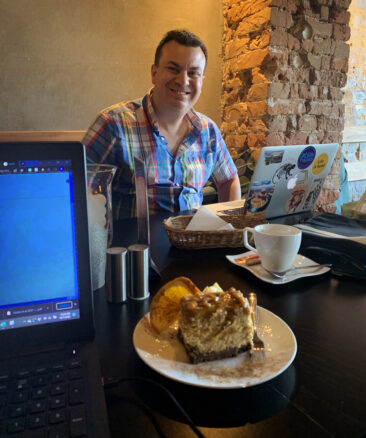 As always, a backup plan is critical. But on the road, you might not have cell service to rely on. Our honest advice here is to take a day of leave if you need to travel midweek and you're traveling. It makes for stress-free remote work!
Remote Work Tips – Finding the Right Job
The pandemic has wreaked havoc of all sorts, but the rise of remote work is one silver lining for many. To learn more about finding remote work, we recommend checking out this remote job dashboard where you can search for opportunities. For the most part, we don't miss Washington, DC area commutes, but we sometimes miss the wealth of free Smithsonian museums, among other things.
There are many possibilities for working abroad. We've enjoyed doing it at different times in our lives in a variety of roles. It's an enriching experience to dive deeper into different cultures, beyond just visiting touristy sites for a short time.
Great Remote Working Locations
We've enjoyed working remotely in many destinations, especially around the USA, Europe, Australia and Asia. Last year we worked remotely from Europe for several months in countries like Greece, the United Kingdom, Costa del Sol, Spain, Poland, Czech Republic, Croatia, Germany, Baden bei Wien, Austria, Bosnia & Herzegovina, Hungary and Montenegro.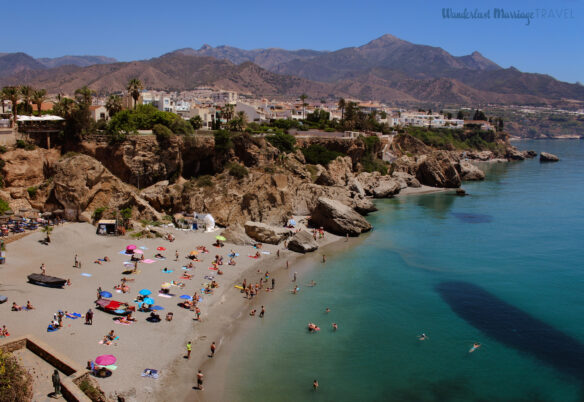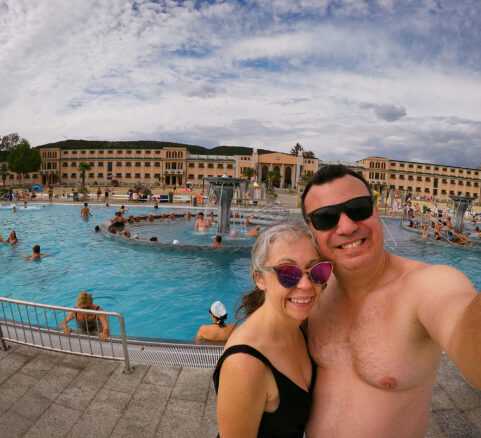 The Greek islands are a favorite destination to work remotely. Islands like Crete, Rhodes, Paros, Naxos, Tinos and many more are beautiful destinations where long term travelers can book comfortable apartments and hotels for good prices. Santorini and Mykonos are the two most expensive Greek islands, so keep that in mind. There are also a variety of great Greek spa towns that can be excellent destinations for working remotely.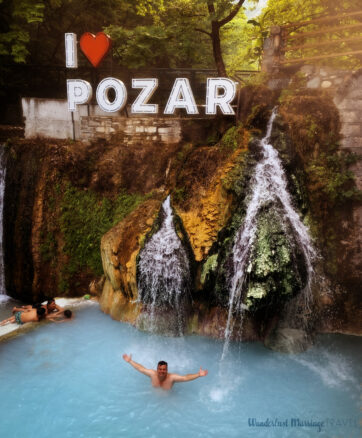 Greece is well covered on this website, including fantastic Greece property locations that can be great for a potential Greek Golden visa and a possible pathway to EU citizenship. The Alex half of us has Greek citizenship thanks to his dad, who was born there.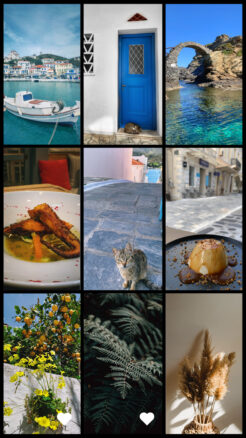 Italy is another favorite destination to work remotely. The energy, architecture and gastronomy in Italian cities is inspiring. And the beauty and tranquility of the countryside offers a mental reprieve from bustling city life. Read this recent article on how to spend 2 weeks in Italy.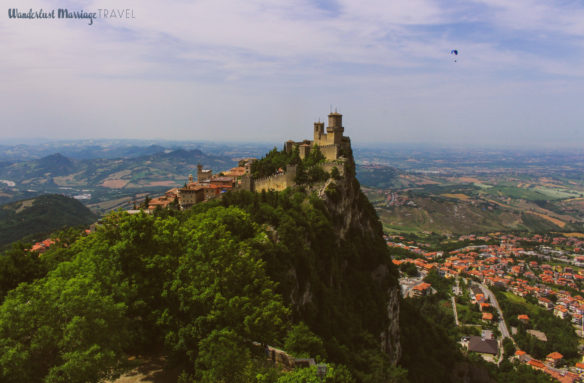 Seeing the Sites
Sometimes we miss checking out certain museums or tourist attractions that are a major draw to the city we're visiting. The tradeoff for us is that we get to enjoy the sites, sounds and tastes of the city. That being said there have been attractions that have been important to one of us, or both of us to see.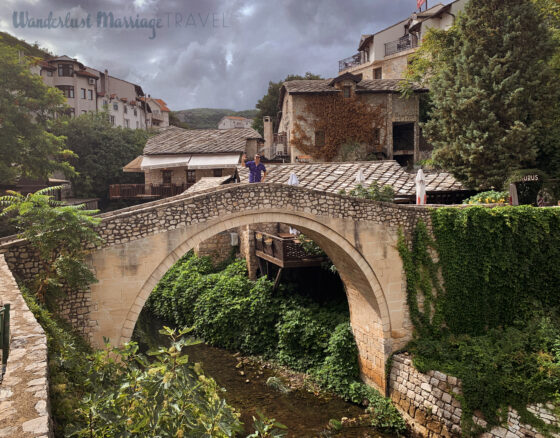 For example, in Sarajevo, we both wanted to visit the Museum of Crimes Against Humanity & Genocide. This excellent exhibit serves to remember the war that took place in Bosnia and Herzegovina from 1992-1995. We visited while most of the USA was sleeping. It was well worth fitting such an important museum into our schedules, especially with the ongoing war in Ukraine. We saved the Fall of Yugoslavia day tour for the weekend.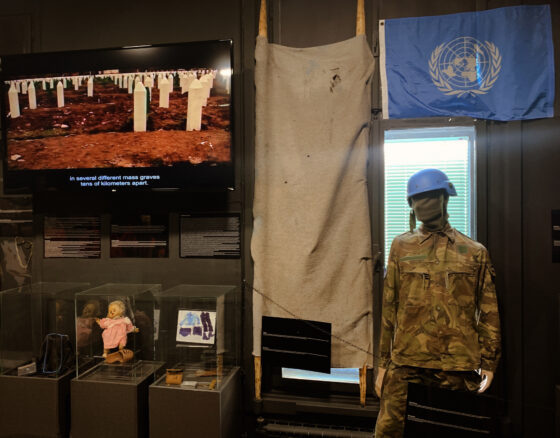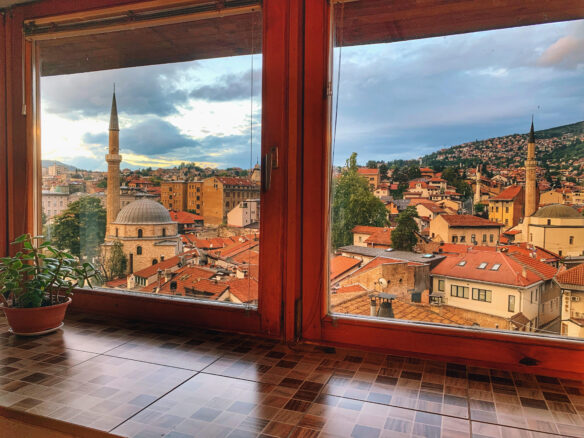 Consider Nomad Insurance
Companies like SafetyWing offer a variety of packages for Nomad Insurance that can cover expenses like medical bills should an unforeseen event occur overseas. Check out their policies to see if a plan is right for your needs. You can also purchase a policy if you're already abroad. Like anything, be sure to read terms and conditions of coverage.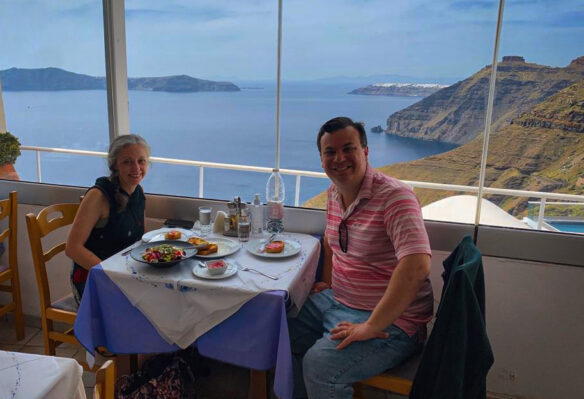 Remote Work Tips Conclusion
Working remotely is a great way to see the world. Technology allows us to work outside our offices, and often even outside our country. There are a variety of ways to make it happen, including working holiday visas for younger adults.
Just remember to be prepared, and try not to be in transit during especially important work days. It's best to be sure you have reliably stable internet access to complete tasks in the least stressful way.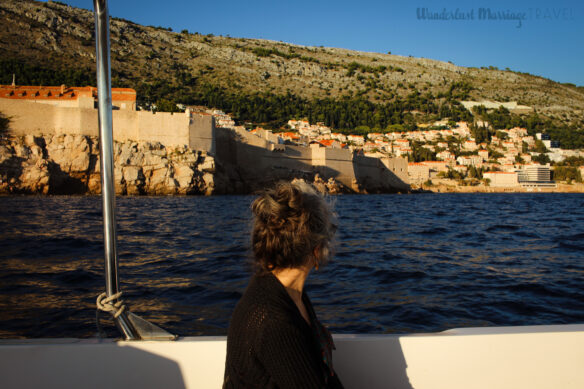 Feel free to leave a comment or questions regarding remote work below. Happy remote working and joyous travels!
Disclosure: This article contains some affiliate links. We receive a small commission when you book through them, which allows us to maintain this website.