Charleston consistently ranks as one of the top destinations in the US by major travel publications. Its history dates to 1670 and the town is especially famous for its beautifully preserved French Quarter, a lovely harbor and one of the largest collections of antebellum houses in the US (pre US civil war architecture). On our recent visit to Charleston in January, 2018, we enjoyed touring this historic city and eating some fantastic southern food. Here are some recommendations on where to stay, eat, drink and what to see!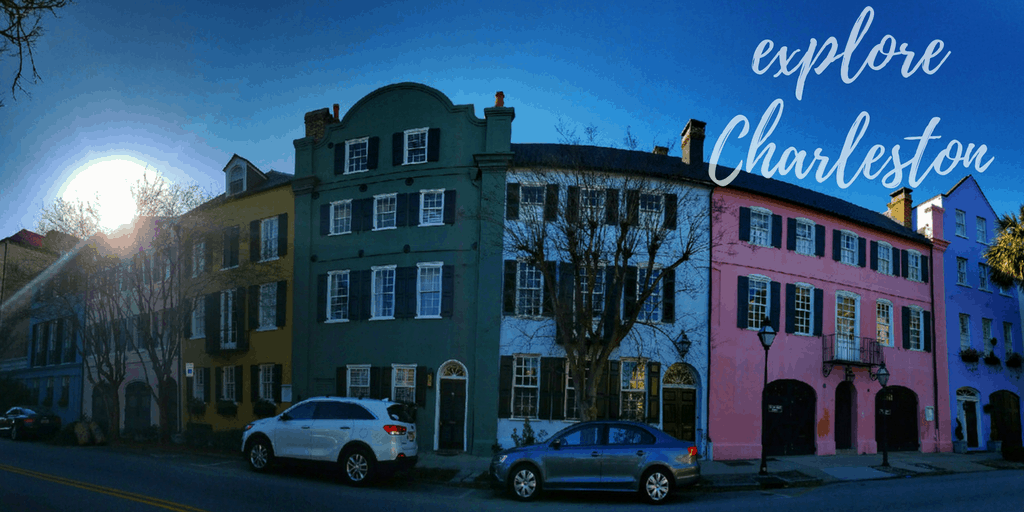 Places to Stay in Charleston, South Carolina
Bell had a statistics conference and we stayed at the Charleston Marriot, where the event was hosted. When the conference ended, we used Hilton Honors points from previous business travel to stay at the Hilton Garden Inn Charleston Waterfront. If the price is similar, the Marriot is a better choice. Both hotels are over a mile walk to the historic center, but both also offer shuttle services – the Marriot charges $6 per person per day to use the shuttle, and the service is solely tip based at the Hilton Garden Charleston Waterfront.
Charleston has several grand historic hotels. The French Quarter Inn has been ranked among the world's best hotels by Travel + Leisure. So luxury travelers are well covered.
Things to Do in Charleston, South Carolina
Rainbow Row
Rainbow Row features the longest collection of Georgian row houses in the United States. There are thirteen colorful houses side by side near the waterfront beginning at the end of East Bay Street. This is one of the most photographed areas of the city.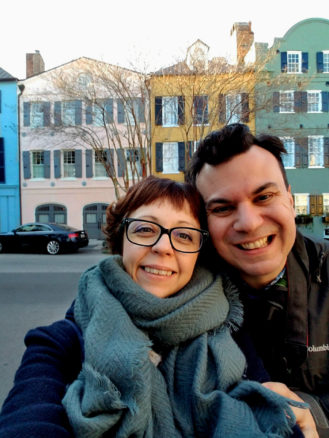 The
Charleston City Market
dates back to 1804 and stretches for four city blocks. The market begins with beautiful Market Hall at Meeting St, and the entire complex is a designated National Historic Landmark. This is a great place to pick up everything from a well-priced leather wallet to delicious candied pecans.
Fort Sumter is where the US Civil War began. On April 12th, 1861, a Confederate militia fired the first shots on the federal fort in Charleston Harbor. 34 hours later the fort fell and it took the Union armies four years to reclaim it. Today, you can catch a ferry to Fort Sumter from Liberty Square and Patriots Place. Fort Sumter Tours last around 2 hours and 15 minutes and costs $22 for adults and $14 for children.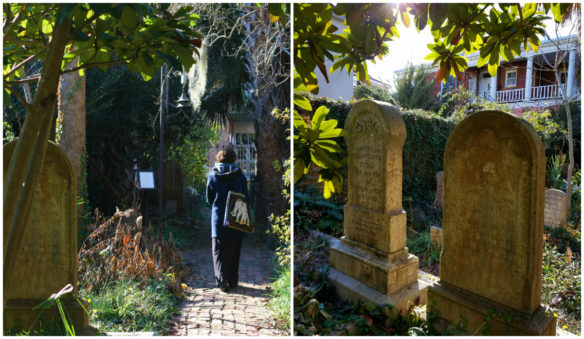 French Quarter
Charleston is one of the best US cities to walk around. And one of the best neighborhoods is the French Quarter. The cobblestone streets and antebellum homes are like a Hollywood movie set (and they often become that). The French Quarter encompasses the area from the historic market to Broad Street, and the Waterfront Park.
Slave Mart Museum
For a reminder of the tragic history of the south, visit the Old Slave Mart Museum in the French Quarter. This is the last slave market building remaining in South Carolina. It is haunting to visit a place where human beings were once auctioned off like cattle. If you visit one of the pretty plantations outside Charleston, be sure to also visit the Slave Mart as well.
Waterfront Park
The Waterfront Park is a beautiful 8-acre park between the French Quarter and Cooper River. The park has received many design awards and offers great views of Charleston Harbour, Fort Sumter, Ravenel Bridge and Patriots Point. Especially when the weather is good, it makes for a nice stroll, combining the historic market and the French Quarter.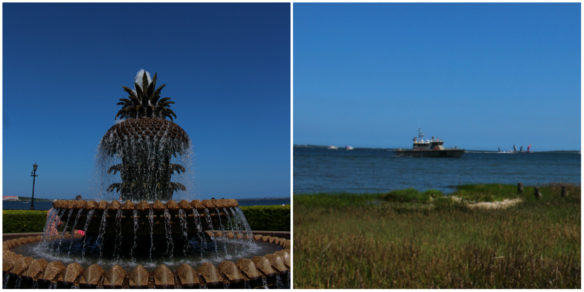 Great Restaurants in Charleston, SC
Charleston is one of the best cities for fine dining in the US. There is some 100 class A restaurants in a town just the size of 135,000. Our guide, "Captain Bob," described it as a "cross between Manhattan and Mayberry," because while the tastes are refined, everyone knows each other. There's a wealth of great places to eat, but here are a few places we personally really enjoyed.
Stella's (mid-range prices with a fun, high end feel)
Stella's is one of the funnest Greek restaurants we've dined at in the USA. The Greek dishes with a southern twist and fun atmosphere are both fantastic. Try their grilled octopus, which is perfectly cooked with lemon, olive oil and spices. Or go for a traditional baked dish like moussaka or pasticio, basically Greek style lasagna. To drink, try a Greek wine or a local craft beer on draft.
We enjoyed Stella's so much we even returned for brunch. The crab omelet had a generous portion of crab meat, accompanied by a side of roasted Greek style potatoes. Their winding bar is stylishly designed and a great place to grab a drink! Stella's is actually one of two locations and the original is located in Richmond, Virginia.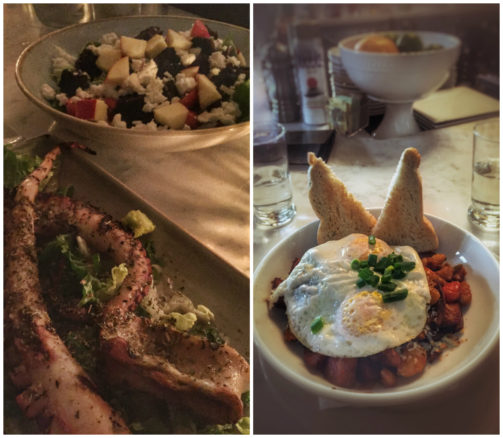 5 Church (mid-range – upscale)
We also highly recommend 5 Church. It's a unique experience to eat in a former church and the food and drinks are top notch. 5Church's cutting edge interior design & sophisticated ambiance make it the perfect setting for a date night. They have an excellent menu featuring delicious meats, seafood, and fresh pastas.
Tommy Condon's (budget, friendly and fun)
It's good to indulge in some southern favorites like shrimp n' grits and fried green tomatoes. This is easy to find in Charleston. Surprisingly, the kitchen of Tommy Condon's whips up an excellent shrimp n' grits, which pairs interestingly with live Irish music! This place brought back memories of living in Ireland, with a southern US twist.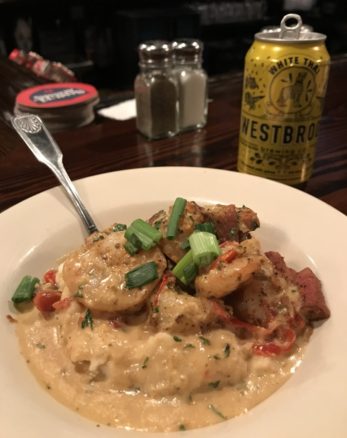 Private Tours in Charleston, South Carolina
If you're looking for a private tour of Charleston, we recommend "Captain Bob." Captain Bob has comfortable vehicles, like his Town & Country, and is licensed to tour groups around Charleston, Savannah and nearby plantations. Captain Bob has toured celebrities like news anchor Solidad O'Brien of CNN and is knowledgeable about the local history. If you want to take a tour with this friendly guide, email me at [email protected] and I can coordinate that. I can also assist with more tips on Charleston and travel in the American south too!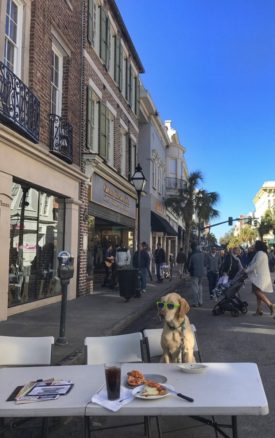 Thinking About a Road trip in the Southeast of the United States? 
As we previously lived in Orlando and Tampa, we know the southeast of the United States well. Check out some of our other articles on the south like:
A Mini-Guide to Chapel Hill, North Carolina
Great Day Trips from Tampa, Florida
Alternative Orlando Gems You Don't Read About
Blue Ridge Parkway, America's Favorite Drive
Cedar Key, Florida: An Authentic Getaway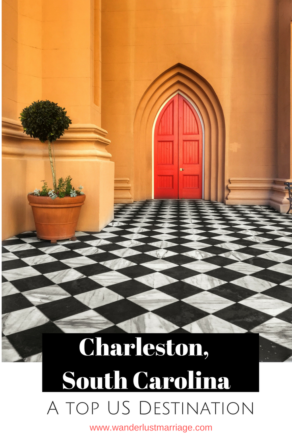 Disclaimer: This post contains some affiliate links. If you book your hotel via those links, we receive a small commission. It costs you nothing extra, and it helps support this website. If you book through them, thank you.