Amsterdam is the Dutch capital, known for its elaborate canal system dotted with narrow houses adorned with gabled facades, a legacy of the city's 17th-century Golden Age. Its Museum District is home to the Van Gogh Museum, the Rijksmuseum (home to Rembrandt and Vermeer works) and Stedelijk modern art museum. Schipol Airport is the third largest airport in Europe so many visitors find themselves transiting with a short stay. We spent 3.5 years living among Amsterdam's beautiful 17th century buildings and canals and have returned multiple times since. Here's some tips if you only have one day in Amsterdam!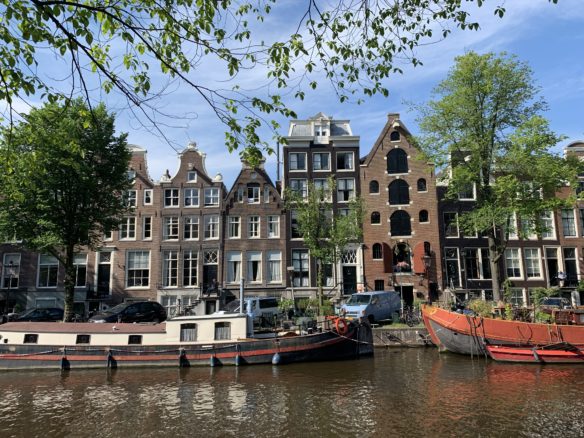 Tickets Between Schipol Airport and Amsterdam's Public Transportation
Single use train tickets and OV-chipkaart
When you arrive at Schipol Airport it's an easy train ride into Amsterdam that only takes around 15 minutes. Transit travel requires an OV-chipkaart, a smart card that can be used for bus, tram, train and metro services. If you're only in Amsterdam for one day, just buy a single use chip card from the ticket machine at Schipol Airport. You can also purchase an 'anonymous OV-chipkaart' in stations or in tobacco shops for use on Amsterdam's metro, trams, and buses. The 'anonymous OV-chipkaart' costs 7.50 and remains valid for five years. When traveling by train, make sure you have at least 20 euros worth of credit on your OV-chipkaart.
Public transportation in Amsterdam is vast and reliable. You'll save a lot using it as taxis are very expensive. The city center of Amsterdam is also extremely walkable so you can cover a lot of ground with one day in Amsterdam.
Amsterdam Boat Tours
There are many large tour boats conveniently located near Amsterdam Centraal train station. The tours usually last one hour and if you only have one day in Amsterdam, this is a handy way to see a lot of the city. Their big boat tours, with information in several languages, including English, French, German and Dutch.
You can also book an Amsterdam canal boat cruise. This 75 minute tour is on an old wooden captain's boat and includes cheese and a drink. The tour costs $30.57 per person.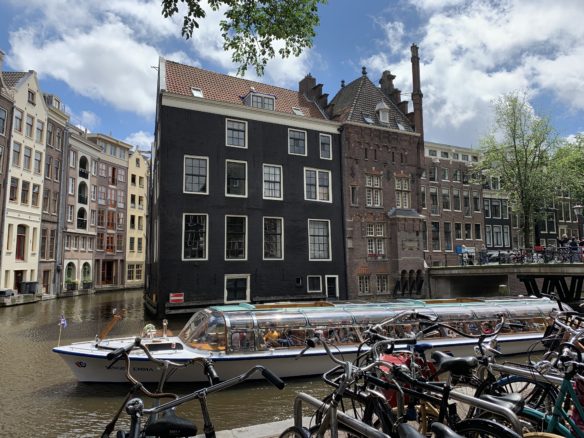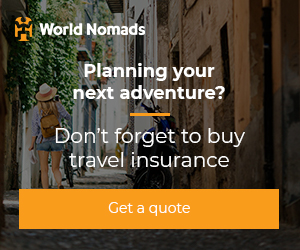 Rijksmuseum, Van Gogh Museum and Anne Frank House
Amsterdam's two most famous museums are the Van Gogh Museum and the Rijksmuseum, the Dutch modern art museum. Another one of the most popular attractions is the Anne Frank House. We've visited all three and unless you have a strong preference towards one, we'd recommend visiting the Rijksmuseum if you have just one day in Amsterdam. All three can be busy, but lines to visit the Anne Frank House can easily be over an hour to get inside.
Rembrant's The Night Watch at the Rijksmuseum is the size of an entire room and perhaps the most impressive piece of art in the city.  You can spend quite a while in front of The Night Watch, absorbing details large and small. We were also surprised at some of the humor in many of the Dutch paintings at the Rijksmuseum.
Amsterdam's Best Canal Spots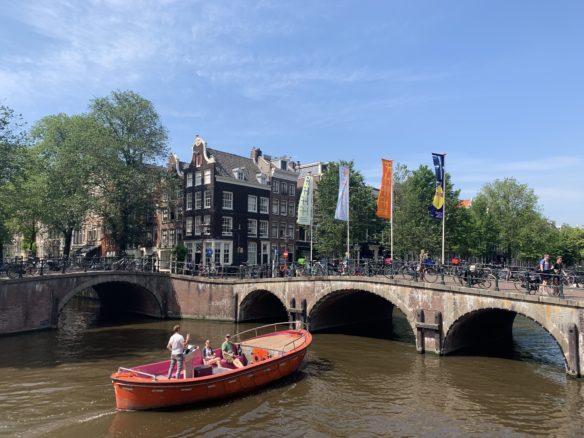 Amsterdam is often considered the "Venice of Northern Europe."  Man-made canals built in the 17th century to facilitate trade double as a playground to relax today. On warm sunny days the canals are filled with boats, with locals soaking up the ambiance over beer, wine and 'haptjes' (small nibbles that usually involve young and aged cheeses, cold cuts and sausages).
The most picturesque of Amsterdam's canals are on the western canal belt, particularly around the Brouwersgracht, Herengracht and Prinsegracht. Another fantastic spot is the area of the 7 bridges right behind Rembrantplein, the only place in Amsterdam to view 7 small bridges at the same time.
Picnics on the canals were one of our favorite pass times and our favorite spot is the dock in front of the Hermitage Museum, on the Amstel River. This is a spacious spot offering a vast panoramic view across the Amstel. Backpackers on a budget should definitely plan a nice picnic on the canals.
Where to Eat in Amsterdam
If you eat one meal out in a Dutch restaurant (et' cafe) it should be kip sate. Kip sate is chicken cooked in a mildly spicy Indonesian influenced peanut sauce, typically served with Vlaamse Frites (Flemish fries). Our favorite restaurant for kip sate is De Haven van Texel. The food is good and they have a fantastic canal side terrace that's great for soaking up the local ambiance. In winter, the inside dining area is "gezellig," which is Dutch for a cosy and comfortable place that friends and loved ones can enjoy together.
Another favorite gezellig restaurant in Amsterdam is
De Struisvogel
, which translates into "the Ostrich." This is a fantastic little restaurant, and if you go try the ostrich steak as it's delicious, though not typically Dutch.
For an upscale dinner where you can sit in a room next to authentic Rembrandt etchings, D' Vijff Vlieghen has good food in an unforgettable dining area.
Where to Drink in Amsterdam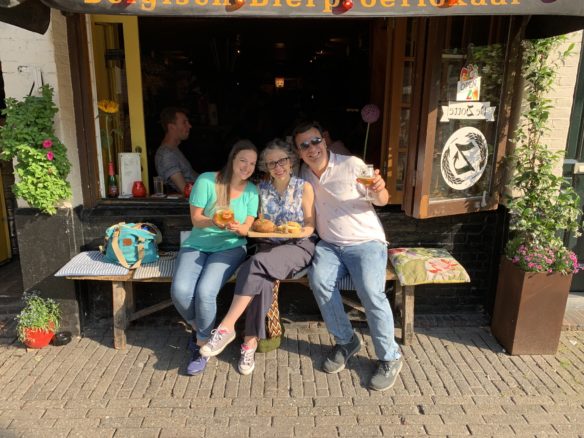 If you want to try Dutch craft beers and gins (jenevers) there's no better pub than Arendsnest, which serves over 40 varieties of Dutch brews and is located on the Herengracht.
Jenever is Dutch gin, filled to the brim of a shot glass. You'll need to drink the first sip without lifting the glass or you'll spill some. A hidden gem for enjoying jenever is one of the tiniest pubs you'll come across, Cafe de Dokter, which coincidentally is on the city center alley we lived on for 3 years.
De Zotte is a charming Dutch and Belgian beer bar located on an alley just off the Prinsengracht canal. This truly gezellig bar serves a wonderful cheese board with delicious fresh baked bread.
If you want to try great local beer there are two active breweries in Amsterdam, Brouwerij de Prael in the Red Light District, and Brouwerij 't IJ, which is housed in an old Dutch windmill just outside the city center. You can take tours of the IJ brewery or just swing by for one of their beers, the Columbus being a favorite of ours. But if you only have a day you can find some of IJ's beers in some of Amsterdam's best city center pubs like Arendsnest, mentioned earlier, In de Wildeman and Cafe Gollem.
Great Amsterdam Hotels
Hotel prices in Amsterdam vary depending on time of year and availability. So book something with free cancellation in advance, especially during summer and over the holidays!
Luxury: 
It doesn't get more luxurious than the 5 star Waldorf Astoria Amsterdam. Set along the UNESCO World Heritage listed Herengracht canal, the hotel is made up of six monumental 17th century canal palaces. The 2-Michelin star restaurant Librije's Zusje Amsterdam is great for an on site gastronomic experience.
Pulitzer Amsterdam is a great luxury choice located within 25 interlinked 17th and 18th century canal houses, between the famous Prinsengracht and Keizersgracht canals. Combining traditional and modern Dutch design, the hotel has 225 unique guest rooms and suites. It's walking distance from major attractions, but on a quieter end of the picturesque western canal belt.
Radisson Blu is the one of the best value luxury stays in the center of Amsterdam. Spacious rooms are decorated according to colorful themes. Their on site restaurant serves international meals and an extensive breakfast buffet.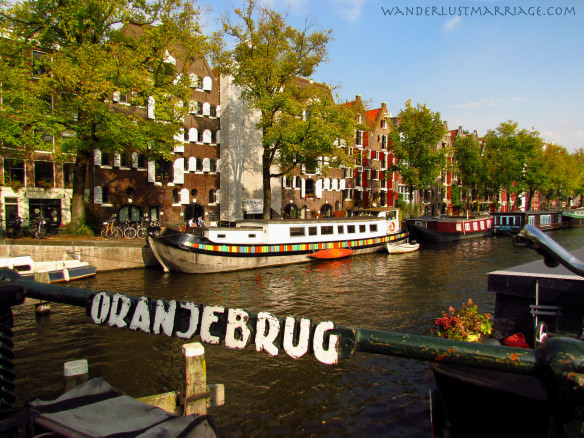 Mid Range:
Citizen M is a comfortable and ultra-modern hotel in Amsterdam. Every room at citizenM Amsterdam has wall to wall windows and large beds with luxurious linens. Guests can modify room color, temperature, control the smart TV and also adapt the blackout curtains all from an Ipad mini.
We also recommend Motel One Amsterdam and Motel One Waterlooplein as they're good bang for buck modern hotels. All rooms have a private bathroom, air conditioning and flat screen TV. Their breakfast buffet feature delicious bakery quality breads, pastries and croissants for a reasonable surcharge around 10 euro.
Budget:
You'll generally find the best value booking short stay apartments in the Netherlands, especially in Amsterdam's historic center during summer and popular holidays like New Year's and King's Day. Asides from apartment booking sites, you can also often find great apartment listings on websites like booking.com.
Backpackers should consider fun options like the popular Flying Pig Downtown and Flying Pig Uptown. The Flying Pig hostels have been popular for decades, and they're known for wild nights and a relaxed atmosphere during the day.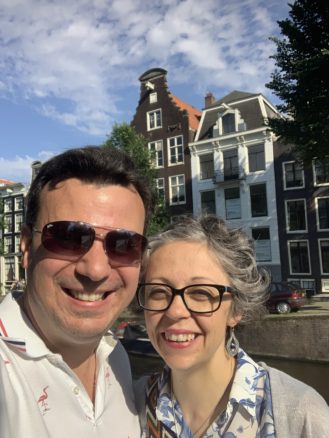 Tour the Red Light District: One Day in Amsterdam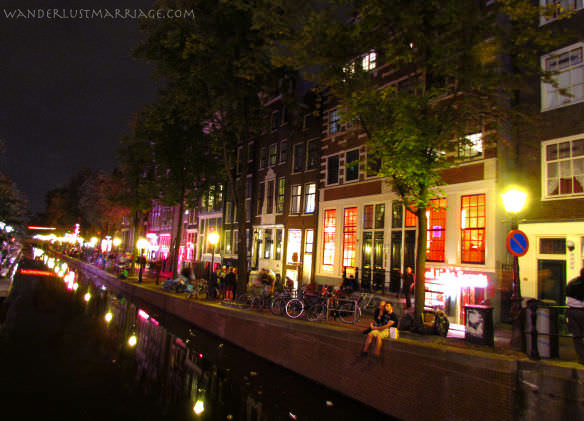 While watching prostitutes in windows is not everyone's cup of tea, it's certainly one of the biggest spectacles of a visit to Amsterdam. Night time draws throngs of people to Amsterdam's Red Light District, including many couples walking around. Most are there to just watch the scantily clad girls trying to lure in customers for some sexy fun. Read my article that covers the Red Light District in depth, with steamy tips and tricks.
Consider this offbeat Amsterdam Red Light District tour with a local guide. The tour starts at $28.23 per person. While the Red Light District is surprising to many Americans, keep in mind that prostitution is legal in many countries around the world, including Bell's native land of Australia.
Have questions on planning a trip to Amsterdam? Leave a comment below or email me at alex(@)wanderlustmarriage.com and I can assist you! 
Disclosure: This article contains some affiliate links. We receive a small commission when you book or sign up through these links and it costs you nothing extra. When it suits you, please use them, as it helps us help you!