Planning a trip to Barcelona and wondering whether the Barcelona Card is worth buying? We recently visited Barcelona for an academic conference and our 9 year wedding anniversary, in a lovely stay that totaled 6 days. When not working, we had a fantastic time exploring inspiring Gaudi's magnificent architecture, beautiful art and enjoying delicious food. Below is a breakdown on how we used the Barcelona Card, along with tips for visiting the city!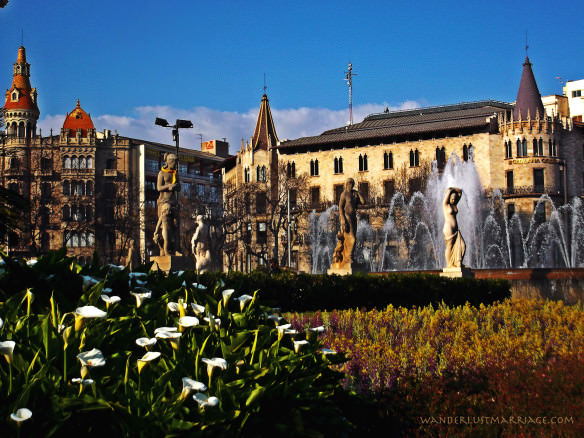 Is it Worth Buying the Barcelona Card?
The Barcelona Card is worth purchasing for some visitors for unlimited access to public transport, including the airport train. You also receive complimentary admission to many of Barcelona's museums. But you only get a discount on Barcelona's most visited attraction, Gaudi's famous La Sagrada Familia, and it does not include admission to some other popular attractions like the Picasso Museum. You have to purchase an additional Gaudi Bundle for €45 in addition to the Barcelona Card, for included admission to Gaudi's famous sites.
The Barcelona card does offer nominal discounts to many other great attractions in Barcelona such as Gaudi's Casa Batllo and Casa Mila, the Camp Nou Experience (FC Barcelona's stadium tour and museum, the largest football stadium in Europe), Museu del Perfum and the Museu De L'Erotica to name just a few of many. No matter what your interest, Barcelona has a museum for you!
The price of the Barcelona Card is €46 ($54.50 USD) per person for 72 hours (€15.33 per day). You can also buy 4 and 5 consecutive day Barcelona cards. The 96 hours Barcelona Card costs €56 ($66.40 USD), which averages €14 per day. The 120 hours Barcelona Card costs €61 (72.35 USD), which averages to €12.20 per day.
If you decide to purchase the card we'd advise buying it ahead of time as it includes unlimited public transport and transportation on the airport train. The airport train is normally €4.50 each way and the cost of single metro trips around town are €2. But you can buy a 10 trip metro card for €10 ($13.80 USD), which we did at the beginning of our trip as we used our Barcelona cards for the final 2 days of our stay. Barcelona's metro is fast and convenient to get around the city and we enjoyed hopping on and off with relative ease, whether with the multi-trip metro card or the Barcelona card.
[youtube=https://www.youtube.com/watch?v=0XZqHCl7Ve8]
The attractions we visited with the Barcelona card were the Chocolate museum (cost without card: €5) and the harbour port tour (cost without card: €8). We also used the card for access to the lift for the top of the Columbus monument (cost without card €4.50). Here's our opinions on these attractions:
Chocolate Museum (Museu de la Xocolata)
The Museu de la Xocolata (Chocolate Museum) is a worthwhile museum for people interested in seeing chocolate sculptures. The admission ticket you receive upon entry is a small dark chocolate bar, which is a cute touch. While I like dark chocolate, Bell and many others don't, so one thing we might suggest to the museum is that they offer the option of milk chocolate bars as well. The museum has some nice chocolate works of art, such as a chocolate La Sagrada Familia, among other interesting works. It's not big so you probably will not spend more than an hour there.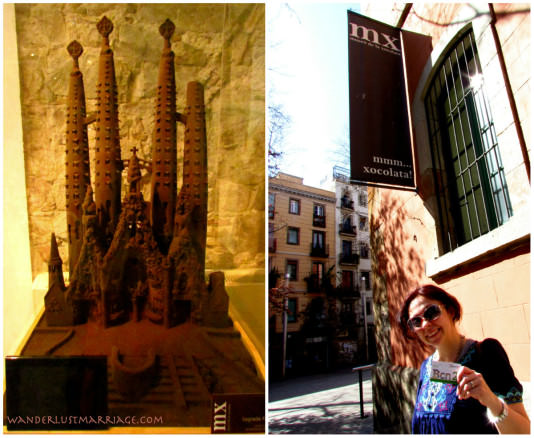 Las Golondrinas Harbour Port Tour
It was a pleasant sunny day when we hopped aboard Las Golondrinas Harbour Port Tour and sat atop the boat, to feel the fresh sea breeze in our hair as we toured Barcelona Harbour. The 40-minute tour includes no audio as you sail past stacks of shipping containers and large ships. For us, the highlight of this tour was the compelling view of Montjuic Mountain. This was certainly a unique boat tour and one worth doing if you buy the Barcelona card and want to rest your legs. We would have loved to have sailed past Barcelona's beautiful beach though, and the 90-minute tour includes this. An audio explanation on Barcelona's shipping industry would greatly improve this tour.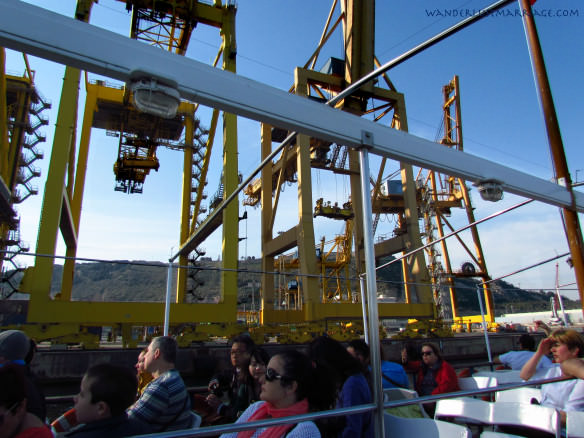 Passed on the Columbus Monument Because of a Long Line
We handed our Barcelona cards to the cashier to receive tickets to access the lift so we could view a stunning panorama of Barcelona's scenery from atop the Columbus Monument. Unfortunately, we came to find out the lift only holds 2-3 people at a time as the viewing platform 60 meters above is very small. The Saturday afternoon wait was probably 45 minutes and we unfortunately didn't have time to stay as we wanted to see Gaudi's famed Park Guell before it closed.
As mentioned, admission to Park Guell is not included in the Barcelona Card and normally costs €8, but we randomly discovered that from 6-7pm admission was free on the evening we arrived. It is always great to stumble on random money saving circumstances like that!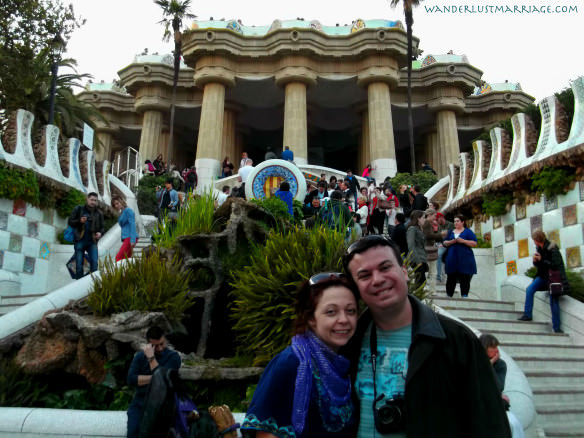 More Attractions to Visit
Unfortunately, we did not have time to maximise our usage of our 2 day Barcelona cards as our last day was a half day. I would have loved to have visited the Olympic Museum and the Museu Nacional d'Art de Catalunya (normal admission: €12) would certainly have been well worth a visit among the 22 attractions included. But Barcelona's public transport is fantastic for whizzing around the beautiful districts which offer a treasure trove of amazing sites, old world laneways, beautiful balconies and tasty tapas and pinxtos to sample. And even if you don't have time to wait in line for La Sagrada Familia, be sure to at least zip over and roam the awe inspiring exterior. Sit for an espresso as you ponder Gaudi's unfinished masterpiece that architectural experts have been toiling for years to complete.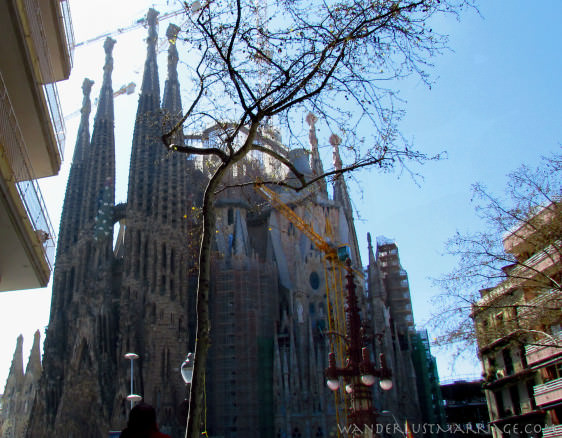 Barcelona Hotels
Grand Hotel Central
Grand Hotel Central is one of the best luxury hotels in the heart of Barcelona. Located between El Born and the Gothic Quarter, it is walking distance from Barcelona's best attractions, bars and restaurants. It features a popular rooftop bar with an infinity pool, so you can enjoy a dip over a drink, with a stunning view. The Picasso Museum is just a 5 minute walk, Barcelona Cathedral is a 3 minute walk and Ciutadella Park is only a 10 minute walk. This is a great place to stay during your wedding anniversary in Barcelona, or another special occasion!
El Avenida Palace
El Avenida Palace is a fantastic 4 star luxury hotel located in the heart of Barcelona. Many famous guests have stayed at the hotel including The Beatles and Ernest Hemingway. The hotel oozes old school Catalan glamour. While it located on busy Gran Via, all 151 rooms have sound proof windows. Amenities include a small rooftop pool, classic mid-century fixtures and a golden staircase with marble columns befitting an elegant palace. It is a 5 minute walk from El Avenida Palace to Plaza Catalunya, La Rambla and Paseo de Gracia. This is another great choice to spend a wedding anniversary in Barcelona!
W Barcelona
The W Barcelona is one of the best options to stay during your anniversary in Barcelona if you just want to mostly relax. Sitting at the end of Barceloneta Beach, the large glass sailboat offers stunning views of the sea and city. The hotel is a destination in itself, with two pools, a top floor cocktail lounge and Michelin star winning chef, Carles Abellan's on-site seafood restaurant. The downside is that you'll need to take a taxi to explore Barcelona.
Disclosure: This article contains some affiliate links. We earn a small commission at no extra cost to you when you book directly through them. Thanks for using them! Also, Barcelona Tourism provided us with a 2 day Barcelona card to review for this website.