Planning a wedding anniversary in Barcelona? Great idea! We celebrated our 9 year wedding anniversary in Barcelona and had a fabulous time. It was Bell's first time in the capital of Catalunya, and my first visit to Spain's second city in twelve years. I was first inspired to visit Barcelona during the 1992 Summer Olympics, when I was 13. The outdoor diving venue, atop Barcelona's Montjuic mountain, was one of the most memorable venues of the modern Olympic Games. Seeing the city in the backdrop as divers leaped into the sky was an incredible selling point. Barcelona is one of Europe's most picturesque cities with a fabulous culinary scene. Here are tips on how to spend a wedding anniversary in Barcelona!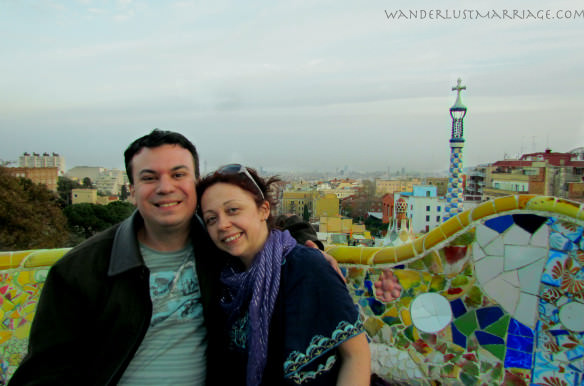 Rent a Row Boat in Parc de la Ciutadella
One of the many lovely things we did on our anniversary was rent a row boat in Parc de la Ciutadella. For just €6 ($9 USD) for half an hour, it was a heck of a lot cheaper than a hiring a gondolier in Venice (who probably let you touch the oars). While the park isn't the canals of Venice, the lime green lake, palm trees, and the ornate fountain, Font De La Cascada, is gorgeous and I enjoyed rowing us around the picturesque setting. And the boat was just one activity among many in the day and our time in the city. We highly recommend this when spending your wedding anniversary in Barcelona!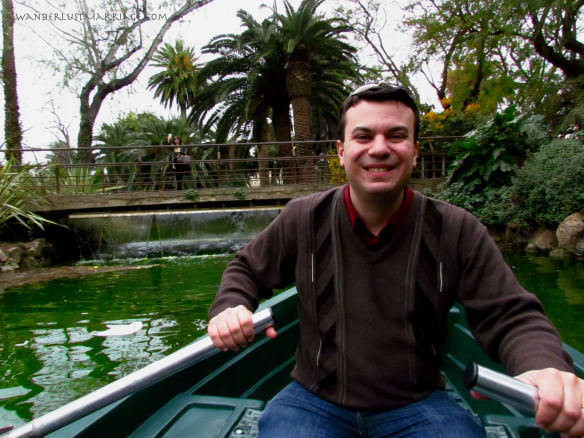 We enjoyed a lovely stroll along the long and sandy city beach, dotted with palm trees in Barceloneta. There are very few major European cities that boast such a lush beach right in town. Barcelona would be fantastic if the beach didn't exist, but it's an added notch on the belt of a wealth of activities to be found. The longer you spend in Barcelona, the more you realize there is to do.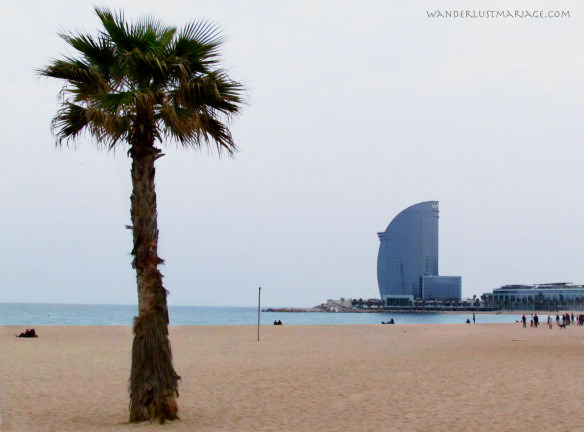 Hotels for a Wedding Anniversary in Barcelona
Grand Hotel Central
Grand Hotel Central is one of the best luxury hotels in the heart of Barcelona. Located between El Born and the Gothic Quarter, it is walking distance from Barcelona's best attractions, bars and restaurants. It features a popular rooftop bar with an infinity pool, so you can enjoy a dip over a drink, with a stunning view. The Picasso Museum is just a 5 minute walk, Barcelona Cathedral is a 3 minute walk and Ciutadella Park is only a 10 minute walk. This is a great place to stay during your wedding anniversary in Barcelona, or another special occasion!
El Avenida Palace
El Avenida Palace is a fantastic 4 star luxury hotel located in the heart of Barcelona. Many famous guests have stayed at the hotel including The Beatles and Ernest Hemingway. The hotel oozes old school Catalan glamour. While it located on busy Gran Via, all 151 rooms have sound proof windows. Amenities include a small rooftop pool, classic mid-century fixtures and a golden staircase with marble columns befitting an elegant palace. It is a 5 minute walk from El Avenida Palace to Plaza Catalunya, La Rambla and Paseo de Gracia. This is another great choice to spend a wedding anniversary in Barcelona!
W Barcelona
The W Barcelona is one of the best options to stay during your anniversary in Barcelona if you just want to mostly relax. Sitting at the end of Barceloneta Beach, the large glass sailboat offers stunning views of the sea and city. The hotel is a destination in itself, with two pools, a top floor cocktail lounge and Michelin star winning chef, Carles Abellan's on-site seafood restaurant. The downside is that you'll need to take a taxi to explore Barcelona.
Great Places to Eat in Barcelona
We enjoyed so many delicious bites in the city, at popular and vibrant establishments like Quimet y Quimet and Blai Tonight. Both establishments pack so much delicious flavor in their pinchos. Be sure to arrive before opening at Quimet y Quimet as they get slammed with business.
We also stumbled into lesser known gems like Elisabets bar, which is also fantastic. Drinking in several happening spots along the multi-cultural Joaquim Costa street like Casa Almirall, introduced to us by a friend was great fun and filled with history and quirkiness. The El Raval district has inspired generations of artists like Orwell, Hemingway and Picasso and should not be missed during a trip to Barcelona.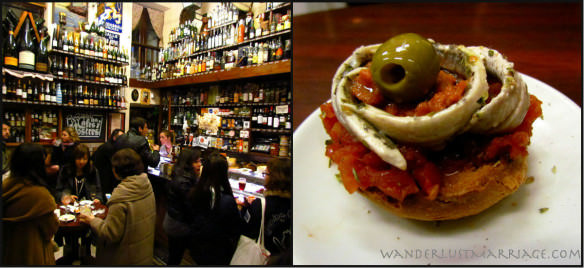 In reality, Barcelona is a tapestry of many unique districts that merge to form a phenomenal city. From the sleek and trendy Eixample district, to the inspiring Gothic Quarter, to the wonderful squares in Gracia, to Gaudi's stunning architecture, there is something for everyone in Barcelona. La Rambla is famous because it cuts through the heart of the old town, but don't focus too much of your attention on this street as there are some tourist traps. The central market, Mercat La Boqueria, just off La Rambla, is wonderful for indulging in jamon and other local delicacies so do not miss that! And while we're sure there's a few good places to eat on La Rambla, we didn't try any of them as we instead focused on more local eateries for tapas, pinchos and mains.
Barcelona Wedding Anniversary Recap
Barcelona has been an inspiration in my life and I was thrilled we were able to spend our 9 year wedding anniversary in this beautifully diverse and romantic city. It was wonderful to take Bell to the popular Plaza Real square, filled with palm trees and lined with beautiful balconies. Twelve years ago I stayed at the Kabul hostel in Plaza Real, while Bell and I were exchanging emails about plans to reunite in Rome. I pointed the Kabul out to her and we noticed a restaurant called Alex (my name) just downstairs. While we didn't eat there, I thought it was fitting serendipity in our story of Barcelona's impact on us.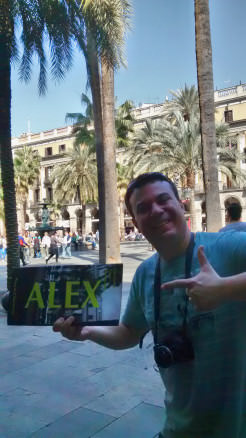 It was a wonderful wedding anniversary in Barcelona, and we wonder what the city holds in store for us when we return one day. Barcelona is a fantastic city to visit and return to!
Barcelona Backstory: Inspiration to Visit and Impact on Our Relationship
My first visit to Barcelona came eight years after the 92′ Summer Games, on a two-week winter break in college where I spent 3 days exploring the city's famous sites and the places I watched on TV as a kid. I absolutely loved that visit, so much so that after college I decided I would attempt to move to Barcelona. Twelve years ago, before I arrived in Barcelona for my move from the USA, I stopped off in Amsterdam and traveled to Brugge, where I randomly met Bell for the first time in a hostel. She was on her way to Amsterdam too, and I needed to go back to catch my flight to Barcelona. We hung out one night in Amsterdam and she asked me if I wanted to join her in Rome for the end of her trip a few weeks later.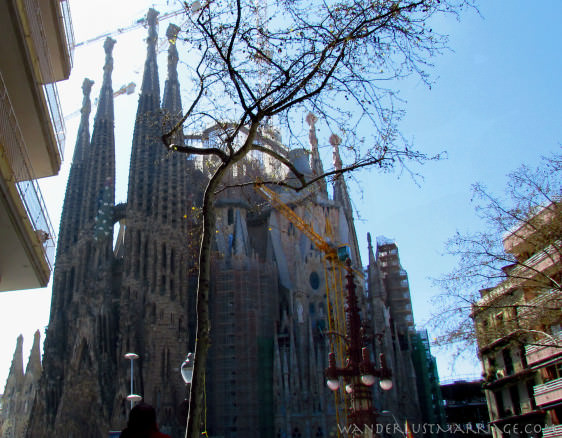 I arrived in Barcelona with a large backpack and a big suit case, enough stuff to get me by while I settled in. Unfortunately, my friend that was supposed to be there had moved away, and I felt isolated, alone in January, and a bit overwhelmed at the prospect of starting a life in a foreign city. So I decided to buy that plane ticket to Rome, to see Bell again, from an internet cafe in Barcelona. Ultimately, I decided to travel around Europe and never returned to Barcelona until last week, for a wonderful and memorable anniversary for us.
Disclosure: This article contains some affiliate links. We earn a small commission at no extra cost to you when you use them. Thanks in advance for using them!