A Hawaii vacation is a dream for a wealth of reasons. The Aloha State is a tropical paradise, blessed with year round idyllic weather. Its stunning landscape is home to lush cascading mountains, sandy beaches, tropical wildlife and world class resorts. Additionally, its unique culture represents a fusion of Polynesia, Asian and American influences.
Despite its steady flow of tourists, locals charm visitors with their wide smiles and friendly demeanor. A trip to Hawaii can be expensive, but it doesn't have to be. Here are some ways to get great bang for buck visiting the 50th, and most unique state in the USA!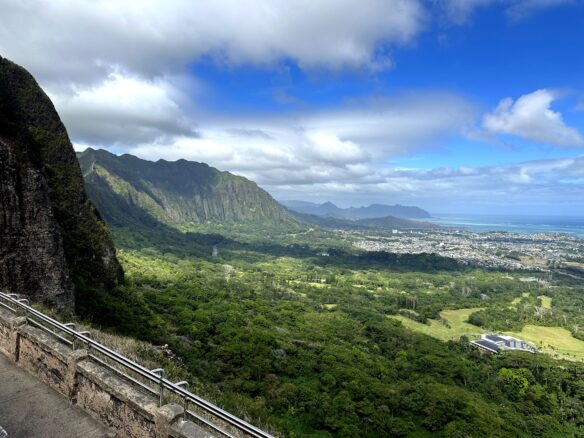 Redeem Airline Miles to Hawaii
Many airlines have routes to Hawaii, particularly into Honolulu and Maui. All the major US carriers fly to Hawaii, and Hawaiian Airlines has a host of routes themselves. Hawaiian Airlines also has international routes to destinations like Auckland, New Zealand (where I recently flew to Honolulu from during a round the world trip), Sydney, Australia, Hong Kong and Japan.
Hawaii is strategically located around halfway between the west coast of the United States to Japan, New Zealand and Australia. This presents a host of travel opportunities and a great stopover, in addition to being a fantastic vacation destination in its own right.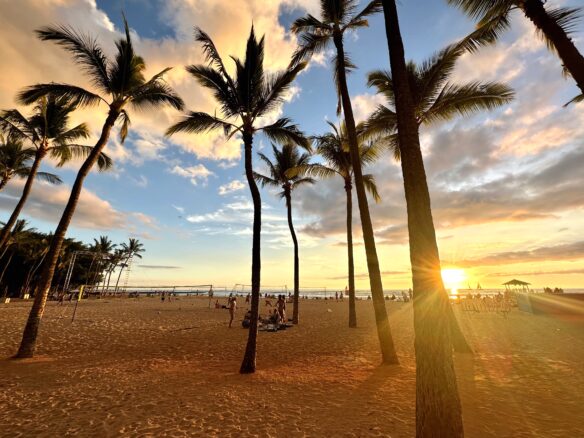 Many Airlines to Choose from for Redemptions, Including Hawaiian Airlines
With so many carriers flying to Hawaii, it's easy to redeem airline miles. So instead of paying around $600-$800 roundtrip from the east coast of the USA, you can pay around $10 in taxes plus miles. So a couple can easily save upwards of $2,000 on economy flights alone, and significantly more if you redeem miles for business or first class seats.
I recently redeemed 17,000 Hawaiian Airlines miles to fly from Honolulu to Portland, Oregon, to spend a few days there before flying home to Florida. The one way flight from Auckland, New Zealand to Honolulu was 35,000 Hawaiian miles for an economy seat and starting at 65,000 miles in first class – an excellent redemption for an 8 hour and 45 minute flight. I then redeemed 14,000 Delta miles to fly from Portland, Oregon to Tampa, Florida via Atlanta, Georgia.
Travel rewards credit cards like Delta Skymiles American Express cards are an easy way to earn a chunk of bonus miles through typical everyday purchases. Read how we save thousands each year on travel in our article on travel hacks.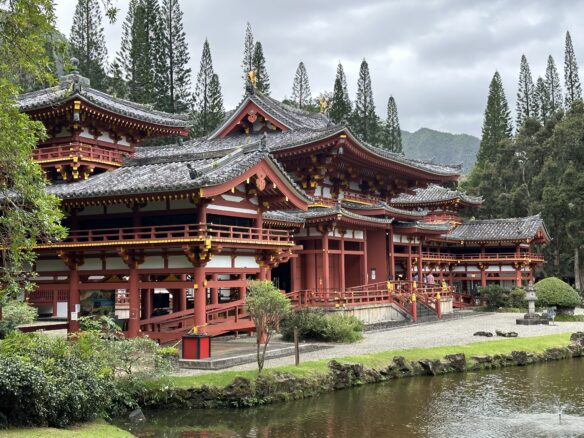 Avoid the Busiest Travel Months in Hawaii
A Hawaii vacation is popular for good reason, so there's always a steady flow of visitors to the idyllic tropical island chain. But the busiest months are December and summer, during school holidays. Asides from being a popular honeymoon destination, Hawaii is also popular for family vacations.
I visited Hawaii in early November, which is not as packed as the busiest months. Honolulu still has plenty of visitors during this time, and I wouldn't want to visit when it's any busier. In addition to higher costs for hotel rooms and rental cars during the busiest months, it's harder to get tables at good restaurants and cafes.
By visiting during a slower period, you'll save on the price of hotels and resorts along with rental car fees. Over the course of a week's vacation, that can easily be an additional $1,000-$2,000 of savings.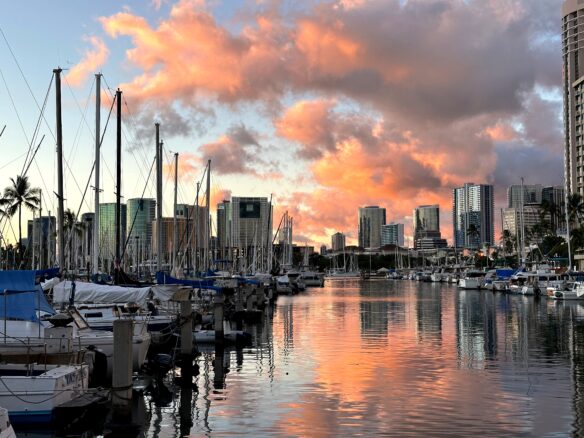 Redeem Hotel Points for your Hawaii Vacation
Hawaii is home to an abundance of world class resorts dotting its picturesque beaches. Major hotel chains have a variety of properties from mid-range hotels to luxury resorts and even ultra-luxury resorts. That means there's a host of opportunities to redeem hotel points, that can save you additional money.
Honolulu International Airport (Daniel K. Inouye International Airport) is the first point of entry to Hawaii for most. Waikiki Beach in Honolulu is the most bustling vacation destination in the state, along with being the surfing capital of the world. Hyatt, Hilton, Marriott, IHG and Wyndham all have properties located in Waikiki Beach, along with other destinations around Oahu and the other Hawaiian islands.
Marriott
You can redeem Marriott Bonvoy points to save on a Honolulu stay. The Royal Hawaiian, A Luxury Collection Resort, Waikiki is an iconic pink palace. The historic resort dates to 1927 and offers private cabanas along Waikiki Beach. Luxurious guest rooms offer panoramic views of Waikiki Beach, Diamond Head and the sparkling Pacific Ocean. This is an ideal stay for a honeymoon or romantic getaway.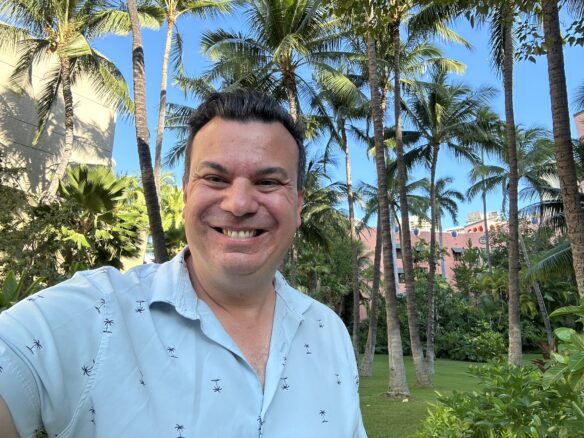 Other Marriott properties include Waikiki Beach Marriott Resort & Spa, Courtyard by Marriott Waikiki Beach and AC Hotel by Marriott Honolulu. Waikiki Beach is densely populated with hotels, so all the locations are close to the beach, as well as lots of restaurants and bars.
Hyatt
Hyatt has several great properties located in Waikiki Beach. Redeeming Hyatt points for stays can save you significant money. Hyatt properties in Waikiki Beach include Hyatt Regency Waikiki Beach Resort & Spa, Hyatt Place Waikiki Beach and Hyatt Centric Waikiki Beach. Hyatt Regency Waikiki Beach Resort & Spa's cultural center, Ho'okela, offers guests the unique experience of learning Hawaiian hula dance, ukulele lessons, lei making and other arts & crafts.
IHG
If you book 4 nights at an IHG property with points, it only costs 3 nights worth of points. That's an excellent way to save big on a 4 night vacation stay. In Honolulu, you can stay at the Holiday Inn Express Waikiki, an IHG Hotel. By signing up for an IHG Chase card, you can earn a bonus of upwards of 100,000 IHG points after the initial spend on your everyday purchases and bills, along with earning a complimentary anniversary night each year. That's enough for a complimentary 4 night Hawaii vacation stay. Just keep in mind that certain dates are blacked out for points redemptions.
Hilton
Hilton has a large selection of properties in Waikiki Beach. If you have Hilton points to redeem, it's a great way to save on your Hawaiian vacation. Properties include Hilton resorts like Hilton Grand Vacation Club The Grand Islander Waikiki Honolulu, Hilton Garden Inn Waikiki Beach, Embassy Suites by Hilton Waikiki Beach Walk and Double Tree by Hilton Alana.
Check Hawaii Resort Prices Carefully
Many Hawaii resorts and hotels tack on additional daily resort and amenity fees. This adds significant cost, but is common practice among Waikiki Beach properties and beyond. The costs are listed at the time of booking. Pay attention to them as they can impact which property you decide to stay at.
Some properties even list their cheapest price as "Kamaaina." Kamaaina or Kama'aina means native or "person of the land" in Hawaiian. Kamaaina prices are intended for those that can show a Hawaiian identity card at check-in.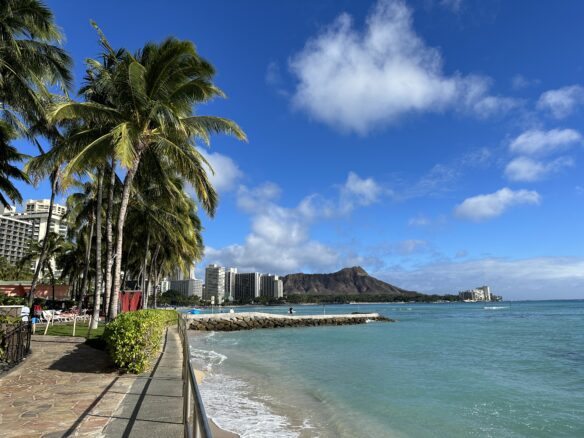 Don't Eat All Your Meals at Restaurants with Table Service
Hawaii is home to a great culinary scene, with a delicious assortment of seafood, meat and vegetarian dishes. But great meals in Hawaii aren't just reserved for restaurants with table service. Casual poke restaurants are ubiquitous, and a great way to try different seafoods at a fraction of the price of a seafood restaurant with table service.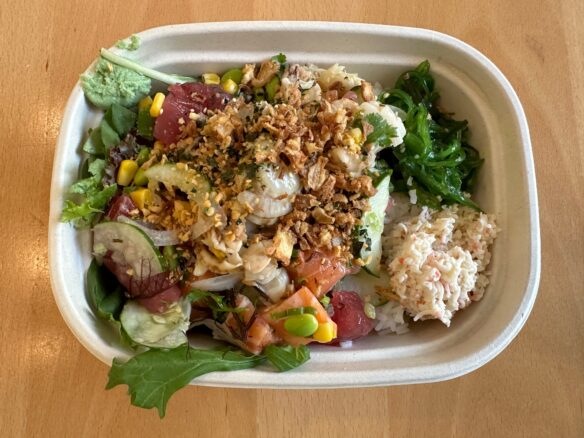 Beach shacks where you order at the counter are also commonplace. The food is often delicious, and they even sometimes feature live bands and Hawaiian dancing. The casual beachside meal I enjoyed along Waikiki Beach was one of my absolute favorite meals during my Hawaii trip.
Food trucks are also common in Hawaii, with varying quality. The best ones offer great meals at reasonable prices, with opportunities to try classic Hawaiian dishes. I typically check google reviews carefully before eating anywhere.
Asides from poke, I also highly recommend having garlic shrimp, which is ubiquitous in Oahu. Kalua pork is another popular favorite, featuring a delicate balance of sweet and spicy slow cooked pork. Loco moco is another mouth watering Hawaiian dish featuring a hamburger patty with rich gravy atop rice, typically served with a side of greens and/or Hawaiian style macaroni salad. These dishes can be found in all types of dining establishments in popular Waikiki Beach and beyond.
Honolulu, like many popular destinations, is certainly a mixed bag for eating – but there are many quality establishments in all price categories. Just be wary of businesses that have inflated their reviews as well. Sometimes I spend a little extra time reading through reviews – especially for pricier meals.
When you just want a snack, try a warm musubi from a dedicated musubi shop or convenience store. Spam musubi (basically a thin slice of spam atop sushi rice) is popular in Hawaii. Spam's popularity has its roots in feeding generations of American military dating back prior to Hawaii's statehood. The fusion of spam with sushi has its roots in a large Japanese population in Hawaii.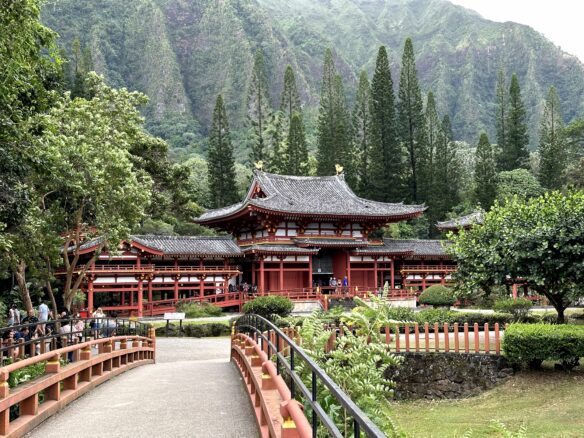 Conclusion
Hawaii is a popular paradise destination for a host of great reasons. It's among the world's most romantic destinations, making it a popular honeymoon getaway. Whether you want to lay on the beach or by the pool sipping quality pina coladas, surf big waves, explore the tropical landscape or learn about Hawaii's unique history and culture – it's a destination that ticks all the boxes.
Hawaii is a unique cultural experience and you're sure to learn several Hawaiian words and phrases, as signs and announcements are in both English and Hawaiian. While Hawaii is a pricey and faraway Polynesian destination, there are many ways to save on a dream vacation to this unique locale. Follow the above tips to save money without skimping on comfort and enjoyment!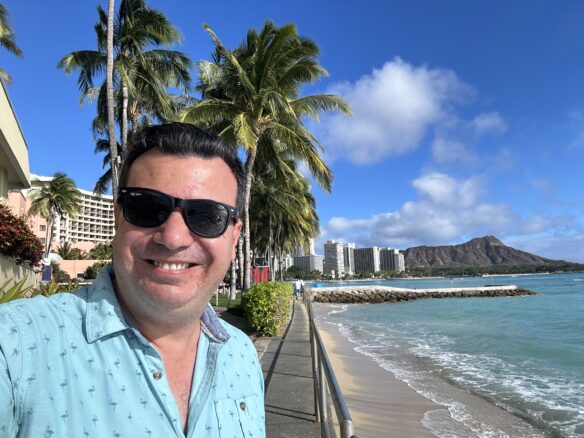 If you have any questions about planning a Hawaii vacation, leave a comment. You can also email me at alex(at)wanderlustmarriage.com with questions you have. Mahalo (thanks) for reading and supporting independent travel journalism!